To Kill A Mocking Bird directed by Bartlett Sher and adapted by Aaron Sorkin arrives in London
This was the most successful play on Broadway!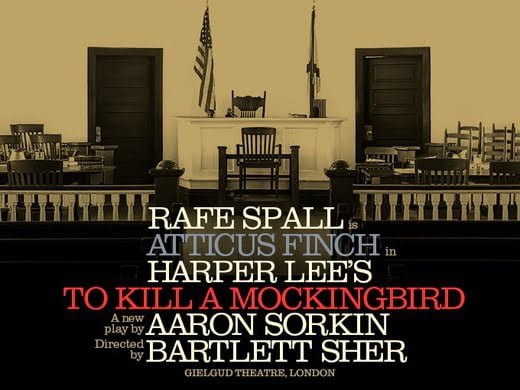 RAFE SPALL TO PLAY ATTICUS FINCH
IN
HARPER LEE'S
TO KILL A MOCKINGBIRD
A NEW PLAY BY AARON SORKIN
DIRECTED BY BARTLETT SHER
TO OPEN AT THE GIELGUD THEATRE ON 31 MARCH 2022
PREVIEWS BEGIN 10 MARCH 2022
REVIEW OF THE LONDON PRODUCTION GO HERE
Scott Rudin, Barry Diller and Sonia Friedman announce today that multi-Olivier and Emmy Award nominee Rafe Spall will play Atticus Finch in To Kill a Mockingbird. The production will open at the Gielgud Theatre on 31 March 2022, with previews from 10 March. This new play by Aaron Sorkin is based on Harper Lee's Pulitzer Prize-winning novel, and directed by Bartlett Sher.
To Kill a Mockingbird premiered on 13 December 2018, at Broadway's Shubert Theatre.  It is the most successful American play on Broadway; amassing a total gross of more than $125m to date and breaking the theatre's box office record on ten occasions. On 26 February 2020, the Broadway cast gave a history-making free performance at Madison Square Garden in front of 18,000 New York City school children; this became the largest single performance of a theatrical work ever. To date, the Broadway production has provided over 10,000 free and low cost tickets to students.
For the London run, there will be a comprehensive education and outreach programme, seeking to engage with schools and communities who might otherwise be unable to access live theatre, and to raise awareness of the job opportunities within the theatre industry. In addition, there will be over 500 tickets available for each week of the run between £5 and £10. Full details and initiatives to be announced later this year. 
Rafe Spall plays Atticus Finch. For theatre, Spall's work includes Death of England, Hedda Gabler – Olivier Award nomination for Best Supporting Actor in a Play (National Theatre), Betrayal (Broadway), Constellations (Royal Court Theatre and West End – Olivier Award nomination for Best Actor), and John Gabriel Borkman (Donmar Warehouse). His television credits include Trying, The Salisbury Poisonings, The War of the Worlds, and his international Emmy-nominated performance as Joe in Charlie Brooker's Black Mirror. For film, his work includes Academy Award-winning The Big Short, Steven Spielberg's The BFG, Edgar Wright's Hot Fuzz and Shaun of the Dead, Dan Mazer's I Give it a Year, Ang Lee's Life of Pi, Ridley Scott's Prometheus and Lone Scherfig's One Day, and most recently Just Mercy, Jurassic World: Fallen Kingdom and Men in Black: International, and the forthcoming Long Story Short.
Harper Lee's enduring story of racial injustice and childhood innocence has sold more than 45 million copies of the novel worldwide. 2020 marked the 60th anniversary of its publication. 
To Kill a Mockingbird will preview at London's Gielgud Theatre from 10 March 2022 with an Opening Night on 31 March 2022. Tickets go on general sale from 10.00am on 6 April 2021.
For latest news and priority booking access sign up at www.tokillamockingbird.co.uk.  
 For my review of the dramatisation of To Kill a Mockingbird at the Open Air in 2013 go here
NOTES
Set in Maycomb, Alabama in 1934, To Kill a Mockingbird has provided American literature with some of its most indelible characters: lawyer Atticus Finch, the tragically wrongly-accused Tom Robinson, Atticus' daughter Scout, her brother Jem, their housekeeper and caretaker Calpurnia and the reclusive Arthur "Boo" Radley. For the past six decades and for every generation, this story, its characters and portrait of small-town America have helped to, and continue to, inspire conversation and change.
In January 2017, departing President Barack Obama looked to Atticus Finch in his Farewell Address; "If our democracy is to work the way it should in this increasingly diverse nation, then each one of us needs to heed the advice of a great character in American fiction, Atticus Finch, who said 'you never really understand a person until you consider things from his point of view. Until you climb into his skin, and walk around in it.' This is what our constitution and our highest ideals require. Hearts must change".
More recently, following President Joe Biden's victory in the 2020 US election, Peter Marks in The Washington Post said: "It's not mere sentimentality to propose that Biden cuts a figure akin to the kind, purposeful character Harper Lee created and Aaron Sorkin reinvigorated on Broadway. In the conciliatory tones of his maiden speech, Biden made a pitch to our better natures in a manner that reverberated with Finch-like magnanimity and rectitude".
Commenting on the play itself, Speaker of the House Nancy Pelosi said, "The theater has the power to make us forget our differences, to bond us all together, to cause us to find common ground together. In this beautiful play we learn about something so important: decency. Decency will unify America."
Aaron Sorkin, the Academy-Award winning screenwriter and renowned playwright, won the Golden Globe for Best Screenplay for his latest film The Trial of the Chicago 7. The film is nominated for six Academy Awards, including Best Picture and Best Original Screenplay. Sorkin made his Broadway debut with A Few Good Men, for which he received the John Gassner Award as Outstanding New American Playwright. He later returned to Broadway with The Farnsworth Invention. For television, Sorkin created and produced NBC's renowned series The West Wing, which earned nine Emmy nominations in its first season. The series went on to win a total of 26 Emmys, including Outstanding Drama Series for four consecutive years from 2000-2003. For his work on the series, Sorkin twice received the Peabody Award and Humanitas Prize, as well as three Television Critics Association Awards and Producers Guild Awards, a Golden Globe Award, and a Writers Guild Award. Sorkin's other television work includes the Emmy-nominated Sports Night, Studio 60 on the Sunset Strip, and The Newsroom. Sorkin's first feature film was the 1993 adaptation of his own play A Few Good Men – nominated for four Academy Awards including Best Picture, and five Golden Globes including Best Screenplay. In 2011, Sorkin won the Academy Award, Golden Globe, Critics' Choice Award, BAFTA, and Writers Guild Award for Best Adapted Screenplay, as well as the USC Scripter Award for The Social Network. The film was nominated for a total of eight Academy Awards including Best Picture, and awarded Best Drama at the Golden Globes. His other films include Malice, The American President, Charlie Wilson's War, Moneyball – Critics' Choice Award and New York Film Critics' Award for Best Adapted Screenplay, Steve Jobs – Golden Globe Award for Best Screenplay, and Molly's Game which was also his directorial debut – Best Screenplay nominations for an Academy Award, Golden Globe, Writers Guild Award, and BAFTA.
Bartlett Sher directs. Sher received nominations for Tony and Outer Critics' Circle Awards for the Broadway run of To Kill a Mockingbird. He won the Tony Award for Best Direction of a Musical for South Pacific. He also received Tony Award nominations for Best Direction of a Play for Oslo, Golden Boy, Joe Turner's Come and Gone, and Awake and Sing!; and Tony Award nominations for Best Direction of a Musical for My Fair Lady, The King and I, and The Light in the Piazza. Also on Broadway, he recently directed Fiddler on the Roof and The Bridges of Madison County, as well as New York productions of Prayer for My Enemy and The Butterfly Collection (Playwrights Horizons), Cymbeline (Callaway Award, also Royal Shakespeare Company), Waste (Best Play Obie Award), Don Juan and Pericles (TFANA, BAM). He is Resident Director of Lincoln Center Theater, where his productions include My Fair Lady , Oslo, The King and I, Golden Boy, Blood & Gifts, Women on the Verge of a Nervous Breakdown, Joe Turner's Come and Gone, South Pacific (also Drama Desk Award and Outer Critics Circle Award), Awake and Sing!, and The Light in the Piazza. While Artistic Director of Seattle's Intiman Theatre from 2000 –2009, he directed 20 productions including works by Shakespeare, Chekhov, Ibsen, Shaw, Wilder, Goldoni, and Kushner, among others. He currently serves on the board of the Society of Stage Directors and Choreographers. Upcoming work include the Lincoln Center's production of the opera Intimate Apparel and, due for release later this year, he has recently directed the film adaptation of his critically-acclaimed production of J. T. Rogers's Oslo starring Andrew Scott, Ruth Wilson and Jeff Wilbusch.
To Kill a Mockingbird is designed by Miriam Buether, with costumes by Ann Roth, lighting by Jennifer Tipton, sound by Scott Lehrer and an original score by Adam Guettel.   
Twitter: @MockingbirdUK   Instagram: @Mockingbird_ldn  
Facebook /ToKillAMockingbirdWestEnd
TO KILL A MOCKINGBIRD BY HARPER LEE
Published in 1960, Harper Lee's debut novel To Kill a Mockingbird was an immediate and astonishing success – it won the Pulitzer Prize for Fiction and was published in ten languages within a year of its release. The book, considered one of the great classics of modern American literature, went on to become a global phenomenon, with more than 50 million copies in print to date. To Kill a Mockingbird has moved international readers for half a century, with editions published in over 40 languages including Persian, Dutch, Norwegian, Russian, Vietnamese, Armenian, Chinese, and Esperanto. 
In 2012 the Library of Congress presented an exhibition titled Books That Shaped America, inviting those who attended to cite the book that most changed their lives – To Kill a Mockingbird came second only to the Bible.
In 2007, Lee was recognized with the Presidential Medal of Freedom, which cited her "outstanding contribution to America's literary tradition". In 2010, President Barack Obama awarded Lee the National Medal of Arts, an award given for "outstanding contributions to the excellence, growth, support, and availability of the arts" – the nation's highest honour for artistic achievement.  
LISTINGS                                                                                                              
TO KILL A MOCKINGBIRD
Gielgud Theatre, Shaftesbury Avenue, London W1D 6AR
Box Office: 0844 482 5130               www.tokillamockingbird.co.uk
First preview: 10 March 2022     Press night: 31 March 2022 at 7pm