Jane Austen's Persuasion for the 21st century
"Bath is a very unpleasant place . . . blighted by modern architecture!"
Anne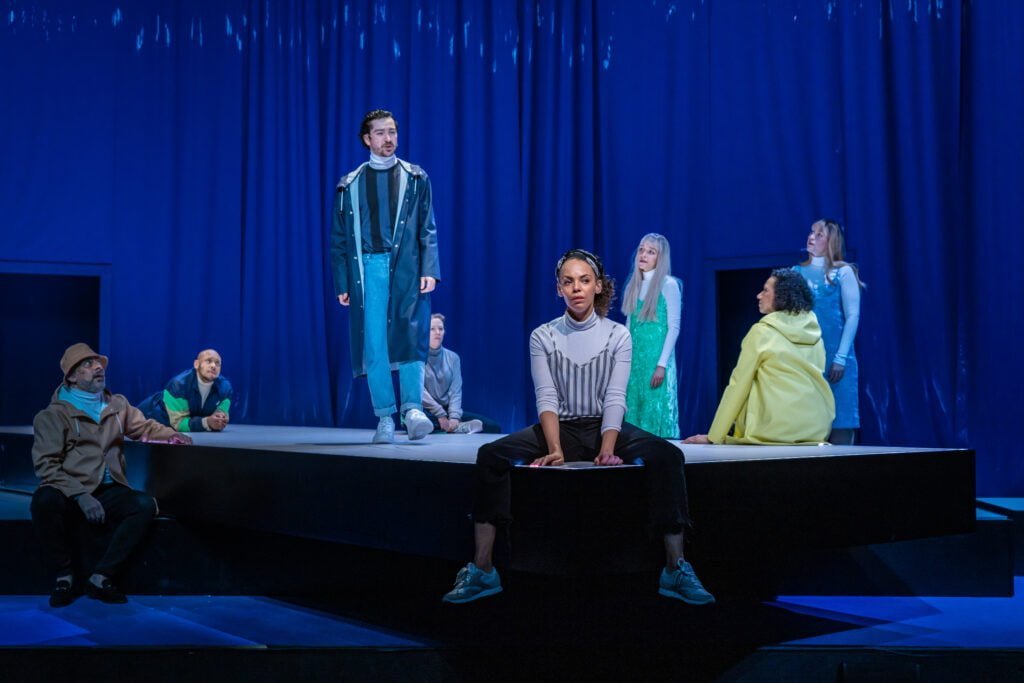 Jane Austen's last completed novel Persuasion has been adapted and directed by Jeff James with little or no reference to the early nineteenth century when it was written.  First seen at the Manchester Royal Exchange in 2017, it shows now at one of the three producers, the Rose in Kingston.  It is a show full of comedy, some of it Jane Austen's but mostly in the physicality of the direction.  Amazingly too, it stays faithful to Austen's original themes.
Anne Elliot (Sasha Frost) at 27 described as haggard by her relatives is unmarried after a proposal at 19 from Captain Frederick Wentworth (Fred Fergus).  She was advised to break the engagement because he was then penniless with few prospects.  Her elder sister Elizabeth (Matilda Bailes) was courted by Mr Elliot their cousin (Adam Deary) who left her to marry a rich heiress and he since has been widowed. The youngest sister the oft complaining, Mary (Helen Cripps) has married Charles Musgrove (Dorian Simpson) and has two sons. 
Sir Walter Elliot (Emilio Doorgasingh) has mismanaged his finances and to avoid seven years of retrenchment, they have to lease their family home Kellynch Hall and move to Bath.  Anne goes to stay with Mary and her family. 
The play is staged on two lit rectangles which initially are stacked atop each other but later pivot to form a cross. All the cast wear modern dress; Elizabeth and the Musgrove sisters, a shiny strappy dress over a white polo with prettified plimsols.  Costume is important to delineate the identities of doubling and trebling actors.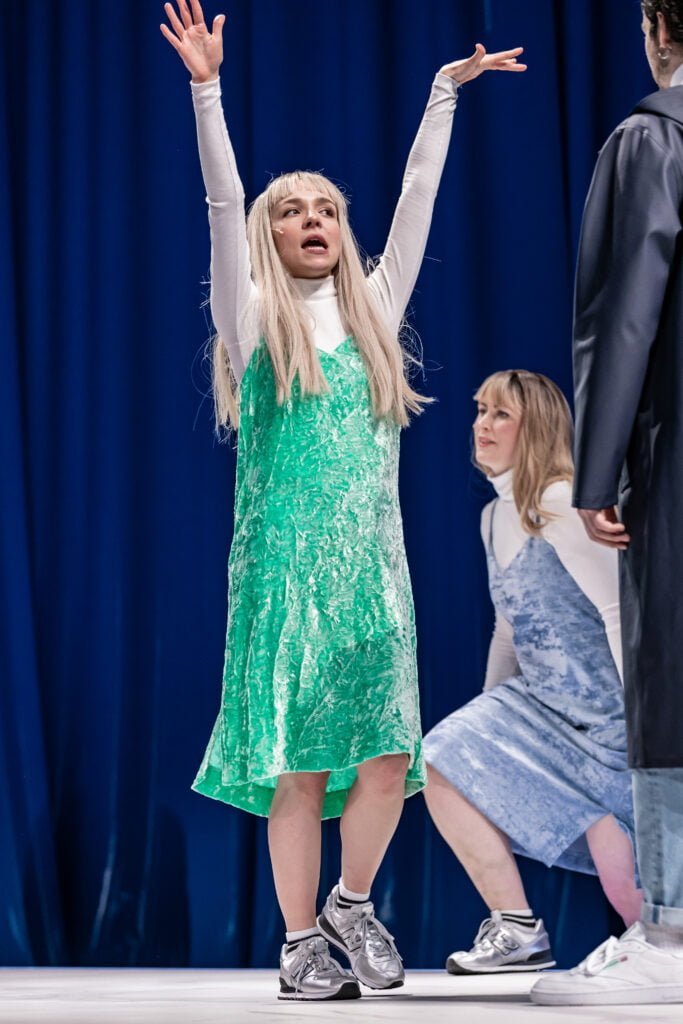 We get some of Anne Elliot's distinctive personality when she pushes people she disagrees with off the rectangle onto a gym mattress.  Anne Elliot is Jane Austen's most mature heroine, like Jane herself unmarried but not as ill at ease with spinsterhood as her sister Elizabeth.
While staying at Mary's home, Anne meets the Musgrove sisters Louisa (Matilda Bailes) and Henrietta (Caroline Moroney) both of whom dance but not in a recreation of Regency dance but more like Pans People with the addition of very silly moves, which had the audience puzzled and really laughing.  It is Mary who comments on the lack of decorum which is very witty when the cast is in 21st century dress.
Moving to Lyme Regis brings cavorting in the sea with so many soap bubbles you might think of sea pollution.  The Musgrove girls are in bikinis and Louisa gets cosy with Frederick Wentworth.  Mr Elliot makes a Baywatch type appearance in bathing trunks.  Louisa throws herself off the cliff to attract Wentworth and ends up staying in Lyme where another suitor appears.  I loved the continual floating down of odd bubbles throughout the second act on unsuspecting actors!
Adam Deary takes on three distinctive roles, Charles Hayter, Henrietta's suitor in round rimmed spectacles, Captain Benwick with a long haired wig and Mr Elliot in almost nothing!  I saw Sasha Frost in FOLK at Hampstead in January and she has a beautiful singing voice which I was hoping to hear in Persuasion.  Sadly not, but this play gives her an opportunity to show her expressive acting as Anne.  The doubling doesn't confuse because of sound wig, hat and costume choices.
Jeff James's production of Persuasion is a lot of fun with maybe the appearance of Lady Dalrymple from RuPaul's Drag Race as the startling highlight.  It is a good natured adaptation with lively movement and music from Dua Lipa, Robyn and Cardi B.  In April Persuasion  stays at Alexandra Palace and in May, at the Oxford Playhouse the other two producers with the Rose, Kingston.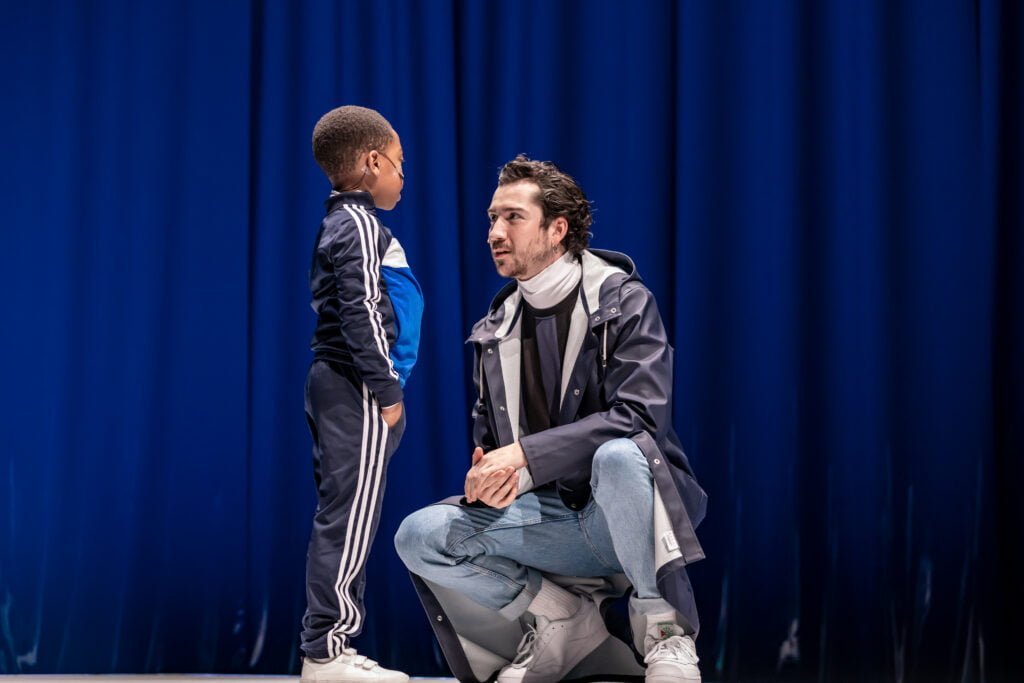 Persuasion
Adapted and directed by Jeff James
from the novel by Jane Austen
Cast
Starring:
Caroline Moroney
Dorian Simpson
Emilio Doorgasingh
Fred Fergus
Grace Cookey-Gam
Helen Cripps
Sasha Frost
Matilda Bailes
Adam Deary
Daniel Aiden Matembe
Alfie Rowden
Oliver Jackson
Creatives
Adapter and Director: Jeff James
Designer:  Alex Lowde
Movement Design: Morgann Eunacre-Temple
Lighting Designer: Lucy Carter
Music and Sound Designers: Ben and Max Ringham
Dramaturg:  James Yeatman
Action Consultants: RC Annie Ltd
Information
Running Time: Two hours 15 minutes with an interval
Booking to 19th March 2022 at The Rose
7th to 30th April 2022 At Alexandra Palace 
4th to 14th May 2022 at the Oxford Playhouse
Theatre:  
The Rose
Rail: Kingston
Reviewed by Lizzie Loveridge at the
Rose Theatre, KIngston
on 3rd March 2022