Spectacular Staging of the Windrush Generation
"Paved with gold, no – but, yes, diamonds appear on the ground in the rain" 
Gilbert
Small Island  is essentially Andrea Levy's biography of her mother who travelled from Jamaica a few months after her father did on the Empire Windrush in 1948. The First Act is set in Jamaica where Hortense (Leonie Elliot) trains as a teaching assistant in a school.  In the Second Act we see how difficult it was living in England in the 1950s when Hortense moves there to be with her husband Gilbert (Leemore Marrett Jr).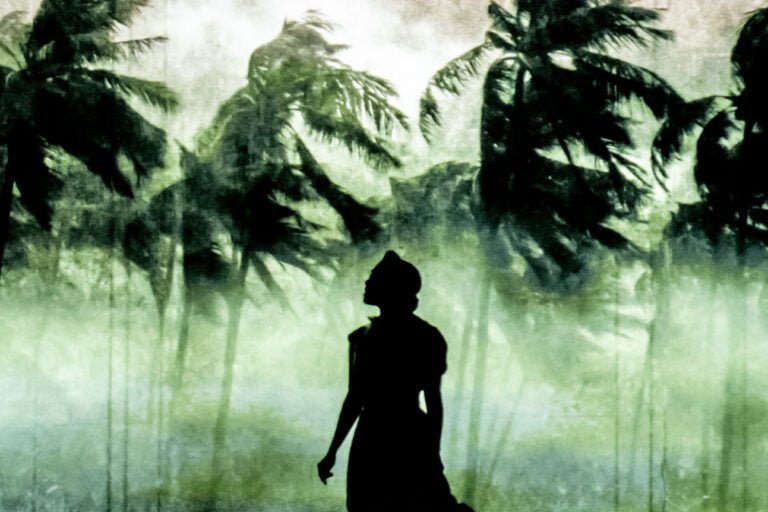 The play opens with vintage film footage of Jamaica, carts driven by horses and limousines, townspeople wearing hats and smart coats.  We switch to trees blown around in a hurricane.  The teacher, Mrs Ryder (Amy Forrest) is an Englishwoman thrilled by the prospect of the hurricane.  Jon Driscoll's projections are perfect.  Mrs Ryder is a creature of ridicule as she is reminded of the destruction from a hurricane to islanders and their life.  I remember, now ashamed, at how excited I was to see Hurricane Floyd come through North Carolina in 1999 with trees looking like blow-dried hair.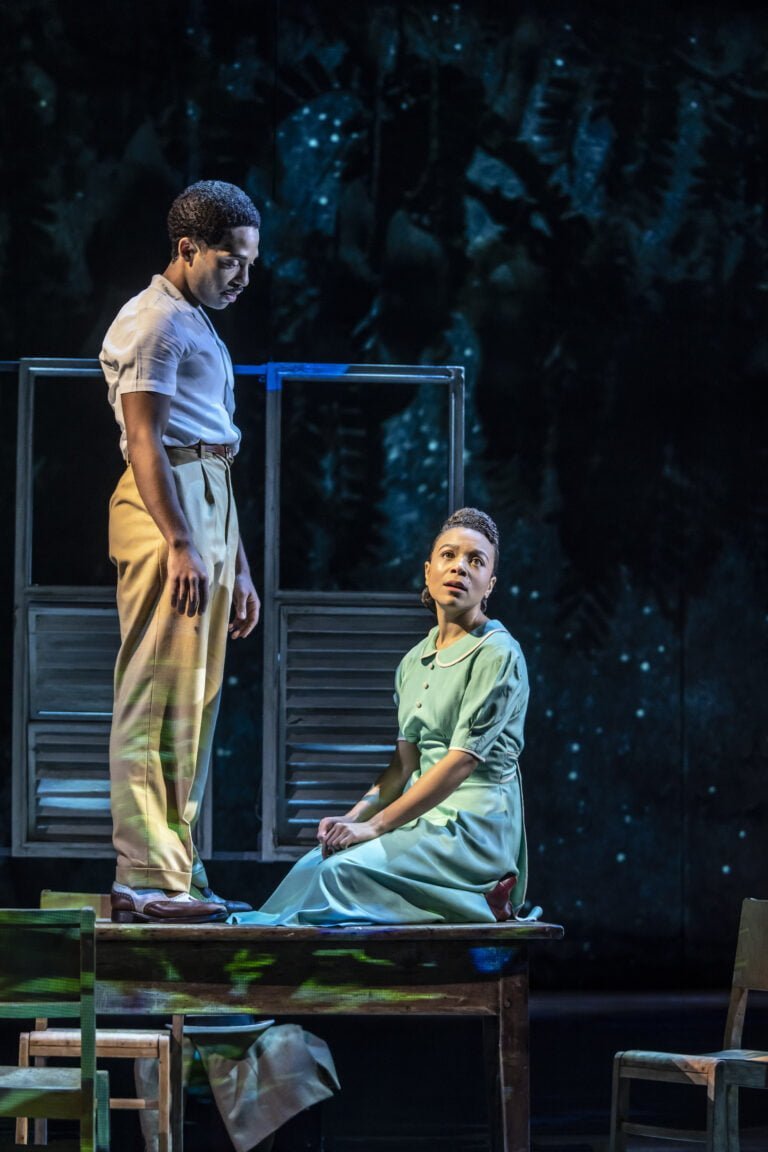 Michael Roberts (Elliot Barnes-Worrell) is the son of the family that Hortense (Leonie Elliot) lives with after her mother's death; her aunt Celia (Alicia McKenzie) is working there as a servant.  Hortense and Michael have known each other since childhood.  Hortense and the Roberts are light skinned Jamaicans and regard themselves as superior to others.  Hortense narrates her own story as Michael leaves to join the RAF in London after a dalliance at home.  My own father was in 139 "Jamaica" Squadron in RAF Bomber Command, paid for by the people of Jamaica.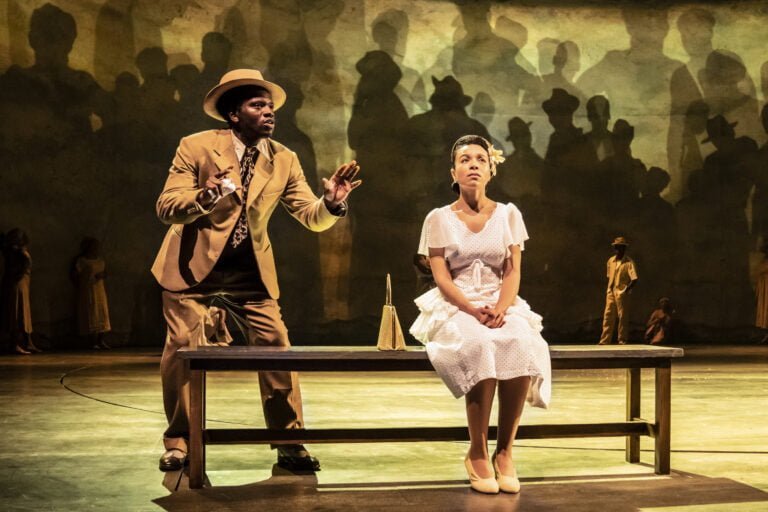 The parallel story is that of Queenie (Mirren Mack) daughter of a pig farmer in the English countryside who is desperate not to become a pig farmer herself.  When we see her parents graphically disembowelling a pig, we can understand why!  She gets a job with her aunt in a sweet shop in London and meets Bernard Blyth (Martin Hutson) whom she marries.  She is tasked with caring for his elderly father Arthur (David Fielder) who has dementia.  Queenie is attracted by the bright lights of London with music from the Jazz Age.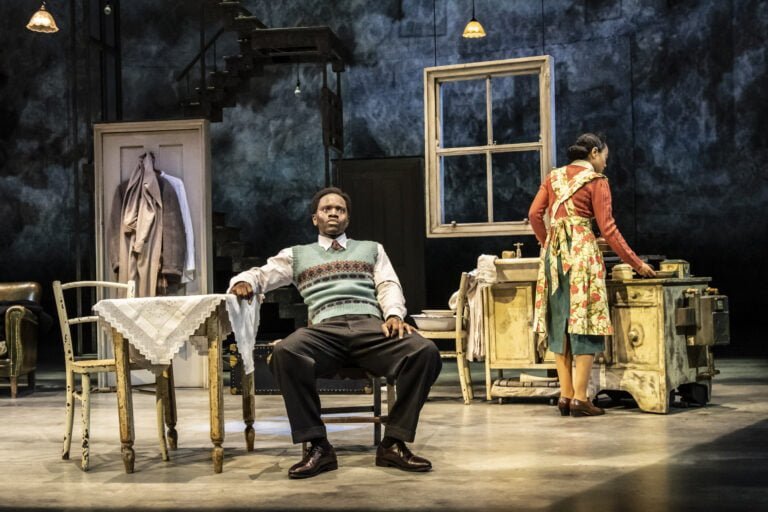 Gilbert, another Jamaican RAF airman meets Hortense and he goes ahead of her to London.  She joins him a few months later but is very disappointed with the standard of accommodation in London.  Her landlady is Queenie whose husband Bernard is missing after the war. 
The ensemble performances do so much to bring Andrea Levy's words to life as does the eye for period detail. We see the terrible racism meted out to the new arrivals.  You will want to wind back the clock and say thank you to this generation who answered the call for help.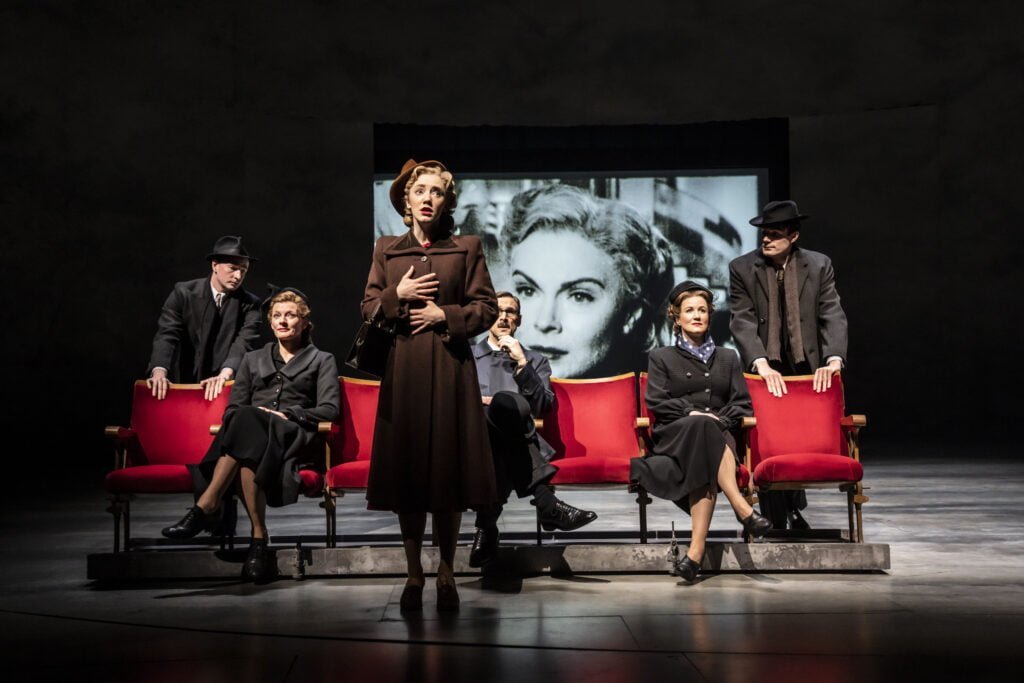 Small Island  is an epic production and truly superb with beautiful images, immersing you, whether it is in rural Jamaica or in the seedier side of London.  Music and video images accompany each scene.  The people you feel for:  Gilbert working at three jobs and trying his best to care for his beautiful wife; Hortense's disappointment at firstly Michael's womanising and secondly at her expectations of life in England.  She finds her teaching qualification unrecognised.  Queenie faces criticism from her neighbours for letting rooms to black people as we see the lack of welcome for this generation moving from the West Indies, especially after their contribution to the War Effort. 
Small Island  is a five star production worthy of a National Theatre. 
Small Island

Adapted by Helen Edmundson
from the novel by Andrea Levy
Directed by Rufus Norris
Cast
Starring:
Amy Forrest
Leonie Elliot
Elliot Barnes-Worrell
David Fielder
Martin Hutson
Mirren Mack
Leemore Marrett Jr
With:
Sandra James-Young
Hosanna-Reine Grimwade
Renee Hart
Ta'lla Harvey
David Webber
Flo Wilson
Asad-Shareef Muhammad
Nasri Thompson
Theo-Oliver Townsend
Marcel White
Chereen Buckley
Rachel Lumberg
Stephanie Jacob
Adam Ewan
Cavan Clarke
Rebecca Lee Andrew Frame
Courtney Winston
Tom Page
CJ Johnson
Daniel Norford
Alicia McKenzie
Creatives
Director: Rufus Norris
Designer: Katrina Lindsay
Movement Director: Coral Messam
Lighting Designer: Paul Anderson
Sound Designer: Ian Dickinson for Autograph
Projection Designer: Jon Driscoll
Composer and Rehearsal Music Director:
Benjamin Kwasi Burrell
Fight Director: Kate Waters
Music Consultant: Gary Crosby
Information
Running Time: Three Hours 5 minutes with an interval
Booking to 30th April 2022
Theatre:
Olivier Theatre
National Theatre
South Bank
London SE1 9PX
Tube/Rail : Waterloo
Website: nationaltheatre.org.uk
Reviewed by Lizzie Loveridge
at the
Olivier Theatre on 4th March 2022