Heavy handed re-imagining of Shakespeare's Merchant
"If you prick us do we not bleed?"
Shylock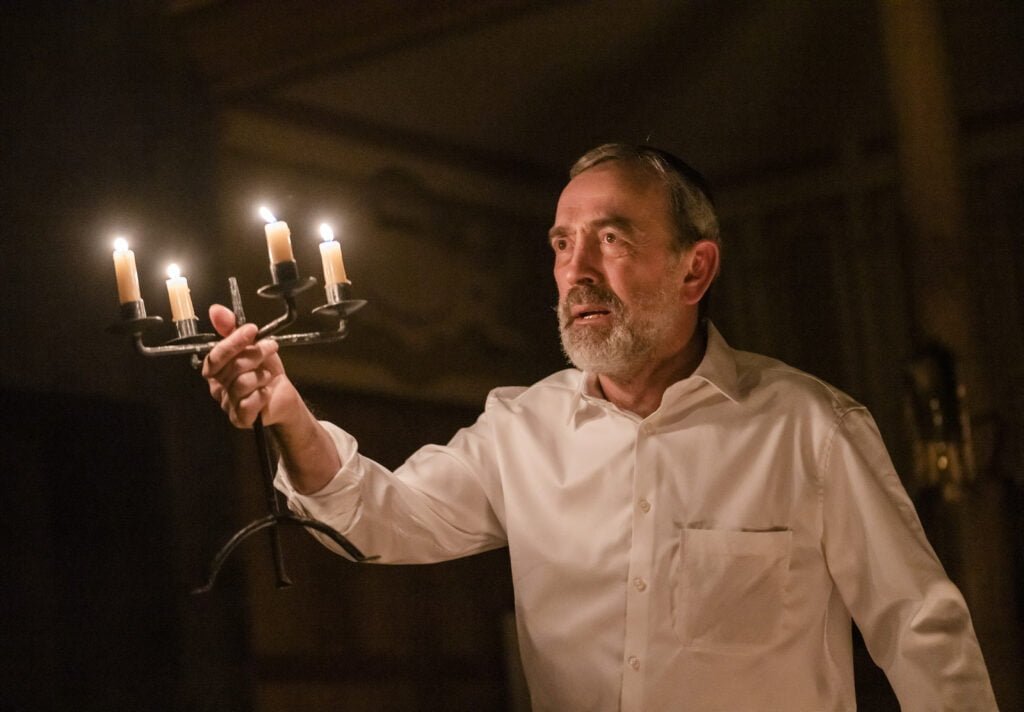 The Merchant of Venice is viewed as Shakespeare's difficult play because of its depiction of Shylock and its anti-Semitism.  I have seen a version where Antonio the Merchant and his friend Bassanio were portrayed as Hitler Youth in neo Nazi uniforms.  The Globe invited Jewish director Abigail Graham to direct this play in the Jacobean indoor theatre, the candlelit Sam Wanamaker Playhouse.
Adrian Schiller is quite the nicest, gentlest Shylock and his demanding his pound of flesh is not borne out when he has the knife in hand and Antonio's bared chest in front of him.  In fact we feel, he is hesitating and might not have had the stomach for it, if Portia (Sophie Melville), in the guise of judge Balthazar, had not had her last minute idea that he might not shed any blood.  Modestly dressed with a black yarmulke and raincoat, Shylock is genuinely distressed at the loss of his daughter Jessica (Eleanor Wyld). 
On the other hand Antonio (Michael Gould)'s mob in Venetian Carnival masks and designer linen suits behave like entitled, rowdy, racist Hoorah Henrys, drunk and playing drinking games, where every time someone says the word Jew, he has to down a shot of spirits.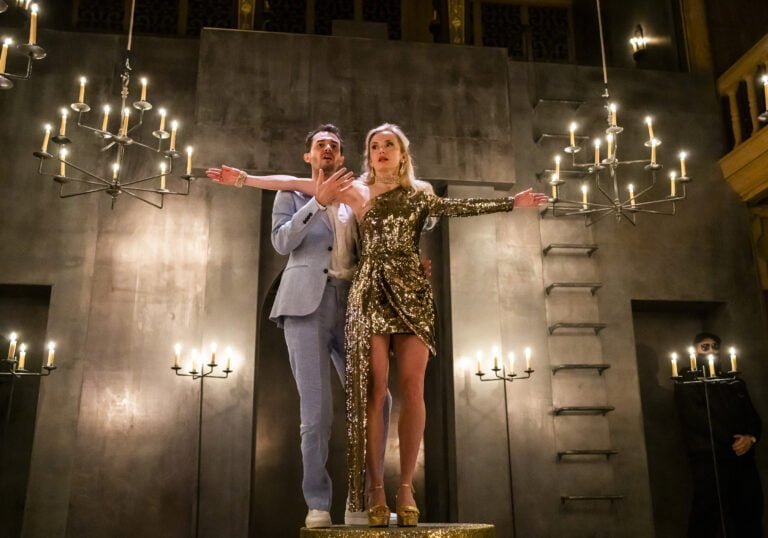 Quite a lot of Shakespeare's words have been changed to accommodate the director's vision and I am reminded by the 18th century physician Dr Bowdler who brought about the word "bowdlerise" by sanitising Shakespeare and altering any double entendre which had an alternative naughty meaning in Shakespeare's text.   
I do feel that the last place that should be experimenting with Shakespeare is The Globe, and for that matter, the Royal Shakespeare Company in Stratford.  The early plans for authenticity which included really uncomfortable seating and the "original theatrical practices" seasons are binned.  Except for the seating that is.  I feel differently about staging and casting but I do not agree with changing the Bard's verse. 
We need to know the history of anti-Semitism so we can fully refute it.  In this production I heard Portia reject the Prince of Morocco (Daniel Bowerbank) on the grounds of "a complexion like the devil" or did she say "complexity"?   Making the merchant class excessively racist towards Jews and also towards black actors in this production doesn't for me serve the cause.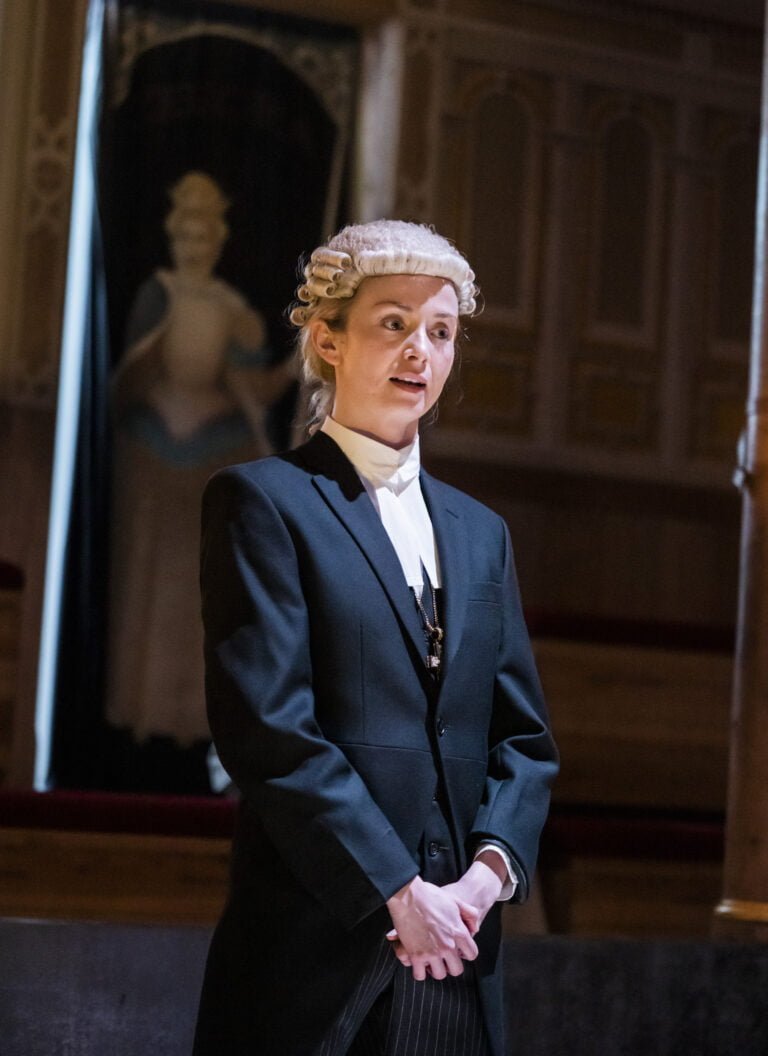 What disturbs me as much are the Casket Scenes where Portia is bound to take the husband selected by her father's choosing.  As Rupert Goold did at the Almeida in 2014,  the competition for Portia becomes a televised quiz game, here called "Make Your Choice ".  Portia wears a very revealing gold frock and at one point sits in a chair with her legs apart, Sharon Stone style, showing her knickers.  She also twerks.  Bassanio (Michael Marcus) is watching.  Is the director trying to cheapen Portia?  Confused?  You will be. 
They do say that the road to Hell is paved with good intentions.  Do we really need to exaggerate to appreciate the suffering and injustice that Shylock would have been subjected to all his life?  In the final scene, Jessica returns and sings a Jewish lament, a touching end but Shylock has had everything taken from him in the name of Venetian justice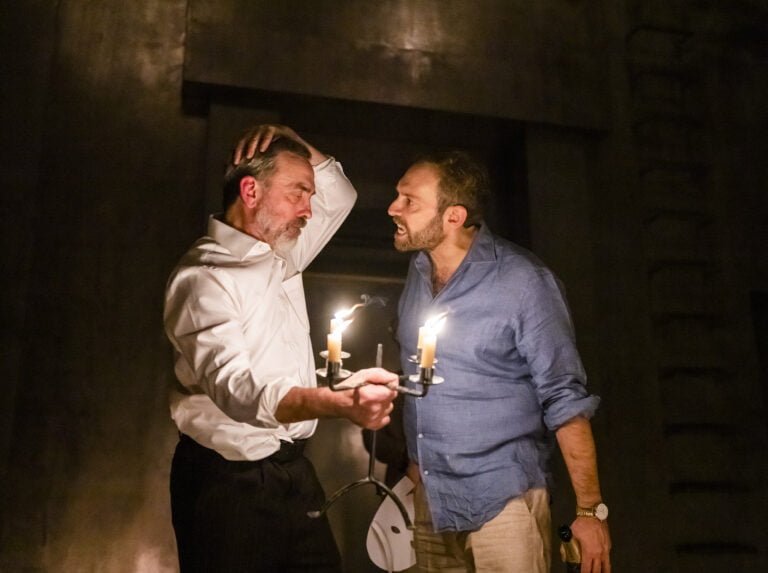 The Merchant of Venice

by William Shakespeare
Directed by Abigail Graham
Cast
Starring:
Raymond Anum
Daniel Bowerbank
Ben Caplan
Michael Gould
Michael Marcus
Sophie Melville
Adrian Schiller
Tripti Tripuraneni
Aaron Vodovoz
Eleanor Wyld
Creatives
Director: Abigail Graham
Designer: Sarah Beaton
Movement: Jennifer Jackson
Composer: Zac Gvi
Information
Running Time: Two  hours 10 minutes with an interval
Booking to 9th April 2022
Theatre: 
Sam Wanamaker Playhouse
Shakespeare's Globe
New Globe Walk
Bankside
London SE1 9DT
Phone: 020 7401 9919
Website: Shakespeare's Globe
Rail/Tube: London Bridge
Reviewed by Lizzie Loveridge
at the Sam Wanamaker  
on 6th March 2020