The NFL and Black Lives Matter come to London!
"I could feel my family lookin through my eyes, my people lookin through my eyes and seeing a country that don't want em. For some of us, the only country we ever called home."  
Luis
The protests about police brutality and Black Lives Matter started in the NFL in August 2016 when San Francisco 49ers quarterback Colin Kaepernick sat during the playing of the American National Anthem.  After a conversation with an ex serviceman about respect for the military and those who lost their lives for their country, Kaepernick instead of sitting down, knelt on one knee.  This silent and peaceful protest, "Taking a knee" was adopted in America and now is a world wide movement whereby sportsmen and women can show how they feel about treatment of black people.  President Trump called for those "Taking a knee" to be sacked.  
Pravin Wilkins's play Moreno is set in the locker room of a team in the NFL. Luis Moreno (Sebastián Capitán Viveros) has just joined as a star player.  He is of Mexican origin, from San Diego, is very highly paid and has a serious fan following.  He likes the luxury lifestyle, featuring in Nike ads and has a collection of very expensive cars.  Moreno crosses swords with Ezekiel Williams (Joseph Black) who may resent the newcomer.  The play is Moreno's journey from celebrity to being more aware.
This play was first out of 1,719 scripts entered for the 2020 Theatre 503 International Playwriting Award and Theatre 503 have given it a superb production.  As we enter the auditorium, the shirts with the players numbers and surnames hang on the side wall. 22 Moreno is the latest to join them.
Despite his current wealth, Moreno grew up in a neighbourhood where life was cheap, "the barrio of busted windows", and he resists political involvement until after Trump is elected, when there is talk of the wall on the Mexican border and his mother suffers an attack of racists at the place where she works in San Diego. 
Moreno and Williams will debate where and how they can be involved in the BLM movement.  The ultimate protest will put their jobs on the line.  Danny Lombardo (Matt Whitchurch) is a star player and white and tows the party line, standing and right hand clasped on his chest over his heart for the Star Spangled Banner.  Cre'von Garçon (Hayden McLean) won't take the knee but instead stands with the Black Power salute seen in the 1960s. Garçon's role is to speak for the Creole community but he grew up in St Louis.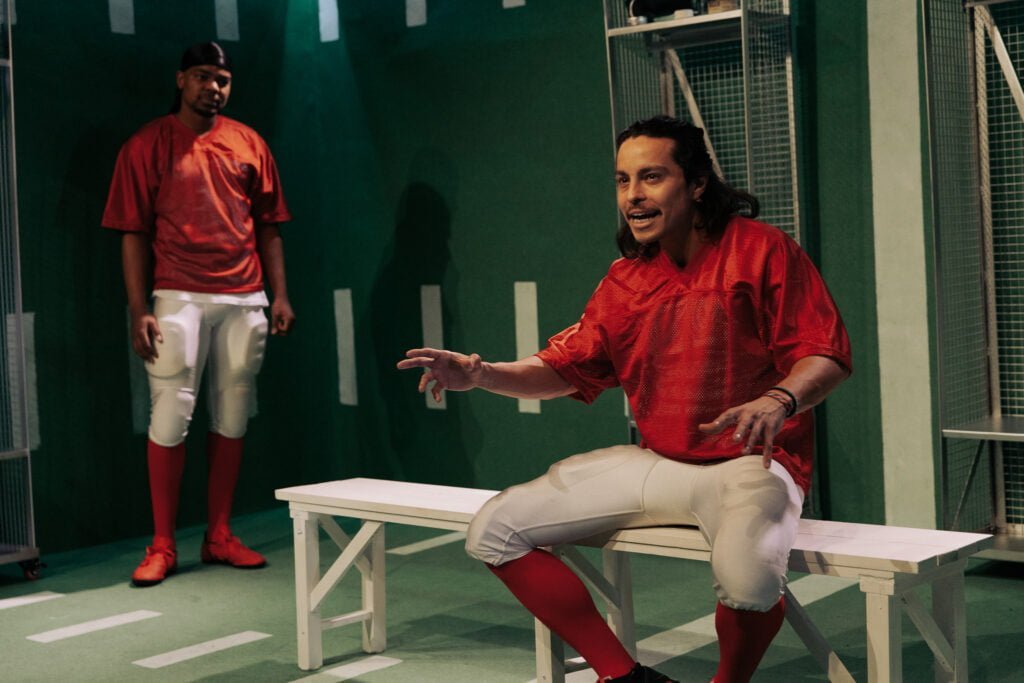 At 503, I was immersed in the world of American Football.  I was taken years ago to a match in Charlotte North Carolina to see the Panthers play.  It was like climbing Everest to get to our cheap seats and the match went on for hours to accommodate television advertisements.  I far preferred Theatre 503's interpretation of the American national game at close quarters.
The actors are charismatic and convey their love of the game.  Luis Moreno is asked in an early scene what he is passionate about.  By the end of the play he has an answer.
Director Nancy Medina and, in charge of movement, Ingrid Mackinnon, have the cast in full uniform with shoulder pads recreating moves on the field in the tiny space that is 503. It is exciting and vibrant and feels completely natural.  Of course lighting, music and sound, motivational chants, add to this electrically charged atmosphere.  The set design locker room looks authentic and the costumes have pads in all the right places.  Despite the serious subject there is much to smile at in the writing but if you are taking youngsters warn them not to repeat the language the players use.
Theatre 503 has great skill, giving an all rounded production to their winning play.  I cannot recommend Moreno highly enough.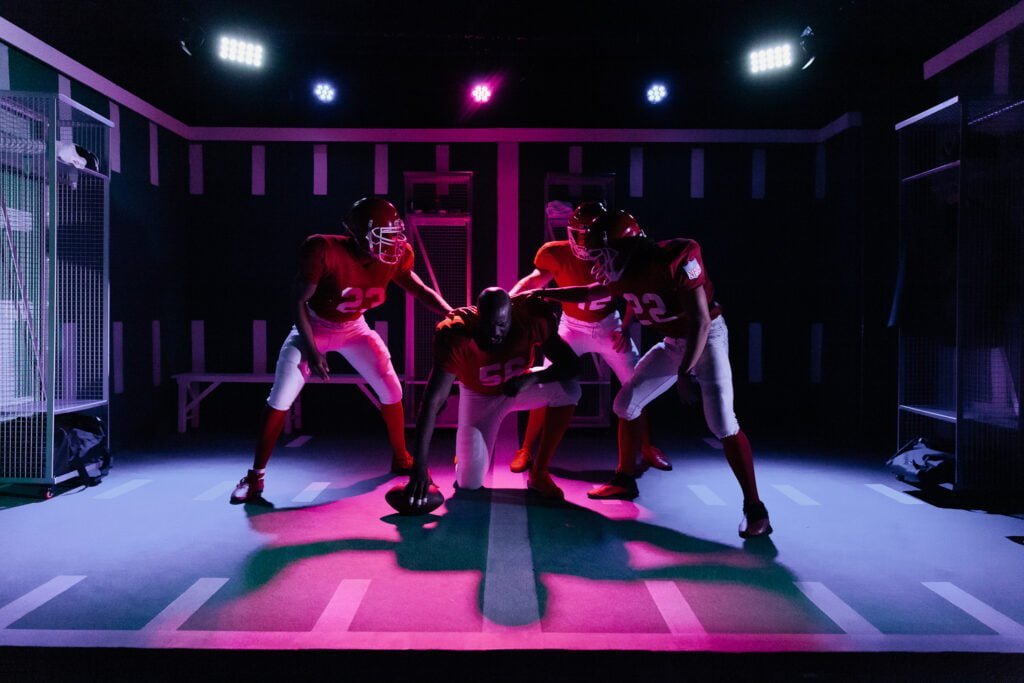 Moreno

Written by Pravin Wilkins
Directed by Nancy Medina
Cast
Starring:
Sebastián Capitán Viveros
Joseph Black
Hayden McLean
Matt Whitchurch
Creatives
Director: Nancy Medina
Movement: Ingrid Mackinnin
Designer: Aldo Vasquez
Lighting Designer: Laura Howard
Sound Designer: Duramaney Kamara
Fight Director: Kevin McCurdy
Information
Running Time: Two hours 10 minutes with an interval
Booking to 26th March 2022
Theatre: 
503 Battersea Park Road
Battersea
London SW11 3BW
Reviewed by Lizzie Loveridge at 
Theatre 503
on 8th March  2022