Mike Bartlett's Cock rocks!
The dance of indecision
M: "John you are a stream. I want a river." 
John to M: "She's not petite.  More like a man really."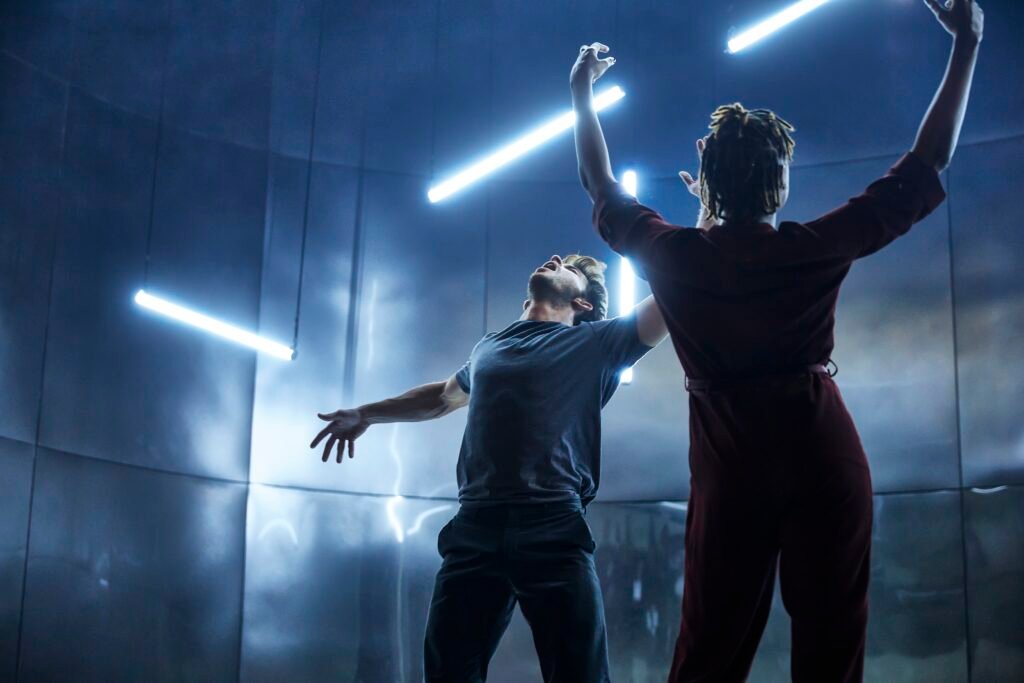 Mike Bartlett's Cock is about an eternal triangle, of two men and one woman but the pivotal figure, around whom the others dance, is not the woman but one of the men.  John (Jonathan Bailey) is in a settled relationship with M (Taron Egerton) until he meets W (Jade Anouka). 
During a pause in his relationship with M and, over a period of weeks, he bumps into her on his journey to work and they have coffee together.  The attraction grows until one day they sleep together. 
Later John is reconciled with M, once more in a relationship with him when he again starts seeing W, and John and M get confused.  The structure of the play is to show John and M's handling of the news of John's infidelity first, then to the early days of John's encounter with W and lastly the dreaded dinner party, always a terrible idea but great drama!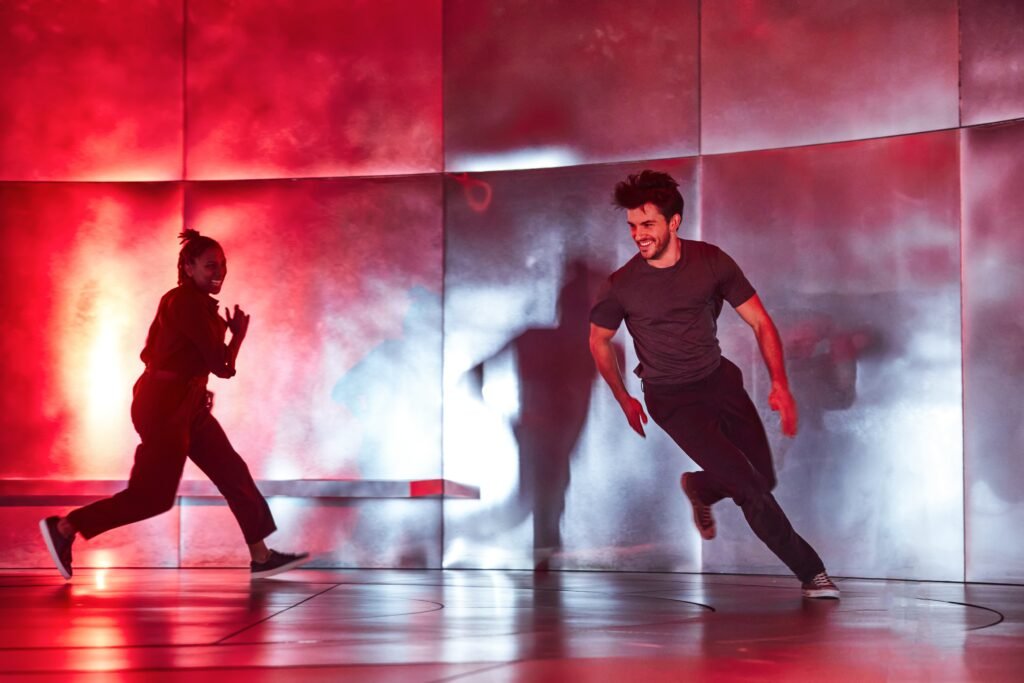 Although it was written before the issues of gender identity arose, as Mike Bartlett writes in his introduction to the play in the programme, Cock is about who you want to be with not what you are, in terms of heterosexual, gay or bisexual or today, pansexual.  When Taron Egerton tries to remind John that he is a gay man, it just confuses John more who is focussing on whom he wants to be with.
Phil Daniels is amazing as M's father F.  He makes great puffed up pride in explaining how he has come to terms with his son's sexuality and of course it is all about how understanding he is as a father.  Still his entrance is important in balancing the cock fight.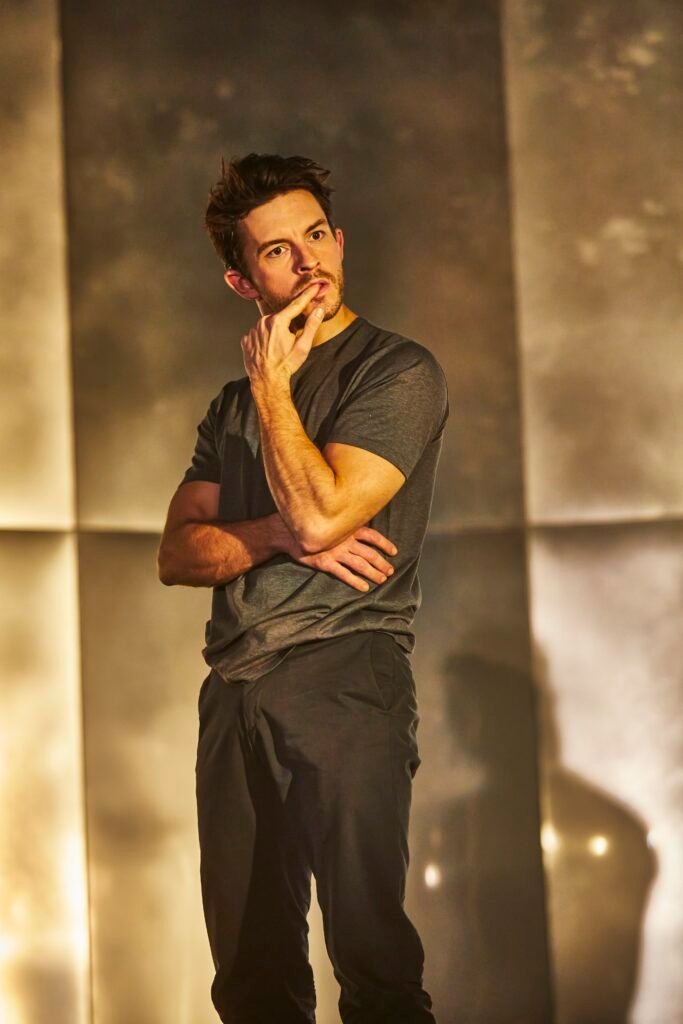 I was blown away by the first production of Cock (review) at the Royal Court in late 2009 with Ben Whishaw as John, Andrew Scott as M and Katharine Parkinson as W directed by Jamie Macdonald.  Andrew Scott spoke the same words as Taron Egerton but was more charismatic than Egerton.  Katharine Parkinson as W was less significant than Jade Anouka is in Marianne Elliot's 2022 production. 
Ben Whishaw was more soppy puppy than Jonathan Bailey.   Bailey's John's indecision seems to be a way of life like Whishaw, less ambivalent game playing and more genuinely not knowing what to do. 
Taron Egerton's character as M is less attractive as his bitterness shows in invective wit. He seems peevish.  He is an isolated, insecure figure.  M at least knows what he wants and you can see his distress in the photograph with his father.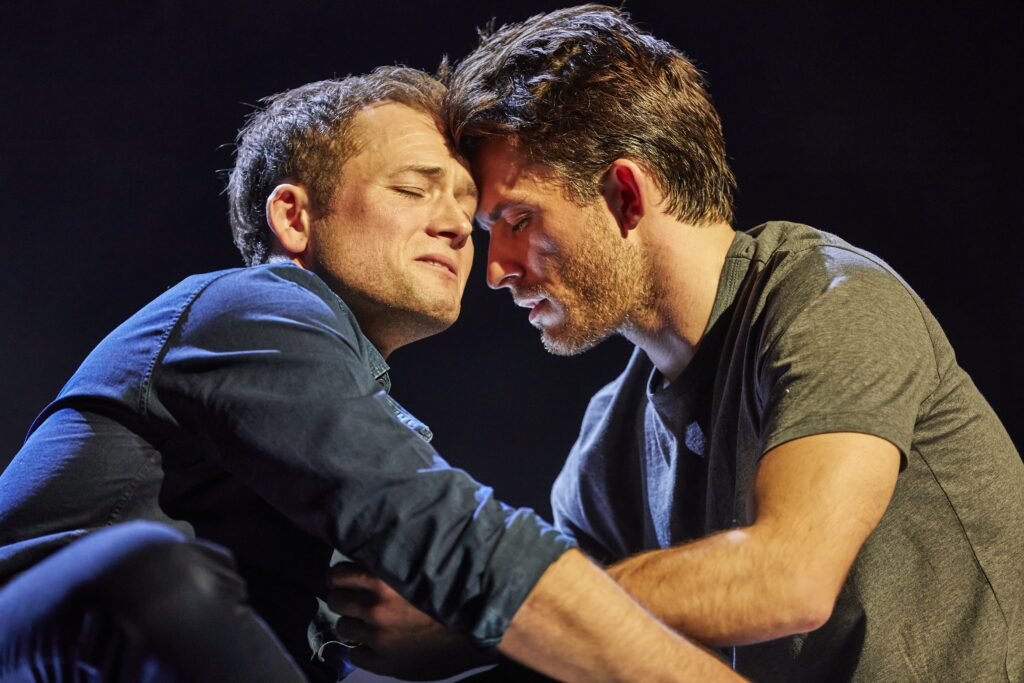 Jade Anouka as F also knows what she wants but is altogether nicer. She's clever – pointing out her attraction. "Respect, perhaps that is what he went looking for?" to M about John. All the performances convince thoroughly. As I write I have the Rolling Stones' number "You Can't Always Get What You Want" going through my head, the anthem of the disappointed. All I can be sure of is that ambivalence does a lot of damage not just as the recipient of it like M and W but to an ambivalent like John.
Instead of a wooden cockpit, Merle Hensel's circular set is like stainless steel with a curved bench and turnntable floor. There are faded reflections of those onstage. Paule Constable's imaginative lighting changes scenes and moods with loud music from Femi Temowo. This year's lighting vogue seems to be strip lighting in different colours and hanging at different angles and in different numbers.
There are two lyrical dance sex scenes, John and M and then John and F. Beautiful and parallel. John stands at the end, hands in his pockets, arms straight down, transfixed by the inability to decide. I wonder whether we shall see the companion piece Bull?
Mike Bartlett will have three plays on simultaneously in London, Cock, The 47th at the Old Vic and at the Lyric Hammersmith, Scandaltown.
Five star drama.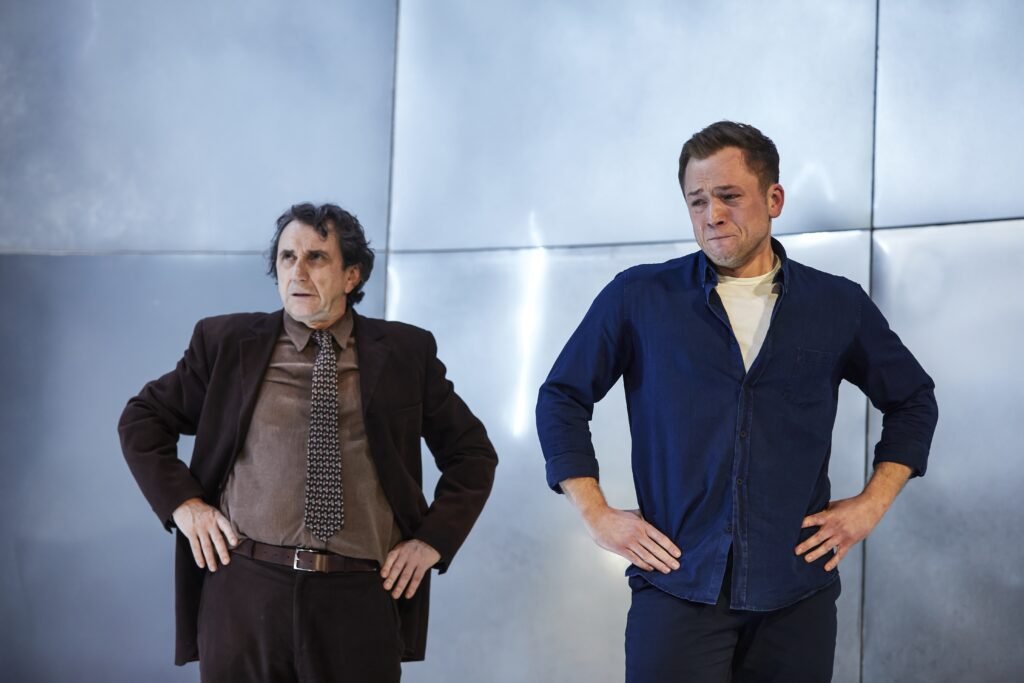 NOTE:  Joel Harper-Jackson officially steps into the role of M from 2nd April to the end of the run.  He has already been understudying Taron Egerton for ten days since Egerton had Covid. Egerton is leaving the production for personal reasons.
Cock
Written by Mike Bartlett
Directed by Marianne Elliot
Cast
Starring:
Taron Egerton
Jonathan Bailey
Jade Anouka 
Phil Daniels
Joel Harper-Jackson
Creatives
Director : 

Marianne Elliot
Designer: Merle Hensel
Composer: Femi Temowo
Lighting Designer:  Paule Constable
Sound Designer: Ian Dickinson for Autograph
Movement: Annie-Lunette Deacon-Foster
Information
Running Time: One hour 30 minutes without an interval
Booking to 4th June 2022 
Theatre:
Ambassadors Theatre
West Street
London WC2H 9ND
Tube Leicester Square
Reviewed by Lizzie Loveridge at the 
at the Ambassadors Theatre
on 15th March 2022