Skit on Gertrude Stein
and her avant-garde Salon of Geniuses
"For Gertrude Stein and her wife Alice B. Toklas, life in Paris was based upon the rue de Fleurus and the Saturday evenings and 'it was like a kaleidoscope slowly turning'. Picasso was there with 'his high whinnying Spanish giggle', as were Cezanne and Matisse, Hemingway and Fitzgerald. As Toklas put it – 'The geniuses came and talked to Gertrude Stein and the wives sat with me'."
Blurb for the Autobiography of Alice B Toklas by Gertrude Stein
In the early 1900s American Gertrude Stein (Natasha Byrne) set up her Parisian Salon to welcome writers and artists of the avant-garde to discuss their work and genius.  She lived with another American woman in a Lesbian relationship, Alice B Toklas (Alyssa Simon).  Alice's claim to fame was a 1968 film with Peter Sellers, I Love you, Alice B Toklas.  The Sellers film was set in the hippie 1960s and Alice's contribution was a recipe in one of her cookery books for cannabis brownies. 
Gertrude Stein wrote her book cryptically called The Autobiography of Alice B Toklas  and playwright Edward Einhorn has taken this idea to write and direct his farce, The Marriage of Alice B Toklas by Gertrude Stein.  In the play's introduction,  there is a long convoluted explanation that "I am Gertrude Stein playing Alice B Toklas playing Gertrude Stein playing Alice B Toklas"  and so on.  Lost?  I was.  But it doesn't really matter because this show is about wit and mime and wonderful facial expressions rather than biographical information.
The fictitious wedding would not have been thought of in the early 1900s but here it is an expression of the enduring relationship between the two women.  Although they were Lesbians, the division of labour between them did not mirror feminist ideas as you can see from Stein's quote above.  Alice B Toklas was relegated to the women's room while Stein entertained, with the exception of herself, the Modernist all male geniuses.  Picasso, Alfred North Whitehead and Stein herself were her proclaimed geniuses.  Hemmingway, James Joyce, TS Eliot, F Scott Fitzgerald, Ezra Pound and Matisse also visited.   What an age to have been a namedropper!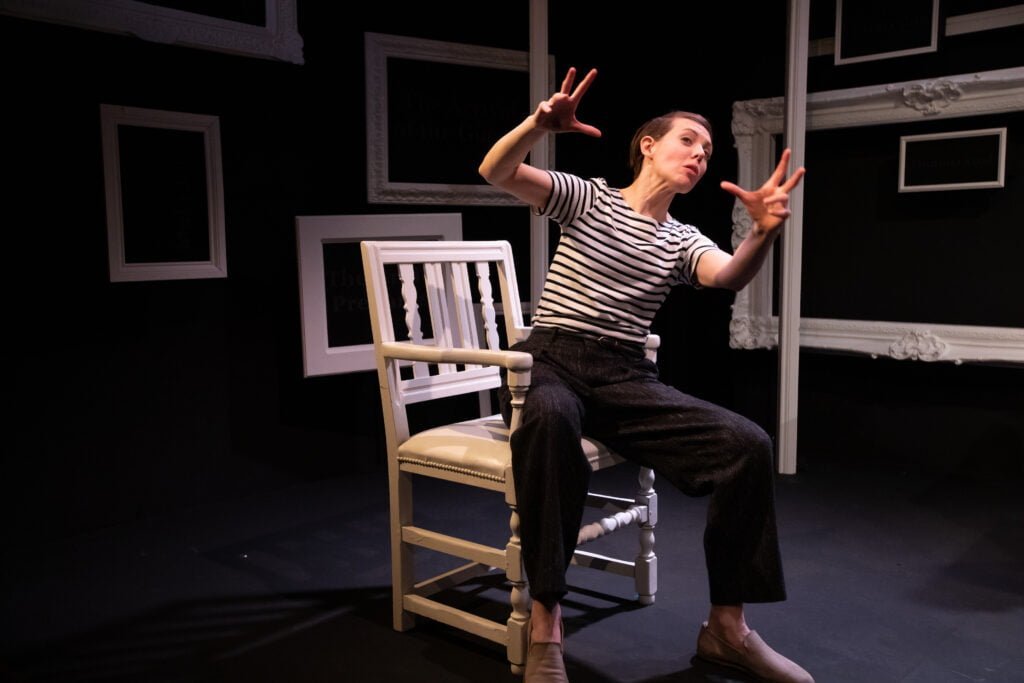 Hemmingway (Mark Huckett) is accepted but not credited with genius status.  He spends too much time writing about manly pursuits like bull fighting.  Gertrude and Hemmingway are seen dancing the Paso Doble with stylised moved and a swirling red cloak, as matadors are praised for their bravery.
"Any story is a story about death," Hemmingway says. Mark Huckett also plays Leo Stern, Gertrude's brother who wasn't seen by Gertrude to be as clever as she was, but he was the one with a good eye for what art to collect in the early 20th century.   Picasso (Kelly Burke) gives advice on how to keep his mistresses separate and incidentally Kelly Burke will play all of his wives and mistresses.  Kelly Burke is very agile and in her striped T shirt reminded me of the great mime artist Marcel Marceau and her best acting is without words.  Her acting strays into the French rather than Picasso's native Spanish.  Talking about the controversy of his work, he says "Artists at the forefront of technique cannot make pretty pictures." 
We see the Jewish wedding between Stein and Toklas under the awning and a prenuptial orgasmic experience when Alice demonstrates her mooing like a cow. 
The set is dominated by empty picture frames in which to project the scene titles.  The costumes for Gertrude Stein are exact copies of what she wore in photographs.
The show is light and witty, a vehicle for this company James L Simons productions and Untitled Theater Company No.81.  All three woman are especially expressive, the wonderful solidity of Natasha Byrne as Stein, the myriad facial expressions of Alyssa Simon as Alice, and Kelly Burke's athleticism and movement in so many roles.  Farce it may be but it contributes to our understanding of the unconventionality of Modernism
The Marriage of Alice B Toklas by Gertrude  Stein

Written and directed by Edward Einhorn
Cast
Starring:
Kelly Burke
Natasha Byrne
Alyssa Simon
Mark Huckett
Creatives
Director: Edward Einhorn
Set Designer: Machiko Weston
Costume Designer:  Anna Lewis
Movement Consultant: Phoebe Hyder
Lighting Designer: Ali Hunter
Sound Designer: Tom Marshall
Information
Running Time: One hours 30 minutes
with an interval but remain seated
Booking to 16th April  2022
Theatre:  
Tube: Piccadilly Circus
Reviewed by Lizzie Loveridge
at Jermyn Street Theatre
on  23rd March 2022