Community change, racism and gentrification
"Bev, I'm not here to solve society's problems. I'm simply telling you what will happen, and it will happen as follows: First one family will leave, then another, and another, and each time they do, the values of these properties will decline, and once that process begins, once you break that egg, Bev, . . . . "
Karl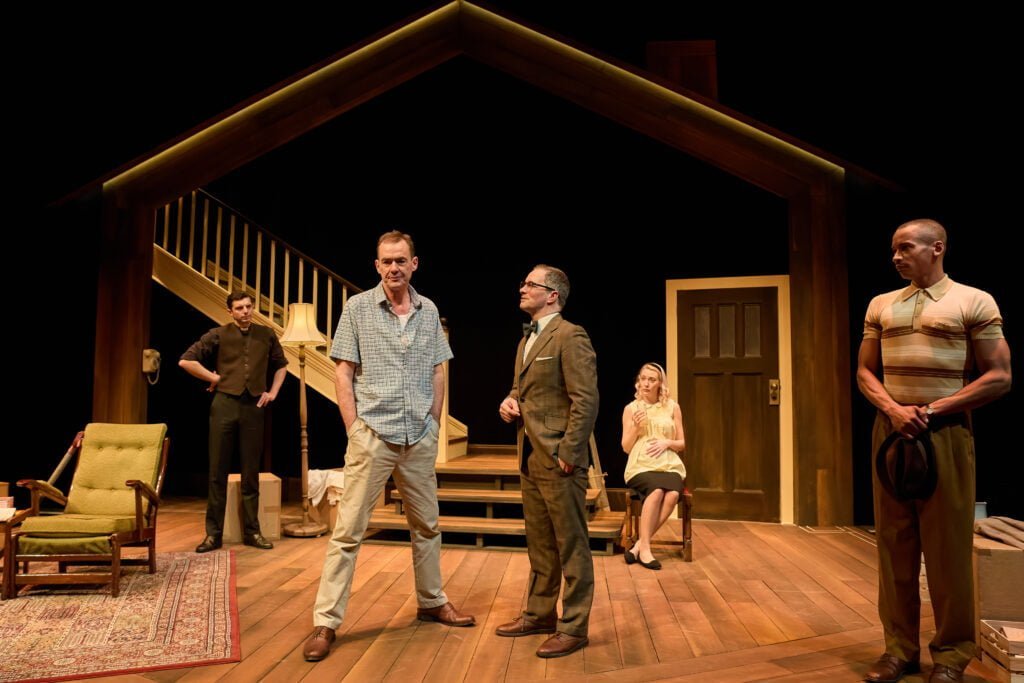 I saw this thought provoking play by Bruce Norris twelve years ago at the Royal Court.  It is the follow up to Lorraine Hansberry's A Raisin in the Sun about the demographic changes in an area of urban Chicago.  Hansberry's play is set in 1959 and is about a black family, the Youngers, moving into a house in a white neighbourhood.  Bruce Norris has a career as an actor as well as a playwright and has been closely associated with Chicago's brilliant Steppenwolf Theater.
The two acts of Norris's play are set half a century apart, in 1959 and 2009 in the same house 406 Clybourne Street as the Youngers move into.  Norris's play tackles important issues about how and where we live, and prejudice, besides keeping your attention as entertainment.  His first act looks at the white family moving out. 
Imogen Stubbs is Bev, the nervous and fragile wife and Richard Lintern is Russ, her husband.  It is Russ who has become alienated from the neighbourhood after their son Kenneth, a veteran of the Korean War returned with something like PTSD  and hanged himself in the attic of the house.  Instead of support from the community, the bereaved family were avoided. 
Although I haven't always found all the Pulitzer Prize winning plays to be excellent, Clybourne Park is great drama. Representing the community association, the priggish Karl (Andrew Langtree), tweed jacket and bow tie stodginess, comes to ask Russ not to sell to a black family and is deservedly given short shrift.  With Karl is his profoundly deaf and very pregnant wife, Betsy (Katy Matsell).  As Bev tries to make sure Betsy can hear what she is saying, she shouts at her and makes us all groan and laugh.
There is a delightful rif when Bev and Russ debate the meaning of Neapolitan as Russ eats up the contents of the freezer.  They discuss the correct name for citizens of cities worldwide derived from the name of their city and Russ shows more education than Bev.  What do you call people who live in Moscow? Bev tries to give away her silver chafing dish to her valued maid, Francine (Aliyah Odoffin) who doesn't want it either.  Bev hasn't used it in some time because she hasn't entertained anyone where she has needed to keep food hot.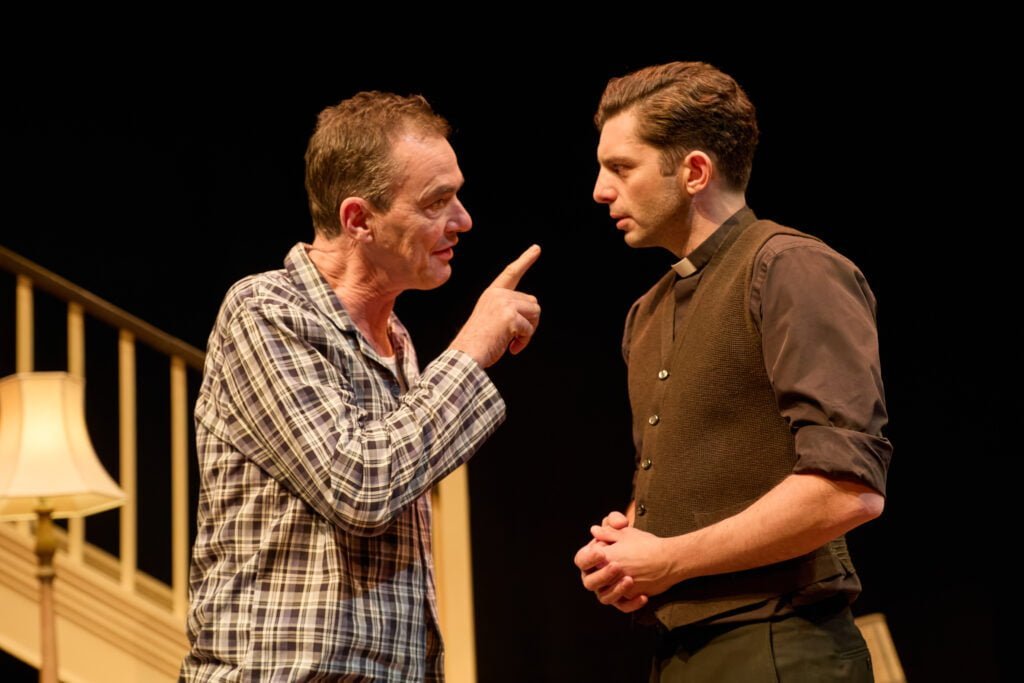 The storm created by Karl's intervention about the house sale closes Act One and causes Bev to say, "Someday we could all sit down at one big table and . . . "
Act Two taking place in 2009 sees the house dilapidated and in need of renovation.  There is a meeting to discuss a planning application to build a fifteen foot height extension onto the house making it considerably taller than its neighbours.  A professional white family want to live here because of its closeness to the centre of the city and its bargain property prices.  The black family Lena (Aliyah Odoffin) and Kevin (Eric Underwood) are patronised by Steve (yes, Andrew Langtree again!) "Hold that thought!"  he says to Lena while moving on to his agenda. 
Each actor takes on another role of contrast in Part Two making this an exciting chance for actors to show some of their range.  Richard Lintern appears as Dan, a building worker who has uncovered the plays Pandora's Box of revelations, in the excavation.  James Turner's set changes in the interval to reflect the condition of the house.
Clybourne Park is a satisfying play with a dramatic arc of topicality to make you think.  Oliver Kanderbhai has given us a good production.  Don't miss it!
Clybourne Park
Written by Bruce Norris
Directed by Oliver Kaderbhai
Cast
Starring:
Richard Lintern
Imogen Stubbs
Eric Underwood
Aliyah Odoffin
Katie Matsell
Michael Fox
Andrew Langtree
Creatives
Director: Oliver Kaderbhai
Designer:  James Turner
Lighting Designer: Alex Lewer
Sound Designer: Will Tonna
Information
Running Time: Two hours 20  minutes with an interval
Booking to 23rd April 2022
Theatre:  
The Park Theatre
Park 200
Website: parktheatre.co.uk
Reviewed by Lizzie Loveridge
at the Park Theatre matinée 
on 24th March  2022