Anyone Can Whistle: A Bonkers Sondheim!
"What's natural comes hard
Maybe you could show me
How to let go
Lower my guard
Learn to be free
Maybe if you whistle,
Whistle for me"
Lyric from "Anyone Can Whistle"
Arthur Laurents may have a lot to answer for with the book for this 1964 Stephen Sondheim musical, which is early enough to fall into an Absurdist category.  It is a zany musical about how people who are individual are side-lined and ostracised for their otherness and persecuted by the authorities. 
This the first full length production since 1964 when the premiere was met with multiple problems including a dancer falling into the pit and landing on top of a saxophone player who then suffered a heart attack.  A concert version played at Carnegie Hall in 1995. In 2003 a revised version played in Los Angeles with permission for the revision from Sondheim and Laurents. 
The plot is of a town with a corrupt mayor where the town is failing to attract enough visitors.  Mayor Cora Hoover Hooper (Alex Young) and her three male sidekicks come up with a scheme to launch a miracle by water appearing from a large rock.  The miracle sees multi-coloured confetti sprayed from the rock and launches the energy water dance from the whole cast.
Alex Young says "everybody hates me" as she steals a lollipop from a child.  She is supported by Comptroller Schub (Danny Lane), Treasurer Cooley (Samuel Clifford) and Chief of Police Magruder (Renan Teodoro) in comic song and dance.
The problem comes when Nurse Fay Apple (Chrystine Symone) disguises herself as a French investigator from Lourdes to ascertain whether this is a genuine miracle.  The town is called upon to demonstrate the miraculous properties of the rock by "curing" 49 patients from the local loony bin, sorry, mental health care facility, attractively called here, The Cookie Jar.  The doctor in charge of The Cookie Jar is Dr Detmold (a quirky and delicious Nathan Taylor, happy with any pronoun!) who is pretty much indistinguishable from his patients, the cookies from the "sanitorium for the socially pressured."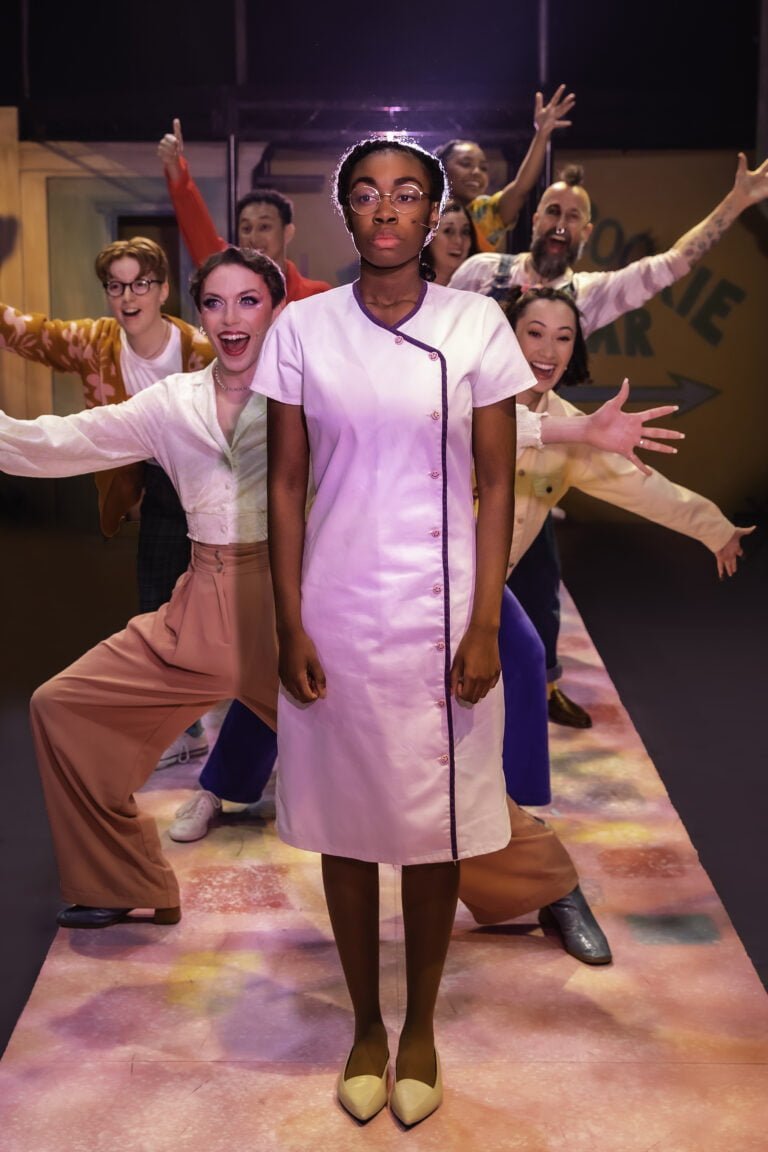 A visitor J. Bowden Hapgood (Jordan Broatch) is mistakenly thought to be a doctor and strikes up a romance with Nurse Apple who has dressed as Colette, a French soubrette in pink wig and boa trimmed negligée and speaks with a funny French accent.  Hapgood looks as if he has stepped out of a production of Hair with his psychedelic T shirt with bell bottom sleeves.  The colourful costume design by Cory Shipp is lively and fun. 
The Cookies are somehow released into the community and when they try to round them up, no-one can find them as they are now sitting in the audience and are unrecognisable! 
There are two very good songs which have become a part of the Sondheim cabaret repertoire, "There Won't Be Trumpets" with its messianic theme satirising "76 Trombones" from the musical, The Music Man, which had completed its three plus years run on Broadway in !961, and is on in 2022.  The other song, one of everyday rebellion, is "Everybody says Don't" from J. Bowden Hapgood.
It is played on a traverse stage with the Southwark audience banked either side.  That early musical essential the ballet gets a nod when Baby Joan (Marisha Morgan) has a dance with ballet moves progressing to hip hop.   Lisa Stevens is the choreographer of the lively dance.  
I especially loved the scene where two French bereted garlic sellers, yes garlic not onions, John (Terry Hinde), and the find of the show, George (Shane Convery) translate for Apple and Hapgood. 
Anyone Can Whistle may not be Sondheim's best work but it is a fun production at Southwark to complete the oeuvre of his musicals seen.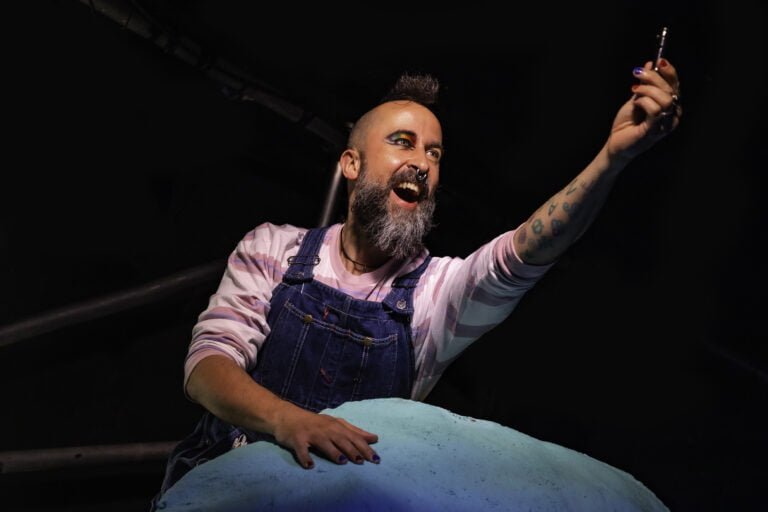 Prelude
Me and My Town
I'm Like the Bluebird
Miracle Song
There Won't Be Trumpets
Simple
A-1 March
Come Play Wiz Me
Anyone Can Whistle
A Parade In Town
Everybody Says Don't
Don't Ballet (instrumental) 
I've Got You to Lean On
See What It Gets You
Anyone Can Whistle (Reprise)
Cora's Chase (The Cookie Chase)
I'm Like the Bluebird (Reprise 1)
With So Little to Be Sure Of
I've Got You to Lean On (Reprise)
I'm Like the Bluebird (Reprise 2)
Finale Ultimo (instrumental)
Anyone Can Whistle
Book by Arthur Laurents
Music and Lyrics by Stephen Sondheim
Directed by Georgie Rankcom
Cast
Starring:
Alex Young
Chrystine Symone
Jordan Broatch
Danny Lane
Samuel Clifford
Renan Teodoro
Nathan Taylor
Kathryn Akin
Marisha Morgan
Teddy Hinde
Hana Ichijo
Shane Convery
Jensen Tudtud
Creatives
Director: Georgie Rankcom
Choreographer: Lisa Stevens
Musical Director: Natalie Pound
Lighting Designer: Alex Musgrave
Designer:  Cory Shipp
Sound Designer: Justin Teasedale
Orchestration: Don Walker
New orchestration: Charlie Ingles
Presented by arrangement with Music Theatre International
Information
Running Time: Two hours 20 minutes with an interval
Booking until 27th September 2020
Theatre:
Southwark Playhouse
Newington Causeway
London SE1 6BD
Rail/Tube: Elephant and Castle
Reviewed by Lizzie Loveridge
at the Southwark Playhouse
on 5th April 2022