Zorro the Musical:
a riot of excitement, flamenco and sword fights
We are born of an ancient people
Proud as time itself
Our spirits carry the secrets of the world
Inez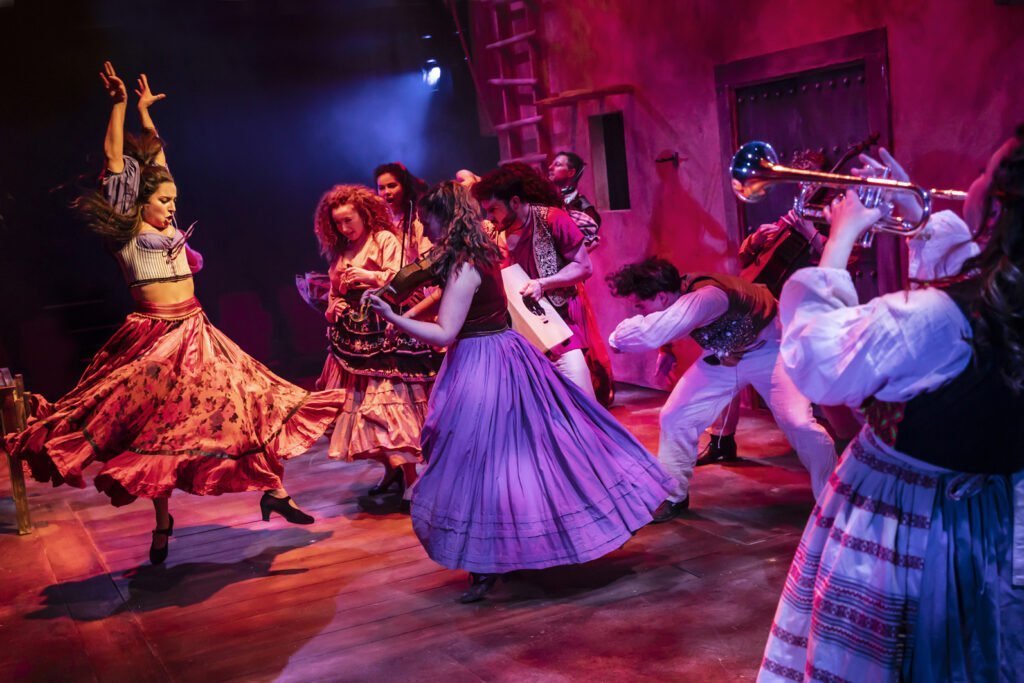 With a cast of actor musicians, Zorro the musical blazes into the Charing Cross Theatre bringing the thrills of flamenco dance and cante jondo or deep song.  Directed by Christian Durham, this is the version with the book and lyrics by Stephen Clark from a story by him and Helen Edmundson.  Besides the iconic music of the Gypsy Kings, John Cameron has written additional music.  Director Christian Durham has adapted this  production.
Although I had seen Zorro in 2008, the version at Charing Cross has the audience banked either side of the stage for fully immersive action.  It is a big party!  What this production loses in magic tricks, it replaces with exciting duels at close quarters by fight director Renny Krupinski and fight captain Matthew Heywood.
The story you can read in the 2008 review is of the prodigal son who returns to find his father presumed dead and his brother an autocratic and cruel ruler of the pueblo in small town Los Angeles dated 1805.  He is Diego de la Vega (Benjamin Purkiss) and he brings back with him from Spain a gypsy troupe with the beautiful and fiery Inez (Phoebe Panaretos).  Diego has been found in Spain by his childhood sweetheart Luisa (Paige Fenlon) who can wield a sword as well as the men.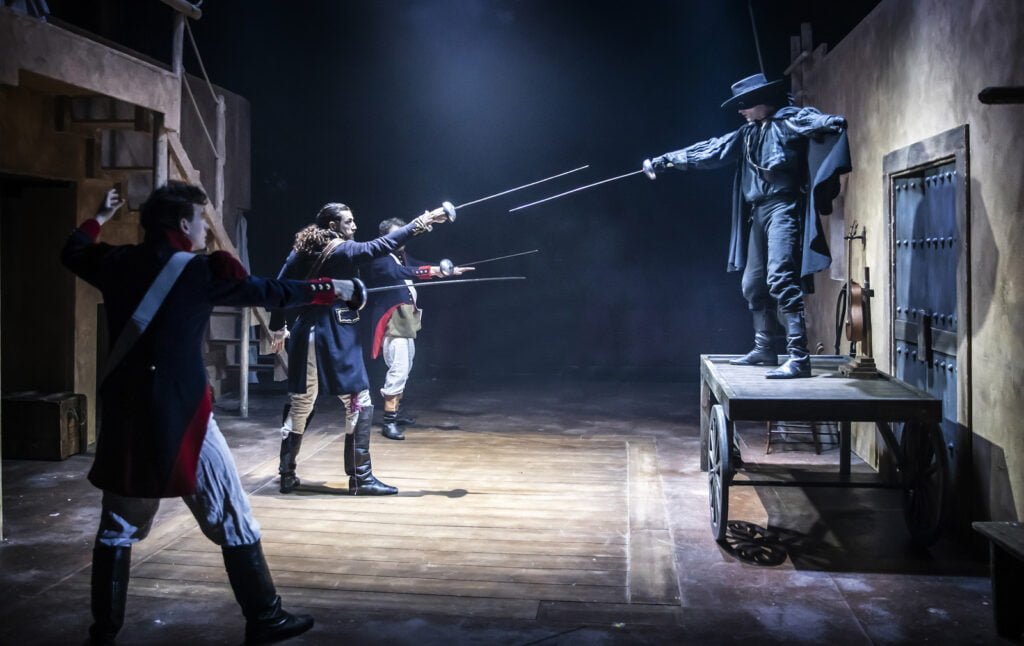 Cressida Carré's vibrant choreography is full of high, athletic jumps as well as musically unaccompanied foot stamping and clapping dance and traditional flamenco.  I loved the female ensemble of dancers, distressed and red lighting, two playing trumpets whose children are starving as the soldiers take their food.  They sing "Libertad" the song of freedom. One unfortunate man has been sentenced to be hanged and we see his head in a large rope noose and no evidence of a body hoist.  How will he escape? 
Since his return to California, Diego has been disguising himself as an effete, shrinking violet, a kind of Clark Kent to Zorro's Superman.  As he acts the part, a spirited Inez says quietly, "Don't overdo it!"  Inez has to seduce Seargent Garcia (Marc Pickering), a comic part but essential to Ramon (Alex Gibson Giorgio)'s power structure.  The first act closes with "Bamboléo" as Inez and the gypsies dance to the hypnotic classic song from the Gypsy Kings.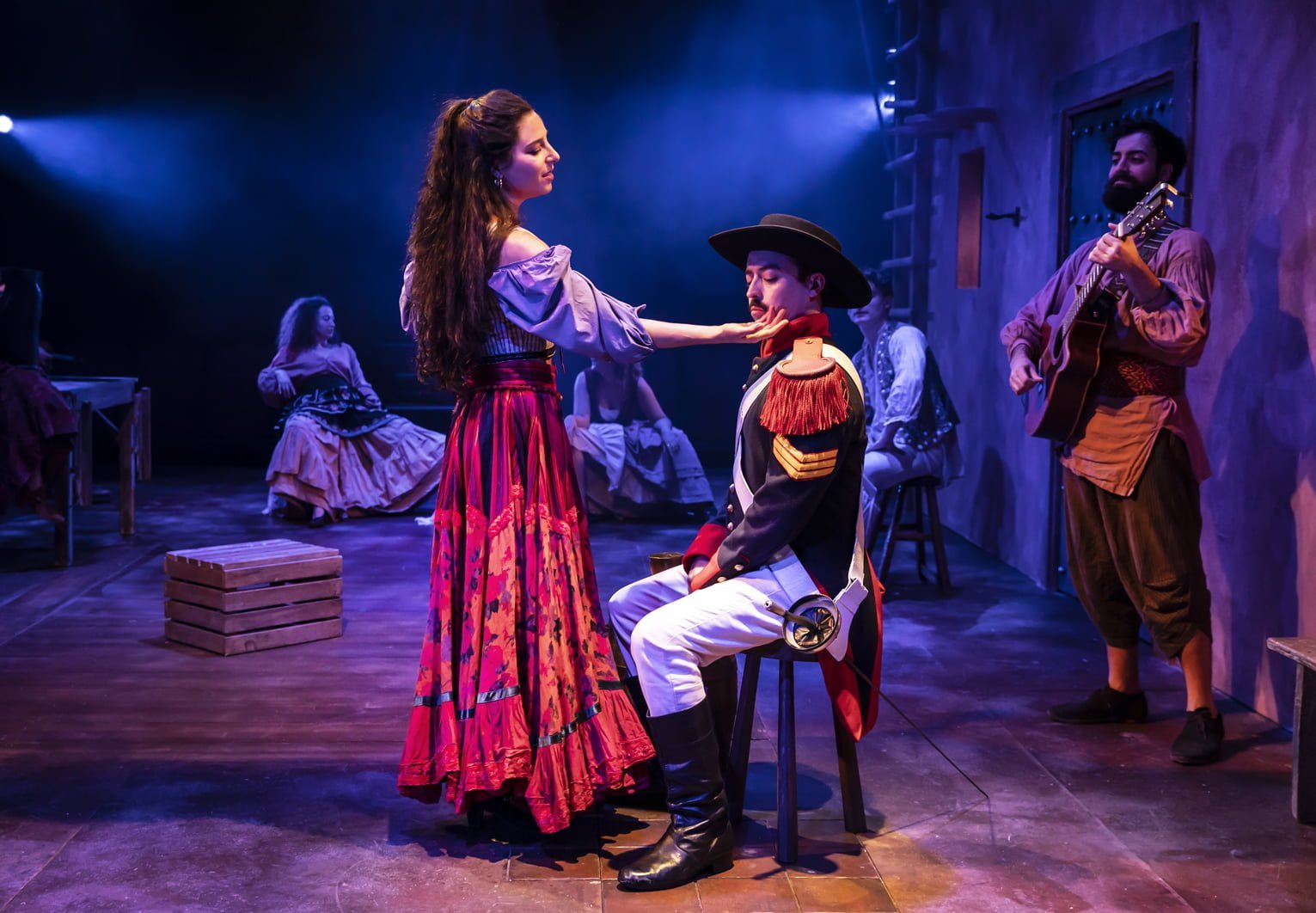 Rosa Maggiora's set looks good with its terracotta walls, ropes and barrels and of course costumes that can be twirled and swung.  The lighting too is used to alter the mood of scenes.
In the second act, I felt real anguish in a scene towards the end.  Benjamin Purkiss acts and sings and looks like the handsome hero a perfect foil for his brother Ramon's villain who says, "Happiness is always blemished by what we do not yet possess", looking at Luisa.  Is his leather tankard half empty of Rioja?  Zorro's song "Hope" is a kind of soliloquy.   Paige Fenlon as Luisa, wearing a wedding dress, sings "The Man Behind the Mask"  beautifully.  But for me the star of the show is Phoebe Panaretos's Inez with her deep register singing voice, wonderful dance and astonishing stage presence.   
I loved this show as flamenco for me is the epitome of romance!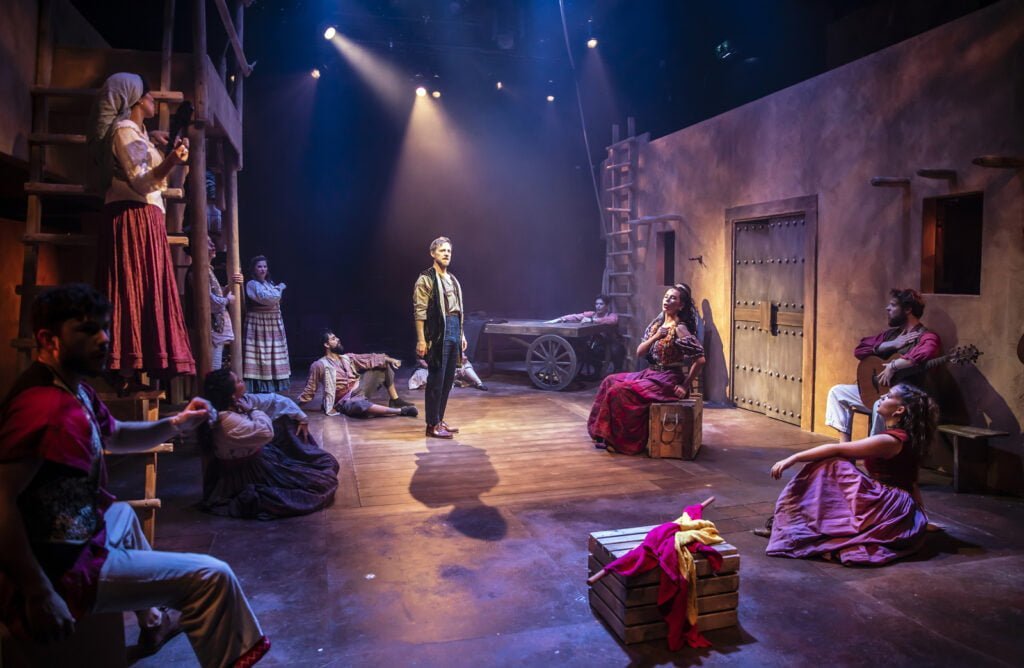 Act One
Prologue (The Lullaby)
Baila Me
Remember
Libertad
Hope
In One Day
Viva El Zorro
Falling
Bamboléo There's A Tale
Act Two
Entrada
Vamos A Bailar (Freedom)
A Love We'll Never Live
One More Beer
Djobi Djoba
Hope (Reprise)
The Man Behind The Mask
Finale
Zorro the Musical 
Book, Lyrics and Original Story by Stephen Clark
Music The Gypsy Kings
Co-composer and Adaptor: John Cameron
Directed by Christian Durham
Cast
Starring:
Pete Ashmore
Paige Fenlon
Alex Gibson Giorgio
Phoebe Pantaros
Marc Pickering
Benjamin Purkiss
Stylianos Thomadakis
Hannah Woodward
With:
Ahaz Awad
Amy Bastani
Isobel Bates
Ben Boskovic
Matthew Bugg
Maxwell Griffin
Matthew Heywood
Jessica Lim
Jessica Pardoe
Stylianos Thomadakis
Hannah Woodward
Creatives
Director: Christian Durham
Choreographer: Cressida Carré
Set and Costume Designer: Rosa Maggiora
Musical Director and Orchestrator: Nick Barstow
Lighting Designer:  Matt Haskins
Sound Designer: Andrew Johnson
Fight Director:  Renny Krupinski
Orchestrations: Michael Gibson
Special Effects Consultant and Flaming Sword
Designer: Tim Haddon
Flamenco Designer: Maria Vega
Information
Running Time:
Two hours 40 minutes with an interval
Booking until 28th May 2022 
Theatre:
Charing Cross Theatre
The Arches
Villiers Street
London WC2N 6NL
Box Office: 08444 930 650
Tube: Embankment
Reviewed by Lizzie Loveridge
at the Charing Cross Theatre on 12th April 2022