The 47th: the road to tyranny
"When and if fascism comes to America it will not be labelled 'made in Germany'; it will not be marked with a swastika.  It will not even be called fascism; it will be called, of course, 'Americanism.' "
Henry Wallace, US Vice President, in 1944.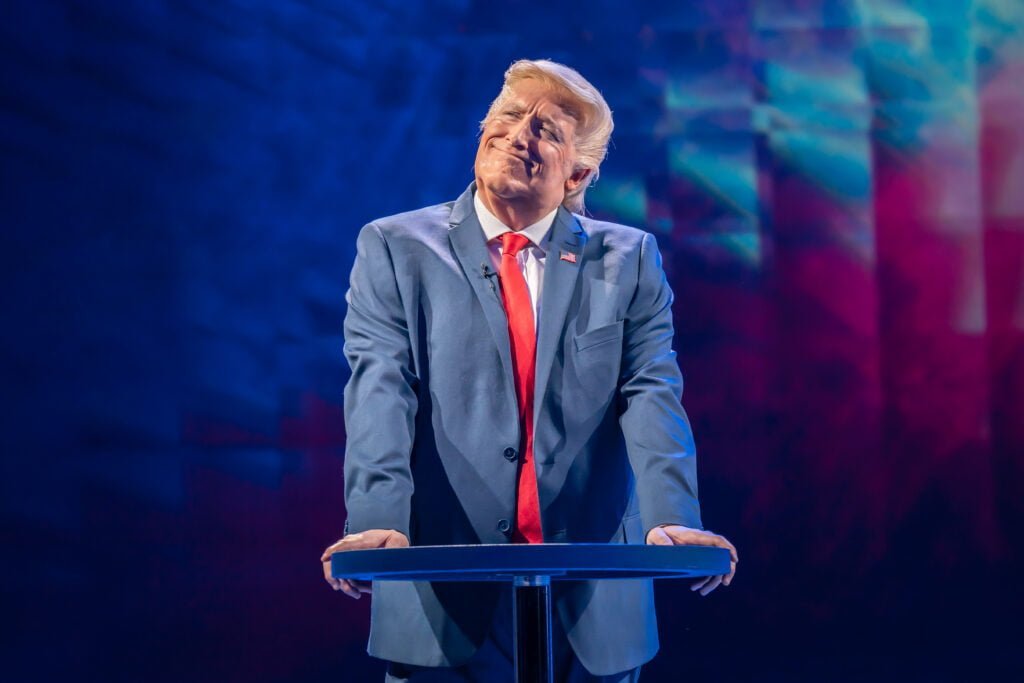 Astonishingly accomplished for his pre-history play of King Charles III, Mike Bartlett returns to the iambic pentameter for a history play about America.  He looks at the possible future for the 45th President and Kamala Harris, Joe Biden's Deputy, with all the wit we can appreciate.  Rupert Goold returns to direct.
The gob smacking opening is the visual deception that in the golf cart is Donald Trump and not the English actor who we last saw in sport with Olympic ribbon twirling.   Then Bertie Carvel was Matilda's large busted Miss Trunchbull, now he is similarly evil as Donald Trump and must be top of the list for lookalike hiring.  His stance, hand actions, gestures, voice and loss of temper are perfect replicas.  "You all hate me!" he says "Judging me by my skin color!" as he takes a shot at the liberal elite. We laugh at Tango man.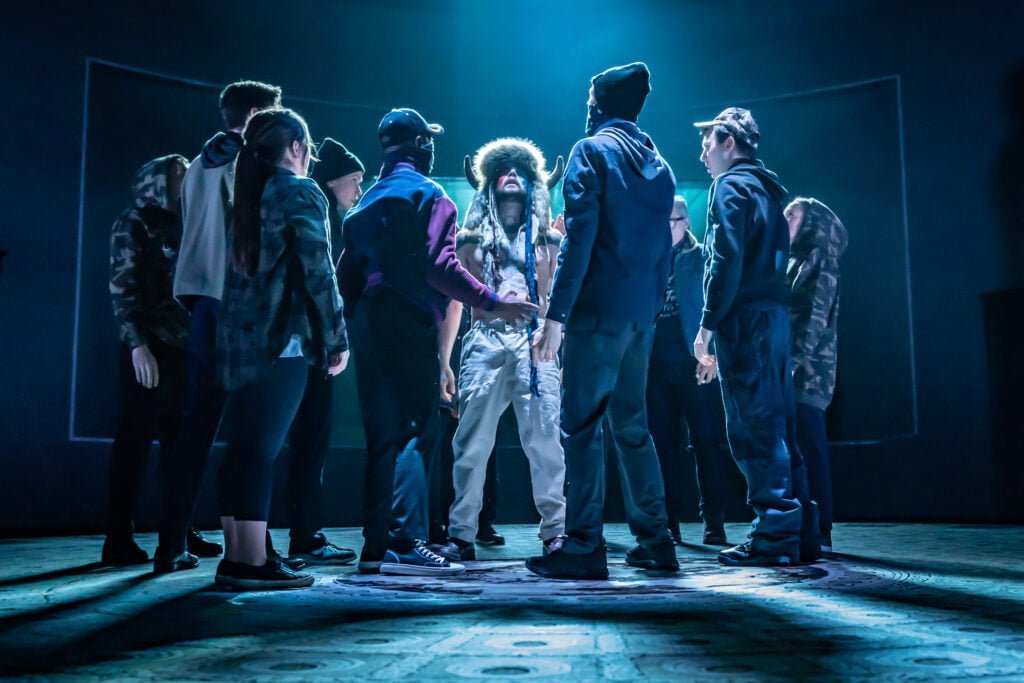 For theatre people, Bartlett's play has delightful allusions, they can spot, to Shakespeare's tragedies, King Lear, Hamlet and Julius Caesar.  Towards the end we might also be getting Succession as the sons go for indemnity in return for bearing witness against their father.  And he compares himself to Lin Manuel Miranda's Hamilton.
As Ivanka Trump (Lydia Wilson) takes the Cordelia stand against her brothers Donald Jr (Oscar Lloyd) and Eric (Freddie Meredith), she will be chosen as her father's heir in a relationship that borders on the incestuous.  Lydia Wilson also played stick thin Katherine Middleton in King Charles III.   As Ivanka she is like a statue in Elastoplast coloured fitted frock and matching high heels with bottle blonde hair freshly straightened.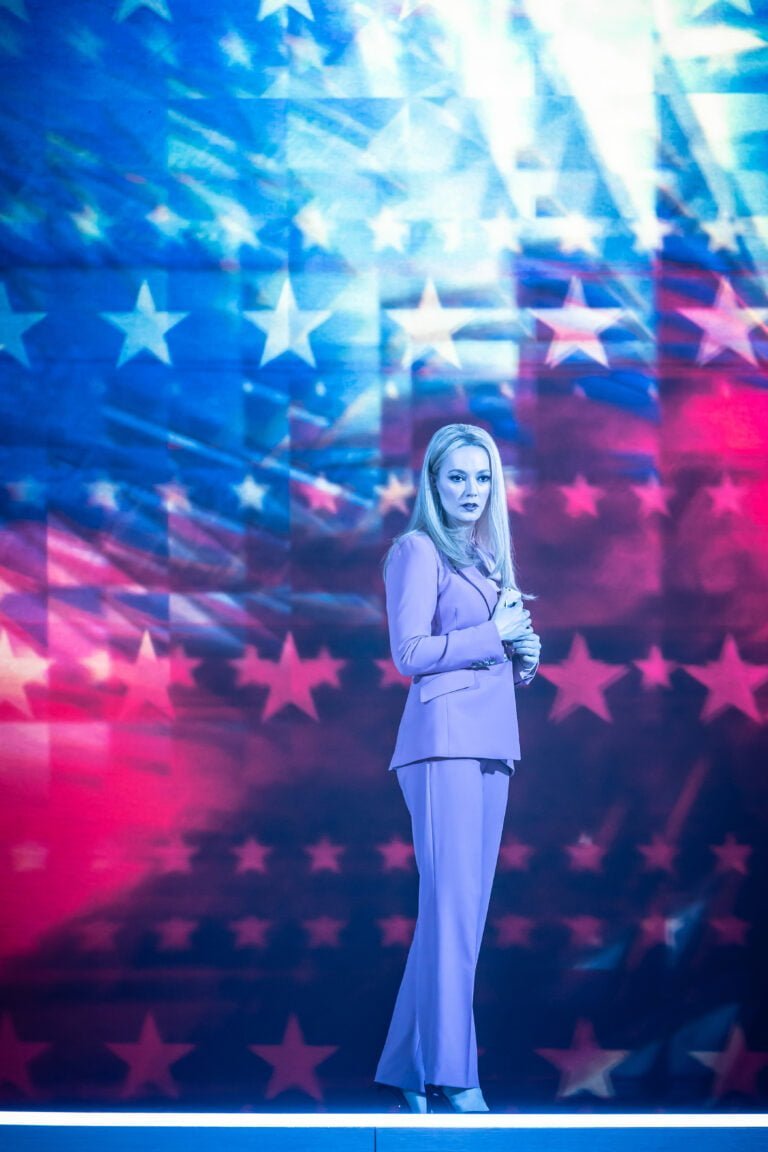 There is a great cameo of bearded Ted Cruz, by James Garnon, the Texan Senator who is running as Republican presidential candidate in 2024, whose fiery wife Heidi (Jenni Maitland) is praised and insulted by Trump. Cruz may regret asking Donald Trump to endorse his candidacy which he does so using Mark Antony's technique at Caesar's funeral to discredit Brutus using irony.
The doddery Joe Biden is played by our gentlemanly Simon Williams who falls ill after shaking hands with Donald Trump; now we are in Putin territory.  Biden will reappear as Hamlet's Ghost.  Kamala Harris who is brilliantly played by American actor Tamara Tunie becomes the 47th President.  She is a genuine, well-meaning liberal, unable to take action against the mutinous mob, personified by the Shaman (Joss Carter), without oppressive measures. The democrat allows the opposition to thrive. 
The iconic Shaman with buffalo horns and tattooed torso hypes up a crowd of checked shirt wearing working men led by Paul (James Garnon).  A democrat reporter Charlie Takahashi (James Cooney) is sent behind enemy lines to get the inside story for the New York Times.  Rosie Takahashi (Amy Tredrea) is a Republican and Trump's admirer and driver. 
The riots will spread and Trump might need to be imprisoned in Rikers Island although he might pretend it is Robben Island and he will have "a long walk to freedom!"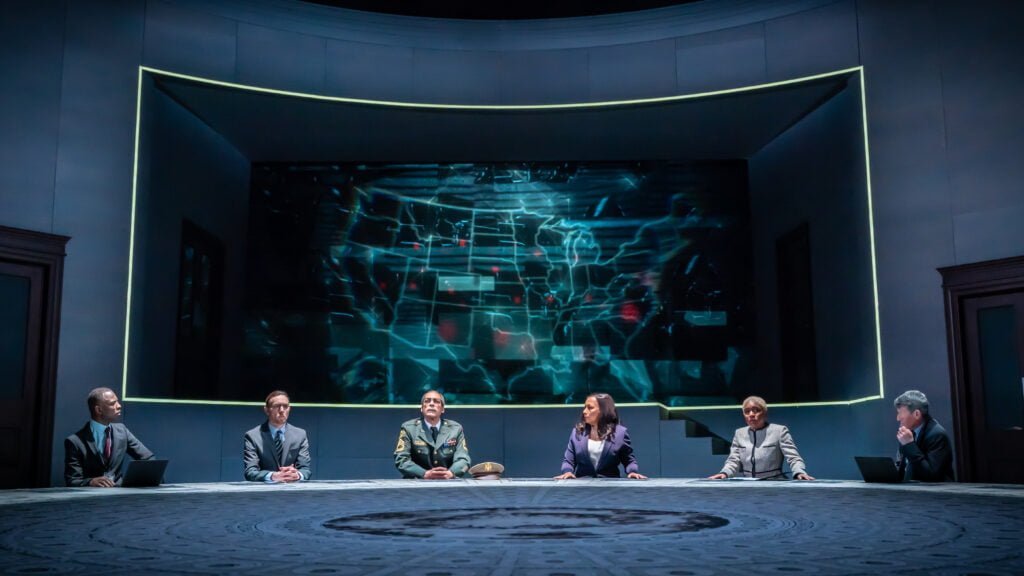 Rupert Goold gets superlative performances from all his ensemble but Tamara Tunie, Lydia Wilson and above all Bertie Carvel are the stars.  I don't think I shall forget how often Carvel made me laugh with Trump's blatant arrogance and self-centred narcissism. 
Miriam Buether's set is devastating simple using a neon lined window to change the scene and a matching halo of differing coloured light above the stage to delineate a switch of venue.  Stars and stripes flags festoon down and red white and blue confetti floats into the auditorium. 
So what is the point of this play?  We are within a hair's breath of an ultra right wing regime hijacking democracy which Kamala Harris quoting Senator John Lewis says, "Democracy is not a state.  It is an act."
I am going to award this play five stars, from the theatre site that doesn't do stars, because of the beauty of the rhythm of the speech and the number of times I laughed.   Maybe Rupert don't take it to America where it might go down like a lead balloon as did the fabulous Enron.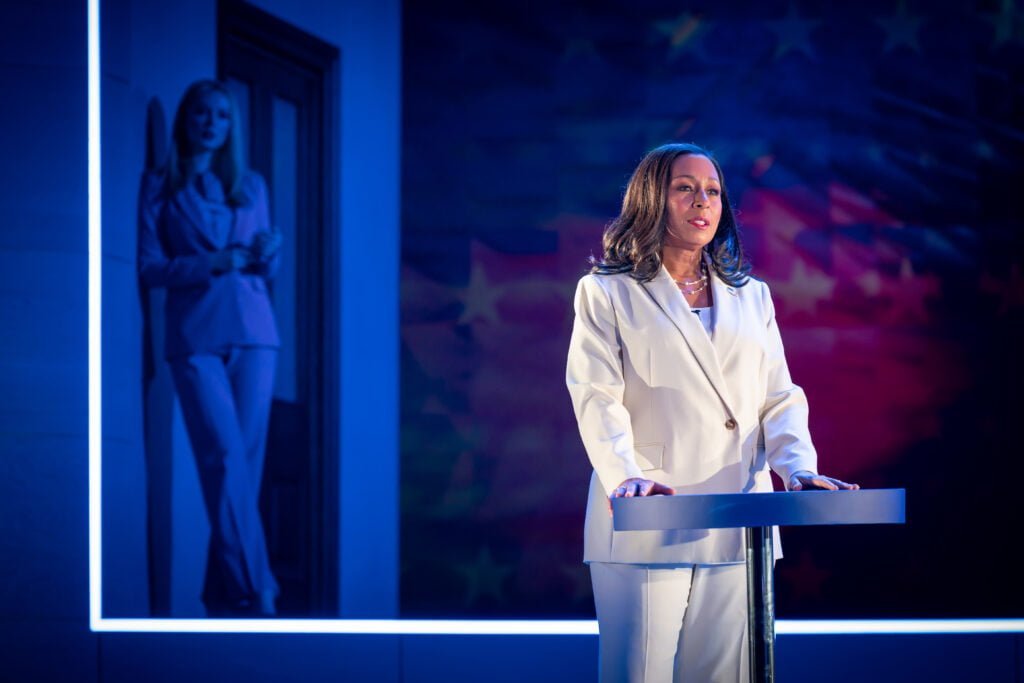 The 47th
Written by Mike Bartlett
Directed by Rupert Goold
Cast
Starring:
Bertie Carvel
Lydia Wilson 
Tamara Tunie
James Garnon
Oscar Lloyd
Freddie Meredith
Amy Tredrea
Charles Craddock
Flora Dawson
Miya James
Simon Williams
Richard Hansell
Cherrelle Skeete
James Cooney
Eva Fontaine
Ben Onwukwe
David Tarkenter
Jenni Maitland
David Carr
Joss Carter
Creatives
Director :
 Rupert Goold
Set Designer: Miriam Buether
Lighting Designer:  Neil Austin
Costume Designer:  Evie Gurney
Sound Designer: Tony Gayle Deans
Video: Adam Cork
Movement: Lynne Page
Wigs and Make up: Richard Mawbey
Information
Running Time:
Two hours 30 minutes with an interval
Booking until 28th May 2022
Theatre:
Old Vic
The Cut
Waterloo
London SE1 8NB
Tube/Rail : Waterloo
Telephone: 0344 871 7628
Website: oldvictheatre.com
Reviewed by Lizzie Loveridge
at the Old Vic
on 13th April 2022