Scandaltown, sex and satire!
"You ignored your own law and partied in the garden."  
Freddie Peripheral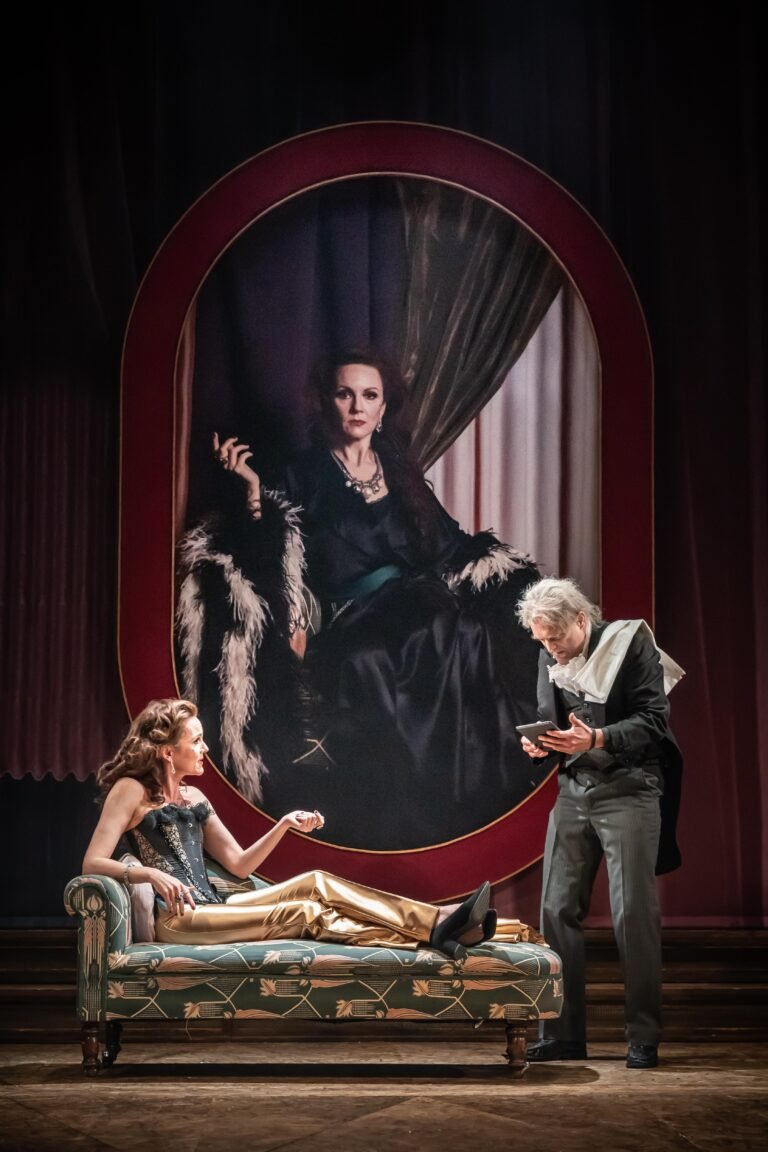 Mike Bartlett's latest offering Scandaltown takes us back theatrically 300 years to the Restoration Comedy of English playwrights like William Wycherley, and Irish writers Oliver Goldsmith and Richard Brinsley Sheridan.  Thanks to Janet Panic who herself sounds as if she merits a role in a Restoration play, we have this definition probably borrowed from J Crawford,
"The main characteristics of Restoration Comedy of Manners include a flamboyant display of witty, blunt sexual dialogue, boudoir intrigues, sensual innuendos and rakish behaviour." 
Regency romances by the likes of Jane Austen, and Queen Victoria's advent to the throne spoilt all this fun.  Wycherley's comedy The Country Wife was considered too rude to be performed between 1753 and 1924.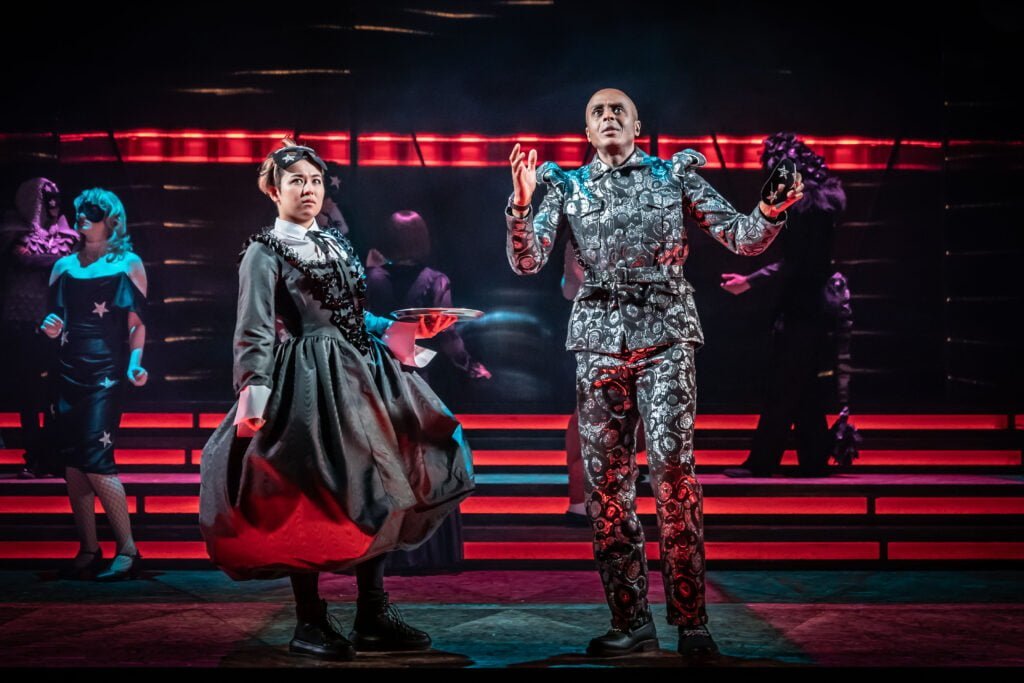 Mike Bartlett adds political satire to the list above.  Each London character's name gives an indication of their chief flaw or preoccupation.  Lady Susan Climber (Rachael Stirling) is the lead, a notorious self-seeking socialite with a large sexual appetite and beauty.  The story starts with Aunt Julie (Emma Cunliffe) who lives in the country in the north bringing up two innocents, Jack Virtue (Matthew Broome) and his sister Phoebe Virtue (Cecilia Appiah).  Jack has already gone to London and Phoebe will follow disguised as a boy after Jack's letter gives her cause for concern.
The superficial residents of London are getting ready to party at the Netflix Ball which will be in costume.  The Double Budgets will be there.  The disguise of Harlequin is on special offer at the costume shop and will be worn by several to increase the confusion.  Phoebe will look incongruous as a Norman soldier.  Kinnetia Isidore's costumes are fun throughout, especially for the ball but I loved Sir Dennis Hedge (Chukwuma Omambala) 's suit, the waistcoat of which appeared to have been borrowed by Jack.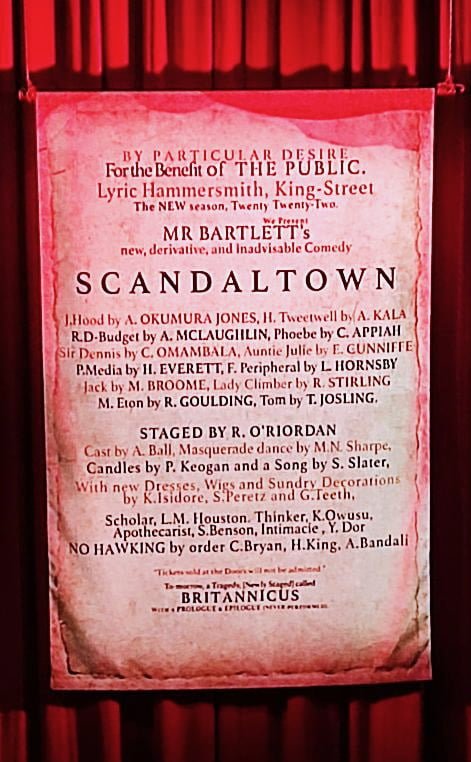 Lady Climber, played by the late Diana Rigg's lovely daughter, was third in The Apprentice in 2015 and has hired Hannah Tweetwell (Aysha Kate) to help promote her career as an anti-woke spokesman.  Strains of Katie Hopkins here!  Tory minister Matt Eton (Richard Goulding) will have a novel sexual encounter and review his political allegiances.  The denouement will feel more like farce than satire as parents are revealed and secrets uncovered.
This is the first play I recall seeing a Gender Consultant in the Creatives listing.  What could this role possibly be? There was a picture in the programme of a chap in a frock.  I wonder what Lady Susan would make of it?
Scandaltown will make people laugh but is a lighter work from Mike Bartlett than we might expect.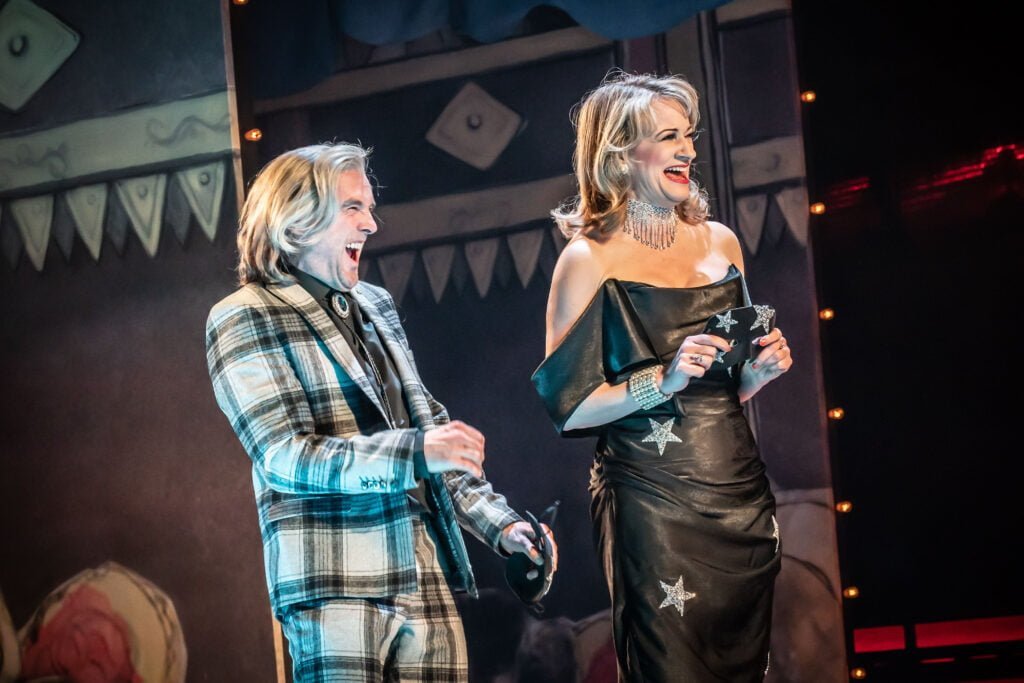 Scandaltown

Written by Mike Bartlett
Directed by Rachel O'Riordan
Cast
Starring:
Rachael Stirling
Cecilia Appiah
Matthew Broome
Emma Cunniffe
Henry Everett
Richard Goulding
Luke Hornsby
Thomas Josling
Aysha Kala
Annette McLaughlin
Ami Okumura Jones
Chukuwuma Omambala
Creatives
Director: Rachel O'Riordan
Set Designer: Good Teeth
Choreographer: Malik Nashad Sharp
Costume Designer: Kinnetia Isidore
Lighting Designer: Paul Keogan
Sound Designer: Simon SlaterVideo Designer:  Tal Rosner
Information
Running Time: Two hours 30 minutes with an interval
Booking to 14th May 2022
Theatre: 
Lyric Theatre
King Street
Hammersmith
London W6 0QL
Box Office: 020 8741 6850 
Website: lyric.co.uk
Tube: Hammersmith
Reviewed by Lizzie Loveridge at the Lyric Hammersmith 
on 14th April 2022