Punchdrunk returns with a new show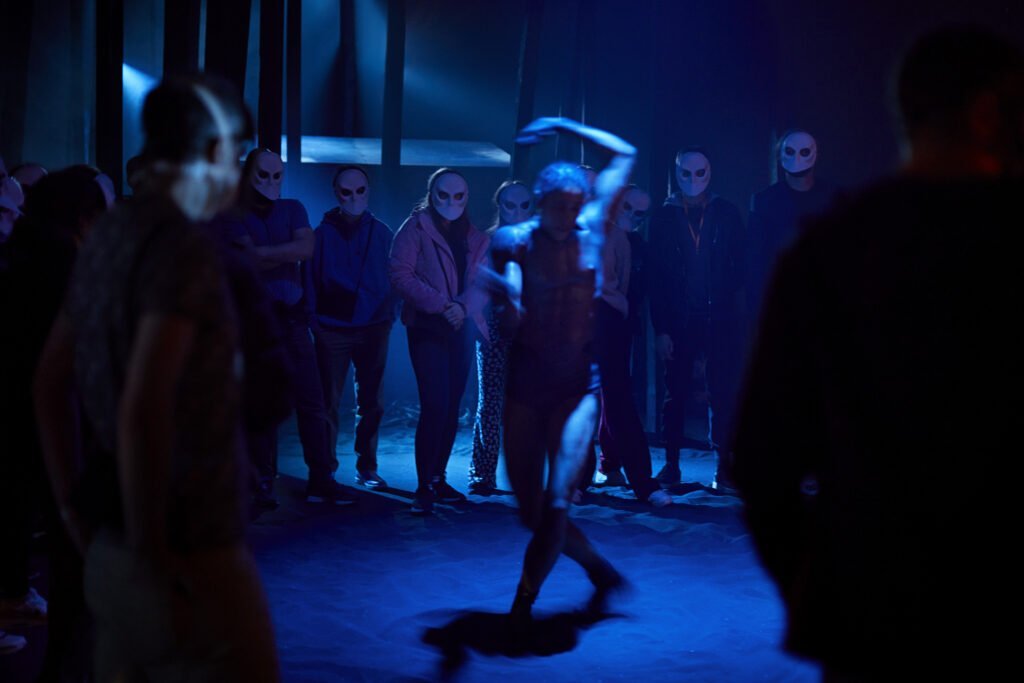 It was with no little excitement I welcomed theatre company Punchdrunk back to London, now in its permanent base at Woolwich Arsenal in an old armaments factory building.  I was blown away on first seeing them in 2007 in Wapping in Faust,  after Artistic Director Felix Barrett and Producer Colin Marsh spoke about their company and its unique approach, to a meeting of the Critics Circle. 
I found myself in a field of tall grass with a church in the distance.  On one floor I felt I had stepped into a painting by Edward Hopper with its street of shops and a milk bar.  In the bar, a bar tender slid a shot towards me the length of the bar. In the milkbar a dance fight took place within inches of my face.  It felt exciting and exhilarating.  Looking back, I was completely unfamiliar with Goethe's Faust, Christopher Marlowe's Dr Faustus was the closest I had been.  This is completely relevant to experiencing The Burnt City.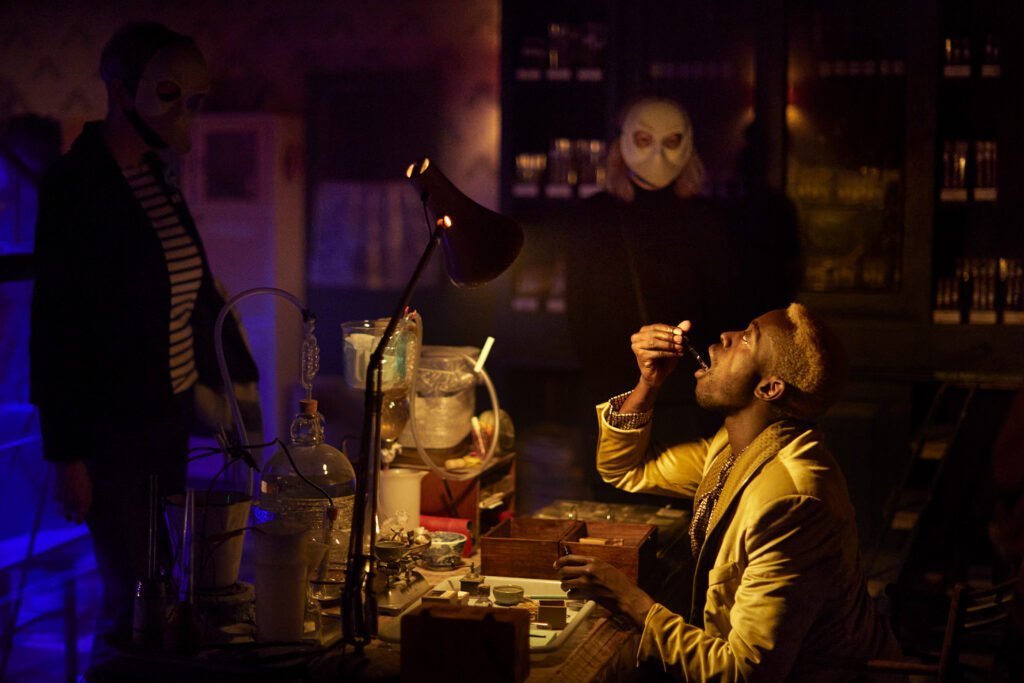 In later years I indulged in Edgar Allen Poe's The Masque of the Red Death in what had been Battersea's Old Town Hall and saw Katie Melua sing in the after concert.  In Manchester I was chased round a maze by a man with a chain saw raising my adrenaline in It Felt Like A Kiss.  In 2013, I paid to take my family to a preview of the Hollywood set The Drowned Man, in an old post office building in Paddington.  When I went again on the press day, I knew whom to follow and I stuck with Vinicius Salles on his thrilling story arc out into the desert on the other side of Los Angeles.  Later in 2013, I had seen the installation in Greenwich for 6 -12 year olds Against Captain's Orders.
You can appreciate the anticipation and expectations I had for The Burnt City based on the tales of Agamemnon and Clytemnestra and their daughter Iphigenia and on Euripides Hecuba, which I know less well.  As before we were given the Punchdrunk mask to wear and plunged into darkness.  A kind of small museum exhibition preceded the main show and then an audio tour explaining some of the history of the excavation of Troy.   
There are no words, but music and dance and fights and spectacle take place in splendidly detailed places.  You can wander around at will so each person's experience will be different.  You'll see different approaches from the masked public: some craning to read a note on a desk, take in the names like Styx on the liquor in the sake bar, understand the young girl's bedroom of the fated Iphigenia or trying to turn on taps in a room filled with Victorian washbasins. It is definitely the kind of show you will not be able to see everything the first time and despite the price of a standard ticket, you probably will know if you want to go back to explore further. 
Fritz Lang's 1927 Metropolis is an inspiration, a film I often think of when on a very steep escalator and when seeing people scurrying after one actor in The Burnt City.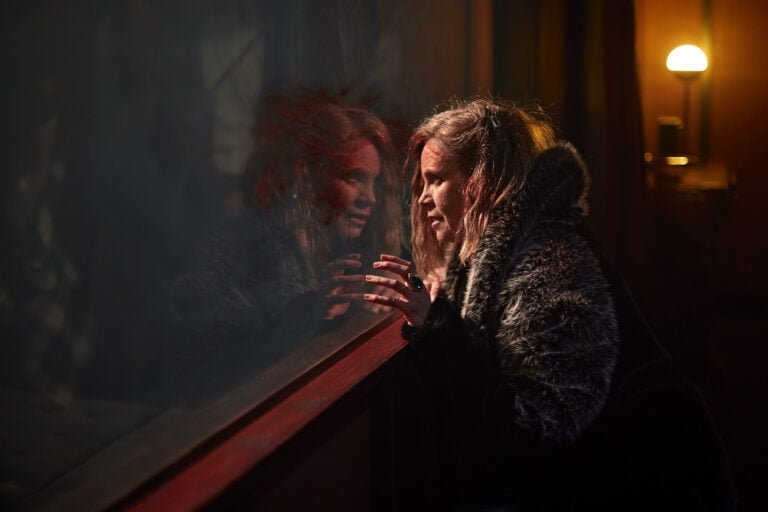 I really don't think this is the place to get an understanding of the Greek myths but one to let your imagination take over and to immerse yourself in the sensual experience of beautiful dance and athletic movement. 
Try not to worry about what you might be missing but explore where you find yourself.  Look at David Israel Reynoso's beautiful costumes and golden haired Apollo. Troy has a real bar with cabaret singers, a place you can take off your masks and enjoy a Meantime beer. 
There is an aftershow in this bar if you want to stay late. 
The Burnt City
Based on the writings of Aeschylus and Euripides
Dramaturg: Emma Cole
Directed by Felix Barrett and Maxine Doyle
Cast
Starring:
Chihiro Kawasaki  
Emily Mytton  
Fania Grigoriou  
Fionn Cox-Davies  
Fred Gehrig  
Harry Price  
Jane Leaney  
Jordan Ajadi  
Kathryn McGarr  
Luke Murphy  
Milton Lopes  
Miranda Mac Letten  
Nathan Kiley  
Paul Zivkovich  
Sam Booth  
Samuel Parker  
Sarah Dowling  
Sharia Johnson
Sharol Mackenzie  
Vinicius Salles  
Ellie Verkerk  
Folu Odimayo  
Emily Terndrup  
Cameron Bernard Jones  
Ali Goldsmith  
Alison Monique Adnet  
Becky Waite  
Dafni Krazoudi  
Eric Jackson Bradley  
Ferghas Clavey  
Jahmarley Bachelor  
Juan José Tirado Pulido  
Kimberly Nichole  
Leal Zielinska  
Lee Wenhsin  
Lily Jo Ockwell  
Maya Milet  
Morgan Bobrow-Williams  
Omagbitse Omagbemi  
Pin Chieh Chen  
Rebekah Rayner  
Robert McNeill  
Stefanie Noll  
Stephanie Nightingale  
Steven James Apicello  
Timothy John Bartlett  
Viva Msimang  
Will David Thompson  
Yilin Kong
Creatives
Choreographer: Maxine Doyle
Set Designer: Beatrice Minns, Felix Barrett, Livi Vaughan
Costume Designer: David Israel Reynoso
Musical Supervisor : Toby Young
Lighting Designer:  Ben Donoghue and Felix Barrett
Sound Designer: Stephen Dobbie
Orchestrations: Michael Gibson
Additional Orchestrations: Bill Elliott
Information
Running Time:
Three hours 
Extended and Booking until 24th September 2023
Venue:
Woolwich Works
1 Cartridge Place
Woolwich
London SE18 6ZR
Box Office: www.punchdrunk.com
DLR: Woolwich Arsenal
Reviewed by Lizzie Loveridge
at Woolwich Works on 24th April 2022