Do you remember a teacher who helped you?
"I never talked to a man for more than five minutes without wanting to box his ears' "
Miss Moffat
The Corn is Green is a largely autobiographical play set in a mining community in Wales about an exceptional teacher Miss Moffat (Nicola Walker) and her schoolboy student Morgan Evans (Iwan Davies).  There are two interesting time shifts about the writing and setting.  Emlyn Williams wrote it in 1938 when he was 33 looking back at his schooldays but set it in late Victorian times, several years before he was born. 
The play opens with, in silhouette, a party from the 1930s where grown up Emlyn Williams (Gareth David-Lloyd), now a famous actor and writer,  is thinking back to his schooldays and his days in the mining village.  Black faced miners assemble as Emlyn Williams looks at both the worlds he occupies.  The miners sing as only the Welsh can. 
Emlyn takes to his typewriter which continues typing on its own.  Enter the cheerful and contained Miss Moffatt (Nicola Walker) who has inherited a large house and who determines to start a school.  The local squire (Rufus Wright) often a comedic figure assumes it cannot be a woman who wrote to him because the letter paper wasn't scented.  Miss Moffatt is an educated woman and a philanthropist as she employs Mrs Watty (Jo McInnes) a woman with a "light fingered" past.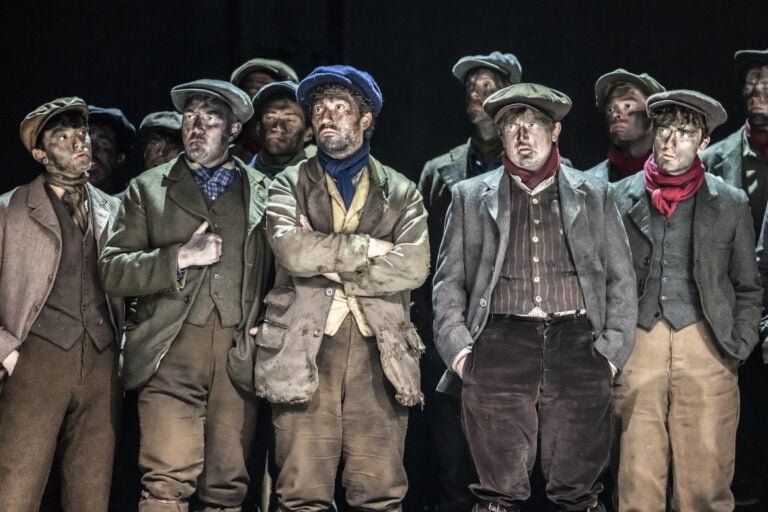 Nicola Walker is transfixing as she remains bright and breezy and so open to new ideas.  She is such a commanding stage presence I defy anyone not to be bowled over by her performance as Miss Moffat. She recognises the writing talent of young Morgan Evans (Iwan Davies) which includes a piece he wrote including the phrase "the corn is green" and decides to coach him into competing for a scholarship at Trinity College, Oxford.  In fact Emlyn Williams went to Christ Church Oxford.  
Act Two is not set in the makeshift schoolroom but in Miss Moffat's house where the miners' choir fits into the bay window after singing beautifully and holding Davy lamps to light their way.  Act two has a difficult situation which might prevent Morgan Evans fulfilling his academic dreams or should that be Miss Moffat's dreams for him?   We know that in real life Miss Cooke sent Emlyn to Switzerland to a friend to study French but in the play she makes the ultimate sacrifice completely changing her life style to help him.  The events of Act Two are not entirely credible but sentimental
The Corn is Green  has an interesting history of appealing to great actresses from Sybil Thorndike to Bette Davies to Kathryn Hepburn as Morgan Evans's  journey fits the American Dream of self enrichment at the hands of an excellent teacher.  I can remember the days when the Inner London Education Authority was peopled by so many Welsh teachers they were called the Welsh Mafia.   A musical version setting it in the Southern states with an African American pupil failed.
This play will be a popular choice for parties of school teachers and I saw several on the night I went.  This play will remind them of the talent they have fostered over the years.  I shall remember Nicola Walker's riveting performance and Miss Moffat's dedication to excellence.   The production is due to come to America but without Nicola Walker.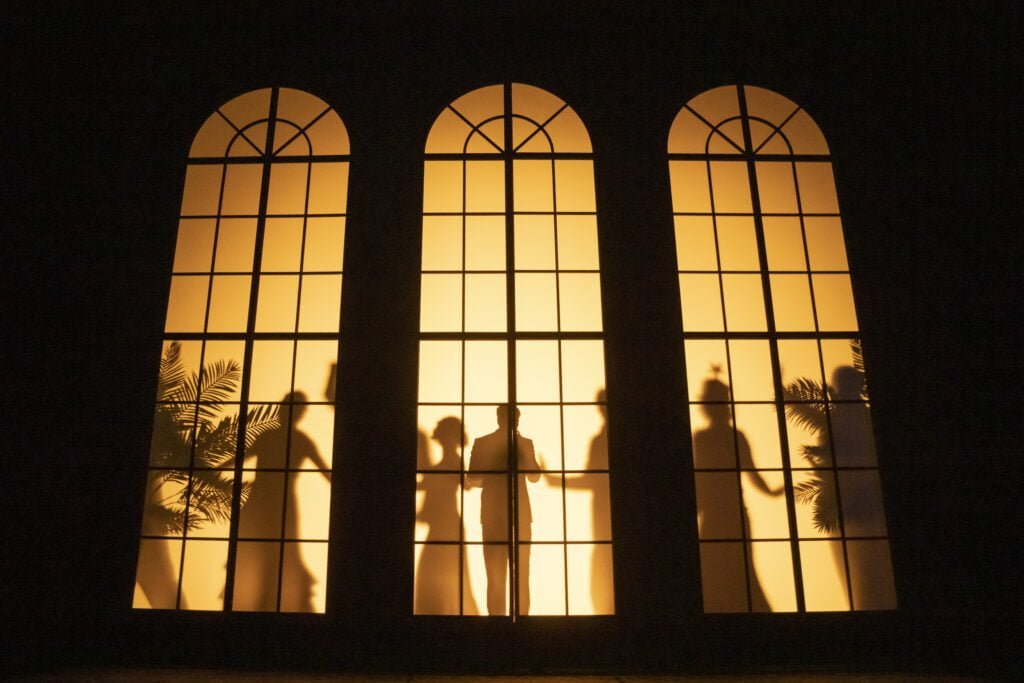 The Corn is Green

Written by Emlyn Williams
Directed by Dominic Cooke
Cast
Starring:
Nicola Walker  
Rufus Wright 
Alice Orr-Ewing 
Saffron Coomber 
Gareth David-Lloyd 
Iwan Davies 
Richard Lynch 
Jo Mcinnes 
With:
Debra Penny 
Gareth Kennerley 
Jonathan Hawkins 
Kristian Morse 
Matthew Hargreaves 
Megan Grech 
Peter Willcock 
Rebecca Todd 
Steffan Rizzi 
Siôn Emlyn 
Ben Francis 
Gwion Glyn 
Steffan Hughes 
John Ieuan Jones 
Tomas Moya 
Garyn Williams
Adam Baker 
Creatives
Director: Dominic Cooke
Designer: ULTZ
Composer, Director and Musical Direction: Will Stuart
Lighting Designer: Charles Balfour
Sound Designer: Christopher Shutt
Choreographer: Bill Deamer Hosker
Information
Running Time: Two hours 40 minutes with an interval
Booking to 11th June 2022
Theatre: 
Lyttelton Theatre
National Theatre
South Bank
London SE1 9PX
Tube/Rail : Waterloo
Website: nationaltheatre.org.uk
Reviewed by Lizzie Loveridge at the
Lyttelton Theatre  on 26th April 2022