Mark Rylance's extraordinary performance!
"What is this black place?" "T'is England, my boy." 
Johnny "Rooster" Byron.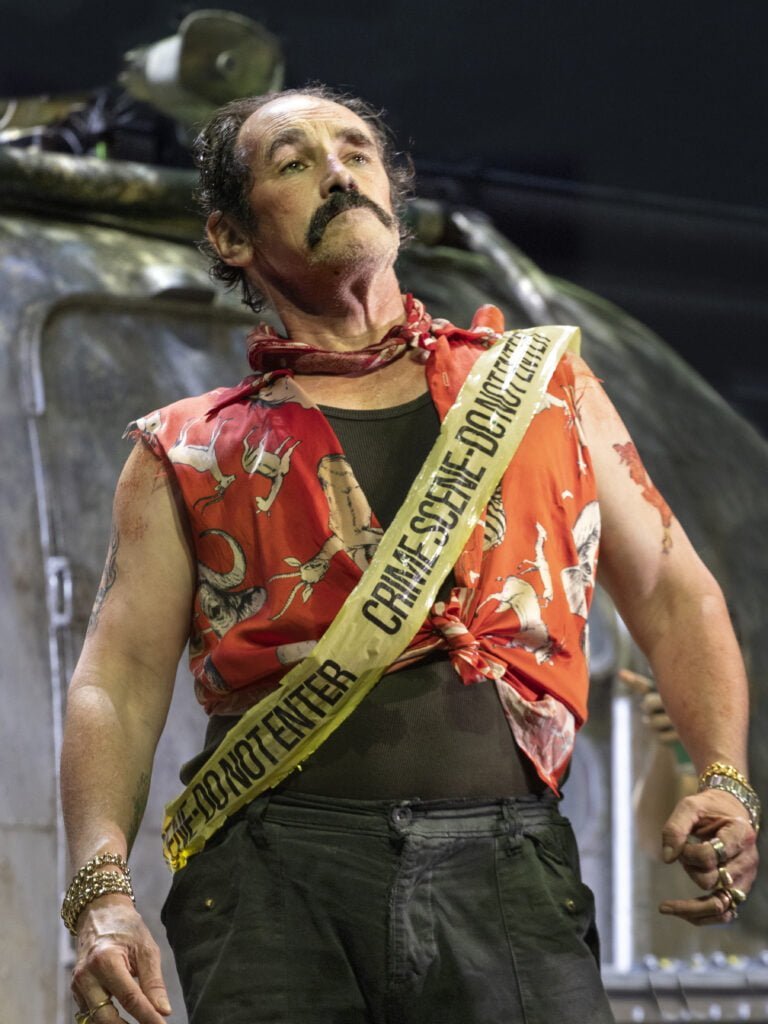 May 1st is here again and so is Jez Butterworth's Jerusalem where the inhabitants of Flintock village celebrate Spring by declaring war on the local Council.  Well, some of them do.     
In front of a huge St George's Cross a young woman sings William Blake's "Jerusalem," a militant plea to turn England into a Heaven on Earth. But she's interrupted mid-song by a blackout. A furious beat drowns her voice and the stage becomes a bacchanal of writhing silhouettes. Is this Hell…
No. Just a typical night's Rave at Johnny "Rooster" Byron's caravan where he proudly honours the ancient rural traditions. Drug dealing. Under-age drinking, sex, illegitimacy. And hostility to anyone "Not from round here". It's as if the Archers had taken to Es, Whizz and Crack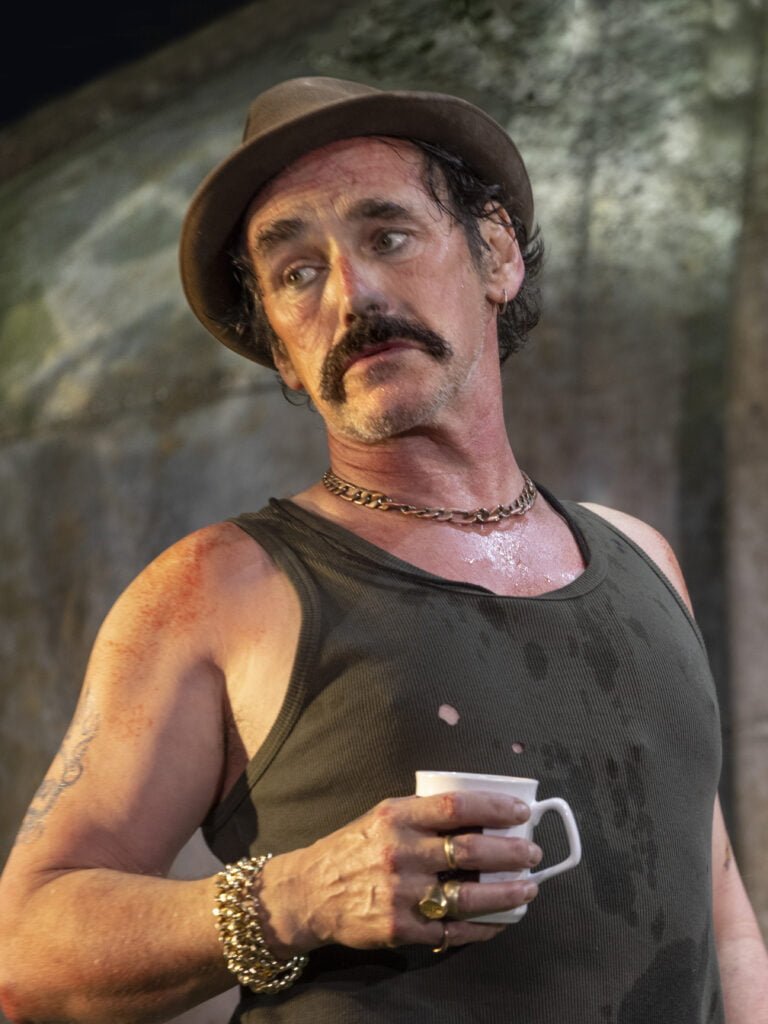 But with dawn come local government officers to Byron's Wood, with its four ancient trees (courtesy of ULTZ's design). They will put a stop to Rooster's shenanigans: evict him, bulldoze his home, and turn the ancient mystic woods into a housing estate. So far so Wicker Man meets Ealing Comedy. But when they leave Rooster himself appears and the wild ride begins. 
A man with the worst ever hangover, Rooster dispatches it by a hand-stand head-dunk in a water tank, cracking an egg, and draining a carton of milk. He tosses the shell and carton into the stalls. Hands shoot up to catch what people know will be treasured souvenirs of an exceptional night of theatre.
Rooster is, of course, played by Mark Rylance. Having taken us by the scruff of the neck with his throwing skills, he proceeds to give a jaw-dropping masterclass in acting. Or it would be if he told us how he does it. His vocal and physical range are as extraordinary as the stamina that brings the complex, mysterious character of Rooster to life for the nearly three hours of the action. His tall stories, soliloquies, extended lists, and extended curse are triumphs of memory, range and register, and make this a night to remember.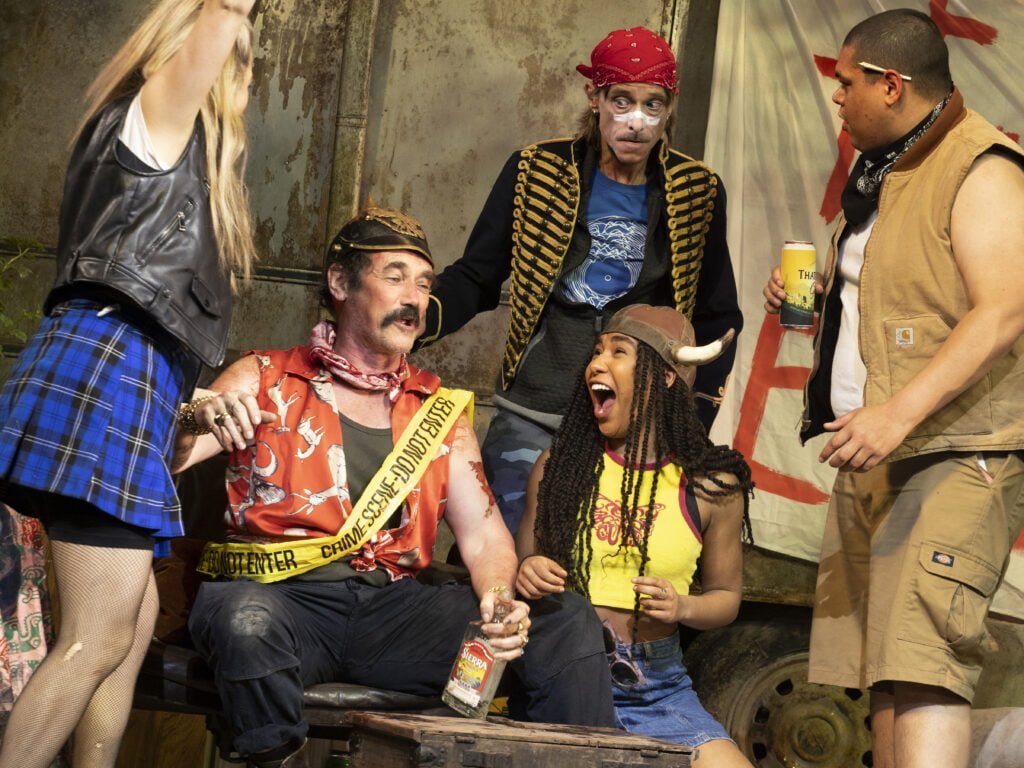 Is Rooster a hero worthy of a statue next to King Arthur? An anarchic Robin Hood? A Christ-like or John Barleycorn figure who died and rose again? Or a dragon who has slaughtered Phaedra, the singer of Jerusalem? He boasts of being indestructible and his foes certainly can be cowed by his staring eyes. But is he just a charismatic fantasist who believes his own yarns and persuades others to believe them too? Is he really loved by his gang? Or despised?       
It's a pleasure to be kept guessing by such a masterful performer.
But "Jerusalem" is not a one-man show. An able cast support Rylance and most are given their spot in the sun and make the most of it. Gerard Horan's Morris Dancing Wesley stands out along with his poignant evocation of a desolate home life. Mackenzie Crook is also moving as Ginger whose attempt to reach out emotionally to a damaged Rooster is cruelly rejected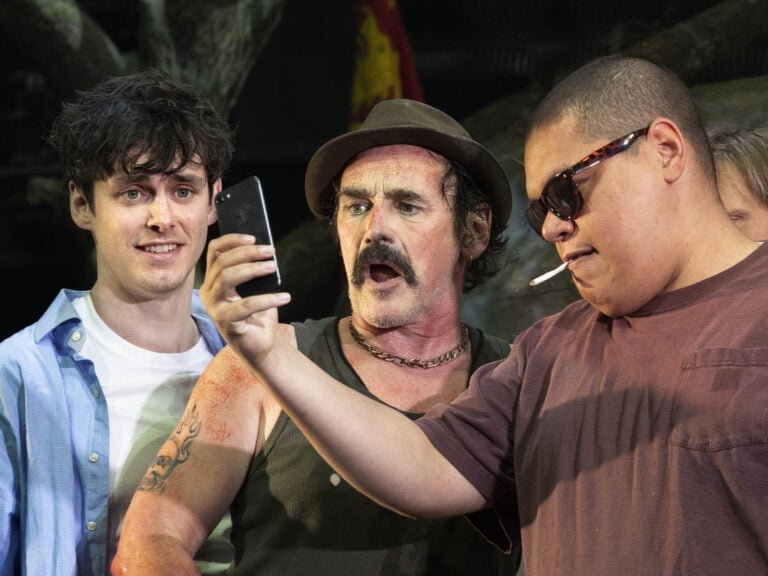 However, the play itself did strike a few wrong notes for me. It feels of its time because so much has happened since it first appeared. Austerity, Brexit, and Covid, would almost certainly have scarred the lives of the real Byron and his gang. Rooster himself is intensely local but conspicuously fails to display the casual or bitter racism that a real Rooster might.
The play could also use an edit. Some of the humour is sub-Blackadder and feels like padding. The lengthy Trivial Pursuit section is neither as funny or necessary as it thinks it is.  But having said that, acting and production of this standard are rare and make Jerusalem an unmissable event.
If you can't get a ticket try blagging your way in by joining the interval queues for the Ladies or Gents. I hear both lines extend down Shaftesbury Avenue as far as Piccadilly Circus.
Come to think of it, perhaps that milk carton was caught and re-purposed rather than taken home. Rooster should throw out a few more in future…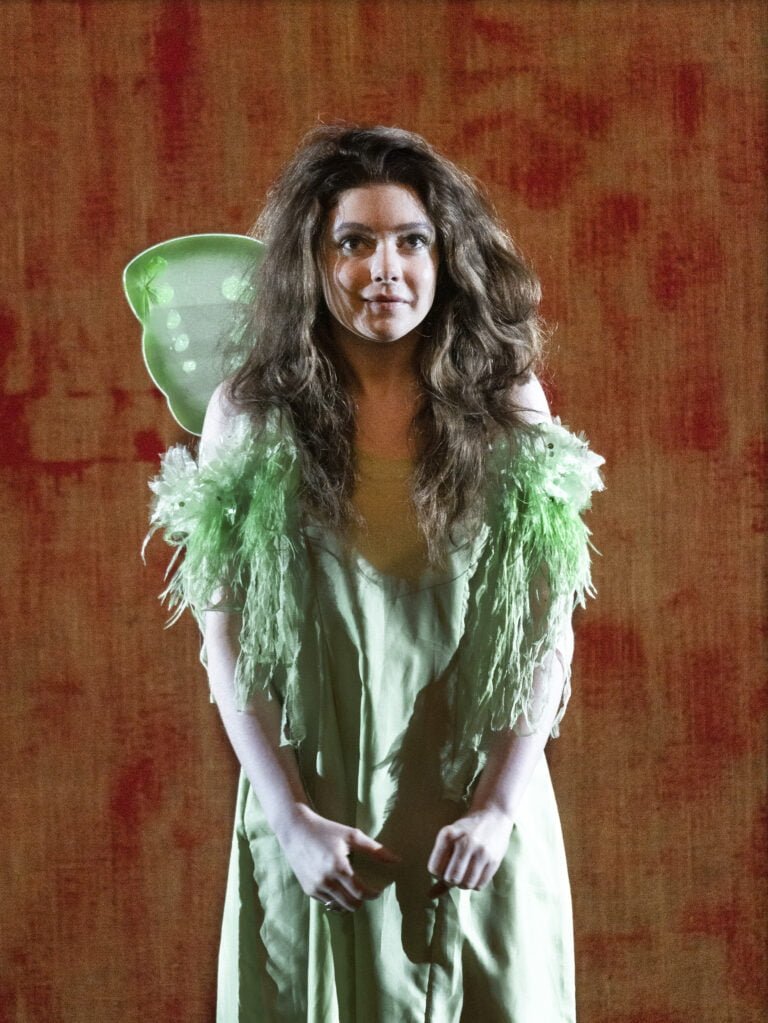 Jerusalem
Written by Jez Butterworth
Directed by Ian Rickson
Cast
Starring:
Mark Rylance
Mackenzie Crook
Gerard Horan
Indra Ové
Barry Sloane
Alan David
Eleanor Worthington-Cox
With
Jack Riddiford
Niky Wardley
Shane David-Joseph
Charlotte O'Leary
Kemi Awoderu
Ed Kear
Kobe Champion-Norville
Jesse Manzi
Matteo Philbert
Creatives
Director: Ian Rickson
Composer: Stephen Warbeck
Lighting Designer:  Mimi Jordan Sherin
Sound Designer: Ian Dickinson
Information
Running Time:
Three hours 10 minutes with two intervals
Booking until 7th August 2022
Sold out but tickets released weekly and by day release
Theatre:
Apollo Theatre
Shaftesbury Avenue
London W1D 7EZ
Tube: Piccadilly Circus
Reviewed by Brian Clover at the Apollo
on 29th April 2022