Oklahoma! as you've never seen it before
Jud was the most misunderstood man in this here territory.
People used to think he was a mean ugly feller and they called
Him a dirty skunk and an ornery pig stealer
But the folks that really knowed him.
Knowed that beneath them two dirty shirts he always wore
There beat a heart as big as all outdoors
As big as all outdoors.
Lyric from Pore Jud is Daid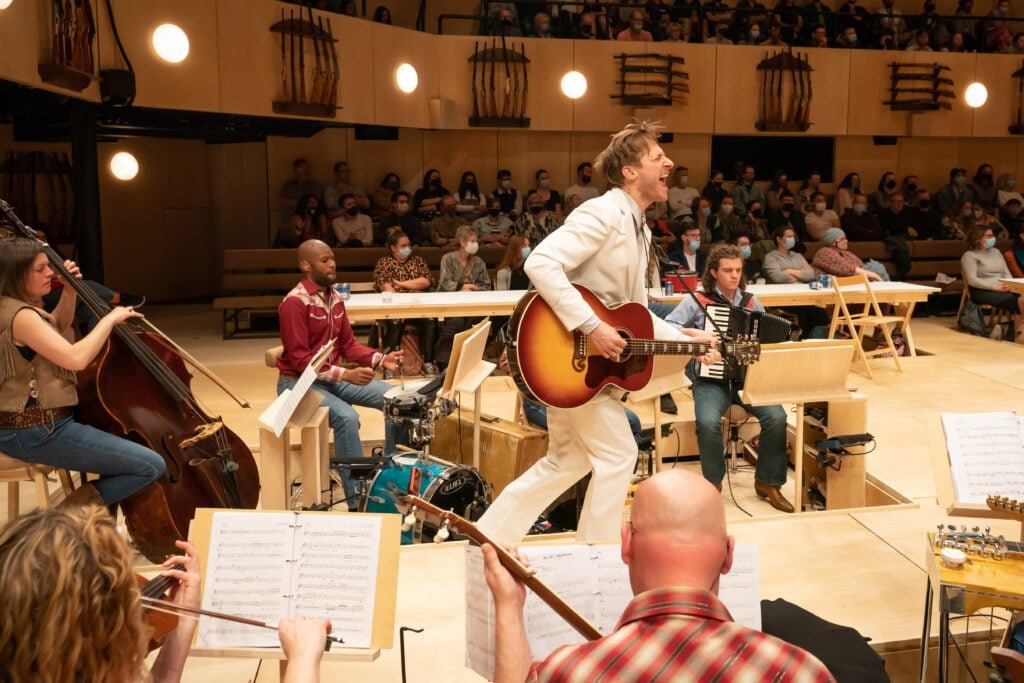 Daniel Fish and Jordan Fein's fresh faced version of Oklahoma! has come to London's Young Vic ready to amaze audiences.  It isn't quite the feast it was in New York as Covid has put paid to sharing chilli and corn with the audience but there is food for the soul.  This is a musical with the lights on fully with the audience on three sides.  On the walls are collections of rifles and on the far wall, a drawing of farmhouses and rolling fields. 
The seven piece band sits in the playing area and we can watch Tom Brady, the musical director's youthful enthusiasm for Rodgers and Hammerstein's beautiful music.  The first act had us asking what was so different making this Oklahoma! so controversial?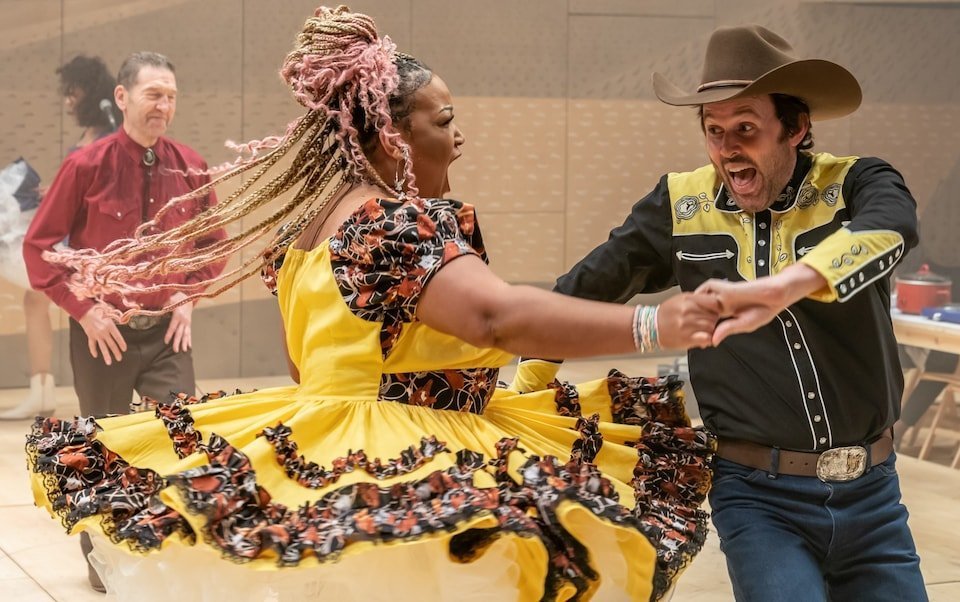 Having won a Best Supporting Olivier as Fraulein Schultz in Cabaret, Lisa Sadovy plays Aunt Eller but instead of butter churning there's husking corn and snapping the cobs in half, for her to do.  As she prepares the corn she singles out people in the audience to look at pointedly. It is the early days of the frontier and Fish and Fein have an altogether edgier view of Oklahoma before it was a state and gun law ruled. 
I have only seen Oklahoma! once before: Trevor Nunn's 1999 version for the National Theatre with Hugh Jackman as Curly, Josefina Gabrielle as Laurey, Maureen Lipman as Aunt Eller and Shuler Hensley as Jud Fry.  Only Gabrielle and Hensley made it to New York in 2002 after a dispute with American Equity. 
The well known tunes are given a bluesy interpretation by the band with guitars instead of a full orchestra.  This is a homespun feel to the music with a super hoe down in the second act.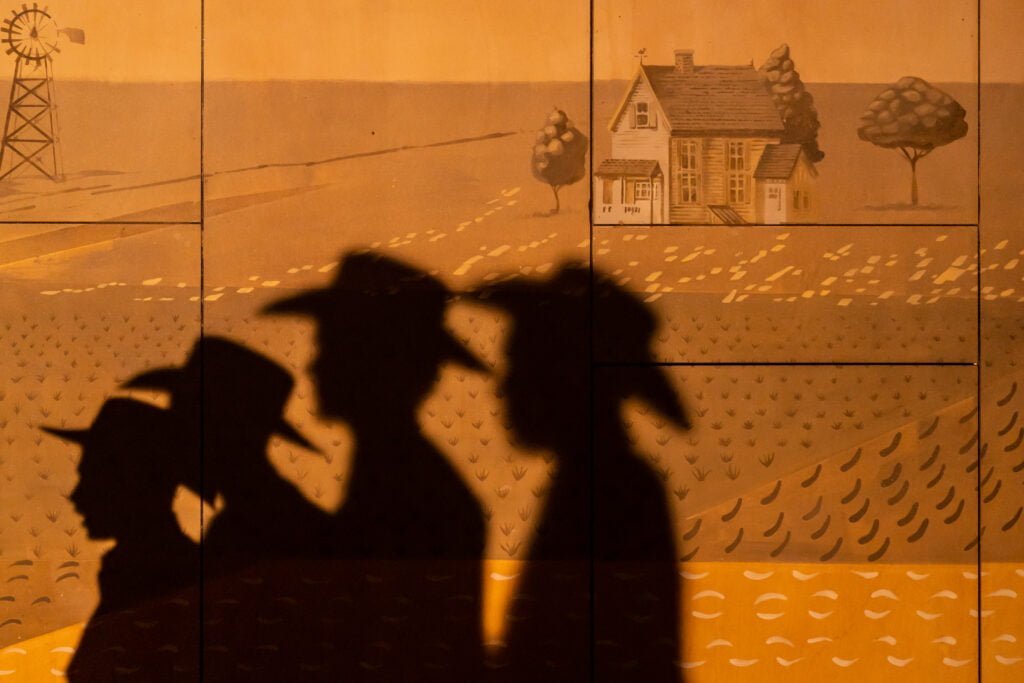 Besides the innovative, vapour immersed, heavy metal infused ballet, danced by Marie-Astrid Mence, Laurey's dream that turns into a nightmare, the major difference is in the treatment of Jud Fry.  He is a more sympathetic character with his quiet, brooding presence and I found Patrick Vaill and his isolation attractive, more attractive than Arthur Darvill's Curly.  Vaill played Jud Fry on Broadway.  Because of the bright lighting, we can watch Jud's face as the other characters talk about him.
Marisha Wallace is a delight as Ado Annie Carnes. the girl who "cain't say No!" Her romances with Ali Hakim (Stavros Demetraki) and Will Parker (James Davis) lead the sub plot and of course her singing is of the highest, loudest and most sustained notes.  Remember her in Dreamgirls?  Hakim gives her a "Persian goodbye" but Will is ready with his "Oklahoma Hello!"  Ado Annie and Will sprawl on a long table, legs akimbo for a sexy scene.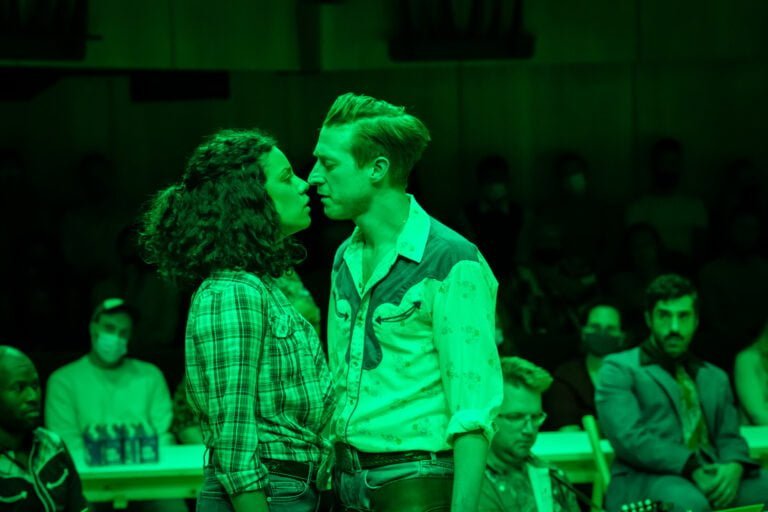 The second act opens with the dance.  I am never totally happy with the ballet part of the 1940s and 1950s musicals and for me although I loved the rock interpretation of these iconic tunes, the girl in the sparkly tee-shirt was unexpected and incongruous but it certainly ticks the different box. 
The women change clothes to wear tutu short skirts with stiffened net underneath, like bar girl dresses but very, very short.  The men wear cowboy hats and the barn dance fun takes place. 
There is a fully dressed wedding scene with an outcome I cannot divulge but it will make you think more deeply about the character of the principals.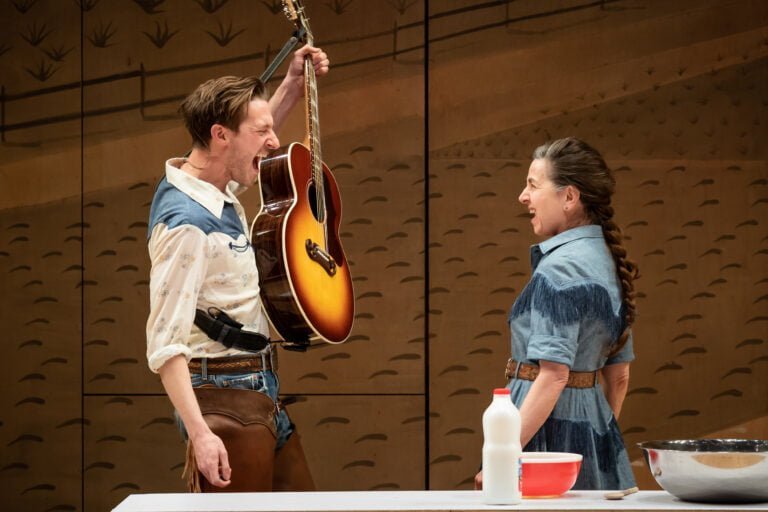 A warning – During the hoe down, I was aware that Arthur Darvill was shaking up a can of beer and I wasn't ready with an umbrella or a raincoat and I knew it would land all over me.  This has of course coloured my view of Curly, as he relished soaking me and my notebook and I feel obliged to point out that he's nothing like "as handsome is, as handsome does" as was Hugh Jackman in the role.  I was in B7 but Ali Hakim similarly soaks the B seats diagonally opposite.   One customer has made the Young Vic pay for dry cleaning, allegedly!
So a new, exciting Oklahoma! and my heart went out to Jud Fry. 
Act One
Overture
 Oh, What a Beautiful Mornin'
Laurey's Entrance
 The Surrey with the Fringe on Top
 Kansas City
 I Cain't Say No  
 I Cain't Say No  and  Oh What a Beautiful Mornin'
 Many a New Day  
 It's a Scandal! It's a Outrage!  
 People Will Say We're in Love
 Pore Jud Is Daid
 Lonely Room
Act Two
Entr'acte
Dream Ballet
 The Farmer and the Cowman
 All Er Nuthin'  
 People Will Say We're in Love  (Reprise)
 Oklahoma
Oh What a Beautiful Mornin'  
and  People Will Say We're in Love
Oklahoma!
Music by Richard Rodgers
Book and Lyrics by Oscar Hammerstein II
Based on the book "Green Grow the Lilacs" by Lynne Riggs
Original Choreography by Agnes de Mille
Directed by Daniel Fish and Jordan Fien
Cast
Starring:
Marisha Wallace
Stavros Demetraki
Greg Hicks
Lisa Sadovy
Ashley Samuels
Arthur Darvill
Rebecca Hinds
Patrick Vaill
Anoushka Lucas
Raphael Bushay
James Davis
Marie-Astrid Mence
Creatives
Directors : Daniel Fish and Jordan Fien
Choreographer: John Heginbotham
Co-Set Designer: Laura Jellinek and Grace Laubacher
Musical Director: Tom Brady
Lighting Designer:  Scott Zielinski
Costume Designer:  Teresa Wadden
Sound Designer: Drew Levy
Projection Design: Joshua Therson
Orchestrations,
Arrangements
and Co-Musical
Supervisor: Daniel Kluger
Co-Musical
Supervisor, Vocal Arrangements:
Nathan Koci
Information
Running Time:
Three hours including an interval
Booking until 25th June 2022
Theatre:
Young Vic
66 The Cut
Waterloo
London SE1 8LZ
Tube/Rail : Waterloo/Southwark
Telephone: 020 7922 2922
Website: youngvic.org
Reviewed by Lizzie Loveridge
at the Young Vic
on 5th May 2022