Grease at the Dominion - When dinosaurs dance ...
"Anyone using tasteless or vulgar movements will be disqualified "
The Principal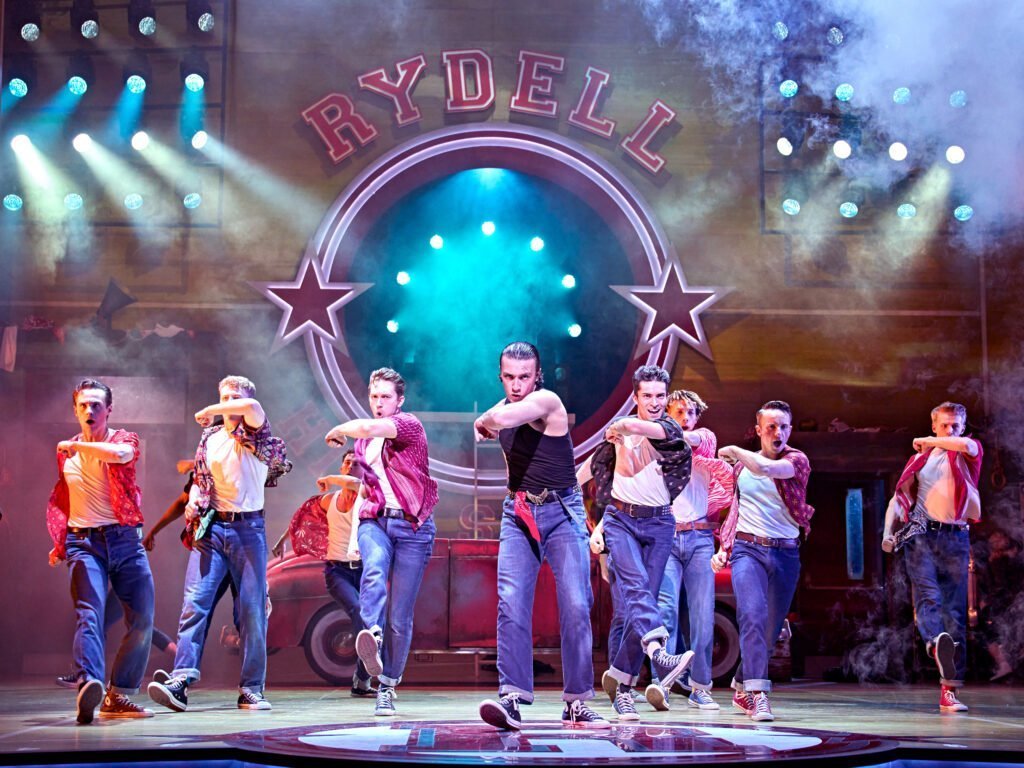 "Is that a bomb?" asks grand daughter Lyle, pointing up at the set.
She has a point. The thing does hang high and menacing over the stage. But it's a gym punch bag, not an atomic weapon. Though it may serve as a hint that not all is well in Rydell High.
Grease is the Word in Town.  Even if the phrase in this town is "period piece".
Grease, (based on William Hogarth's classic series of motivational engravings "The Good Girl Loser's Progress to Grease Girl Winner") is a celebration of pop, cars and High School mating rituals from the US of 1958.
A blissful time in America where everyone was happy. No wars to fight. Plenty of blue collar jobs and compliant women waiting for working class men. A time of no riots because there were no pressing social issues. And a time when a battered 1951 Ford wasn't an environmental menace but a Babe Magnet.
And that Magnet is important because in Rydell High School not everyone is happy. The Boys are obsessed with unrequited sex. With the Girls. And the Girls, however interested they might be, are well aware that any costs incurred will be much more serious for them than for the Boys. Even the starchy Principal, despite her virginity protection responsibilities, discourages her most promising pupil from doing what she herself did: Make a career rather than find a Boy.
Apart from the odd cigarette or chug of fortified wine, the only drug around to dull these adolescent aches is: Rock and Roll. Or does it serve to inflame them?        
But reality rarely intrudes in this fairytale. A pregnancy… luckily turns out to be false. The Boys, presumably having seen West Side Story, try to rumble with another Gang… But nothing comes of that either. Only making them look foolish. The local Cop (Darren Bennett) hassles the Boys, but doesn't actually get to kill anyone with impunity.
Grease is a nostalgic fantasy where Love triumphs over Lust and no one really gets hurt. Not for long, anyway. Heroine Sandy (Olivia Moore) wins her true love in the end by Greasing herself up. When best friend Frenchy (Eloise Davies)'s dreams of becoming a beautician are cruelly dashed she is transported to Beauty School Heaven where everyone is a winged cherub clad in pink and armed with the tools of the trade to say it's all for the best.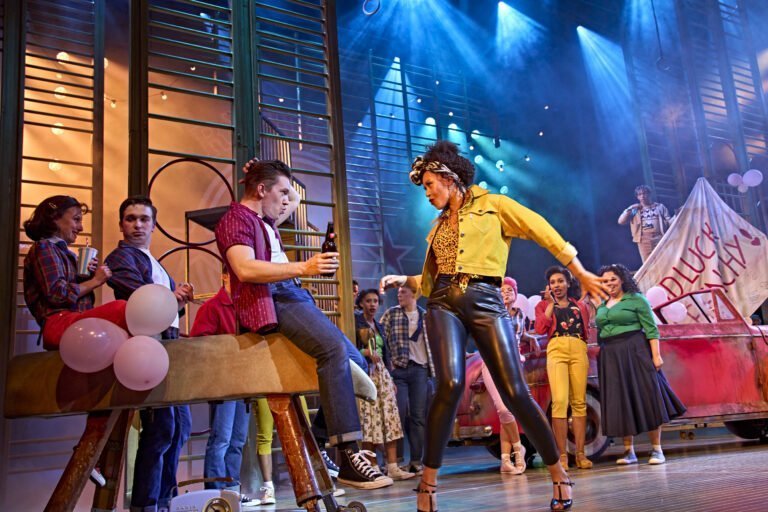 This is all good camp fun. Certainly the Dominion Theatre is packed and while many in the audience appear mature enough to have bonded with the original musical and movie version, others are busy acquiring memories that may last them for decades.
However there are hints the production has tried to update some of the cheesier elements of the original. The T-Birds boy gang have jumped species to become the Burger Palace Boys. Why? I assumed the old name was a tribute to the car rather than the wine. So, so what? The Pink Ladies are still pink and lady-like. But the cast is certainly more rainbow than the original movie's. At least one apparently gender fluid character has been added to the cast, but is surprisingly unnoticed by the otherwise very hetero student body. I failed to catch all the lyrics to "Greased Lightning" to check if they preserved the uncensored paean of praise to that eponymous vehicle's aphrodisiac and lubricative properties.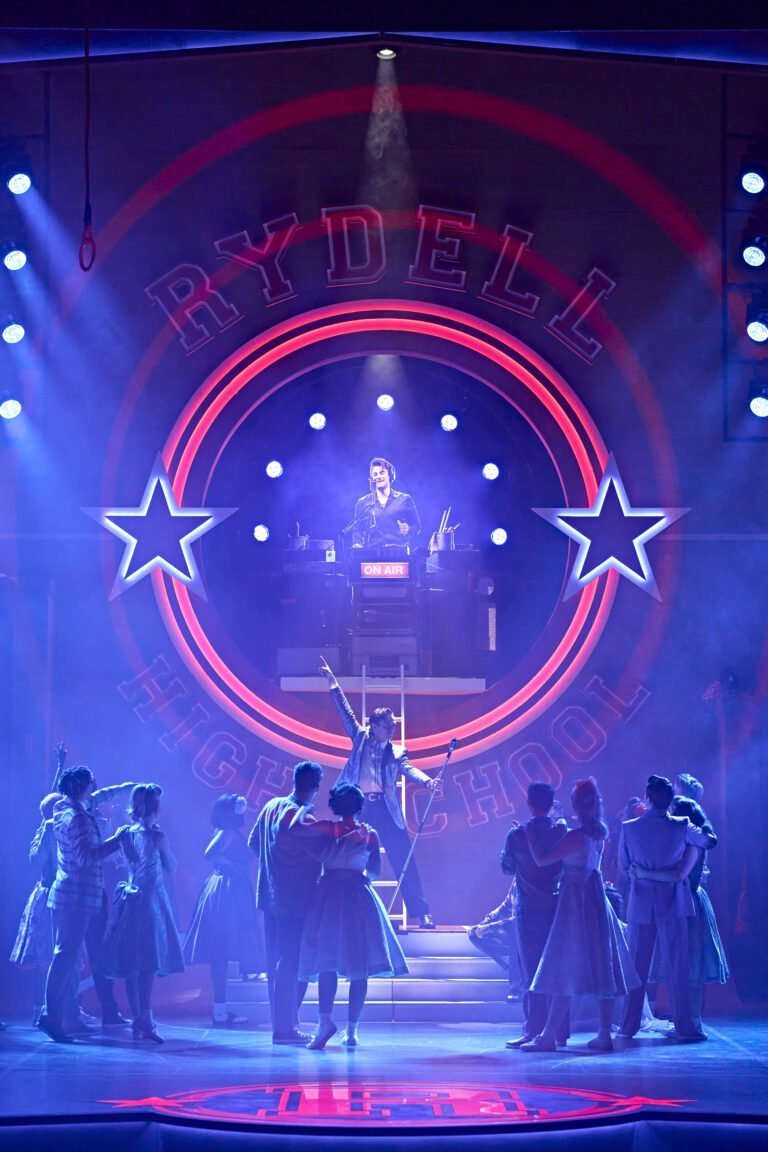 Still, there is that Pink Heaven… And such notes may prove too jarring for some. Of course, they are literally encoded in the music and its hit numbers. A character mocks heroine Sandy as Sandra Dee, despairing of her virginity. Sandy herself is "Just a fool who's willing to sit around and wait for you. There's nothing else for me to do." Of course not. She's hopelessly devoted to Danny (Dan Patridge). However, once she's taken the Grease cure and she's clad in skin-tight leathers she has the confidence to tell him, "You better shape up, 'cause I need a man, and my heart is set on you."
But Sandy's truly greased lightning costume change is just one of the wows of the evening. Another is Vince Fontaine (Peter Andre)'s deliberate failure to drop to a split. His many fans in the audience roar their delight. Most of these moments, and there are many, are to be found in the singing, dancing and staging rather than the Book. Even if a lot of the pelvis action does ignore the Principal (Camilla Powlesland)'s ban on tasteless or vulgar movements.
It is certainly a stunning experience to see this huge cast fill the stage of the Dominion and weave complex patterns around it with utter precision, as if a rolling sea came to life on a beach and showed you just how clever it can really be with the right minimal set. At least when it is choreographed by the peerless Arlene Phillips.
It would be unfair to single any one of this brilliant cast. Though Rizzo (Jocasta Armgill)'s  "There are worse things I can do," is a still point of pathos and nuance before the accelerating rush towards the inevitable, "You're the one that I want." But that tremendous ensemble piece isn't the end. Instead we have a reprise and medley to keep our toes tapping on the way home. By which time this terrific Cast and its brilliant live backing band have expended enough energy to power the National Grid for a month. Or two. Enjoy!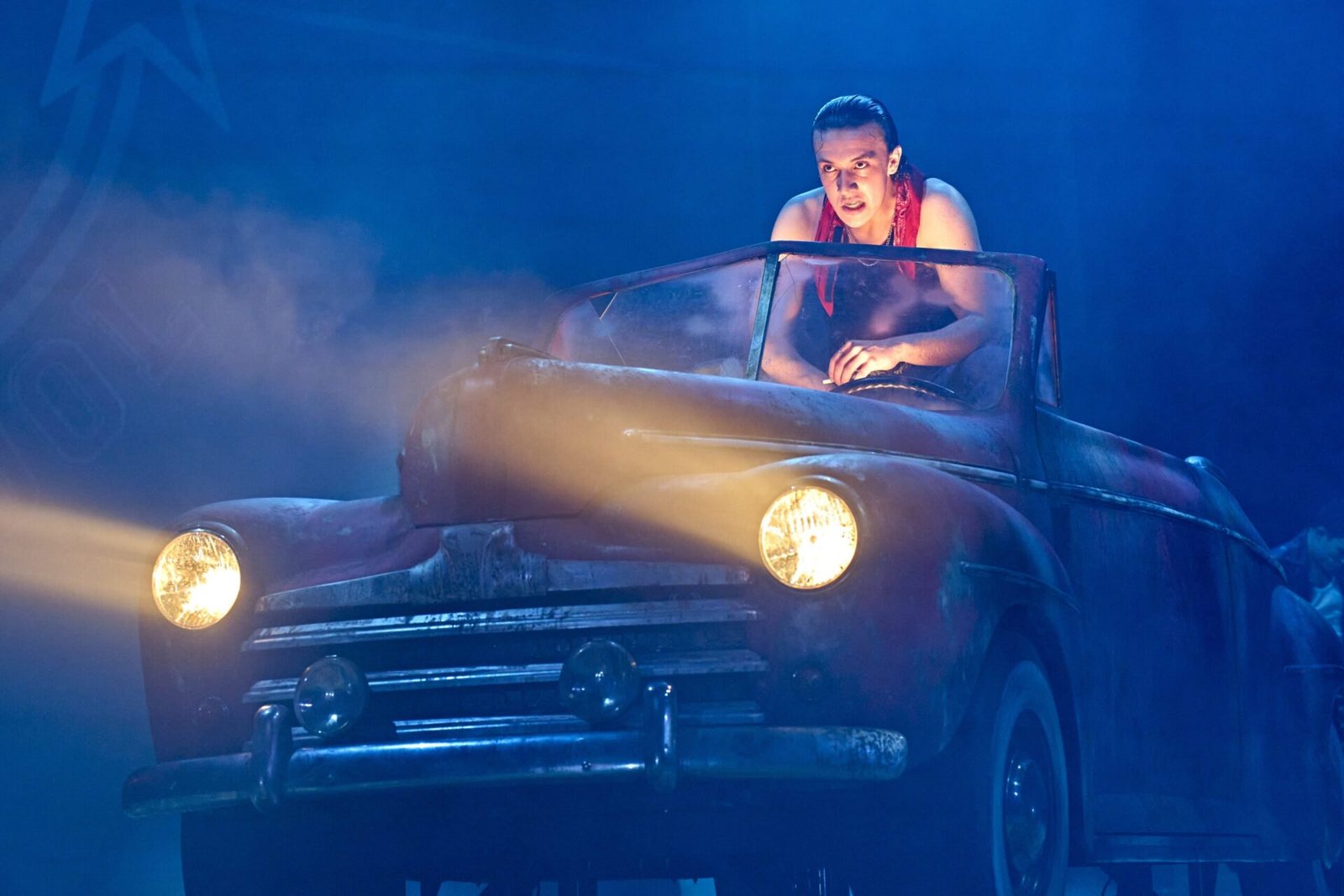 Act One
 Prologue  
 Grease
 Summer Nights
 Freddy, My Love
 Greased Lightning
 Greased Lightning (Reprise)
Tattoo Sing
 Rydell Fight Song
 Mooning  
How big I'm gonna be
Mooning
 Sandra Dee  
 We Go Together
Act Two
Grease
Shakin' at the High School Hop   
Hand Jive  
 Hopelessly Devoted to You
 Beauty School Dropout  
 Sandy
Those Magic Changes
 There Are Worse Things I Could Do  
Sandra Dee (Reprise)  
 You're the One That I Want
 We Go Together (Reprise)  
Megamix
Grease
Music Book and Lyrics by Jim Jacobs, Warren Casey
Additional songs by Barry Gibb, John Farrar and Louis St Louis and Scott Simon
Choreographed by Arlene Phillips
Directed by Nikolai Foster
Cast
Starring:
Peter Andre
Dan Partridge
Olivia Moore 
Jocasta Almgill
Paul French
Lizzy-Rose Esin-Kelly
Eloise Davies
Mary Moore
Noah Harrison
Jake Reynolds
Damon Gould
Darnell Mathew-James
Corinna Powlesland
Darren Bennett
With:
Jack Harrison-Cooper
Jessica Croll
Katie Lee
Ronan Burns   
Pearce Barron
Rishard-Kyro Nelson  
Ben Culleto
Ellie Kingdon  
Kalisha Johnson
Carly Miles
Damon Gould
Darnell Mathew-James
Remi Ferdinand
Kamilla Fernandes
Zack Guest  
Imogen Bailey  
Kevin O'Dwyer
Creatives
Director: Nikolai Foster

Choreographer: Arlene Phillips
Designer: Colin Richmond
Musical Supervisor and Arranger: Sarah Travis
Lighting Designer:  Ben Cracknell
Sound Designer: Richard Brooker and Tom Marshall
Video and Projection: Douglas O'Connell
Musical Director: Dan Glover
Additional Songwriters:
Grease was written by Barry Gibb
Hopelessly Devoted to You and You're the One That I Want
are written by John Farrar
Sandy is by Louis St. Louis and Scott Simon.

Information
Running Time:
Two hours 30 minutes with an interval
Extended and Booking until 29th October 2022

Theatre:
Dominion Theatre
268-269 Tottenham Court Road
London W1T 7AQ
Tube: Tottenham Court Road
Reviewed by Brian Clover

at the Dominion Theatre
on 17th May 2022