"The result is a study of the lives that led to mine."
Barney Norris in his introduction to his play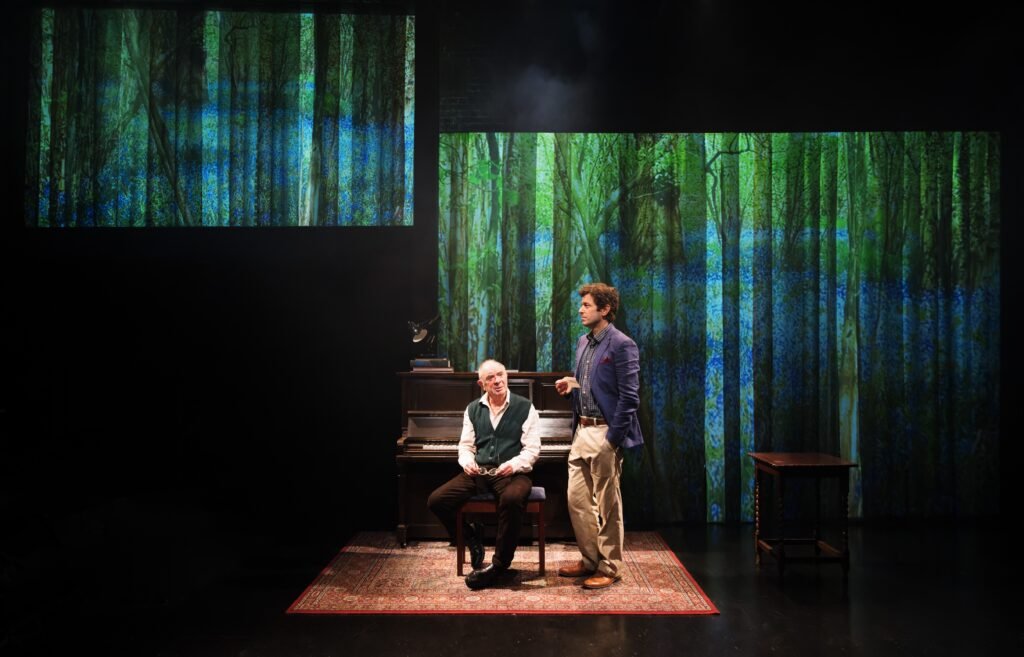 Barney Norris's play, We Started to Sing, chosen for the re-opening of the Arcola after the pandemic, is a personal tribute to his own family, to his parents, his stepfather, and his grandparents.  Projected onto pleated blinds are home movies which could be from his personal archive.
This is an affectionate portrait of his paternal grandparents keeping in touch with their grandsons after his father leaves the marriage and earns a living as a pianist in America.  Peggy (Barbara Flynn) and Bert (Robin Soans) are the grandparents who are seen at one point providing puppet dramas and playing a barrel organ at village fêtes.  Their son David (David Ricardo-Pearce) does eventually come back from America.
An early scene shows Barnabus's parents, Fiona (Naomi Petersen) and David arguing and rubbing up each other the wrong way when Peggy and Bert are staying with them in the caravan.  Bert is full of increasingly unlikely stories, tedious for David who has heard them many times, but fresh for Fiona who as yet has not had her disbelief enacted.  Peggy listens patiently. 
As the family moves around the country the video backdrop shows the countryside views or in London the front of the terraced houses. It is in London where Fiona and Peggy first meet after the split.  Fiona has a new man on the scene, the more fatherly Rob (George Taylor).  Fiona sings beautifully and finds her vocation in running a community choir. Fiona has issues with her own mother, so she forms a bond with Peggy.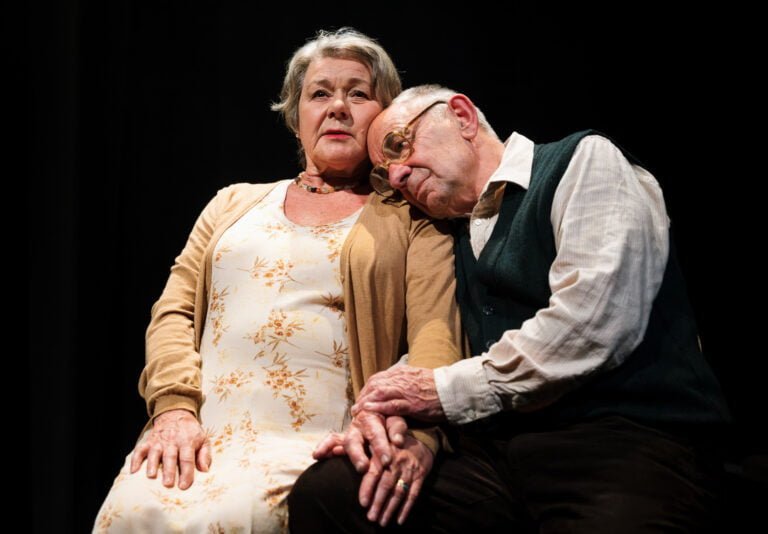 There is little high drama to We Started to Sing, the most disruptive being when David is asked to take Barnabus to live with him after his teenage party left Fiona and Ben's  house wrecked and his half sister Poppy's dolls decapitated.  It is at this point we first see Fiona's resentment towards her absentee husband and his time away.  There is distress too when we hear that the little sister Poppy has Guillain-Barré syndrome. 
It is the case in family dramas that sometimes the rifts and estrangements are more fascinating than the comings together.  Fiona touches on the conflict with her mother.  Peggy shows that she actually regrets Bert's quip at their 70th wedding anniversary celebration that     " the secret of a long marriage is trust and understanding – she doesn't trust me and I don't understand her!" Many a true word is spoken in jest!  First she laughs but later it hurts. 
Barney Norris directs this piece, a love story to his own family but we ache for more conflict. 
Naomi Petersen has a beautiful singing voice and we get to hear her singing acapella.  Through her and David's piano playing we appreciate how a love of music passes from generation to generation, inherited along with the genes but it makes for slow, reflective theatre.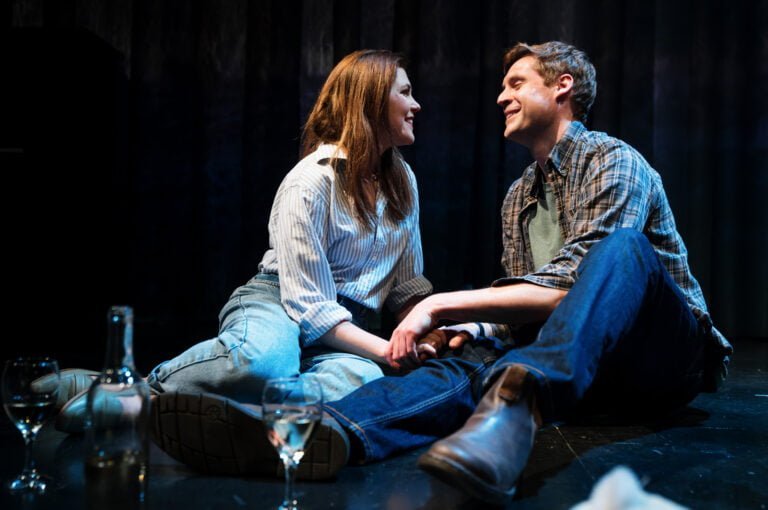 We Started to Sing

Written and directed by Barney Norris
Cast
Starring:
Robin Soans
Barbara Flynn
George Taylor
David Ricardo-Pearce
Naomi Petersen
Creatives
Director: Barney Norris
Designer:  Frank Bradshaw
Musical Arranger:  Timmy Fisher
Video Design: Megan Lucas
Lighting Designer: Bethany Gupwell
Sound Designer: Jamie Lu
Information
Running Time: Two hours with an interval
Booking to 18th June 2022
Website: arcolatheatre.com
Theatre:  
Arcola Theatre
24 Ashwin Street
London E8    3DL
Box Office: 020 7503 1646
Reviewed by Lizzie Loveridge
at the Arcola Theatre 
on 23rd May 2022