Clytemnestra, Cassandra and Cilissa re-imagined
"My mother was right.  These people are savages."
Cassandra
Marina Carr has taken as her starting point the Greek history of Agamemnon, Clytemnestra and her lover Aegisthus but this is not a conventional retelling of the story of the mother whose daughter is sacrificed to provide the becalmed Greek fleet with a wind to take them to Troy. 
It starts with rivalry for command with Agamemnon pitched against Achilles.  Clytemnestra (Eileen Walsh) is told to prepare her ten year old daughter Iphigenia for a marriage of alliances to Achilles. This she feels  is not a good fate for a ten year old but much worse is in store for her child.  Iphigenia's siblings Orestes and Electra are twin babies but none of the children are seen in Carr's version. 
Through descriptive narrative with her freed slave maid Cilissa (Kate Stanley-Brennan) acting as chorus and messenger, Clytemnestra, when hearing that Agamemnon's soldiers have taken Iphigenia, runs to the cliff top where the altar has been prepared for human sacrifice.  Like a lamb to the slaughter, Agamemnon carries his daughter and then slits her throat. It is deeply shocking and a crime against women, graphically described in Girl on an Altar. 
Ten years later, Agamemnon (David Walmsley) returns to find his wife has taken a lover, his cousin Aegisthus (Daon Broni) who has reason to hate Agamemnon and his brother Menelaus, the sons of Atreus, brother to Aegisthus's father Thyestes.  Deprived of the Mycenaean throne by Atreus, Thyestes had an affair with Atreus's wife Aerope.  Atreus took revenge by killing Thyestes's sons and serving them up to their father in a pie.  In Carr's play, Agamemnon accuses Aegisthus of being , "Child of Child Eaters, madness and revenge whirling in his wolf shark veins."  Maybe from Agamemnon's viewpoint, it is ok to kill children but not to eat them! 
The mystery here is the lingering sexual attraction between Clytemnestra and Agamemnon which overrides her hatred for his having killed her daughter.  In the original it is an instruction from the Gods but here Agamemnon talks about his leadership calling himself Zeus Agamemnon and claims daughter slaughter is an act of military prowess.  It is disgusting.  Agamemnon is similarly smitten with Clytemnestra, "There is nothing I would not do to have your good opinion again," he says.  "I want to give you another Iphigenia." is his introduction to a passionate, sexual scene.  So much of what drives Agamemnon is kingship, territorial gain and sexual jealousy.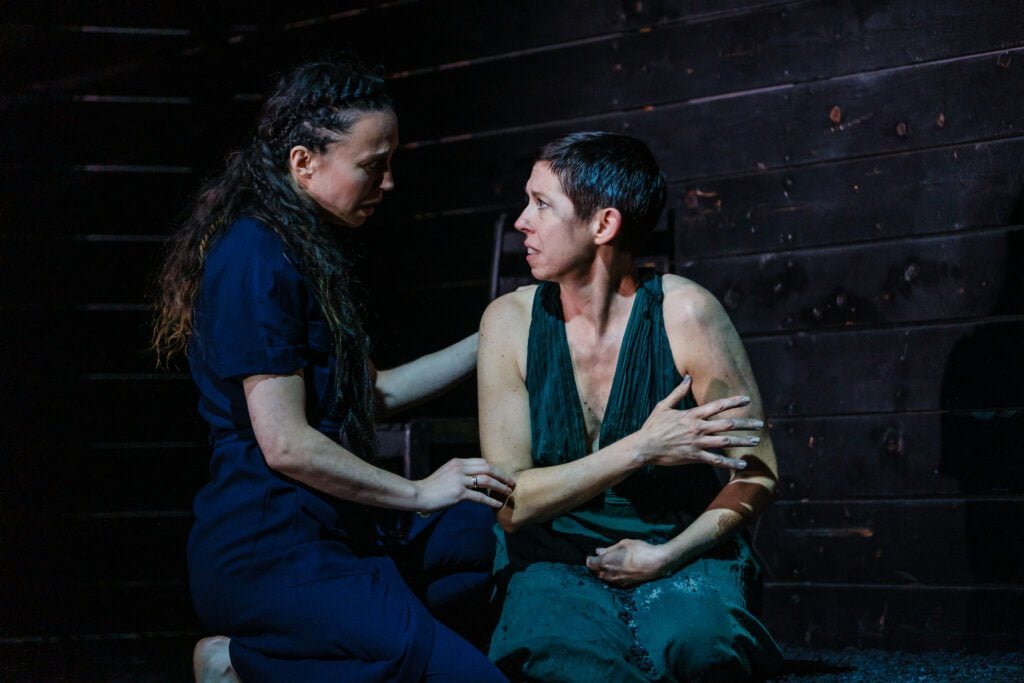 Cassandra (Nina Bowers) is a princess of Troy, daughter of Priam who can see the future but whose prophecies are destined never to be believed.  She has been brought home from Troy as Agamemnon's slave mistress and some versions have her bearing him twins.  She is treated cruelly.
The immediacy of Agamemnon's murder by Clytemnestra and Aegisthus is lost here as Clytemnestra is cast into first the harem, the brothel for soldiers, and then prison with her queenly quarters occupied by Cassandra.  When Agamemnon is eventually murdered, it is not in his bath, nor unseen as authentic Greek tragedies don't show the brutality, just describe it, but with full bloodiness and gore on the marital bed. 
Tom Piper's set is a large bed, the covers often thrown off with Cilissa forever changing the bed linen as she takes off and replaces pillowcases. Black curtains part for entrances and Will Duke's astonishing video design has the sea water pouring off the stage to the sounds of the sea.
Carr's play merits study as a piece of poetry, with long passages of detailed imagery describing events, which is beautiful to read.  Mycenae is not a happy place for women who suffer as much, if not more, here than soldiers in a war.  Their fate is so lacking in honour or higher purpose.
The performances from all are as harrowing as the events with Eileen Walsh standing out as Clytemnestra with her soft Dublin accent. Her father Tyndareus (Jim Findley) is impressive as the only man not war or revenge obsessed but his power is waning and he cannot sort the carnage started by his daughter, Clytemnestra's sister Helen, when she was taken to Troy.  There is no hope either for the future as we know that all the children of Agamemnon and Clytemnestra's marriage will have fateful ends in The Oresteia and Electra.
This joint production with the Abbey Theatre Dublin and The Kiln directed by Annabelle Comyn is a superb starting point for an interest in Greek drama with its complex denials of morality in times of war which we can see being enacted today.  I promise this play will stay with you.
Girl on an Altar
Written by Marina Carr
Directed by Annabelle Comyn
Cast
Starring:
Eileen Walsh
David Walmsley
Daon Broni
Nina Bowers
Kate Stanley-Brennan
Jim Findley
Creatives
Director: Annabelle Comyn
Designer:  Tom Piper
Composer and Sound Designer:  Philip Stewart
Movement Design: Ingrid Mackinnon
Lighting Designer: Amy Mae
Video Designer: Will Duke
Information
Running Time: Two hours 30 minutes with an interval
Booking to 25th June 2022
Theatre:  
The Kiln
 269 Kilburn High Road
 Kilburn
 London NW6 7JR
Rail/Tube: Brondesbury,
Kilburn
Reviewed by
Lizzie Loveridge
at the Kiln Theatre
on 25th May 2021