A disappointing Glass Menagerie
"Mother, when you're disappointed, you get that awful suffering look on your face, like the picture of Jesus' mother in the museum." 
Laura Wingfield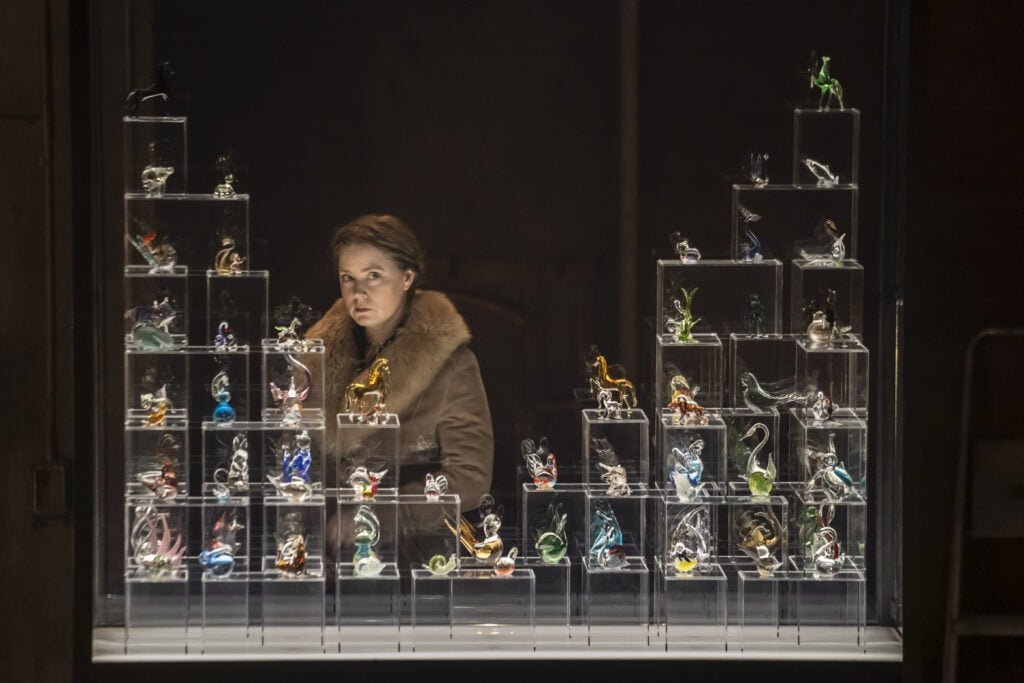 Tennessee Williams is widely regarded as one of the three most important American 20th century playwrights.  Plays like A Streetcar Named Desire, Cat on a Hot Tin Roof and this one The Glass Menagerie may be the best known.  The Glass Menagerie is the play which takes most detail from Thomas Lanier Williams's own early life in St Louis and is about his sister Rose.
Rose's character haunts many of Williams's plays.  She had schizophrenia and in 1943 when she was 24 her mother authorised a lobotomy. She is in Suddenly Last Summer and Summer and Smoke  and when we see Blanche Dubois leaving her sister's home in Streetcar for life in an institution, this is based on Rose. 
Jeremy Herrin directs this production at the Duke of York's with American movie star Amy Adams as the Williams matriarch, Amanda Wingfield.  The glass menagerie of the title are delicate tiny glass animals that I was too clumsy to care for as a child because they broke so easily.  But for Laura Wingfield (Lizzie Annis), singled out for her physical disability here, they are her life.  However Vicki Mortimer's set design puts them centre stage in a larger than life glass cabinet case with very large glass sculptures which hits an incongruous note. 
To the left of the stage are large film lights and studio paraphernalia as if this play is a recording, underlying its importance as a memory play.  Up above a video screen, designer Ash J Woodward projects images, of the glass ornaments distorted and merging.  We see the missing husband/father as Amanda frequently brings up her decision to marry him, rather than the more affluent and prestigious suitors who presented themselves to her as a Southern Belle and debutante.  Amy Adams may now be a faded beauty but the comparisons with her daughter Laura are pitiful as she harps on about a "gentleman caller".
The character of Tom is played by two actors: Paul Hilton is the elder reflective brother who acts as a narrator and haunts the set as the others act, even when it is scenes he cannot remember because he wasn't there.  The younger Tom here about 30 (Tom Glynn-Carney) opens with furious contempt for his mother but never really seems to show Tennessee Williams's attachment to his sister. 
It is Laura's decision not to attend the typewriting classes her mother has paid for which makes Amanda resort to the only hope for her future being marriage.  The first act is depressing as we see the gulf between Amanda's hopes for Laura and Laura's childlike existence. 
The second act hits a disturbing note as the audience choose to laugh at Laura's awkward disability as she walks jerkily across the stage, physically disabled as well as in the spectrum.  News of a real gentleman caller provided by Tom from the warehouse where he works, has Amanda in elaborate preparations clean the windows, get out the silver.  Part of these are to dress Laura in a above the knee minidress which just looks out of era and stupid.  The addition of a pair of "gay deceivers" which we call "chicken fillets" is deservedly laughable but too much else should be poignant not cruel comedy. 
Amanda flounces in wearing one of her Cinderella ball gowns and understandably the audience laugh at her flirtation.  Laura shrinks from greeting the man invited to tea, Jim O'Connor (Victor Alli) but their conversation is hopeful although we know, if it seems to be too good to be true, it probably isn't. 
Lizzie Annis gives an unsentimental performance as gawky Laura and Victor Alli is charming if deceptive as Jim.  Paul Hilton's skulking around the set is creepy at times.  I didn't warm to Tom Glynn-Carney's Tom and Amy Adams is disappointing as Amanda.  The video images are distracting rather than enhancing.   This great play deserves a batter production.  See Jessica Lange as Amanda Wingfield in 2007.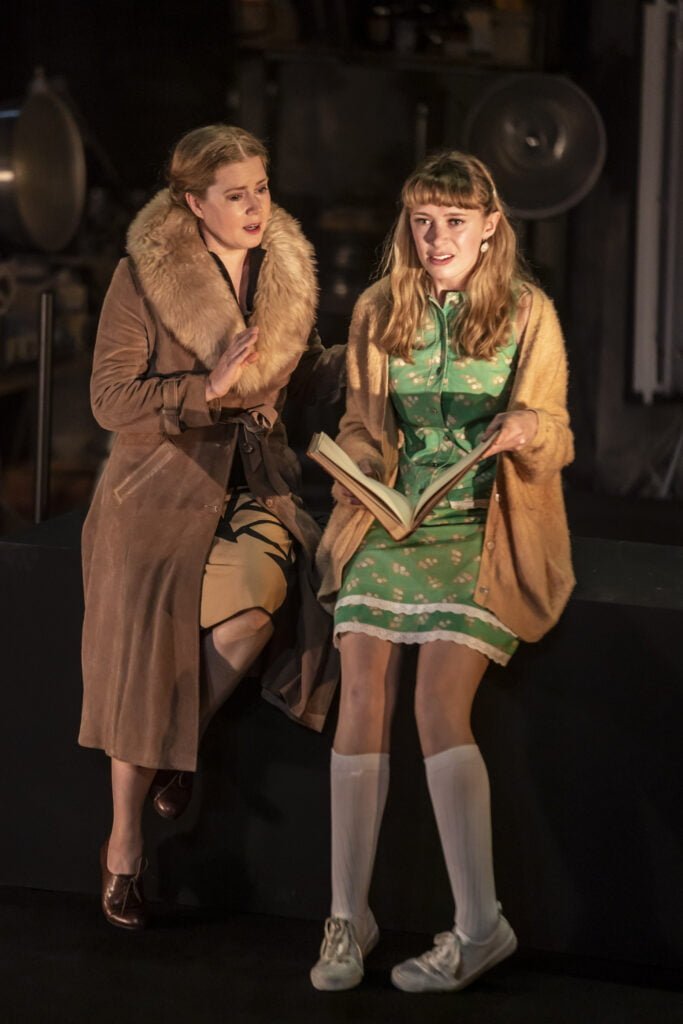 The Glass Menagerie

Written by Tennessee Williams
Directed by Jeremy Herrin
Cast
Starring:
Paul Hilton
Tom Glynn-Carney
Victor Alli
Lizzie Annis
Amy Adams
Creatives
Director: Jeremy Herrin
Set Designer:  Vicki Mortimer
Composer:  Nick Powell
Costume Designer: Edward K Gibbon
Movement Design: Sarita Piotrowski
Lighting Designer: Paule Constable
Sound Designer: Nick Powell
Video Designer: Ash J Woodward
Fight Director: Yarit Dor
Information
Running Time: Two hours 30 minutes with an interval
Booking to 27th August 2022
Theatre:  
Theatre: 
Duke of York's Theatre
104 St Martin's Lane
London  WC2N 4BG
Phone: 03330 096 690
Website: atgtickets.com
Tube: Charing Cross
Reviewed by Lizzie Loveridge at the
Duke of York's 
on 1st June  2022