Life after marriage for Nora Helmer
"I come off pretty badly in the book?"
Torvald
Knocking at the door is Nora Helmer (Noma Dumezweni) who slammed it and left her husband and three children, 15 years before.  Ibsen's Nora was based on the life of a real woman Laura Kieler who had borrowed money to take her husband Viktor who had tuberculosis abroad where he recovered.  Kirsten Shepherd-Barr has written a full history of Laura Kieler in the Donmar programme and it is excellent background. 
Lucas Hnath, a young American playwright has written this sequel to Ibsen's play A Doll's House exploring the situation that women of the 1870s would have found themselves in. Nora has made a success of her life by writing novels under an assumed, pen name.  Her writings encouraged women not to stay in unhappy marriages and this has had consequences for her. 
A judge, whose wife left him after reading the book, has researched who the writer really is and knows her real name and has written threatening to expose her.  Besides the original fraud of signing her dead father's signature, Nora has signed believing she were a divorced woman.  Torvald had said he would divorce her.  The law meant that anything married women did had to be signed by their husband and to sign for herself was illegal and she would be open to being prosecuted for fraud.    
In her discussions with Anne Marie (June Brown was ill, so the role was taken by Jenny Galloway) Nora learns why she has not been divorced by Torvald and this forms a deceit on his part.  She has come back to the family home to ask Torvald now to divorce her.
When a German actress was given the original role, she refused to believe a mother would leave her children and so the "German ending" was furnished.  Ibsen hated it. 
Anne Marie gave up her own child to care for Nora as a baby and when Nora left, she looked after the children.  Anne Marie shows us the lack of choice for women from her class.  Anne Marie's idea as a solution was to for Nora to meet her youngest child Emmy (Patricia Allison) to help plead her cause with Torvald.  Emmy has a fiancé from a respectable family and wants to avoid scandal. So we have three renewed encounters for Nora, with her old nanny, her husband and her daughter.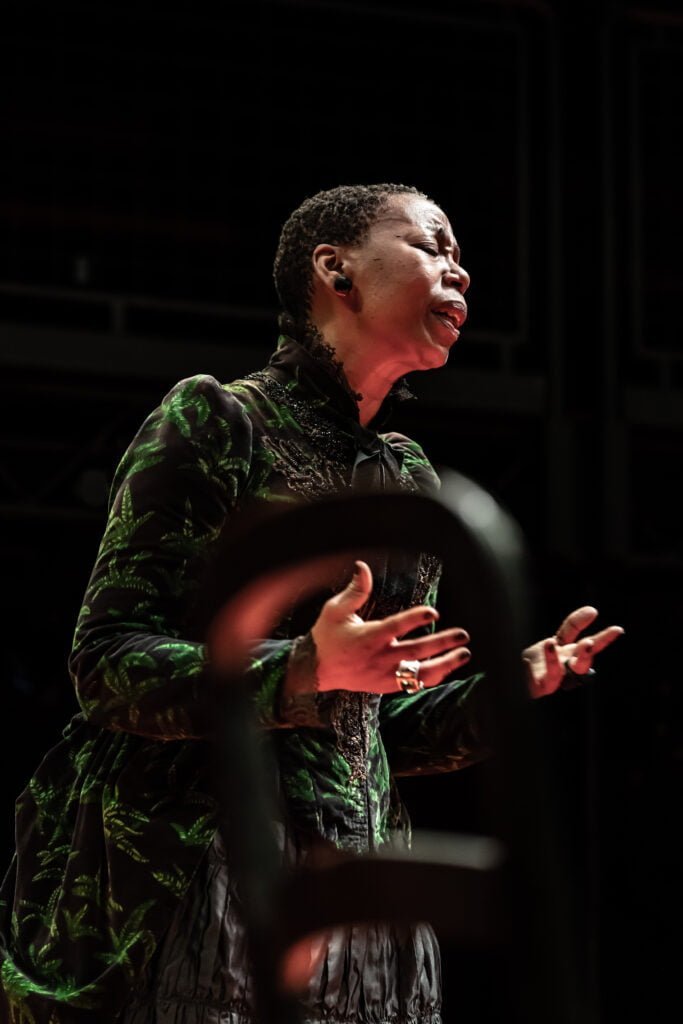 This is very much Noma Dumezweni's play.  You can see from the photographs the range of emotion she is just about holding in.  Dressed in an expensive, velvet and beaded frock, Torvald has to comment on the expense of her clothes.  Brian F O'Byrne as the solidly, dull Torvald appears to have changed very little in the intervening time whereas Nora has succeeded in supporting herself and making her own life. Anne Marie assumes she has been an actress or a dancer or worse. 
Rather than dramatic moments, A Doll's House Part 2 has discussion and debate on women's issues.  Anne Marie betrays her class with foul mouthed expletives as she reminds Nora of the unhappiness she caused by running away. 
In Ibsen's time, sequels to plays were often written; in fact Laura Keiler the "real" Nora first encountered Ibsen when she sent him a sequel to his play Brand.  This early written sequel wasn't allegedly very good but Laura Keiler did eventually succeed in making a living from her writing.  Lucas Hnath has made an interesting contribution to the Ibsen legacy with Part 2 which makes a refreshing change from directors putting their own spin on the original A Doll's House.
A Doll's House, Part 2

Written by Lucas Hnath
Directed by James Macdonald
Cast
Starring:
Noma Dumezweni
June Watson
Patricia Allison
Brían F O'Byrne
Jenny Galloway
Creatives
Director: James Macdonald
Designer: Rae Smith
Lighting Designer: Azusa Ono
Sound Designer: Max Pappenheim
Information
Running Time: One hour 40 minutes without an interval
Booking to 6th August 2022 
Theatre: 
Donmar Warehouse
Earlham Street
Seven Dials
London WC2H 9LX
Tube: Covent Garden/Leicester Square
Reviewed by Lizzie Loveridge
at the Donmar Warehouse
on 23rd  June 2022