Supposition and Suspicion by the Seaside
"Little twisting pinches
Almost like 
Chinese burns
on my arms and legs"
Jeanne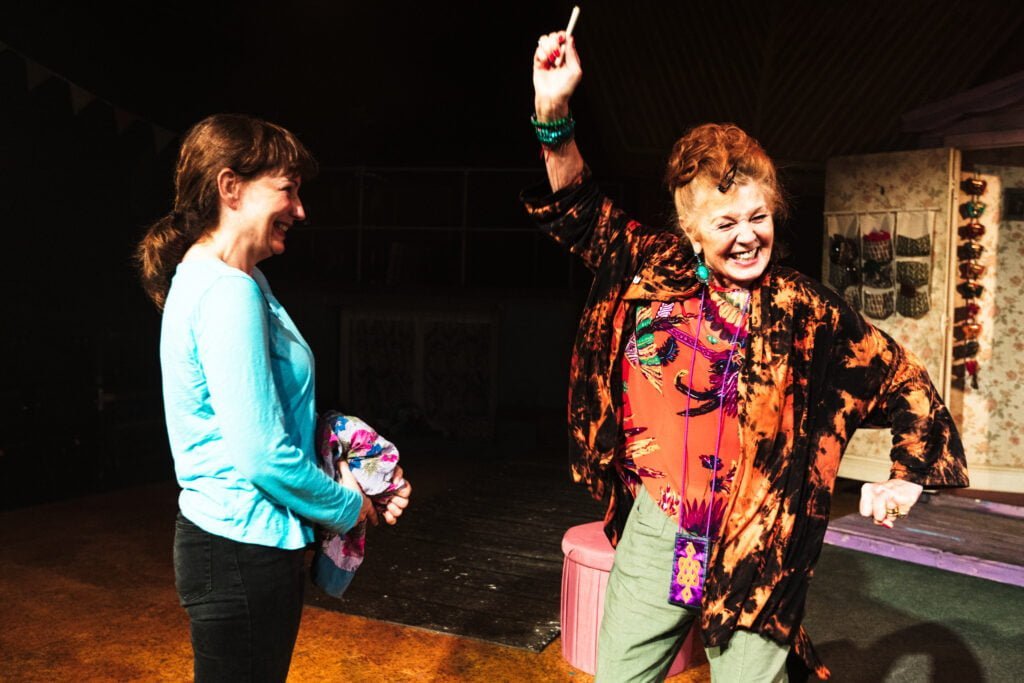 Tom Ratcliffe's play has been shortlisted for several new playwright awards.  Evelyn  is about a seaside community where a stranger comes to live and its climate of suspicion and paranoia.  Framing the scenes are characters from the seaside show, Mr Punch (Offue Okegbe) who brutalises his wife Judy (Nicola Harrison) and baby, is threatened by the Crocodile (Yvette Boakye) and eventually caught up with by Ketch the hangman (Michael Crean).  The commedia dell'arte characters serve to break up more serious moments in the play but also parallel the community's simplistic and basic reaction to rumour.
Jeanne (Rula Lenska) owns her own flat in a retirement village and has advertised a room as a one bedroomed flat and subletting isn't allowed.  Sandra (Nicola Harrison) has arranged to move in but is dismayed when she sees what the living arrangements actually are.  Laura (Yvette Boakye) is the  nurse who dispenses medication to the residents.  Jeanne persuades Sandra to stay and asks her to say that she is Jeanne's goddaughter.  Jeanne has early signs of dementia.
Sandra's arrival has coincided with the release from prison of a woman named Evelyn Mills who was implicated in the disposal of the body of her child when threatened and beaten by her husband the murderer.  All that is known about Evelyn is that she has moved to a seaside town. 
Someone has identified a house where they think Evelyn Mills might be living and vigilantes target the house and its occupants.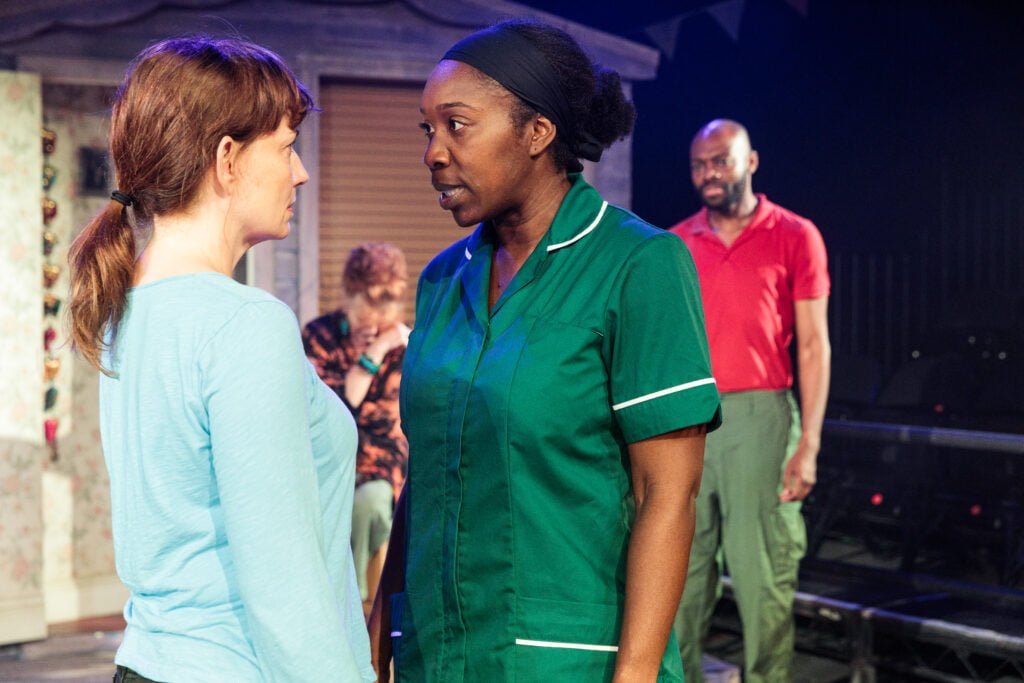 Jeanne and Sandra form a bond, drinking red wine, dancing to Buddy Holly's "Peggy Sue" and giggling at the controlling nurse together.  Jeanne encourages Sandra to go out with the electrician Kevin (Offue Okegbe) who happens to be the nurse's brother.
Whilst Jeanne accepts that Sandra, in her forties has arrived with just one suitcase, she doesn't pry into her past when Sandra is reluctant to say anything.  Jeanne has noticed scars on her arms and thinks Sandra might be running away from an abusive relationship. 
This play is particularly relevant at the moment because one of the murderers of two year old Jamie Bulger, Jon Venables ten years old in 1993, is again due to be paroled.  Venables has been given a new identity and was released until he was found with child pornographic images.  Can Venables expect not to be traced to a new name and a new address?  What are his rights?  Does his local community have a right to know where he lives?
Nicola Harrison as Sandra has a haunted, nervous look in her eyes.  Is this guilt or is she of a nervous disposition?  Offue Okegbe is tremendously likeable as the supportive Kevin whereas his sister Laura, Yvette Boakye is frighteningly rigid and judgmental.  I enjoyed the music from Michael Crean on several instruments giving the play variety.    
Tom Ratcliffe has a gift for genuine dialogue and I liked the sense of place he conveys of this seaside town and when Rula Lenska as Jeanne recalls memories of her childhood there.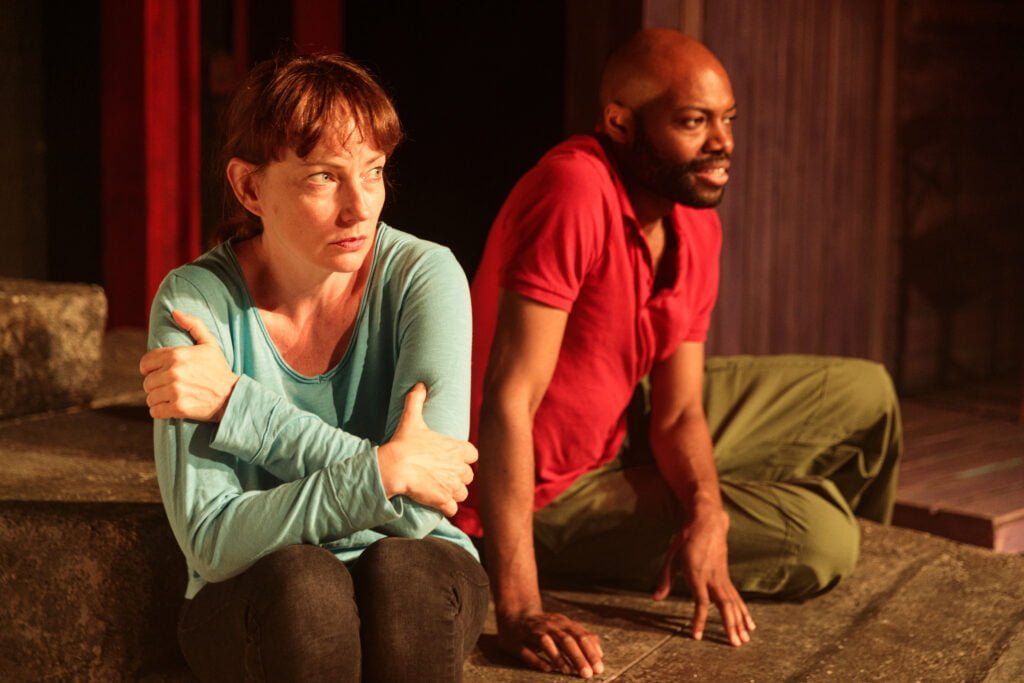 Evelyn
Written by Tom Ratcliffe
Directed by Madellaine Moore
Cast
Starring:
Rula Lenska
Nicola Harrison
Offue Okegbe
Yvette Boakye
Michael Crean
Creatives
Director: Madelaine Moore
Set Designer:  TK Hay
Composer/Sound Designer:  Michael Crean
Movement Design: Temitoope Ajose-Cutting
Lighting Designer: Rachel Sampley
Costume Designer: Trynity Silk
Fight Director: Claire Llewellyn
Producers: Wildcard, Mercury Theatre, Metal Rabbit
Information
Running Time: Two hours 10 minutes with an interval
Booking to 16th July 2022
Theatre:  
Southwark Playhouse
Newington Causeway
London SE1 6BD
Rail/Tube: Elephant and Castle
Reviewed by Lizzie Loveridge
at the Southwark Playhouse
on 26th June 2022