More Beastly than Beautiful!
"Ten years we've been rusting
Needing so much more than dusting
Needing exercise, a chance to use our skills
Most days we just lay around the castle
Flabby, fat and lazy
You walked in and oops-a-daisy "
Lumiere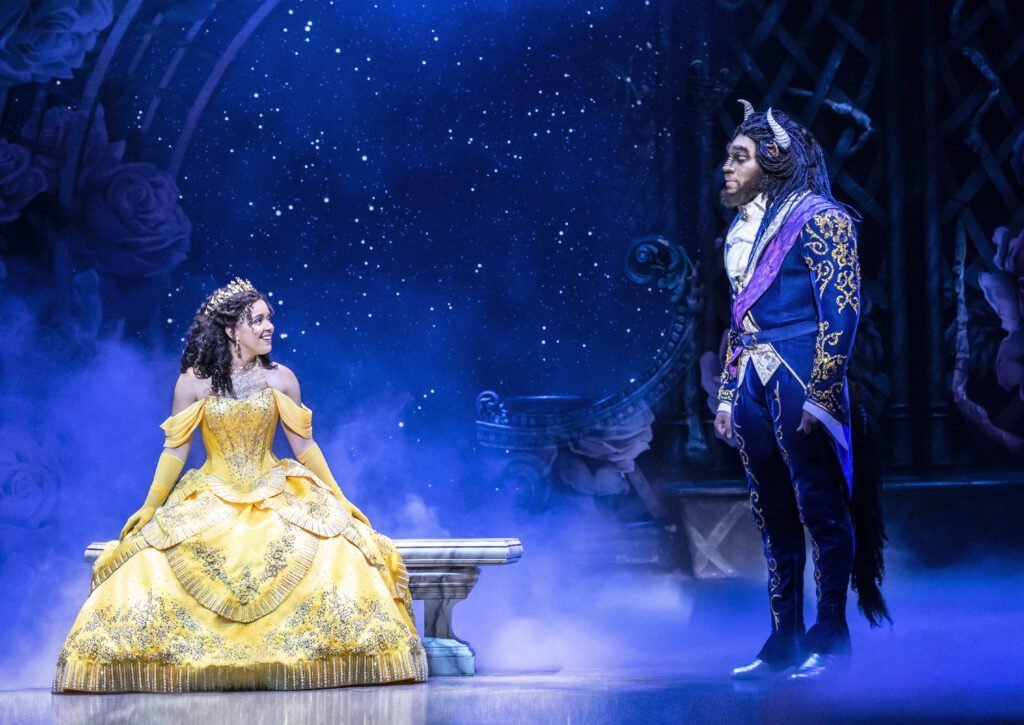 This Disney cartoon of Beauty and the Beast 1991 passed me by.  In fact so had The Little Mermaid in 1989.  It wasn't until California in 1994 that on a visit to Disneyland we stumbled upon the Light Parade of The Lion King that a love affair with a Disney film, later a musical began. 
Other than a vague acquaintance with the fairy tale, Beauty and the Beast was an unknown except for some memory about it featuring an animated candlestick? Reading the history of the musical's arrival on Broadway, I see that the American critics felt as I do now, less than impressed.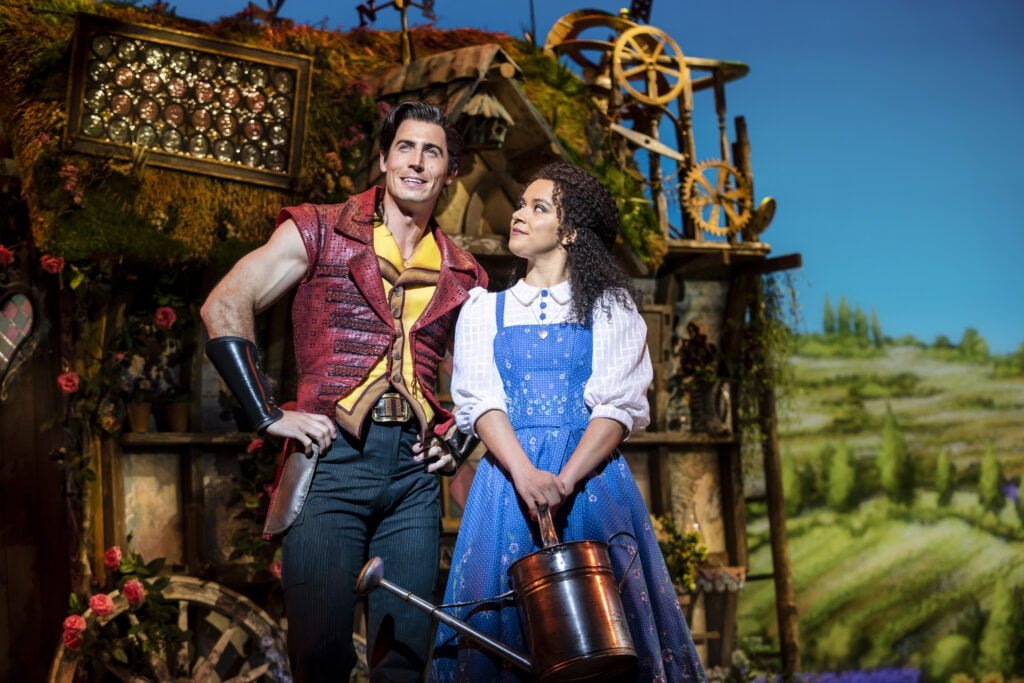 My judgment doesn't really matter as there are many out there who love the score including the ones sitting behind me who sang along to their favourites and, when they weren't singing, talked to each other as if they were watching television at home.  "Oooh I really like Lumiere!"  "Ooh no I prefer Gaston,"  they said.  Maybe they hadn't quite got the message about inner beauty as the Beast didn't get a mention?
Maybe it's the lack of animals that dulls down this Disney piece?  I just find it difficult to empathise with Mrs Potts (Sam Bailey) a woman turned into a teapot and her poor child Chip (Rojae Simpson) wheeled around in serving trolley so his head can appear as a tea cup.  Disbelief suspended?  No, I'm afraid not.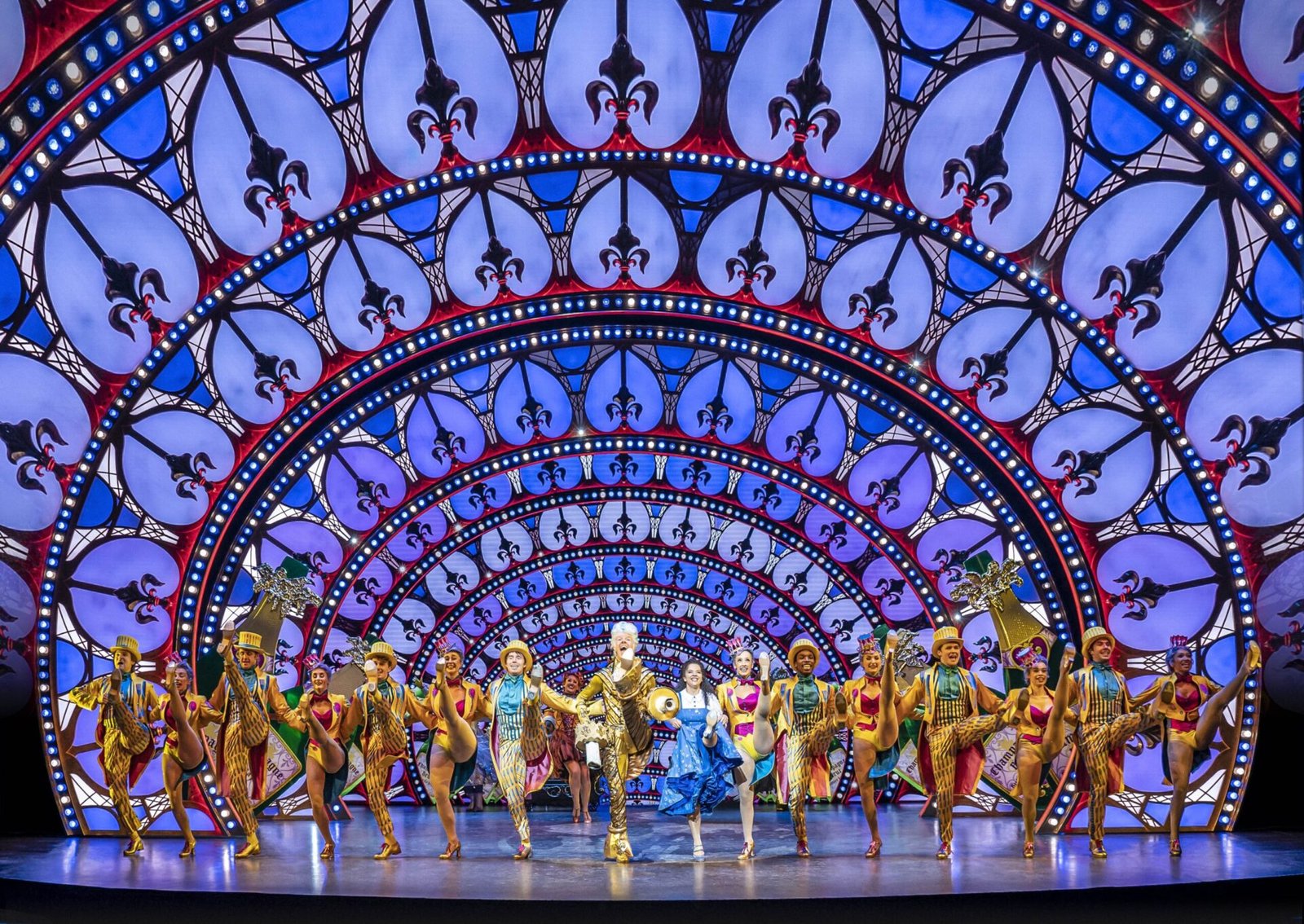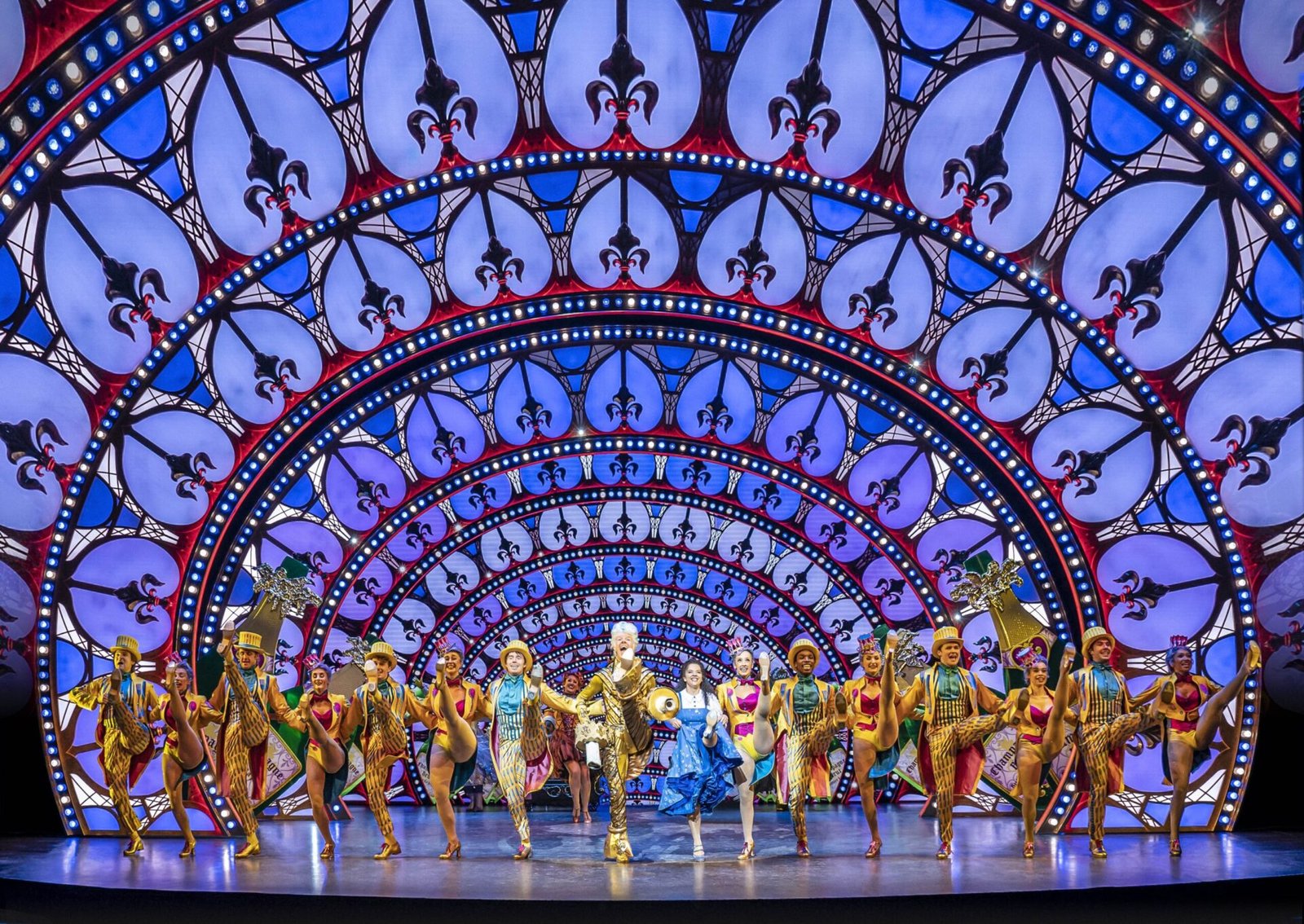 Gavin Lee works very hard as Lumiere, the candlestick, his candle handles bursting into flames when he's excited and he is star material even if I find it difficult to empathise with his waxen figure. 
It might also be that this production is 30 years old and has been dragging around tours of everywhere.  The age shows in the set designs of cartoon like German houses in the village where Beauty (Courtney Stapleton) lives with her father Maurice (Martin Ball) and the kaleidoscope backing to the big dance numbers.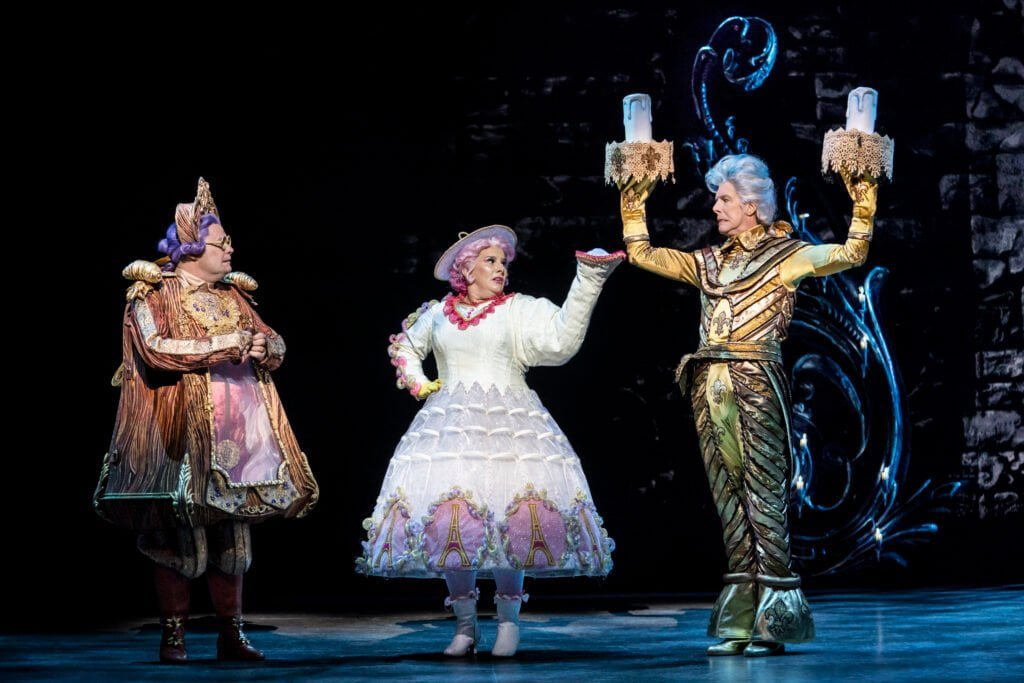 Courtney Stapleton is a sweet singing heroine and Shaq Taylor seems to pick up the steps to the waltz remarkably quickly. 
There is a briefly brilliant recreation of a Busby Berkley flower dance but too many of the dance scenes are over coloured and overly lit with distracting background. 
Does the theme that is possible to love ugliness of person, when one can see beauty of character and personality, really need for the ugly one to be changed externally into a handsome prince? 
Sorry guys, this one was not for me!
Act One
Overture
Prologue
Belle     
Wolf Attack 1
Me
Belle (Reprise)
Home
Home (Reprise)
Gaston
Gaston (Reprise)
Be Our Guest
If I Can't Love Her
Act Two
Entr'acte
Wolf Attack 2
Something There
Human Again
Beauty and the Beast 
If I Can't Love Her (Reprise)
A Change in Me
The Mob Song
Home (Reprise)
Transformation
Finale
Beauty and the Beast
Music by Alan Menken
Lyrics by Howard Ashman and Tim Rice
Book by Linda Woolverton
Directed and choreographed by Matt West
Cast
Starring:
Courtney Stapleton
Shaq Taylor
Gavin Lee
Tom Senior
Sam Bailey
Nigel Richards
Martin Ball
Samantha Bingley
Emma Caffrey
Louis Stockil
Rojae Simpson
Creatives
Director and Choreographer: Matt West
Scenic Designer: Stanley A Meyer
Musical Supervisor and Arranger: Michael Kosarin
Lighting Designer:  Natasha Katz
Sound Designer: John Shivers
Video and Projection: Douglas O'Connell
Musical Director: Jonathan Gill
Physical Movement Co-ordinator: Lorenzo Pisoni
Projection/Video Design: Darrel Maloney
Fight Direction: Rick Sordelet
Illusion Design: Jim Steinmeyer
Orchestrations: Danny Troob
Information
Running Time:
Two hours 40 minutes with an interval
Booking until 17th September 2022

then 
Bristol Hippodrome
Thursday 29th September – Saturday 12th November 2022
Bord Gáis Energy Theatre, Dublin
Thursday 24th November 2022 – Sunday 8th January 2023
Theatre:
The London Palladium
8 Argyll St
Soho
London W1F 7TF
Tube : Oxford Circus
Reviewed by Lizzie Loveridge
at the London Palladium
on 30th June 2022