Despair and Damn Fine Acting!
"We're all just bodies and when we're dead we're worm food, but as long as your body keeps going, flailing or thrashing about,  we are duty bound to fight, to scratch and kick, until you're fucked.  That's my philiosophy. "
The Captain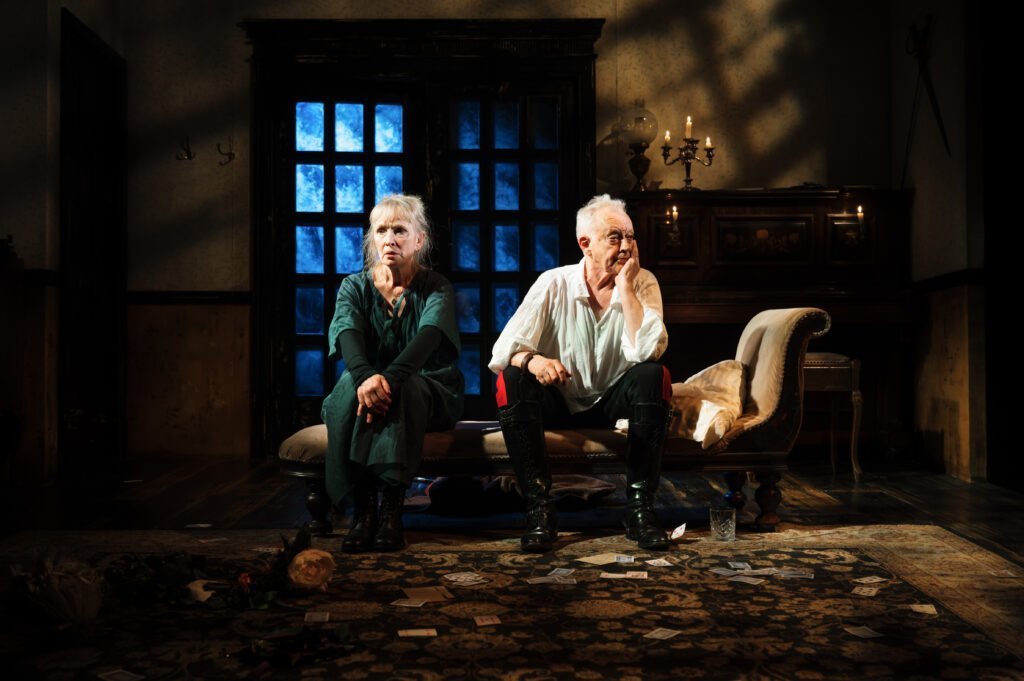 Strindberg wrote this stultifying play in 1900 about a toxic marriage approaching its 30 year anniversary.  Rebecca Lenkiewicz has done a magnificent job updating and adapting it so that today the language is more contemporary.  In the part of the married couple, Edgar the Captain is Hilton McRae, and playing his wife Alice is Lindsay Duncan, who in real life is Mrs Hilton McRae.
It was in the part of the Captain that Sir John Gielgud said in 1969 was Sir Lawrence Olivier's finest performance outside of his Shakespearean roles.   
Done well, as it is here, The Dance of Death has very strong parts for good actors.  The invective is biting and Lindsay Duncan delivers sarcasm with withering looks, and delicious timing full of aplomb, her eyes piercing and angry.  But she can also be deceptively quiet with a witty, sardonic and cutting retort.  The Captain with his soft East Coast Scots accent can sound less malicious but his actions are controlling and he uses the 'c' word frequently.  At one point he makes his wife lie on the floor face down and lick his boot. As he has been diagnosed with heart problems and fits, each time he collapses, they and we think he might have died.  
His famous sabre dance is all gesture and arm movements and we do wonder if it will be the end of him. They are an isolated couple having feuds with all of their neighbours. They know the doctor is having a party to which they haven't been invited. They can hear the music and speculate on the party food which will be grouse. They console themselves at missing out by saying the grouse will be spoilt by roasting it "in lard like peasants".
The difference in Lenkiewicz's adaptation is in the gender of Alice's cousin Kurt who has taken a job in charge of a new Quarantine Centre for infectious diseases on the island working with the detested doctor. She is Katrin (Emily Bruni) who lost custody of her children after the Captain's interference so she has reason to hate him. Katrin has been away in America for two decades.
Alice, who was an actress before she married, is of course still very beautiful and Katrin is attracted to her as they form a womanly bond. The Captain tries to needle Katrin with cheap cracks about "leaving her children" when he was responsible, giving evidence against her. Katrin never rises to the baiting from him with her calm, capable presence. A beautiful performance from Emily Bruni.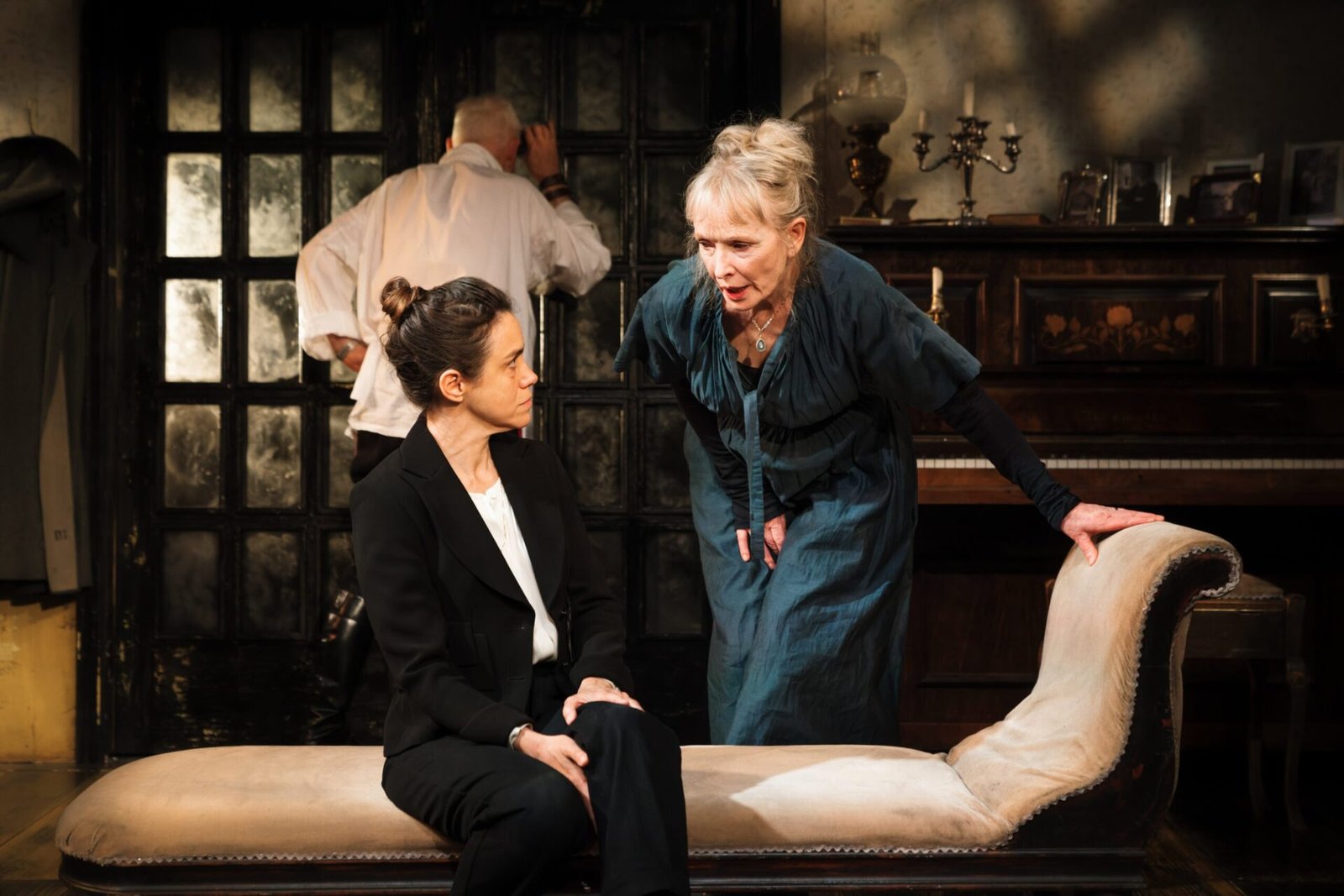 The set is stuffed full of shoddy, rickety furniture.  The room is dark.  There is a piano at the rear and chairs which creak when they are sat on.  The rug on the floor is threadbare.  Every so often a telegraph machine springs into life throwing out morse code, something the Captain thinks is entirely his province but Alice has taught herself to code.
This play will make you laugh at the outrageous things they say to each other.  As Strindberg wrote from his life experiences, we do wonder how much he hated women?  Why is it that we laugh at the blackest of comedy?  Is it relief that our own terrible arguments don't come close to rivalling theirs?  I do hope that Hilton McRae and Lindsay Duncan are not Method actors or their home life might suffer.  Apparently Benedick Cumberbatch didn't wash for weeks when trying for authenticity in the film The Power of the Dog ! 
This production has all the intimacy of the small Arcola space under Mehmet Ergen's direction with actors at the top of their game and is more successful than many which have money thrown at them.  It makes for a dramatically distilled ninety minutes.   Don't miss it!
The Dance of Death 
Adapted by Rebecca Lenkiewicz from the play by August Strindberg
Directed by Mehmet Ergen
Cast
Starring:
Lindsay Duncan
Emily Btuni
Hilton McRae
Grainne Dromgoole
Creatives
Director: Mehmet Eren
Designer: Grace Smart
Composer: Christine Arakeiyan
Lighting Designer: David Howe
Sound Designer: Dan Balfour 
Information
Running Time: One hour 30 minutes without an interval
Booking to 23rd July 2022
Theatre: 
Arcola Theatre
24 Ashwin Street
London E8 3DL
Box Office: 020 7503 1646
Reviewed by Lizzie Loveridge
at the Arcola Theatre 
on 4th July 2022