Barefoot in the Park
A love song to the 1960s
"Make him feel important. If you do that, you'll have a happy and wonderful marriage… like two out of every ten couples"
Ethel Banks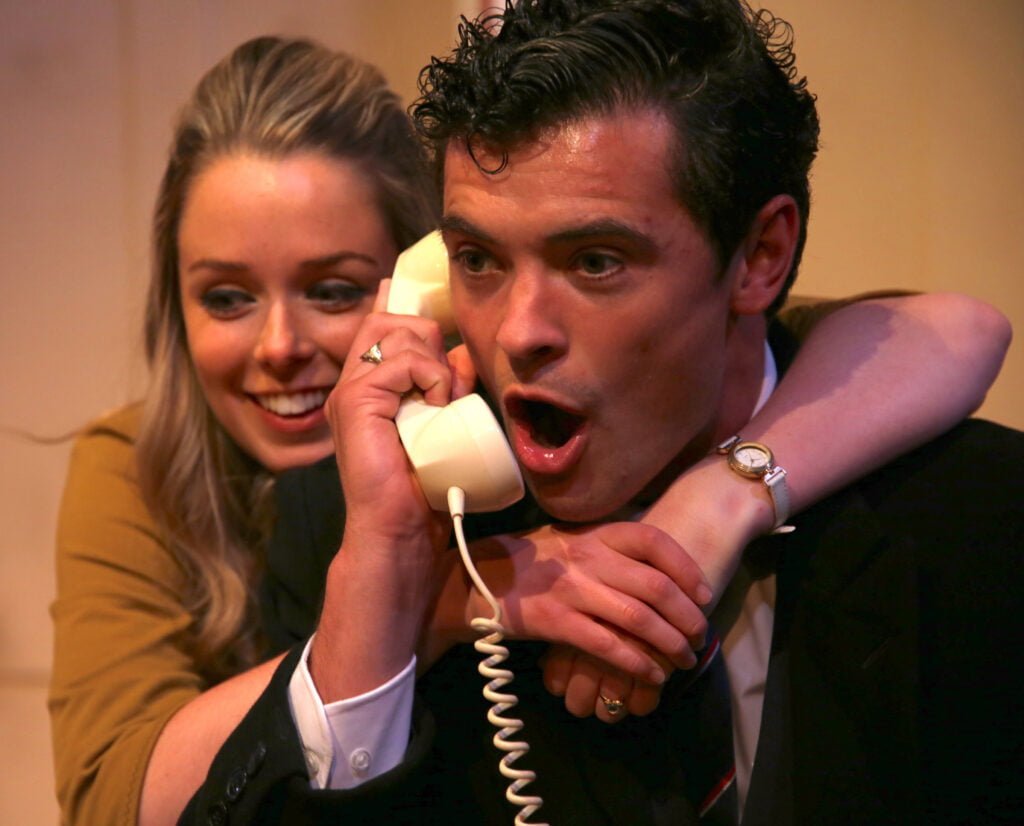 In 1967 the seminal film of The Graduate came out and in the same year, the film of Barefoot in the Park starring Robert Redford and Jane Fonda, as the newly weds in New York who are moving in together for the first time.  The wonderful songs of Simon and Garfunkel remind us of the period and still have resonance.  Neil Simon's play had run on Broadway from 1963 and his play is a gentle and charming comedy with 1960s values before 1968 Flower Power and student revolution. 
You are not seeing here a play manipulated to reflect woke principles and you may feel a lot has changed in the last 50 years and not necessarily for the better.  Corie (Hannah Pauley) seems to be a stay at home wife while Paul (Jonny Labey) is starting a career as a attorney in a New York legal hothouse.  Their first six days were spent in an hotel and Corie is left to move in the brownstone apartment while Paul goes to work. 
Her first visitor is the telephone engineer Harry Pepper (Oliver Stanley).  The furniture hasn't yet arrived so the phone needs an extra long lead. Set designer Michael Holt has excelled with the apartment set, a brilliant reconstruction of the film with its huge skylight with a broken pane and bizarrely ceiling height radiator which of course doesn't work and New York is expecting snow storms.  Holt's attention to detail is impressive: Gordon's Gin with the American label and a yellow legal notepad in Foolscap size, no A4's in New York!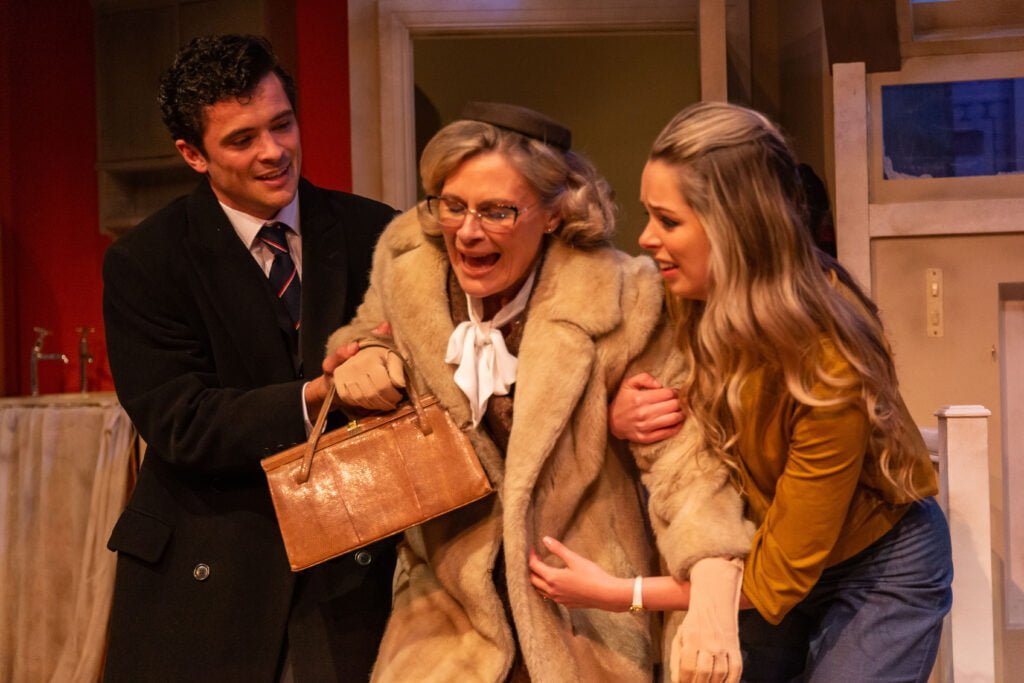 The stairs from the ground floor are exhausting; the apartment is five floors up plus the stoop from street to front door.  The climb almost defeats every visitor,  Corie's mother, Mrs Banks (Rachel Fielding) arrives and collapses as she enters, having glimpsed their idiosyncratic neighbours on each floor.  
A neighbour, the mysterious Victor Velasco (James Simmons) hasn't paid his rent and needs to access his rooms via Corie's bedroom window and by risking his life by walking along the skylight. In the play Victor has been married eight times but only half that in the film!
The furniture will eventually arrive and Victor will ply everyone with ouzo with its unusual hangover effects.  Corie and Paul will have their first fight centring on why he won't walk barefoot in the park with her.  He says it's 17 degrees and too cold and we have to remember the Americans are talking Fahrenheit which is very cold indeed!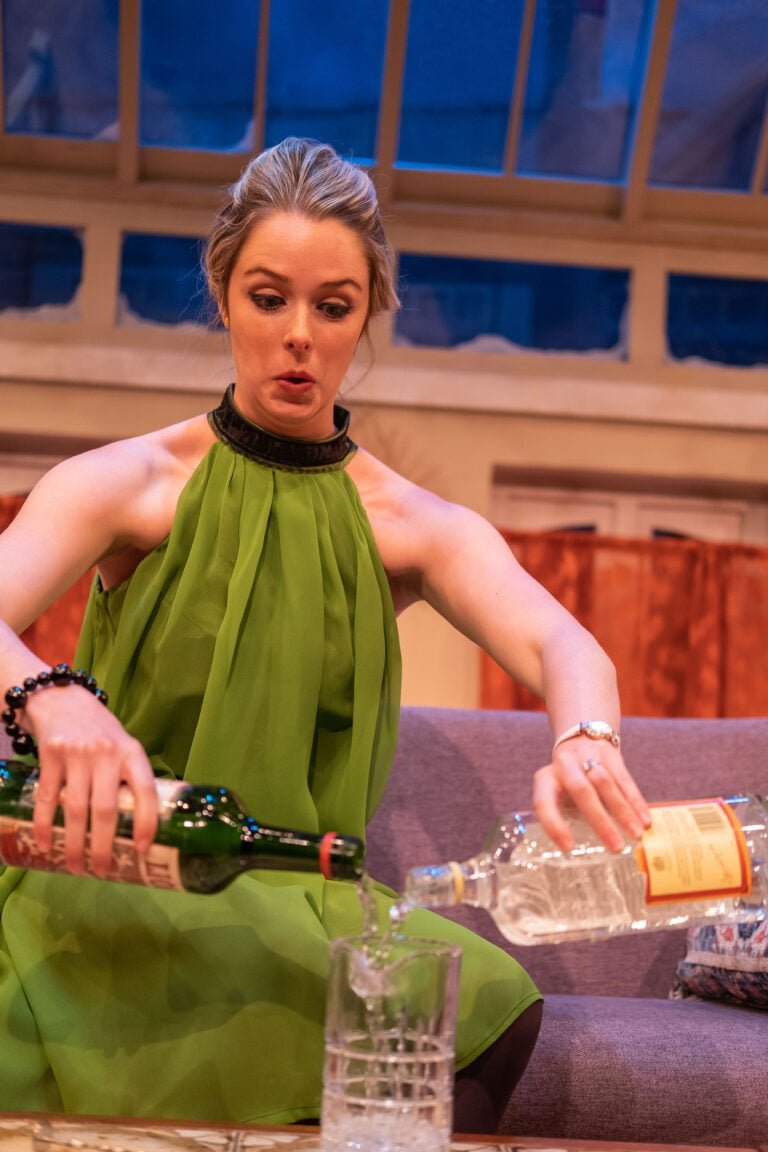 When I got married, later than the 1960s, we were given by a friend, Hazel, who used to be a Bunny Girl, a bottle of vintage champagne with instructions to open it on our first argument.  When the argument happened, we continued disagreeing on whether to open the champagne, but I would have liked Corie and Paul to have had a bottle to open.  Their full fight mentions divorce.  "Fifty Ways to Leave Your Lover" plays.  "Just go to the Mall, Paul"  (or do Americans say "Mall. Pal"?) is needed. Maybe it is watching too much Love Island but as they had their first fight I was longing for him to just hold her to end the argument and find the physical affection they have together.
I can't reveal the delightful climax of the play but the final scene makes the slow build up thoroughly worthwhile.  The performances are excellent.  For an evening by the river in Sonning after a delicious supper, this play is a love letter to the 1960s.  ­­­­
Barefoot in the Park
Written by Neil Simon
Directed by Robin Herford
Cast
Starring:
Jonny Labey
Rachel Fielding
Hannah Pauley
James Simmons
Oliver Stanley
Creatives
Director: Robin Herford
Set Designer: Michael Holt
Costume Design: Natalie Titchener
Lighting Designer: Graham Weymouth
Information
Running Time: Two hours with an interval
Booking to 20th August 2022
Theatre: 
The Mill at Sonning Theatre 
Sonning Eye
Reading
RG4 6TY 
Website: millatsonning.com
Box Office: (0118) 969 8000
Reviewed by Lizzie Loveridge
at the Mill at Sonning
on 8th July 2022