Richard Bean and Oliver Chris pay tribute to the few -
Battle of Britain 1940 to 2020

Lydia: "What will happen in England after we have won this war?"
Sir Anthony: "Bunting!  Bunting Everywhere!" 
Lydia: "After the bunting has been taken down?."
Sir Anthony: "They will never take down our bunting!"
After his tremendous hit with One Man, Two Guvnors  which was based on Goldoni's A Servant of Two Masters,  Richard Bean has co-written with Oliver Chris, Jack Absolute Flies Again with Richard Sheridan's The Rivals  as its inspiration.  If you are looking for a serious version of the Sheridan, read no further because this comedy is a 21st century lampoon.  As a satire, it does not have to conform, in my opinion, to the politically correct although it may do so but all is fair in love and war and comedy!
This production was written to commemorate the 80th anniversary of the Battle of Britain in 1940 when RAF fighter aircraft with terrible losses fought off the German Luftwaffe.  Sadly the timing in the Olivier was thrown by the pandemic. 
Caroline Quentin is Mrs Malaprop, widowed owner of a rather fine croquet pitch and manor house in Sussex which has been requisitioned by the Royal Air Force to use as a base.  Like the Sheridan original she muddles her vocabulary, only the 1940 Malaprop tends to find an alternative which is sexually explicit.  Who could confuse clitoris with clematis or Bridlington's award winning perineums instead of pelargoniums?  It must have been a lot of fun to write and it is a lot of fun to be in the audience.  
Our heroine pilot Lydia Languish (Natalie Simpson) to appear lacking in snobbery uses a peculiar form of half-Cockney rhyming slang to communicate with her maid Lucy (Kerry Howard) who is probably as baffled as we are.  Examples are, " …until the old dog and telephone rings…." And "I'm proper cream exhausted." 
Lydia and Jack Absolute (Laurie Davidson) have had a previous relationship but now Lydia has set her sights on someone more working class, Lucy's boyfriend, the muscled, moustachioed and tattooed aircraft fitter Dudley Scunthorpe (Kelvin Fletcher). 
Another stand out character is the quirky Roy Faulkland (Jordan Metcalfe) who is engaged to Lydia's friend, and his first cousin, Julia Melville (Helena Wilson) in the ATS and driver to Major General Sir Anthony Absolute (Peter Forbes).  Add to the mix an Indian airman who has to be called Tony because they can't pronounce Bikram (Akshay Sharan) and an Australian Bob 'Wingnut' Acres (James Corrigan).  In charge of administration is Intelligence Officer Brian Coventry (Tim Steed) whom Mrs Malaprop calls Daventry. 
Sir Anthony wants Jack to marry Lydia and Mrs Malaprop wants to be courted by Sir Anthony.  In a good subterfuge Jack disguises himself as the Aircraft Fitter which results in Lucy trying to rip off a moustache that isn't false off her beau Dudley.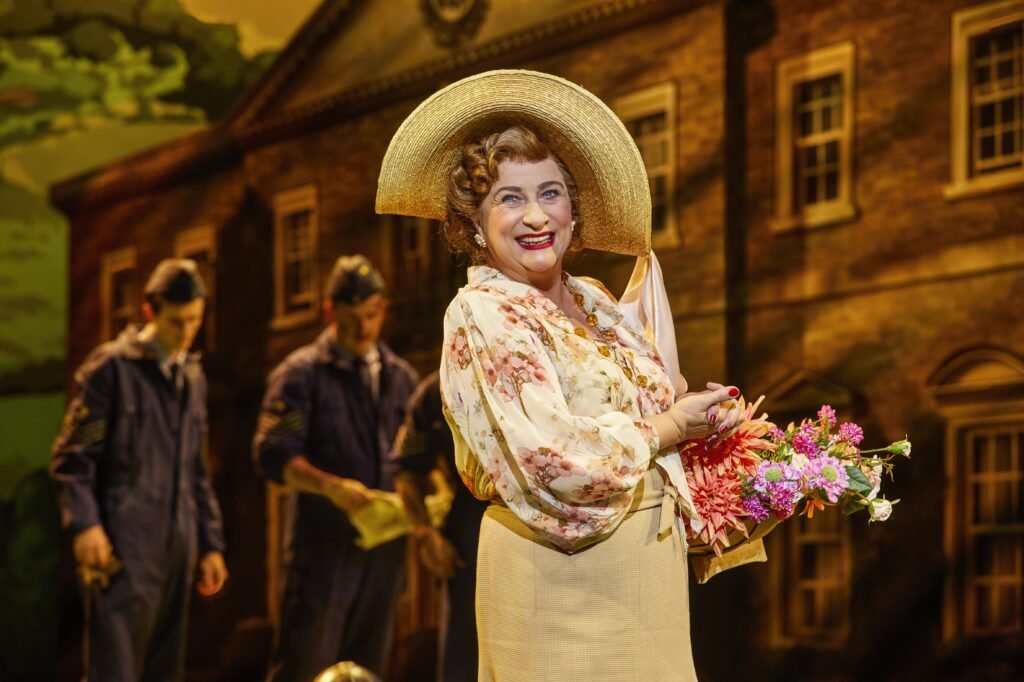 I'm starting to recognise Mark Thompson's sets with their authentic looking buildings that, in this play, open up to a world of chintz.  In the background is that painted countryside seen on Railway posters of that era.  There is video of Hurricanes in dog fights by Jeff Sugg. 
In contrast to all the word comedy is the superlative dance scene with the whole cast throwing themselves into the Jitter Bug complete with ballroom glitterball.  The Second Act shifts into the real world of warfare and loss and I appreciated the playwrights showing pathos, the other side of the coin. 
Caroline Quentin has a ball with her saucy word play.  We enjoyed Roy and his cousin's Juju's romance as a fun side event.  I haven't heard so much laughter in the Olivier for a very long time.  Director Emily Burns keeps the show apace. 
There is an apt comment in the programme about the pandemic closing the theatres which not even the German Luftwaffe managed!   It will be recorded for future screening on 6th October, but do try to see it live at the National and join the audience mirth.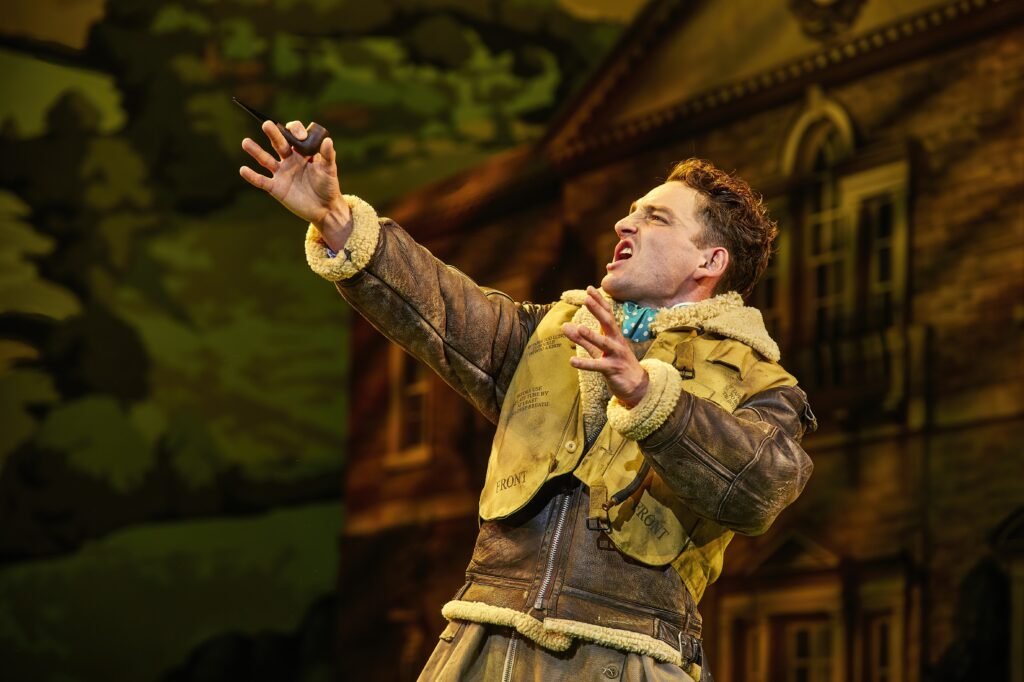 Jack Absolute Flies Again
Written by Richard Bean and Oliver Chris
Directed by Emily Burns
Cast
Starring:
With:
Creatives
Director : 

Marianne Elliot
Designer: Mark Thompson
Composer: Paule Englishby
Lighting Designer: Tim Lutkin
Sound Designer: Paul Arditti
Video Designer: Jeff Sugg
Physical Comedy Director: Toby Park for Spymonkey
Choreographer: Lizzie Gee
Musical Director: Chris Traves
Movement: Annie-Lunette Deacon-Foster
Information
Running Time: Two hours 30 minutes with an interval
Booking to 3rd September 2022 
Theatre:
Olivier Theatre
National Theatre
South Bank
London SE1 9PX
Tube/Rail : Waterloo
Website: nationaltheatre.org.uk
Reviewed by Lizzie Loveridge 
at the Olivier Theatre  
on 14th July 2022