Closer revived with panache!
"Try lying for a change.  It's the currency of the world." 
Dan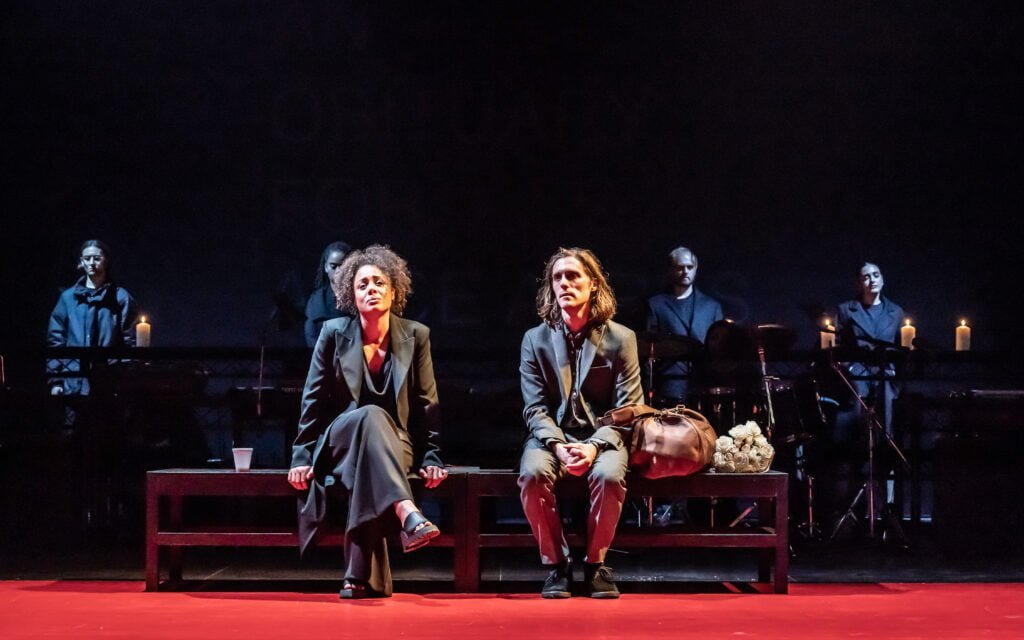 It was the big hit of 1997 at the National Theatre, Patrick Marber's second play after Dealer's Choice and one I saw twice at the National and on transfer to the West End.  I had only just started reviewing and was blown away by the play.  The stand out scene for me was the internet one where Dan (Jack Farthing, then Clive Owen) pretends to be a sexually explicit vamp called Anna while in internet messenger with gullible doctor, Larry (Sam Troughton, then Ciaran Hinds). 
I missed Closer at the Donmar in April 2015.  On holiday.  
On seeing it 25 years later, I was struck by its freshness down to its current director Clare Lizzimore giving it a reinvigorated staging with live music and brilliant casting.  There were lines and situations I remember so clearly from the original it was like meeting up with an old friend with shared history.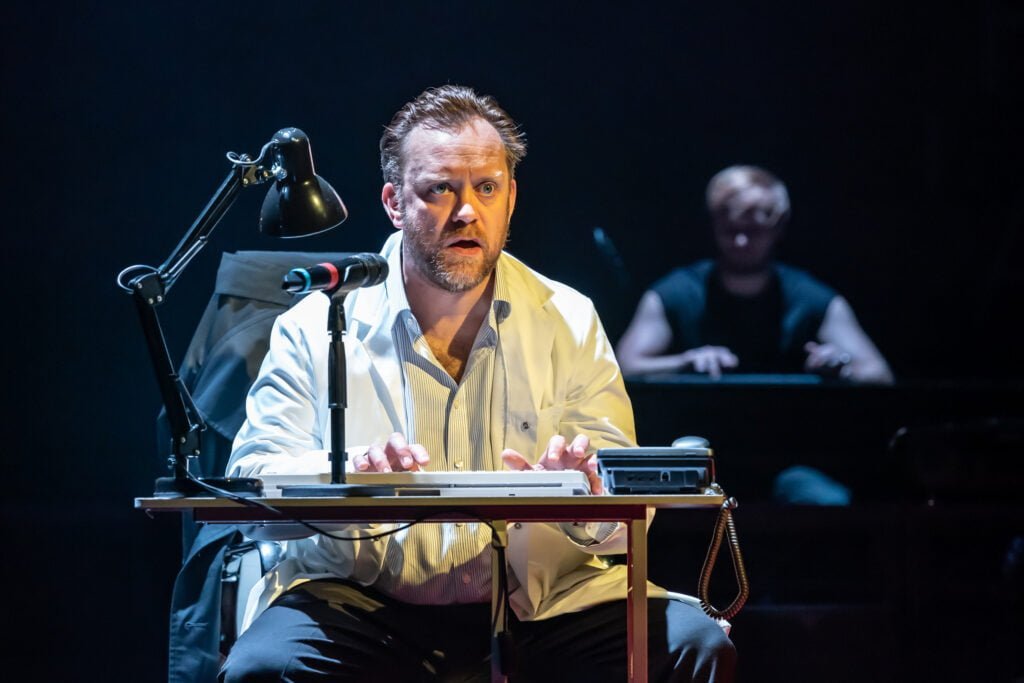 It is a play about destructive relationships and the damage that they do to us.  It opens in a hospital A & E, presumably Barts, where obituary journalist Dan has taken Alice (Ella Hunt) who has hurt her leg in a car accident.  A year later Dan and Alice are living together and Dan has written a book about her life story as related to him by her. Dan is getting photographed by Anna (Nina Toussaint-White) for the launch of his book and makes a pass at her. 
Repulsed by Anna because he is involved with Alice, he takes revenge by pretending to be Anna and luring someone in an internet chat room to meet her at London Zoo's Aquarium.  This actually happens.  That is as much of the plot that I will give away.  Patrick Marber has perfectly constructed this relationship square with its shifting ties, abandonment and hurt.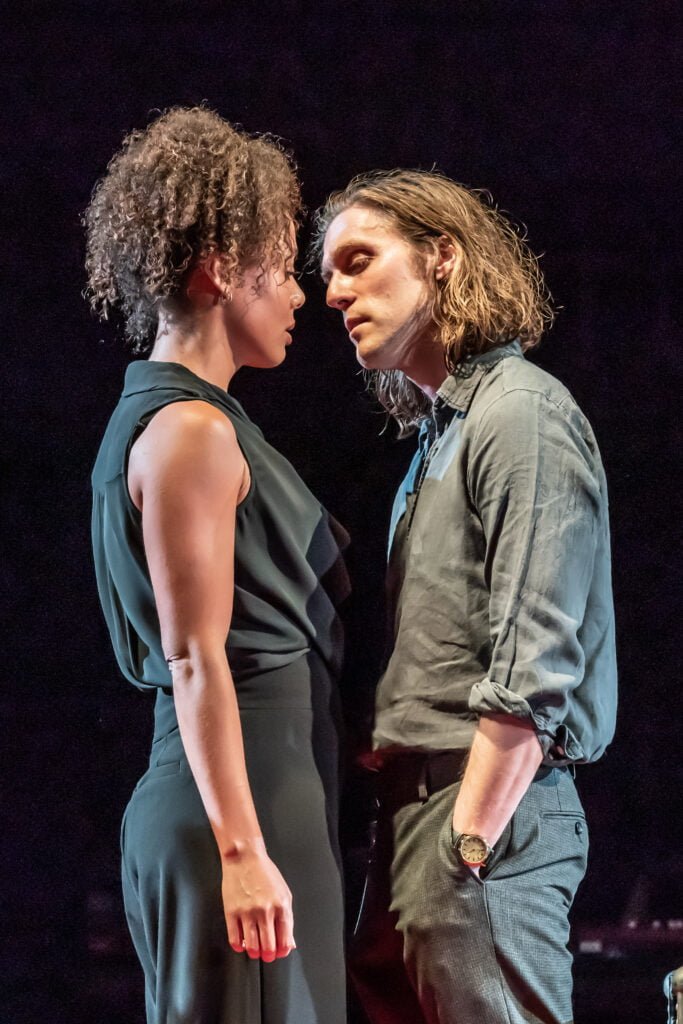 In an early scene Alice describes the kind of woman men want, "Men want a girl who looks like a boy. They want to protect her but she must be a survivor. And she must come… like a train…but with…elegance."
Is she describing herself or is this what she wants Dan to think about her?  Later, Alice who seems to be a prime observer describing men and their emotional hang ups: "We say, Where's your baggage? They deny all knowledge of it… They're in love…they have none. Then … just as you're relaxing … a Great Big Juggernaut arrives … with their baggage.  It got held up.  One of the greatest myths men have about women is that we overpack."  This play is full of wit and nuanced truths.
I appreciated the addition of period music, the songs sung by Alice and the clarinet solo from Arun Ghosh.  There are bodies in the background, a chorus of shadowy others caught up in the theme of a scene.  Soutra Gilmour's set has a raised scarlet stage with the band and background people in black. 
It is very much set in London with the references to the Victorian Postman's Park memorials which all the characters visit but in terms of era, little seems to me to have changed except that Barts A&E has closed and moved to Whipps Cross or Whitechapel.
I liked Jack Farthing's ambivalent, slippery Dan with his devious ideas and plotting.  He ties back his hair and puts on spectacles for his serious mode but specs off and hair let down when he wants to attract a woman.  Is he a man who enjoys the chase but can't cope with catching his prey?
Sam Troughton is the nicer, kinder guy but less interesting in the security he offers.  Dan of course belittles "kind". Ella Hunt is chameleon-like as Alice with her mysterious background and vulnerability.  Her employment and her handling of it is an eye opener.  Lisa Toussaint-White's photographer sees people's stories in her photographs and tries for truth and integrity. 
In terms of gender are the men or the women making the decisions about the beginnings and the endings of their relationships?  As Anna says to Alice, "They love the way we make them feel but not us".
And a question,  Is the Methuen Schools Edition version of Closer unexpurgated?
The quality of writing, direction and acting make Closer a five star play from the theatre site that doesn't do stars.  It deserves a further life.  You won't be disappointed even if you've seen it before.  Wait for the 2022 Awards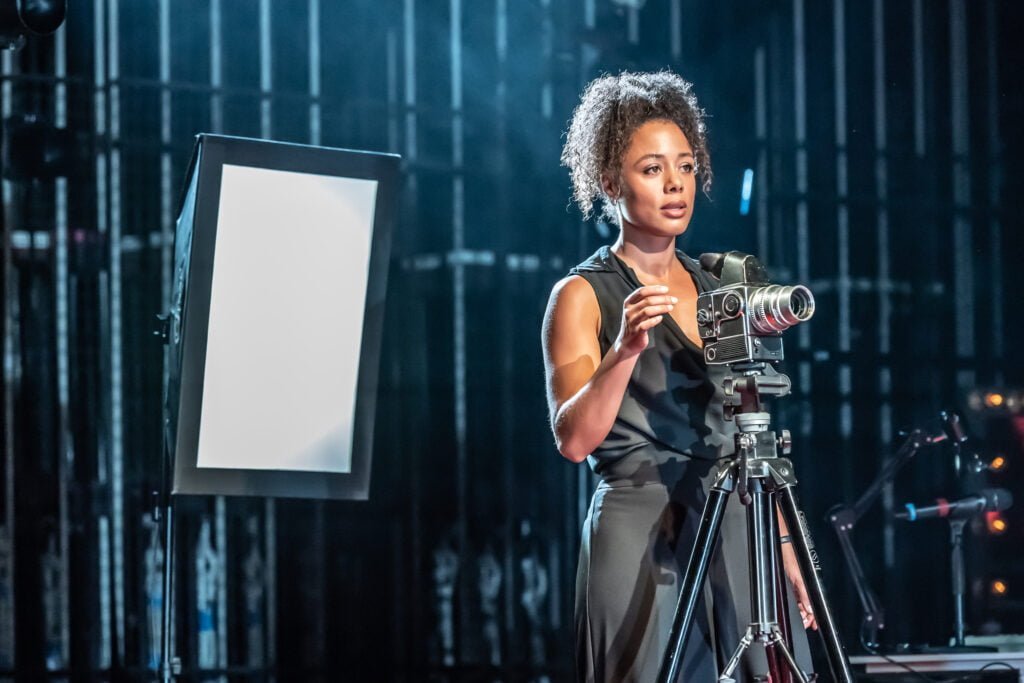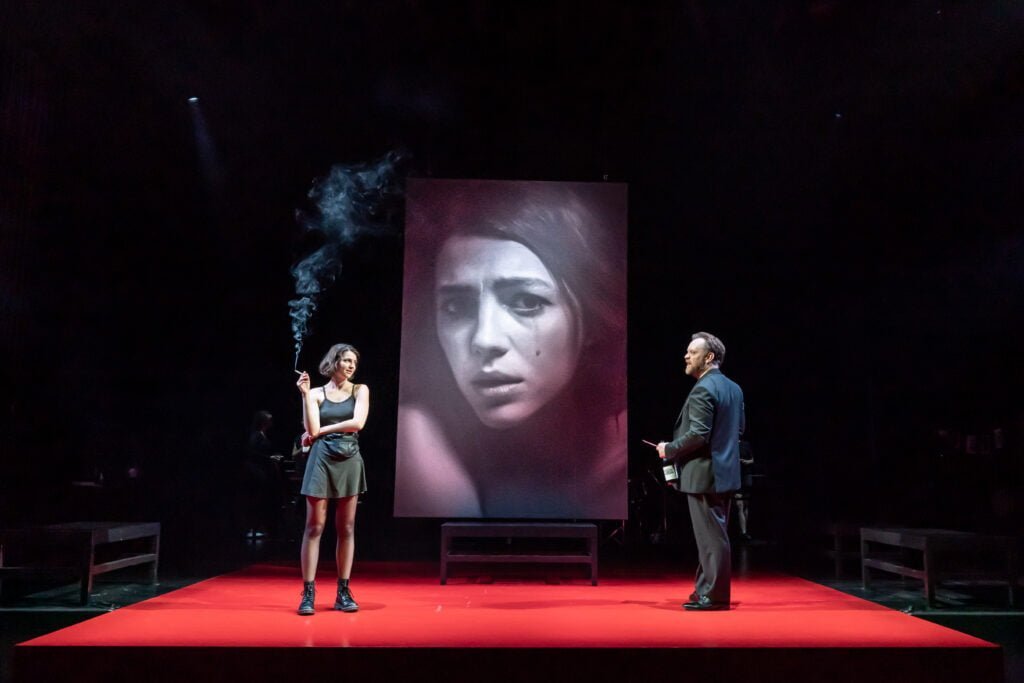 Closer
Written by Patrick Marber
Directed by Clare Lizzimore
Cast
Starring:
Jack Farthing
Ella Hunt
Sam Troughton
Nina Toussaint-White
With
Kane Feagan
Georgia-Rose Oliver
Sam Purkiss
Wilf Walsworth
Musicians
Arun Ghosh
Radhika Arggarwal
Creatives
Director:  Clare Lizzimore
Designer: Soutra Gilmour
Movement:  Malik Nashad Sharpe
Composer, Arranger and Musical  Director: Arun Ghosh
Lighting Designer:  Richard Howell
Sound Designer: Christopher Shutt
Information
Running Time:
Two hours 20 minutes with an interval
Booking until 13th August 2022
Theatre:
Lyric Theatre
King Street
Hammersmith
London W6 0QL
Box Office: 020 8741 6850 
Website: lyric.co.uk
Tube: Hammersmith
Reviewed by Lizzie Loveridge at the Lyric Hammersmith 
on 20th July  2022