Millennials
A Generation in Progress
"I don't love you anymore but I remember the feeling. "
Lyric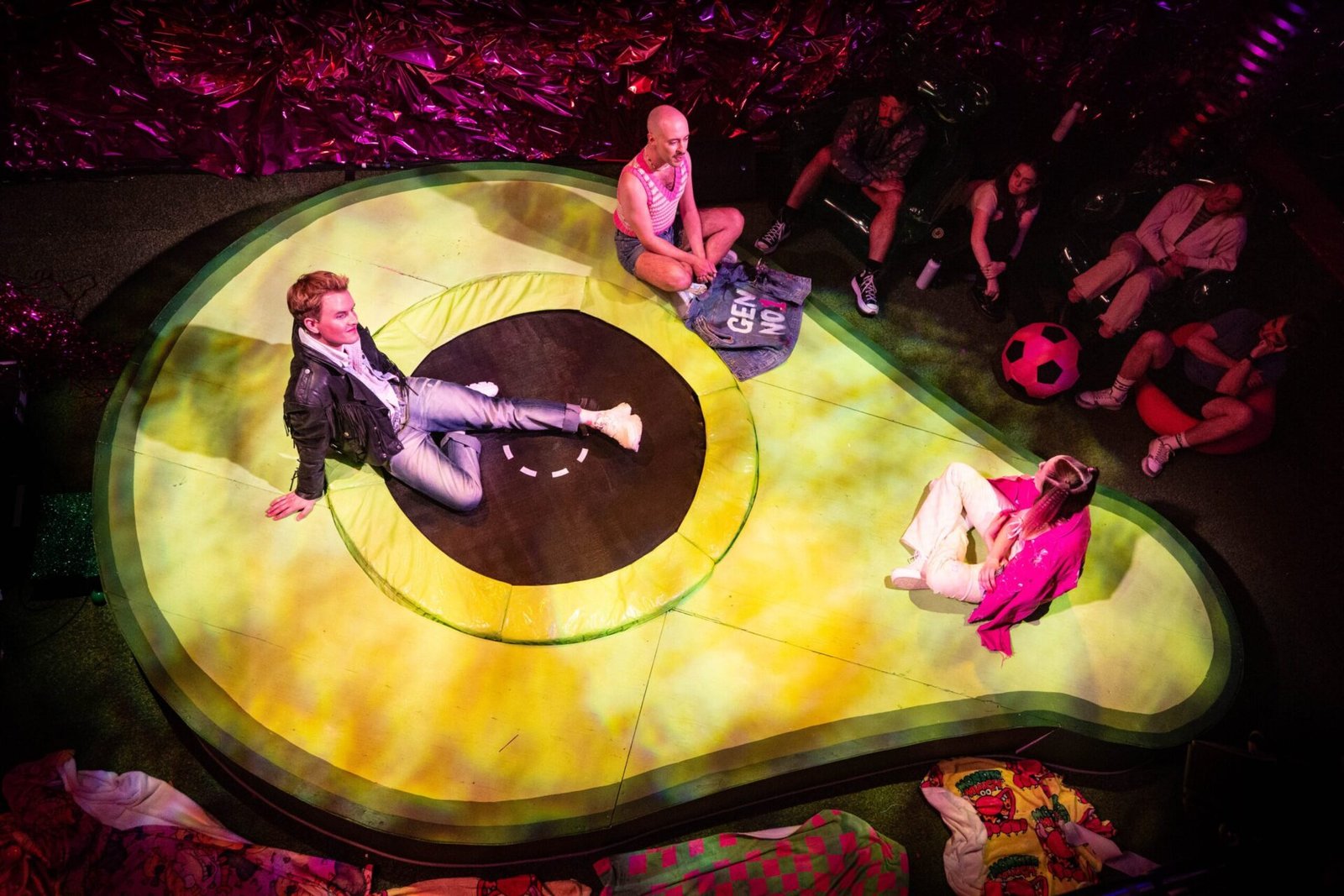 Let us be clear.  Millennials is not a musical, there is precious little plot or storyline to progress.  It is a song cycle performed by six talented professionals with a loose theme about what are the concerns of the generation that followed Generation X.  
The Studio space at the Other Palace doesn't need reviews to increase business for their more experimental space; TikTok has done that already and I suspect that there is plenty of repeat business.  
Firstly, it doesn't look like a theatre with Barbie shocking pink shiny paper crumpled on the walls, bean bags to sit on or in a ball pool or even a bath.  There are beach balls, slinkies and tiny rubber ducks everywhere.  The playing area is avocado shaped with the stone pit being a trampoline with a band on the higher level.  Steps decorated with avo stickers lead you down to the Millennial shrine.  Dancing spotlights introduce you to the rhythm although later they are responsible for severe lighting spill directly into the eyes of some of the audience.
Secondly, it doesn't have the distancing of a theatre with the cast mingling with their adoring audience beforehand and inviting them to dance at moments during the show, a dream scenario for fans. 
The song cycle is by Elliot Clay.  I am suddenly finding Elliots in cast and credit lists.  Surely this can't be the influence of Andrew Lloyd Webber's Cats born in the first year of Millennial births, 1981, but a tribute to Spielberg's boy hero in E.T. of 1982?  
The harmonies are clear and sound in Clay's songs. Luke Bayer has stage fright as he sings "Staring down the barrel of a microphone".   "Four Little Words" is zany as rising star Rob Madge sings and dances in "Don't Be a Dick" in toppers, multiple large safety pins and decorated tail costs. Luke and Georgina sing together with his pretty tenor and her voice about the girl and the mirror in "Masterpiece". 
"Gen3r@tion No One"  has lyrics featuring "Me, Me Me"  the motto of the millennials when labelled by Generation X.  Georgina Onuorah's "Remember the Feeling" shows off her outstanding voice although the sentiment is not one exclusive to Millennials.  Luke Latchman has a super rap number in "Priceless".  "Count My Blessings" makes points about social media, "So many friends on my phone . . .  no reason to feel alone". 
Tinivimbanashe Sibanda's choreography needs more room than this tiny stage to see its promising merit.
Well done Bill Kenwright and Paul Taylor-Mills for giving London an experimental space and giving us works in progress.   
Intro
Millennials
21st Century Girl
Four Little Words
Masterpiece
Gen3r@tion No One
Some Day
Remember the Feeling
Priceless
Count my Blessings
See You
Endings
Outro
Millennials
Music and Lyrics by Elliot Clay
Directed by Hannah Benson
Cast
Starring:
Luke Bayer
Hiba Elchikhe
Luke Latchman
Hannah Lowther
Rob Madge
Creatives
Director: Hannah Benson
Choreographer: Tinivimbanashe Sibanda
Musical Director: Ehsaan Shivrani
Set Designer and Lighting Designer:  
Andrew Exeter
Arrangements and Music Supervision:
Nikki and Joe Davidson
Information
Running Time: 70  minutes without an interval
Booking until 4th September 2022
Some cast changes after 31st July
Address:
The Other Palace Studio
The Other Palace
12 Palace Street
London, SW1E 5JA
Box Office: 020 7592 0302
Tube: Victoria
Reviewed by Lizzie Loveridge
at the 6.30pm performance at
the Other Palace Studio  on 15th July 2022