Jean Paul Gaultier and the Show of Shows!
"A show like no other"
 Jean Paul Gaultier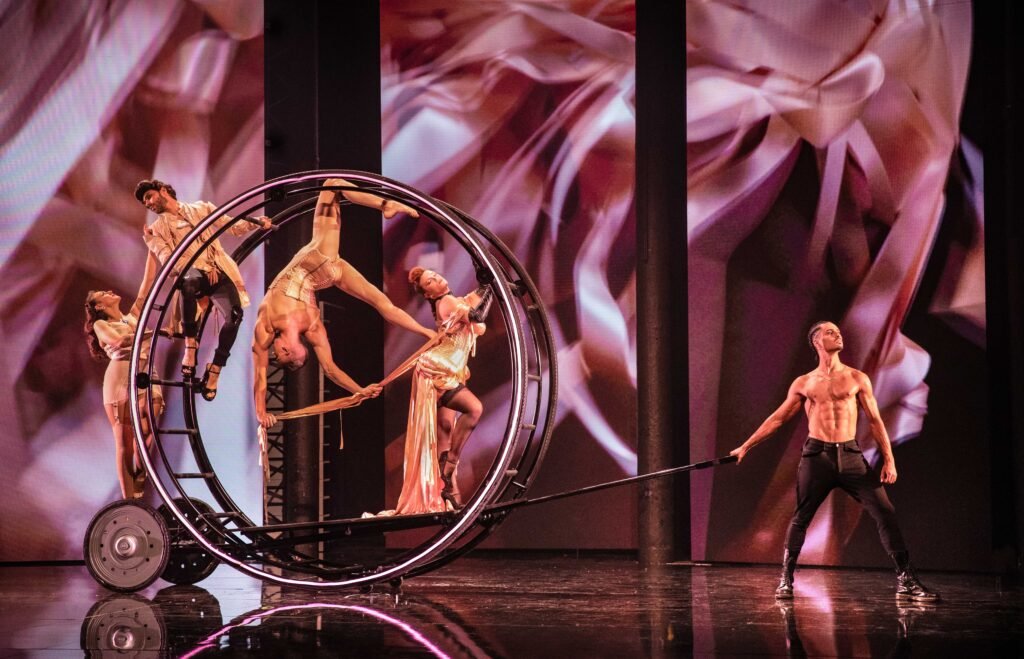 Jean Paul Gaultier started as a couturier at such a young age and with such an impact that he was termed an "enfant terrible", after Cocteau's 1920s novel, describing someone very young, talented and outrageous. His Fashion Freak Show at the Roundhouse is sensational and outrageous visually.  It is a kaleidoscopic fashion treat with song and dance, circus and acrobatics, which also is his biography as it covers a lifetime in haute couture. 
We start with his birth, as you might expect, a graphic video of green masked medics and soon we meet his teddy bear, Nana, a transgender Bear he liked to decorate with feathers as a child.  Suddenly the stage is full of dancing bears wearing his iconic cone bra realised as late as 1984.  But there are also pot bellied brown male bears.  We hear that JPG's introduction to fashion was via his grandmother Marie Garrabe.  He has dressed Madonna, Beyoncé, Kylie Minogue, Rihanna and Lady Gaga.
The music too is iconic.  A giant wheel of acrobatic dancers is pulled along to The Doors "Light My Fire".  It is an exciting and erotic assault on the senses.  (I am making a note at this point for Jean Paul Gaultier to be asked to re-design the costumes for Cabaret at the Playhouse.) The girls are wearing corsets with dangling multiple suspenders.  What do the Americans call the suspenders that hold up fishnet stockings?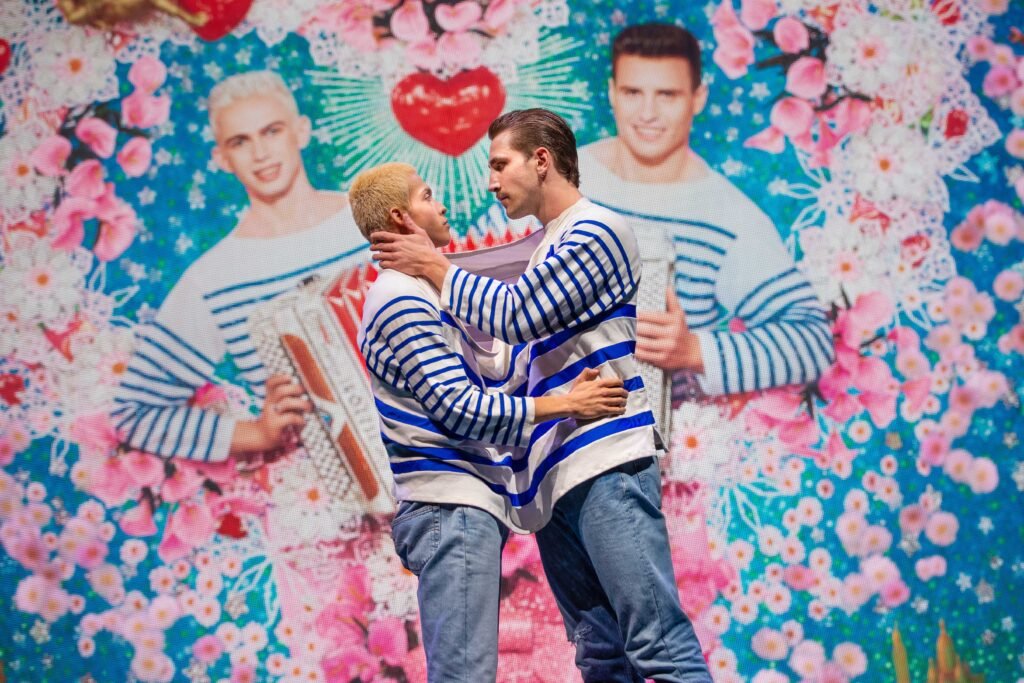 To the Folies Bergère in Paris's Montmartre where Joséphine Baker inspired Picasso and the young JPG for men to dance and cartwheel in tutus made of yellow feathers. Psychedelic knights with giant feathered helmets with masks wield extravagant feathers like tails.
At school JPG's talent for drawing is recognised but not rewarded although everyone wants a drawing by him, and we first meet the dominatrix school teacher, a recurring character.
An introduction on the projection to the world of Fashion magazines and so to Gaultier's black and white periods of the early 1970s. Circular designs, stripes, roundels and spirals worn in new places on the body; there is such energy.
He meets his "grand amour Francis" and his design using the Breton striped fishermen's jersey in white and marine blue comes to the forefront of fashion. We have Les Jumeaux, the twins, girls with ribbon laced bustières joined at the hip with more ribbons, two others joined with net skirts and finally the marinière made for JPG and his lover in which they dance intertwined to a romantic background of hearts, blossom and tumbling roses.
The late 70s sees his first fashion show to Blondie's "One Way or Another" the bride finale having a ribboned plait as long as her train.  The visuals are brilliant, the choreography adventurous but with this fame comes criticism and the Fashion Police.  There is a different version of "I Did It My Way" reflecting his individuality.   
We switch to Cyndi Lauper "Girls Just Want to Have Fun" and "Bohemian Rhapsody" by Queen.  He takes Japan by storm and then London in 1980 and we glimpse Rocky Horror's Frank 'n' Furter in the Time Warp, basques and suspenders to the fore.  There's Mohican Punk and kilts, controversial skirts for men.  Frankie Goes to Hollywood's "Relax" accompanies the bondage outfits and an aerialist who turns high above the catwalk.  From now on, circus will be mere circus after seeing this wonderful show. 
In Act Two there is the Queen dressed in Gaultier fantasy red white and blues.  But then we have seriousness with the shadow of AIDS, a lone dancer with no fashion, dances to "I've Got You Under My Skin".  A woman on four screens sings a song about loss as the dancer writhes in agony.  The staff hand out free rainbow condoms to the audience and then Can Can inspires the fashion.  Francis died of AIDS in 1990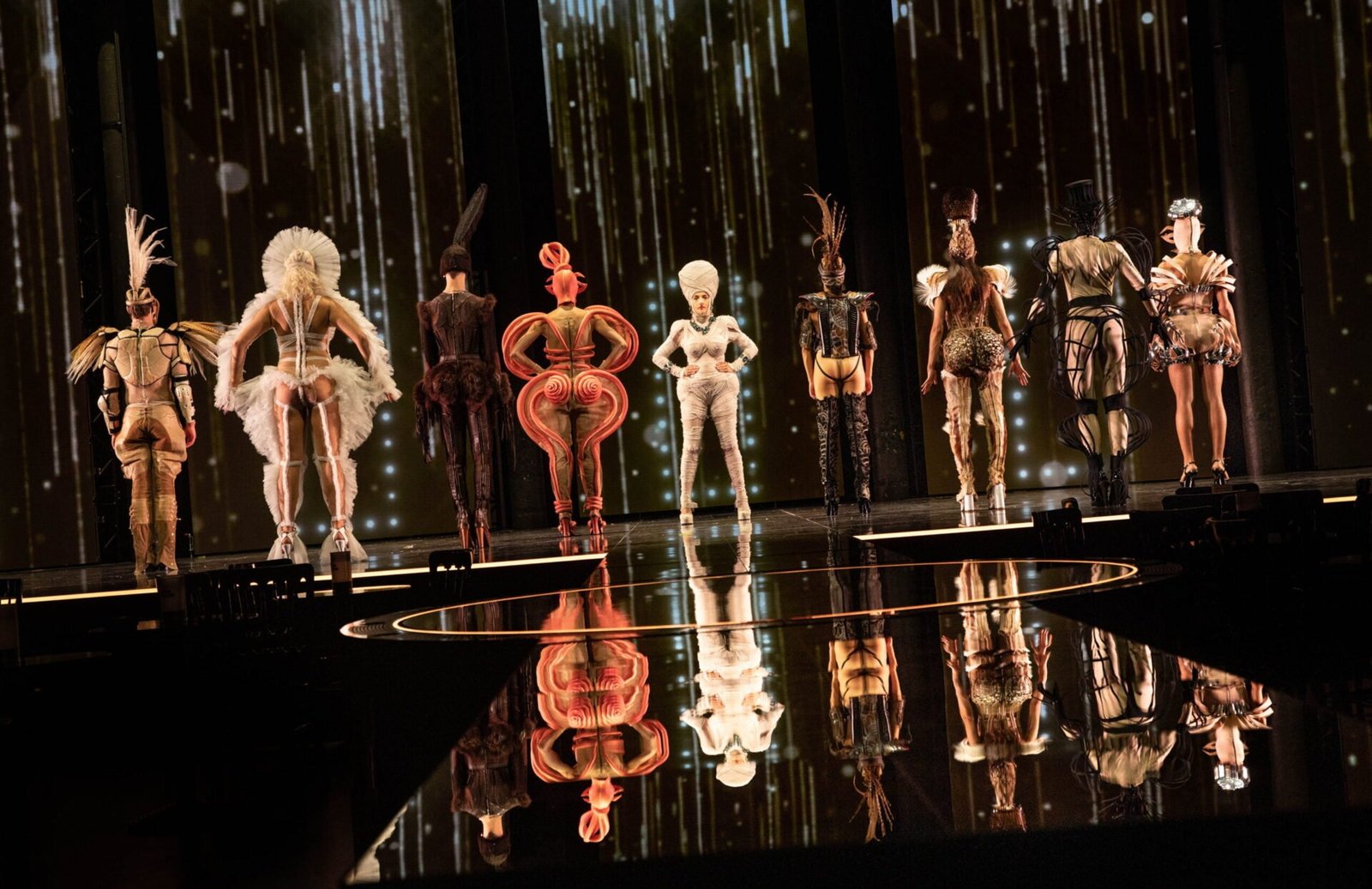 The Fashion Police are called again. We see two fashion photographers and an amazing throbbing dance for the poses. A catwalk parade has men taking off their jacket and repositioning it as a skirt.
There is Russian inspired fashion – the colour palette is back. Fez hats are worn and the Bridal Show is the groom in top hat and tails, accompanied by strong singing from Demi Mondaine. Doesn't her name sound like a witty drag artist? Mademoiselle Ginger, larger than your average model – JPG is inclusive of all shapes and sexuality – strips seductively.
The final vogue is Plastik Fantastik as people change their bodies at will. The Eurythmics blast out "Sweet Dreams". Jean Paul Gaultier leaves us with his final message "Tout Le Monde, Il est Beau" or "Everybody is Beautiful".
What better message could there be for this most beautiful of experiences from an iconic couturier. 400 of his designed costumes are in the show. JPG has relinquished the catwalk and now promises us cutting edge shows. Fashion Freak Show has to have five fabulous stars from the theatre site that doesn't do stars!
Jean Paul Gaultier – Fashion Freak Show
 by Jean Paul Gaultier, Creator, Writer, Director and Costume Designer
Cast
Starring:
Maude Amour
Pierre Antoine Bardot
Miekaile Browne
Quentin Di Gregorio
Jonathon Luke Baker
Jordan Boury
Ritchy Cobral
Lili Felder
Mike Gautier
Belen Leroux
Demi Mondaine
Thea Carla Schøtt
Anouk Viale
Haylen
Mademoiselle Ginger
Beau Sargent
Verity Wright
Léa Vlamos
Creatives
Creator, Writer, Director and Costume Designer: 
Jean Paul Gaultier
Set Designer and video co-design: Justin Nardella
Musical Arranger and Orchestrator: Nile Rogers
Lighting Designer:  Per Hörding
Video co-design: Renaud Rubiano
Choreographer: Marion Motin
Sound Designer: Richard Brooker
Information
Running Time:
Two hours 20 minutes with an interval
Extended and Booking until 31st October 2021 
Theatre:
ROUNDHOUSE
Chalk Farm Road,
London, NW1 8EH
Box Office: 
Tube: Chalk Farm
Reviewed by Lizzie Loveridge
at the Roundhouse  on 21st  July 2022