Family Feuds are Funny from the Outside
"Where did your family come from before they moved to Delaware to perpetuate genocide? "
Daphna Feygenbaum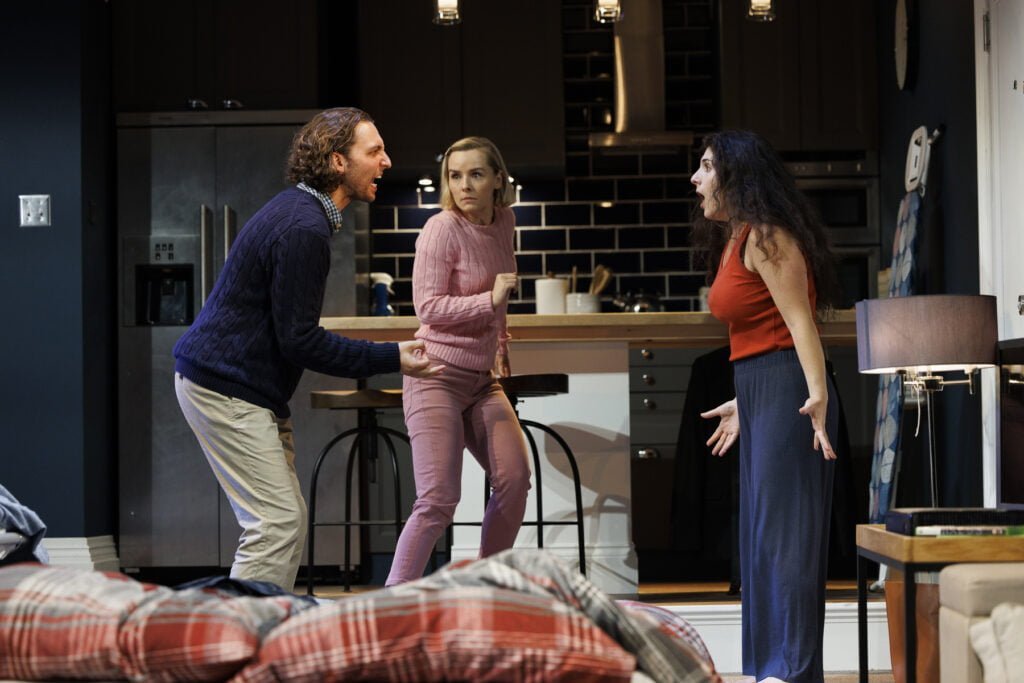 Joshua Harmon's searingly funny comedy returns to the Arts Theatre where it played in 2014.  The title Bad Jews is applied to Liam Haber (Ashley Margolis) who misses his grandfather's funeral after dropping his cell phone from a ski lift in Aspen.   Liam has called himself a "bad jew" meaning his religious observance is less than perfect and he isn't bothered.
Poppy's grandchildren are gathered in the New York Riverside Drive apartment the Haber brothers have had bought for them by their parents, in the building where the parents live.  The first two we meet did make the funeral.  They are Jonah Haber (Charlie Beaven) who lives there and his guest and cousin Daphna Feygenbaum (Rosie Yadid).  Liam will arrive later. 
Do all families have toxic disagreements lurking under the surface of civility?  The difference here is that the toxicity comes into play with bold verbal aggression. As Daphna takes in the view of the Hudson River from the bathroom of the apartment and compliments Jonah on his tiny but finely situated apartment, we sense her family is a lot less rich than the Habers and she resents their wealth. 
Very quickly Daphna shows us what she lacks in money, she makes up for in Jewishness.  When she finishes her degree at Vassa, she is due to marry a man who is from Israel and whom no one has ever met.  She plans to make Aliyah, a return to the promised land, as she emigrates to Israel.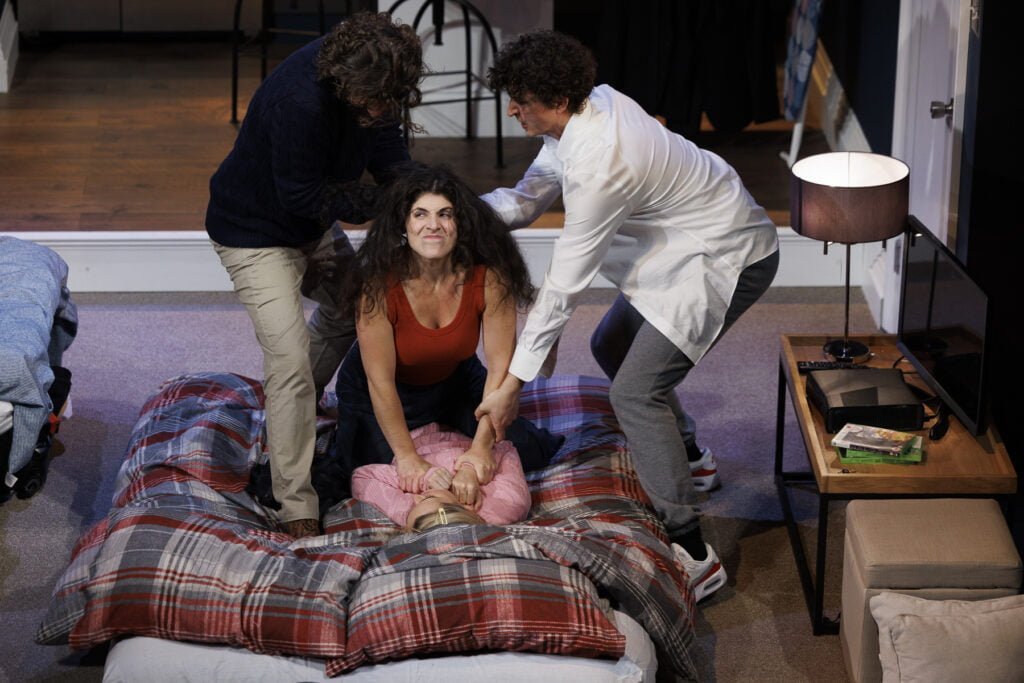 Early on Daphna is flaunting her commitment to being Jewish over her male cousins.  Before Liam has even arrived, she is loquacious and assertive, talking nineteen to the dozen and not really endearing her to us.  She has changed her name from Diana to Daphna.  In the programme, the playwright, Joshua Harmon says he loves Daphna.  A friend had said to him, "If Daphna were a man, no-one would have a problem with her."  Harmon continues, "Maybe some people are bothered by a fiercely intelligent woman who speaks her mind freely and unapologetically and isn't afraid to fight for what she wants." 
The other reason for dispute here, as often happens at funerals, is the inheritance.  Poppy was in the concentration camps and had a number tattooed on his wrist.  He managed to hide through his internment a gold Jewish symbol of Life, the Chai, by keeping it under his tongue.  Naturally, as the most devout of the grandchildren, Daphna feels she is entitled to have it.  Poppy has not bequeathed his chai to anyone in particular but thought that they would decide themselves. 
It is not the gold which is of value but the back story, the piece of family history, as to how Poppy managed to keep this piece of jewellery and how he used it to propose to his wife when he didn't have a ring. 
Liam, the self styled Bad Jew, arrives late with inevitably in tow his Shiksa girlfriend curiously named Melody (Olivia Le Andersen).  She looks cute and pretty, has a blonde bob and Daphna compliments her barrette, which we would call a slide.  For Daphna, Liam's non-Jewish fiancée is an afront to her desire to perpetuate Jewishness. As is his study of Japanese. And so the really bitter arguments evolve on stage, and we laugh and laugh at all this pain.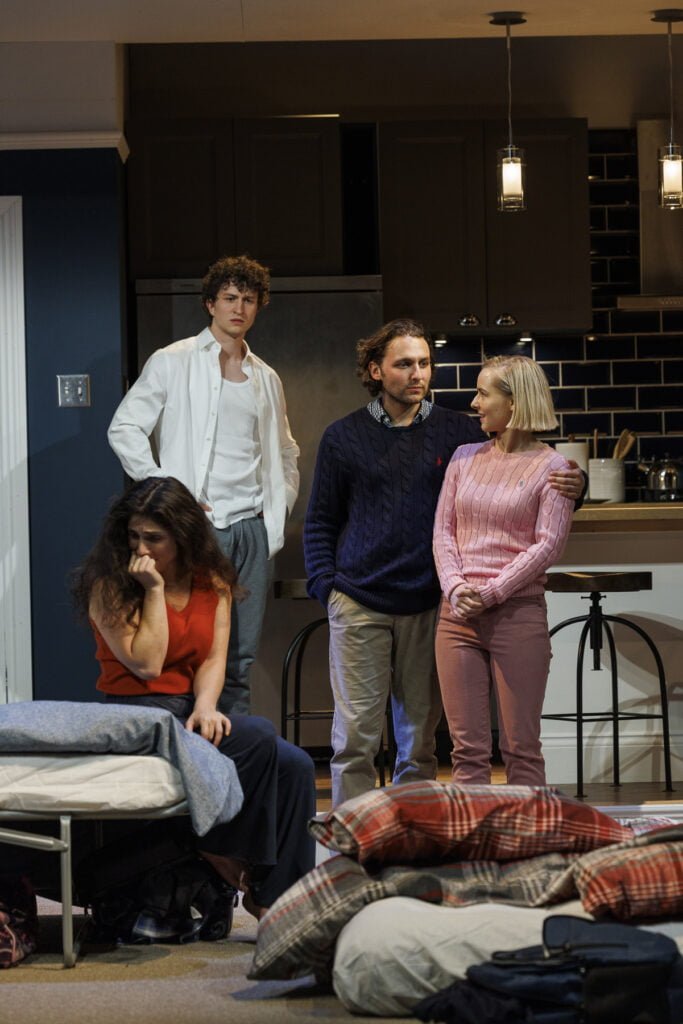 Daphna grills Melody on her background and probes the Treble Clef tattoo Melody has on her ankle.  This results at a point, when civility has completely broken down and Liam and Daphna are tearing chunks out of each other, in Melody offering to sing.  Don't hold your breath!
They have conversations when one of them is in the bathroom, unaware that every word can be heard in the main studio room.  Richard Kent's set is the cramped studio space with two beds in it and where everybody is thrown on top of each other adding to the tension. 
Each of the characters is well developed and believable.  Jonah goes for an easy life and peace by not attempting to intervene.  Liam gets petty and spiteful as he complains about Daphna's voluminous hair getting everywhere as she brushes it. 
The performances are superb with Central trained, American, Rosie Yadid killing the part of Daphna.  Charlie Beavan as Jonah looks as if he would rather not be there and Olivia Le Andersen as Melody tries not to offend anyone but when she does it is ear shattering.  Ashley Margolis as Liam has learnt to stand up for what he wants and can deliver blistering invective. 
Enjoy a delightful evening full of laughter!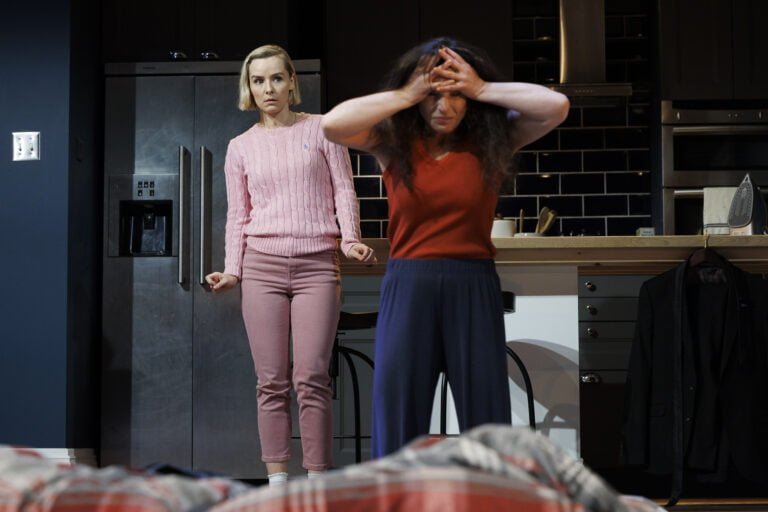 Bad Jaws

Written by Joshua Harmon
Originally directed by Michael Longmore
Revival directed by Jon Pashley
Cast
Starring:
Ashley Margolis
Rosie Yadid
Olivia Le Andersen
Charlie Beaven
Creatives
Director: Michael Longhurst/Jon Pashley
Designer: Richard Kent
Lighting Designer: Richard Howell
Sound Designer: Adrienne Quartly
Information
Running Time: One hour 30 minutes without an interval
Booking to 25th September 2022
Theatre: 
Arts Theatre
6-7 Great Newport Street
London, WC2B 7JH
Phone: 020 7836 8463
Tube: Leicester Square
Reviewed by Lizzie Loveridge at the
Arts Theatre
on 26th July 2022