Sister Act: Musical comedy
in need of a little divine intervention
"God has answered your prayers. You just don't like the answer"
Monsignor O'Hara [to Mother Superior]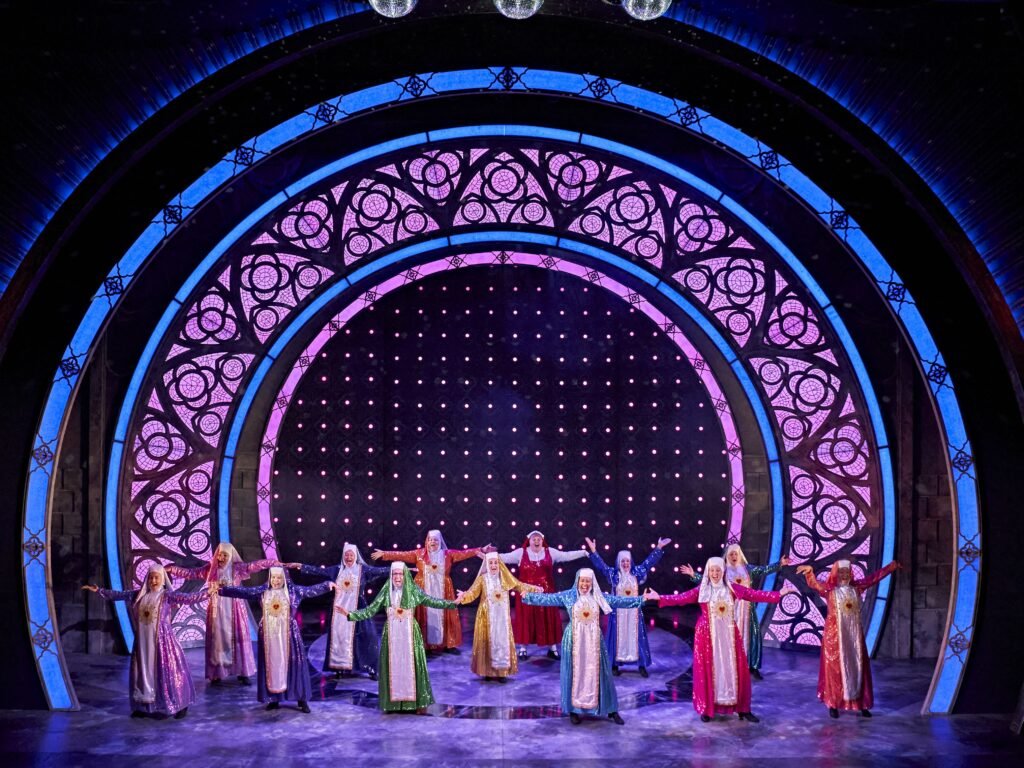 Like many theatrical offerings this year, the revival of the 2009 Sister Act musical has been a while coming. Two years, to be precise. Originally scheduled for July 2020 with Whoopi Goldberg reworking her film role as nightclub singer Deloris Van Cartier, covid delays means that we now get the show in 2022 but with Beverley Knight taking on Whoopi's role and top billing credits subtly shifting from Deloris to Mother Superior, played by Jennifer Saunders.
Looking at the production now, it's hard to see what Whoopi, now in her early 60's, would have bought to the role, aside from her star status. The musical is loosely based on the 1992 film of the same name. A bunch of narrative shifts have been taken to support a theatrical staging and, also, to help shift the narrative from spoken word to songs. Ostensibly it's the story of Deloris Van Cartier, a less than successful nightclub singer who's on the run from her mobster boyfriend after seeing him commit a murder. The local police have decided that, to keep her safe until she can testify against her boyfriend, is to hide her in a local convent. And so starts a classic fish-out-of-water comedy.
The film was a huge success based significantly on a powerhouse of comedic perfromances, most notably from Whoopi; a simple, yet effective script; and the adaption of some classic 1960's soul tunes, most notably the reworking of Mary Wells' "My Guy" to "My God".
Unfortunately, much of what makes the film so enjoyable is in short supply here.
The heart and soul of the show are Jennifer Saunders and Beverley Knight, for very different reasons. Saunders' experience in comedy shines supremely. Her phrasing, timing and physicality are a joy to watch, and she manages to bring laughs to the most flaccid of jokes. Knight's musicality is unreproachable, and she certainly gives the mixed blessing of a score its best possible outing. Her acting is confident and exuberant, however, alongside Saunders, her comedy chops needs some refinement.
The rest of the cast is a mixed bag. Clive Rowe and Lizzie Bea, as police officer Eddie Southern and Sister Mary Robert, respectively, are standout. However, Leslie Joseph, as Sister Mary Lazarus is woefully used. A strong pedigree in theatre and comedy, she's basically given some cheesy one-liners and left to sexually gyrate her hips in a lazy attempt at comedy.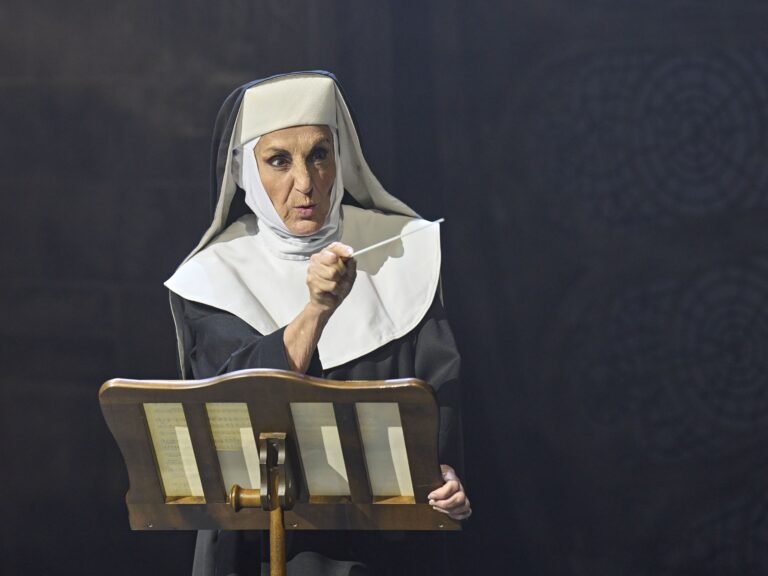 This leads to the script, which a is a very pale imitation to the sharp and tightly crafted film original. The book by Cheri and Bill Steinkellner, with additional material from Douglas Carter Beane, replaces the nuanced and sarcastic interplay between the characters with broad, often cheesy, slapstick. If your idea of comedy is a nun rapping whilst patting her genitals and gyrating her hips, or a priest donning Elton John style sunglasses and making hand gestures like an 18-year old DJ, then this could be the show for you.
Fortunately, such displays are not the norm here, but there's enough cheesy drivel dotted throughout to significantly distract from the funny and well performed core of the show.
The show is anchored in a completely original score by Disney genius Alan Menken (with lyrics by Glen Slater). It's a mixed bag of crowd-pleasing anthems, comedy songs and melancholic ballads that, on reflection, is more 'meh' than 'wow'. Whilst the bigger tunes will get the crowd on their feet and cheering, I think you'd be hard pushed to hum them by the time you get your train home.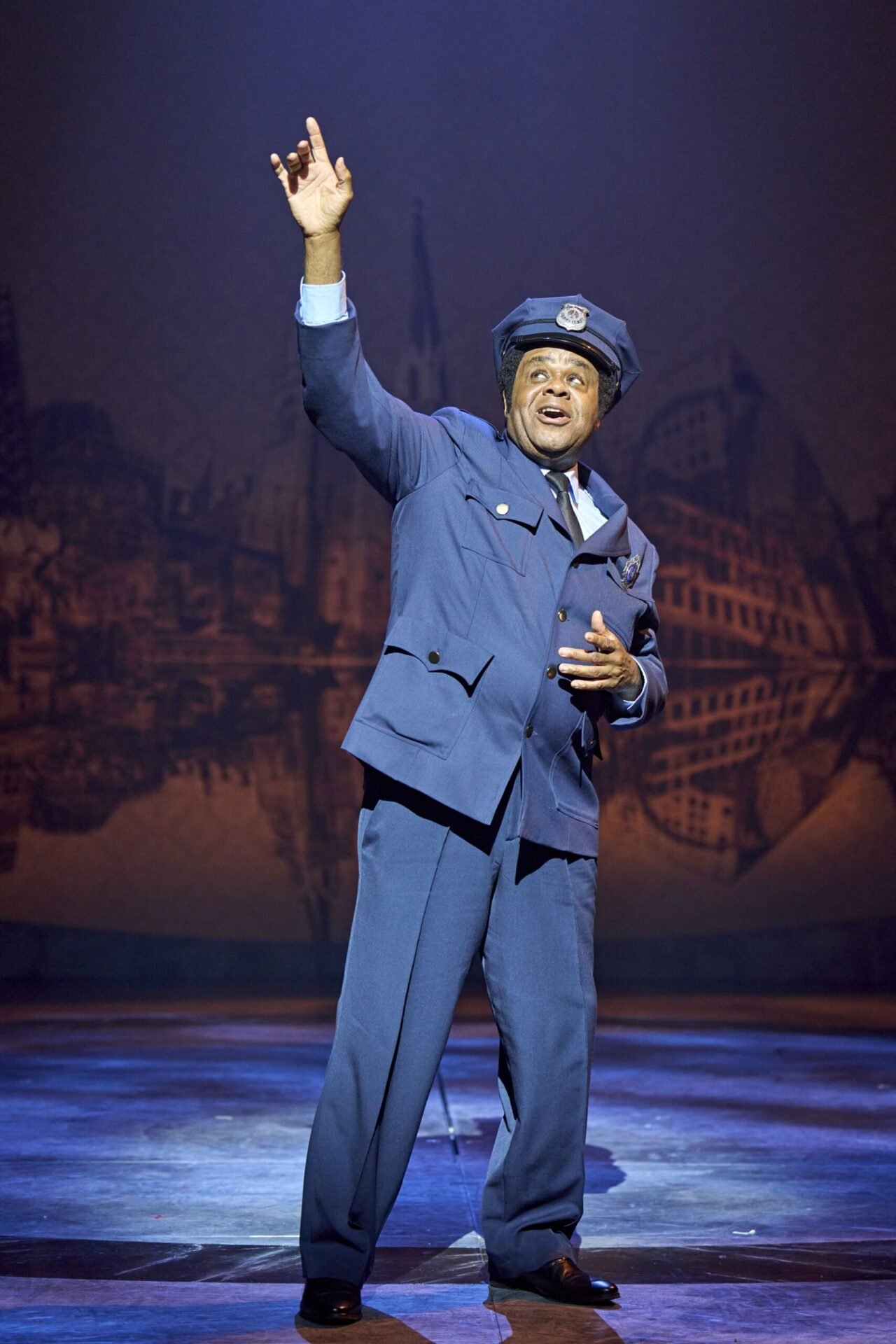 All this said, my biggest gripe, however, is the venue. The Apollo is more famous as a venue to see live music than theatre. It's cavernous both onstage and off. Despite some very clever staging, the designers were able to reduce the active stage area by around 50%, but still the cast seemed lost in the space. And the size of the auditorium meant that any intimacy between audience and actor and subtly of performance were completely lost beyond the first few rows.
Overall, there's a lot going on in Sister Act and, in the main, it's very entertaining. Whilst the score is not as immediate as, say Hairspray, or it's comedy as tight as The Producers, it's a decent evening of entertainment…. And if you can nab a seat towards the front, you'll probably get more out of the show than most.
Act One
Take Me To Heaven
Fabulous, baby!
Here Within These Walls
How I Got The Calling
When I Find My Baby
Do The Sacred Mass
I Could Be That Guy
Raise Your Voice
Take Me To Heaven (Reprise)
Act Two
Sunday Morning Fever
Lady In The Long Black
Bless Our Show
Here Within These Walls (Reprise)
The Life I Never Led
Fabulous, Baby! (Reprise)
Sister Act
When I Find My Baby (Reprise)
The Life I Never Led (Reprise)
Sister Act (Reprise)
Spread The Love Around Mary
Sister Act
Music by Alan Menken
Lyrics by Glenn Slater
Book by Cheri and Bill Steinkellner
Additional Book Material by Douglas Carter Beane
Directed by Bill Buckhurst
Cast
Starring:
Clive Rowe
Jennifer Saunders
Beverley Knight
Lizzie Bea
Keala Settle
Lesley Joseph
Sandra Marvin 
Jeremy Secomb
Graham MacDuff
With:
Lori Haley Fox
Anne Smith
Bleu Woodward
Bradley Judge
Caroline Bateson
Catherine Millsom
Damian Buhagiar
Emma Ralston
Tricia Deighton
Michael Ward
Tom Hopcroft
Marina Tavolieri
Tanya Edwards
Gabrielle Davina Smith
Castell Parker
Tanisha Butterfield
Jermaine Woods
Creatives
Director: Bill Buckhurst

Choreographer: Alistair David
Designer: Morgan Large
Musical Supervisor: Stephen Brooker
Lighting Designer:  Tim Mitchell
Sound Designer: Tom Marshall
Musical Director: JaeAlexander
Information
Running Time:
Two hours 30 minutes with an interval
Booking until 28th August 2022

Theatre:
Eventim Apollo
45 Queen Caroline Street
London
W6 9QH
Website: eventimapollo.com
Tube: Hammersmith
Reviewed by Sonny Waheed

at the Eventim Apollo
on 27th May 2022