" You've got to be taught, before it's too late,

Before you are six, or seven, or eight,
To hate all the people your relatives hate…"      
Lt Cable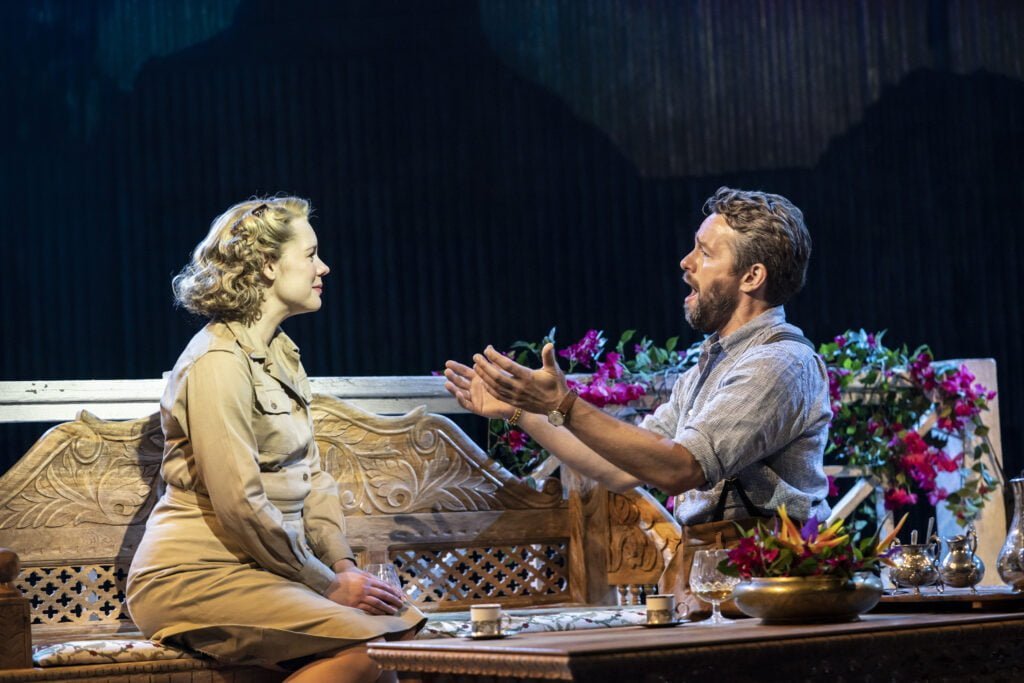 It was the musical highlight of 2021 seeing Daniel Evans's take on South Pacific in Chichester.  It has been regarded as a problem musical mainly because of Nellie Forbush's reaction to Emile's mixed race children but it probably has some of Rodgers and Hammerstein's best tunes.  Chichester's production satisfied all but the most intransigent critics that, bearing in mind that it was written about the 1940s, one could safely praise the musical without being considered racist.  Remember the history: the song "You Have to Be Carefully Taught" about how racists are made not born shocked the South of the United States in 1958. 
Sadler's Wells is the London stop on the UK tour of South Pacific.  It reunites Gina Beck and Julian Ovenden as Nellie and Emile.  Although I first saw him in London as an actor, Ovenden is operatically trained and Sadler's Wells has brilliant acoustics for his beautiful and heart rending songs.  He is also perfectly cast as the French planter running away from life in France.  We need to be grateful De Becque came to the South Pacific instead of joining the Foreign Legion. 
Gina Beck too is perfect with her beautiful singing voice and spirited "cock eyed optimist" making amends, while Emile is on the mission, by getting to know his children and falling for them as we do.  His return is a moment full of romance. 
I am so glad I saw Rob Houchen on a BBC programme about the late Stephen Sondheim and singing Tony from West Side Story. His amazing promise is realised here.  Joanna Ampil too  as Bloody Mary can be more understood as someone living in an occupied island whose primary motivation is love for her daughter.
The only thing I missed from Chichester and this is a general drawback of bringing beautiful musicals to the nation on tour, is the loss of the "in the round" set and staging which I found most impactful for placing us in the South Seas and particularly so for Liat's dance scene.  Maybe when it gets its deserved transfer to London it can be placed in a theatre which can use all of the Chichester staging? 
But this set is a small gripe for what remains for me the best musical this year and last, and gets a five star review from Theatrevibe, the site that doesn't do stars!  I've republished below the review from Chichester with the song list.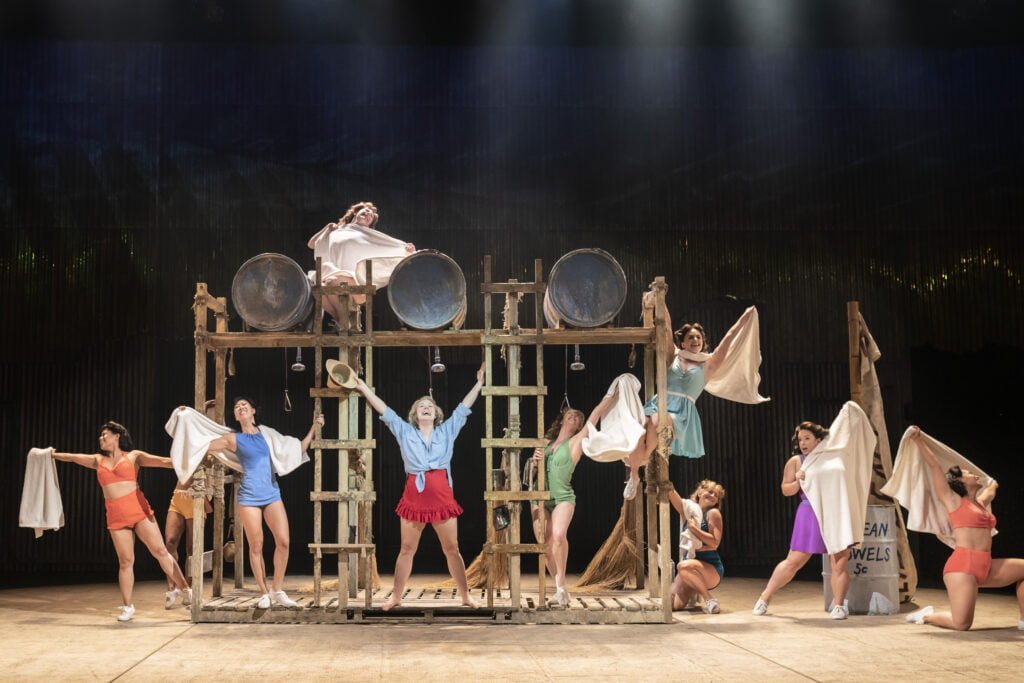 Cast
Starring:
Gina Beck
Julian Ovenden
Rob Houchen
Joanna Ampil
Sera Maehara
Douggie McMeekin
With
David Birrell
Stephen John Davis
Charlie Waddell
Antoine Murray-Straughan
Rachel Jayne Picar
Iroy Abesamis
Trézel Sergeant
Kate Playdon
Annabel Edwards
Ellie Jane Grant
Charlotte Scott
Eleanor Wainwright
Feline Anderson
Matthew Maddison
Josh Kiernan
George Renshaw
Leslie Garcia Bowman
Olly Christopher
James Wilikinson-Jones
Charlotte Coggin
Sergio Giacomelli
Nikhil Singh Rai
Pierce Rogan
George Ray Pang/Junior Thompson-Wunna/Thomas Bilsland
Lilou Domagala/Sigrid Szeto-Sandberg /Skye Theeng
Creatives
See  below
Running Time: Two hours 50 minutes with an interval
Booking until 28th August 2022
Address:
Sadler's Wells Theatre
Rosebery Avenue
London EC1R 4TN
Box Office: 020 7863 8000
Tube: The Angel
Re-reviewed by Lizzie Loveridge
at Sadler's Wells on 4th August 2022
THE ORIGINAL REVIEW from 2021
Gina Beck becomes Mrs de Becque
in the beautiful South Pacific
"I know what you are against.  What are you for?"
Emile de Becque to the US Officer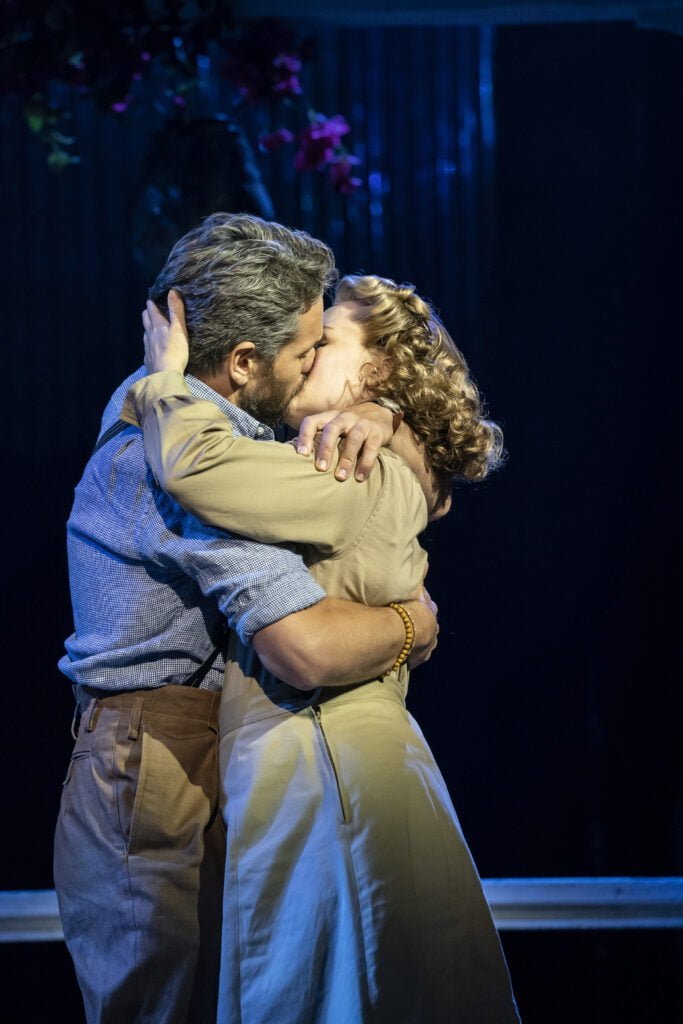 When South Pacific first opened in 1949, the critics found the lyrics to "You've Got To Be Carefully Taught",
" You've got to be taught, before it's too late,
Before you are six, or seven, or eight,
To hate all the people your relatives hate…"                      to be too obvious and preaching. 
That would have been in New York.  However, when the show toured Georgia in the South, in 1953, a couple of state legislators tried to ban it, on the grounds that it had, "an underlying philosophy inspired by Moscow." 
More recent productions have been nervous about how to stage Nellie Forbush's initial shock that Emile de Becque has been married to a Tonkinese woman, as Nellie mistakes the father of the children to be his manservant Henry (Shailan Gohil). 
What Daniel Evans's production does at Chichester is to firmly set the musical South Pacific in its historical context, in the 1940s, some twenty years before some of the Southern states of America condoned mixed race marriages.  No-one is saying this was right.  It was wrong.  But it was what happened then.  See another musical Show Boat. 
Daniel Evans's production is a triumph!  From the opening overture performed as a ballet by the lone figure of Liat (Sera Maehara) to the parade of the US Marines on the circular stage we know we are in an island in the South Seas, invaded by the American military. 
The sets are special.  We switch to Frenchman Emile de Becque (Julian Ovenden)'s plantation villa with its bouganvillea covered terrace where the children play and sing "Dites Moi".  Emile is entertaining an American nurse, Nellie Forbush (Gina Beck).   She explains her background as a hic in "Cock-eyed Optimist"  and asks him, whether like most planters, he is running away from a scandal. 
Hugely romantic, his voice soars with the song "Some Enchanted Evening" with no crowded room in sight.  Leaving this romantic bubble, we find the island entrepreneur Bloody Mary (Joanna Ampil) selling grass skirts to the SeaBees, or a shrunken head, probably borrowed from the Pitt Rivers Museum in Oxford.  
The men explain what they are lacking on this idyllic island in the rousing "There is Nothing Like a Dame" choreographed with stunts and humour.  Bloody Mary answers with her mystical song about the island Bali Ha'I where rumour has it that the French planters have stowed their women.  The Seabee businessman, Luther Billis (Keir Charles) needs an officer to hire a boat to get to the island and fortunately new arrival, Princeton graduate, Lieutenant Joseph Cable (Rob Houchen) might help.  Cable sings about his girl back home. 
We are introduced to the US Army nurses who run through the audience in khaki uniform with matching khaki face masks.  The nurses in wonderfully accurate 1940s period swimwear take showers on the beach in makeshift shower cubicles, wire coat hangers to work the shower heads, drift wood stalls and grass matting panels for discretion in another design coup from Peter McKintosh.  Luther's laundry supplies the towels.
As Nellie and the Ensigns sing "I'm Gonna Wash That Man Right Outa My Hair" de Becque calls and we have a reprise of "Some Enchanted Evening" and Nellie obviously didn't use the right shampoo because her next song is "I'm in Love With a Wonderful Guy."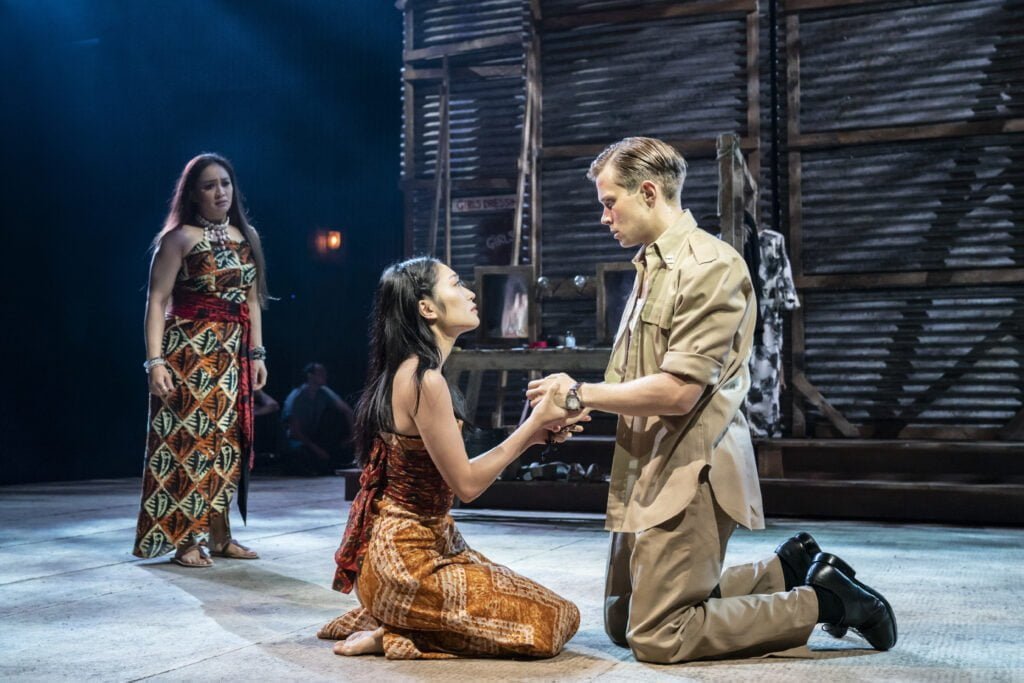 The lighting changes and the stage empties while baskets of lit candles are carefully placed to circle the revolving stage.  The flames flicker while Liat dances and Cable falls in love.  Rob Houchen's beautiful voice comes into its own for "Younger than Springtime".
Nellie drinks a lot of champagne (good thing she isn't pregnant!) and she and Emile reprise "Wonderful Guy", wake the children and Nellie learns whom the children belong to. 
Act Two is more about the war operation against the Japanese but first there is Bloody Mary acting as procuress for her daughter singing "Happy Talk" and Cable sings "Younger than Springtime" to Liat.
To a backdrop of a stage filling, slightly faded, grubby flag, like one of Jasper John's paintings, is Nellie's variety show for the troops, with her and Luther cross dressing for the number "Honey Bun". The nurses are in Sailor's outfits. Cable and de Becque are dropped behind Japanese lines to report on ship and troop movements and Peter McKintosh creates an imposing war room set with desks, desk lamps and radios with an aircraft in the hangar behind.  On their mission, Emile and Cable sing about racism in "You've Got To Be Carefully Taught". 
Daniel Evans's  production feels very fresh for a musical crafted in the 1940s and Richard Rodgers's tunes are out of this world.  The plot too really works and I think it is because it was based on James A Michener's 1947 novel Tales of the South Pacific.  The soundscape gives us aircraft, thunder and lapping waves and the lighting is exciting and used to change mood.
All the principals can act as well as sing.  Cable starts off looking very inexperienced and stiff, as he should as the newly appointed lieutenant, until his thrilling tenor voice takes over.  Julian Ovenden has credits as an actor and leading tenor and I could listen to his "Some Enchanted Evening" 24/7.  I have only seen Gina Beck before in Show Boat  but she has played all the major West End roles, Cosette in Les Mis, Glinda in Wicked, Miss Honey in Matilda and Christine in Phantom and also sung opera.
Book this show now!  See it on the revolving stage in Chichester with such good sight lines but it surely will come to London!  With so many smaller scale productions on in London after Covid, Chichester shows how it can be done with a large cast, a full orchestra and full bodied sets! This is the most polished, professional musical I've seen for some time with perfect singing and it deserves a five star accolade from Theatrevibe, the site that doesn't do stars unless the show is really exceptional!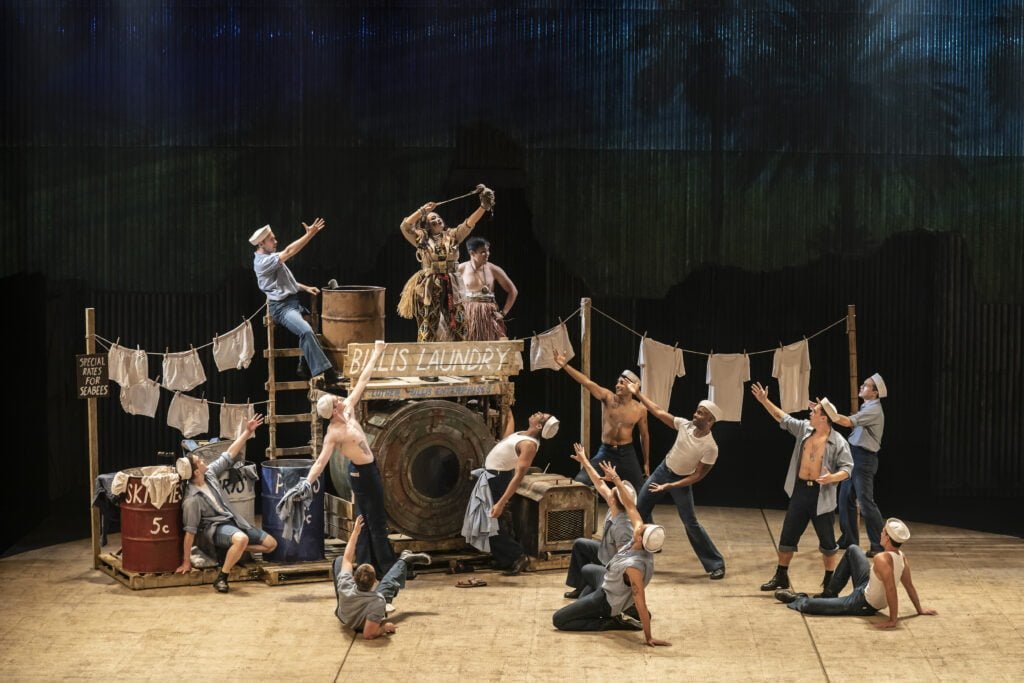 Act One
Prologue
Dites-Moi
A Cockeyed Optimist
Twin Soliloquies
Some Enchanted Evening
Finaletto
Bloody Mary
There Is Nothing Like a Dame
Bali Ha'i
Cable Hears Bali Ha'I
My Girl Back Home
I'm Gonna Wash That Man Right Outa My Hair
Some Enchanted Evening  (reprise)
I'm in Love with a Wonderful Guy
Bali Ha'i  (reprise)
Younger Than Springtime
I'm in Love with a Wonderful Guy (reprise)
This is How it Feels
Emile's Encore
Finale
Act Two
Opening
Happy Talke
Younger Than Springtime
Honey Bun
You've Got To Be Carefully Taught
This Nearly Was Mine
Communication Discontinued
Dites-Moi (reprise)
Original Production Notes
South Pacific
Music by Richard Rodgers
Lyrics by Oscar Hammerstein II
Book Oscar Hammerstein II and Joshua Logan
Adapted from Tales of the South Pacific by Jams A Michener
Directed by Daniel Evans


Cast
Starring:
Gina Beck
Julian Ovenden
Rob Houchen
Joanna Ampil
Sera Maehara
Keir Charles
With:
David Birrell
Adrian Grove
Danny Collins
Karl Au
Rachel Jayne Picar
Iroy Abesamis
Shailan Gohil
Kate Playdon
Melissa Nettleford
Bobbie Chambers
Rosanna Bates
Amanda Lindgren
Clacy Ryan
Lindsay Atherton
Charlotte Coggin
Zack Guest
Pierce Rogan
James Wilkinson- Jones
Matthew Maddison
Taylor Bradshaw
Cameron Bernard Jones
Leslie Garcia Bowman
Oliver Edward
Sergio Giacomelli
Charlie Waddell
Archer Brandon/David Ngara-O'Dwyer/Alexander Quinlan
Ellie Chung/Lana Lakha/Kami Lieu
Creatives
Director: Daniel Evans
Designer: Peter McKintosh
Choreographer: Ann Yee
Musical Supervisor: Nigel Lilley
Lighting Designer: Howard Harrison
Sound Designer: Paul Groothuis
Musical Director: Cat Beveridge
Video Designer:  Gillian Tan
Original Broadway Orchestration: Robert Russell Bennett
New Orchestration: David Cullen
Additional Arrangements and Happy Talk Orchestrations:
Theo Jamieson
Information
Running Time: Two hours and 45 minutes with an interval
Booking to 4th September 2021
Also being live streamed to watch at home
details on cft.org.uk
Address: 
Chichester Festival Theatre
Oaklands Way
Chichester
PO19 6AP
Rail : Chichester
Telephone: 01243 781312
Website: cft.org.uk
Reviewed by Lizzie Loveridge at the
Chichester Festival Theatre at a preview performance
on 12th July 2021