Do No Harm! No matter what your identity is!
"It has always been in my nature not to walk in step with others, even when I find myself sharing the path with friends"
Arthur Schnitzler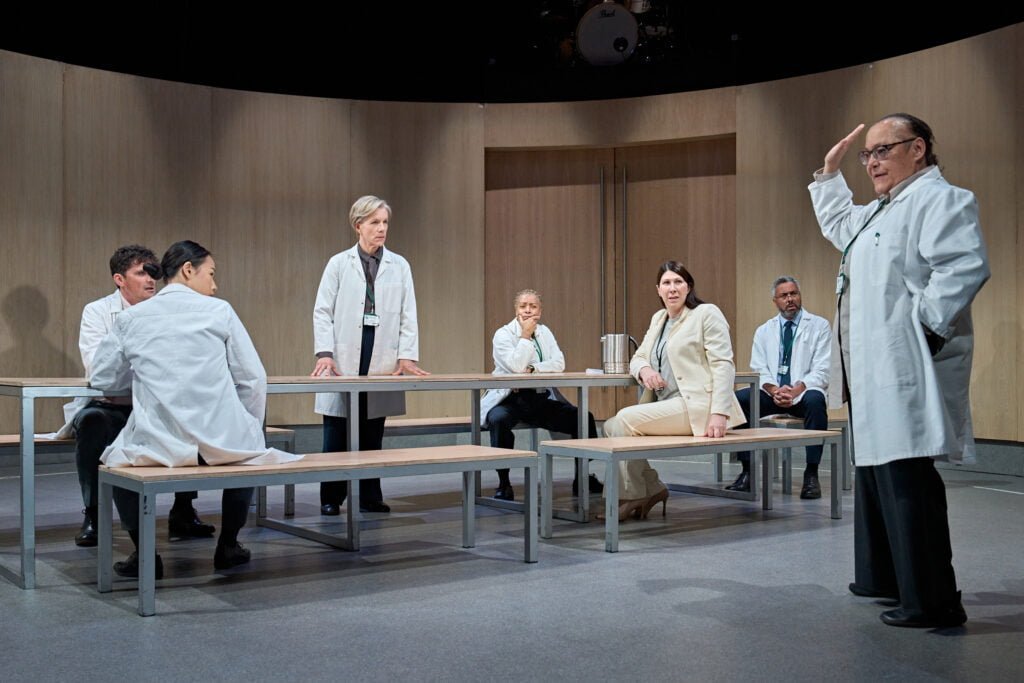 Arthur Schnitzler's play Professor Bernhardi was written in 1912 about his own experiences as a Jewish doctor in Vienna, Austria.  Schnitzler is best known in the UK as the author of Reigen, filmed by Max Ophüls in French as La Ronde in 1950.
La Ronde was the film that shocked my mother's generation about a daisy chain of ten lovers, one after another (!) and chosen by Nicole Kidman to make her London stage debut in The Blue Room, adapted by David Hare, at the Donmar Warehouse.  Her naked scene was very low lit and by some sort of serendipity she could only be seen naked clearly by those in the cheap seats at the extreme side of the Circle, which we had unknowingly secured for the sold out production.  Professor Bernhardi is Schnitzler's only play not to have a sexual theme.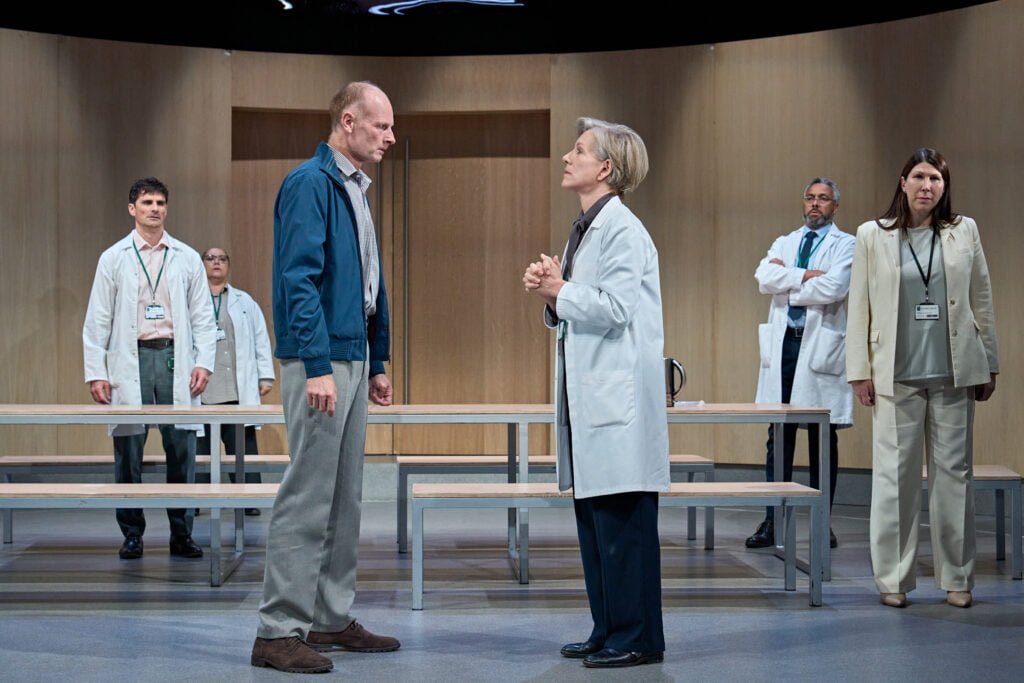 The basic premise of The Doctor is that a female Jewish doctor refuses access to Emily, her 14 year old patient by a Catholic Priest sent by her parents to give the last rites.  The doctor's reasoning is that she doesn't want the child to think she might die when she receives the last rites.  It is critical because the last rites have to be given whilst the girl is still alive, not dead. 
So Juliet Stevenson gives a very strong and vigorous performance as the blocking medic. She had been described by another critic, (the play was first performed at The Almeida in 2019), as "fire and ice".  I have no problem with the coolly professional, dispassionate and detached "ice" but the "fire", the loss of temper, shouting and going to strike her adversary is behaviour I don't find at all credible from a hospital doctor.  Of course both "fire and ice" are superbly acted and directed, it is the script which is an issue.
The ensemble actors are strong, especially Christopher Colquhoun who now has a new middle name Osikanlu, in an identity Nigerian heritage update, as Wolff's supportive colleague, Dr Copley.  But none of them can compete with fast talking, fast thinking, nineteen to the dozen, Professor Wolff in full intensity mode.  We see her more relaxed with her wife Charlie (Juliet Garricks) and her daughter (or son) Sami (Matilda Tucker).  Wolff finds herself in conflict with the other staff when she chooses a new colleague who is both female and Jewish. 
The other contemporary flaw in this play is the doctor saying that the priest is acting on the parents' wishes and that she has no record of the girl's religion.  That would not be the case nowadays as hospitals ask for religion on their records on admission. My inclination is that most doctors would let in a priest in that situation.  Does the doctor being Jewish affect her decision?
The percussion drumming to accompany the play becomes distractingly annoying.  Hildegard Bechtler's set conveys the smooth lines of a modern hospital and the revolve ensures we do not look at anyone's back for too long when seated at large meeting tables.
The doctor is angry that the girl finding herself pregnant has tried to self abort by buying pills because she cannot tell her parents.  As good Catholics they cannot be expected to condone an abortion.  When the scandal hits the press, the assumption is not that this was an illegal abortion but a legal one which happened in the hospital where Professor Wolff works.  This issue of safe abortions being unavailable may well be one that America sees more of in certain states in the coming days.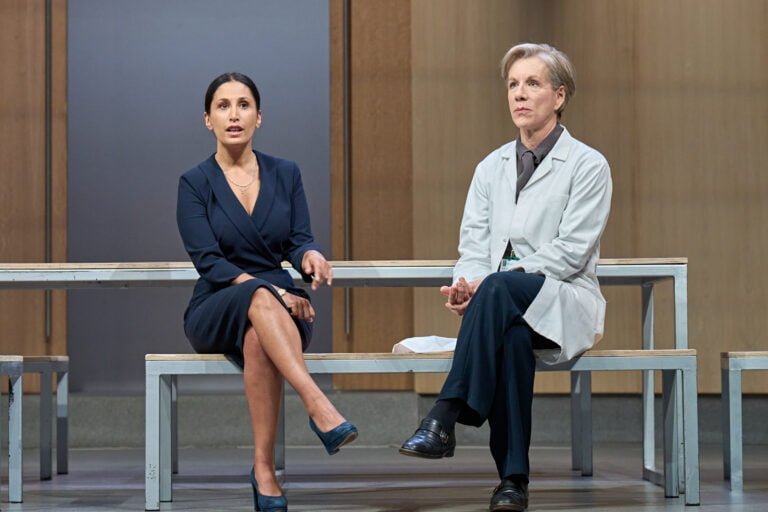 The doctor finds the schism, that her colleagues, other doctors and the hospital Head of Public Relations, either support her or fail to back her as the media get hold of the death of the child and there's an inquest into her behaviour.  On abortion,  I leave you with this final quote.  "What is the difference between a criminal assault and a surgical procedure?" Answer: "A qualification in  medicine."
It is certainly a compelling performance but one leaving me unconvinced. 
The Doctor 
Created and Directed by Robert Icke
After Arthur Schnitzler's Professor Bernhardi
Cast
Starring:
Juliet Stevenson
Christopher Osikanlu Colquhoun
Daniel Rabin
Doña Croll
John Mackay
Mariah Louca
Mark Hammersley
Naomi Wirthner
Preeya Kalidas
Juliet Garricks
Takiyah Kamaria
Hannah Ledwidg
Celia Nelson
Matilda Tucker
Diana Thomas
Sabrina Wu
Creatives
Director:  Robert Icke
Designer: Hildegarde Bechtler
Musical and Sound Designer: Tom Gibbons
Lighting Designer:  Natasha Chivers
Revival Director: Anthony Almeida
Information
Running Time:
Two hours 45 minutes with an interval
Booking until 11th  December 2022 
Theatre:
Duke of York's Theatre
104 St Martin's Lane
London  WC2N 4BG
Phone: 03330 096 690
Website: atgtickets.com
Tube: Charing Cross
Reviewed by Lizzie Loveridge at the
Duke of York's 
on 8th October 2022