Powerful Drama about an embryonic Nazi
"Death is a Master from Germany"
 Paul Celan
"We are Good."
John Halder.
GOOD is a tragedy set in 1930s Germany when the Nazi Regime is consolidating its power and embedding its racist programme. In the intimate setting of the Harold Pinter Theatre a cast of three display great virtuosity in performing ten roles of the original play.
The late C P Taylor's formative years were haunted by the rise of anti-Semitism in Germany and its horrific outcome. He wrote Good to try to understand these crimes against humanity but his central character – John Halder – is no Nazi thug, sadist, or ideologue. He is an intellectual. A Humanities professor, expert on Goethe, and a successful novelist.
But John suffers from angst. Whether this is a pose borrowed from the fashionable metaphysics of the time, the pressures of family life, a midlife crisis, or some combination of all, is never made clear.  Are his doubts his own identity, the existence of others, and the possibility of purpose in Life an affectation or mere self-indulgence?  All that sustains him is the music playing in his head and debating with his friend Maurice.  Maurice argues that in their privileged position they enjoy luxury problems compared to those who suffered from the violent disorder of the previous decade.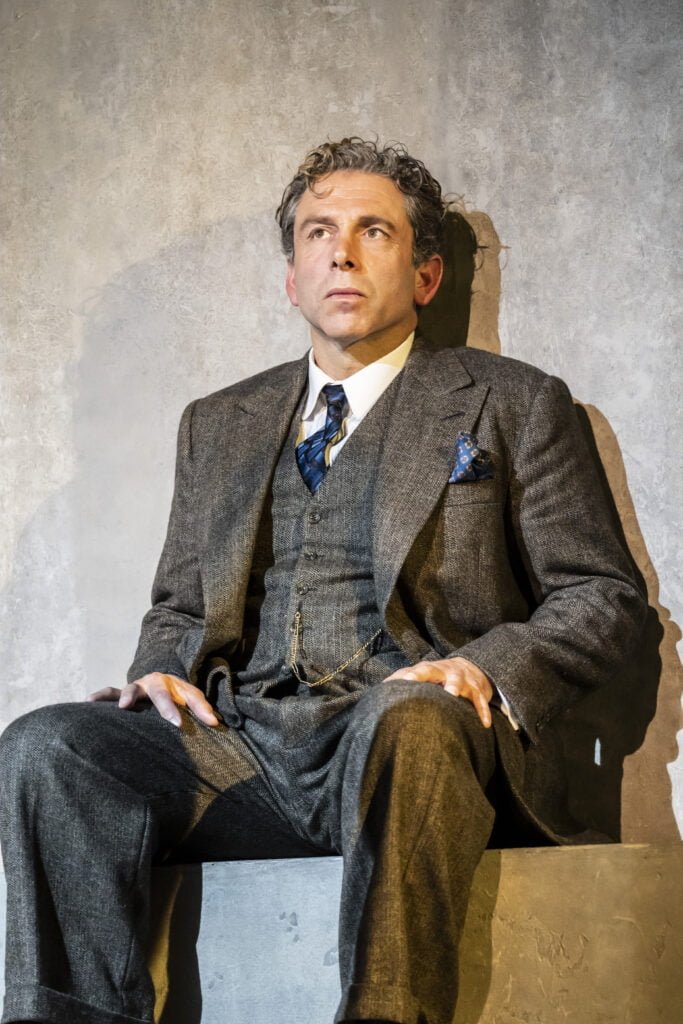 But this is 1932 and things are about to change. Maurice's ambivalence about his Jewish heritage is brutally clarified for him by the Regime. But that same Regime can exploit John's reputation, communication skills, and fiction writer's empathy to transform the land of Goethe into a totalitarian state. Taylor shows how John's vanity, self-deception and intellectual arrogance take him to a place where he will know exactly who he is, who his comrades are, what he is doing, and who he is doing it to. John may have has lost his children, wife and mother, but he has acquired respect, comrades, and the operations research skills relevant to mass transportation. The Chopin singing in his head may have been replaced by marching bands. But he now owns Maurice's beloved cottage by the lake.
Good is a demanding play for both actors and audience. The cast of three are on stage for the entire action. David Tennant is the constant presence of John Halder, while Sharon Small and Elliot Levey are everyone else. Ten roles in all, each individually characterised at the flick of a switch. Levey is a solid versatile reassuring presence in the variety of parts he takes. Sharon Small faces up to the harder task of distinguishing the three different, but identically dressed, women who each in their own way influence John's fate.
The deft timing of the Ensemble Musicians crucially underpins the already powerful drama.
As for the audience, it experiences a dense text that avoids exposition and instead presents a fast changing kaleidoscope of mood, character and abstract ideas. This demands split-second timing, feats of memory, and utter clarity which the actors coolly provide. They know who they are and we have to keep up as the tension rises and the character of John emerges from this whirlwind in an almost cubist manner. Dominic Cooke's direction keeps the enterprise together and Vicki Mortimer's minimalist chameleon of a set – which is sitting room, bedroom, hospital, office, park, and SS HQ. Then, finally, something devastating.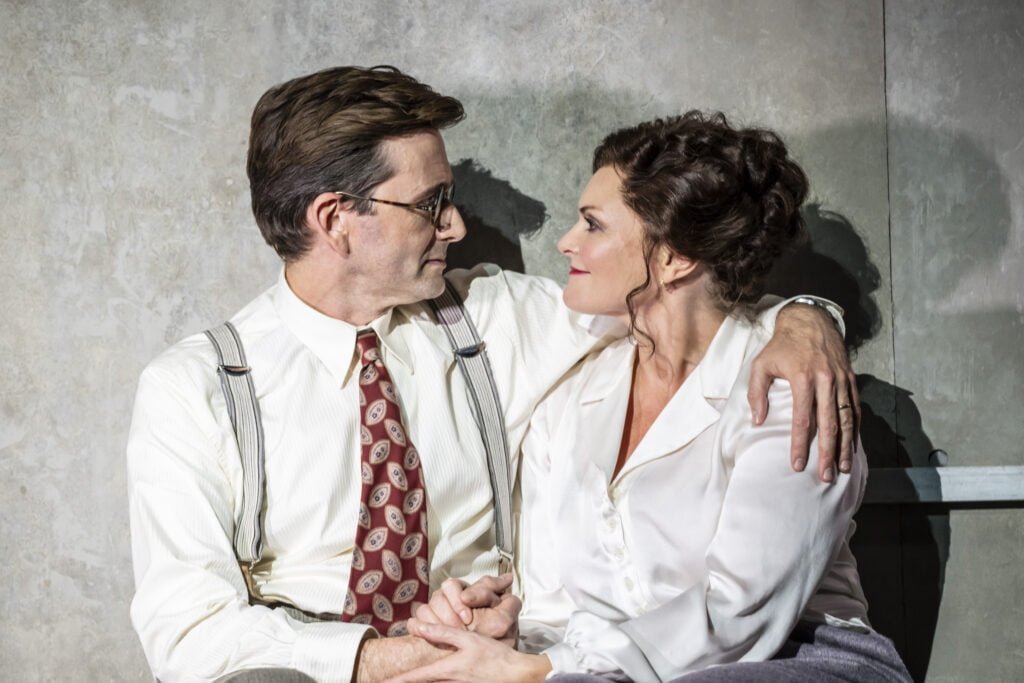 But David Tennant has the hard task of bringing a self-willed nonentity to life. His John Halder, initially so insistent on the subject of Himself, ceases to share his inner life with us as he rises, increasingly compromised, through the Party. He eases his path with glib rationalisations he would never have accepted in a student's essay. He signposts his corruption with the slightest of hesitations before obeying an unpleasant order, ending with a weary grumble about the chores on his list for the afternoon. Chores of great cruelty. By the end we wonder if John Halder has any kind of inner life at all? Or is he now the completely hollow man he once toyed with thinking he was? We can debate this as we go home.
But perhaps along the way we look through C P Taylor's eyes and wonder how many John Halders we have passed on the streets of Westminster.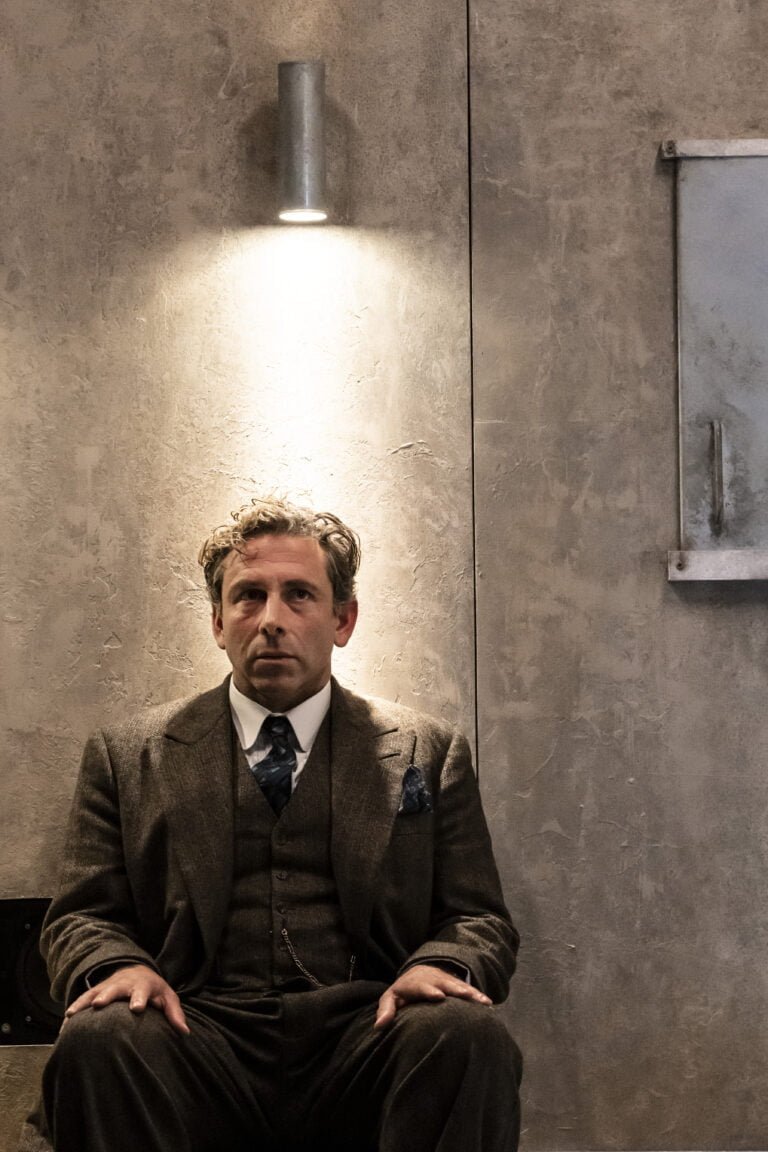 Good
Written by CP Taylor
Directed by Dominic Cooke
Cast
Starring:
David Tennant
Elliot Levet
Sharon Small
Creatives
Director: Dominic Cooke
Designer: Vicki Mortimer
Composer: Will Stuart
Lighting Designer: Zoe Spurr
Sound Designer: Tom Gibbons
Movement: Imogen Knight
Information
Running Time:
Two hours 15 minutes with an interval
Booking until 24th December 2022
Theatre:
Harold Pinter
Panton Street
London SW1Y 4SW
Tube : Piccadilly Circus
Telephone: 03330 096 690
Website: haroldpintertheatre.co.uk
Reviewed by Brian Clover at the Harold Pinter Theatre
on 17th October 2022