Was Mary Queen of Scots villified
for her enjoyment of sex?
"Too often she was ruled by her heart." 
James Melville
I was brought up by Scots parents on the tales of Bonnie Prince Charlie, Flora Macdonald and Mary, Queen of Scots. The villains were the English, the Duke of Cumberland of 1746 and the Bloody Campbells. 
In the version told to me, Mary was the queen much wronged by her cousin Elizabeth I.  She was exceptionally tall 5 ft 10 apocryphally twice the height of Nicola Sturgeon in the history of Scotland.  I was taken to Holyrood where the guide told us that the blood of Mary's murdered Italian secretary Rizzio had been repainted each year on the stone steps.
Witness to Rizzio's murder in 1566, Mary was pregnant with the child that became James VI of Scotland and I of England.  The murderer was assumed to be her jealous husband Lord Darnley, the child thought to be Rizzio's and not Darnley's and indeed if you look at the portraits, James I looks more like dark haired Rizzio than Darnley who was fair in countenance if not in deeds. 
Rona Munro's play, a follow on to her James Trilogy about the Scottish kings, simply called Mary, is set in 1567 a crucial year for Mary when she appears to have lost the support of the Scots people.  Her husband Darnley has been murdered and the culprit is thought to have been the Earl of Bothwell whom Mary subsequently marries. 
The protagonists are all Protestants, Sir James Melville (Douglas Henshall) a long term friend and supporter of the Queen, John Thompson (Brian Vernel) one of the gatekeepers and a serving woman Agnes (Rona Morison), who is a follower of John Knox, presumably not one of his "monstrous regiment of women".  The latter two largely put the case against Mary and her decision to marry Bothwell.  Melville is intensely loyal to the Queen and seems to believe that she may have been forced into the marriage with Bothwell after being raped by him, in Munro's account, in front of his soldiers. 
In the Sunday Times in an interview with Kate Maltby, Rona Munro makes the interesting point about "her pet hate" the dramatic, historical heroines of theatre, "You see a story about a woman in history, and they show her as being more feisty, more determined and more smart talking than any man. In that cultural context, in that period, if she'd been prancing around talking like that, she'd have died. They'd have killed her."  
Certainly we can acknowledge that the English queen,  Elizabeth I was more skilled politically than Mary, by keeping many suitors in the hope that she might marry them, or maybe she had better advisors. 
Munro's play is debate rather than action and her lead Henshall has that steadfast integrity and loyalty called for but he is a solid actor rather than a mercurial one.  As Melville who had known Princess Mary since their childhood in France, his approach is commendable.  He calls her "a motherless bairn" as her mother ruled Scotland as regent on her daughter's behalf while Mary was in France.  Melville is the only real life character of the three.  His words are the basis of the drama. 
Thompson seems the most politically astute of the three, not a personality trait I admire and not helped by the costume choice of a grey collarless linen Mao type jacket.  As Agnes, Rona Morison is a zealot, with that extreme Protestant vigour seen in Scotland today in the Wee Free and the Exclusive Brethren Churches.  
We wonder with modern minds how much Mary would have benefitted from the spin of a Public Relations advisor.  Mary (Meg Watson) has two brief walk on parts and I supposed I wanted to see more of her and even Bothwell in the play, so I could make up my mind about her alleged sexual dalliances.  In history, Mary tried to keep Bothwell out of prison but she also applied to the Pope twice for an annulment of that marriage.   
The focus of the Second Act is John Thompson, rapidly promoted for supplying information to Bothwell, now given the task of getting Melville to sign the abdication of Mary document. 
Whatever the outcome of Munro's play, my lasting image of Mary is with her head cut off in Fotheringhay, twenty years after this play is set and after twenty years of imprisonment, her little dog hiding in her skirts.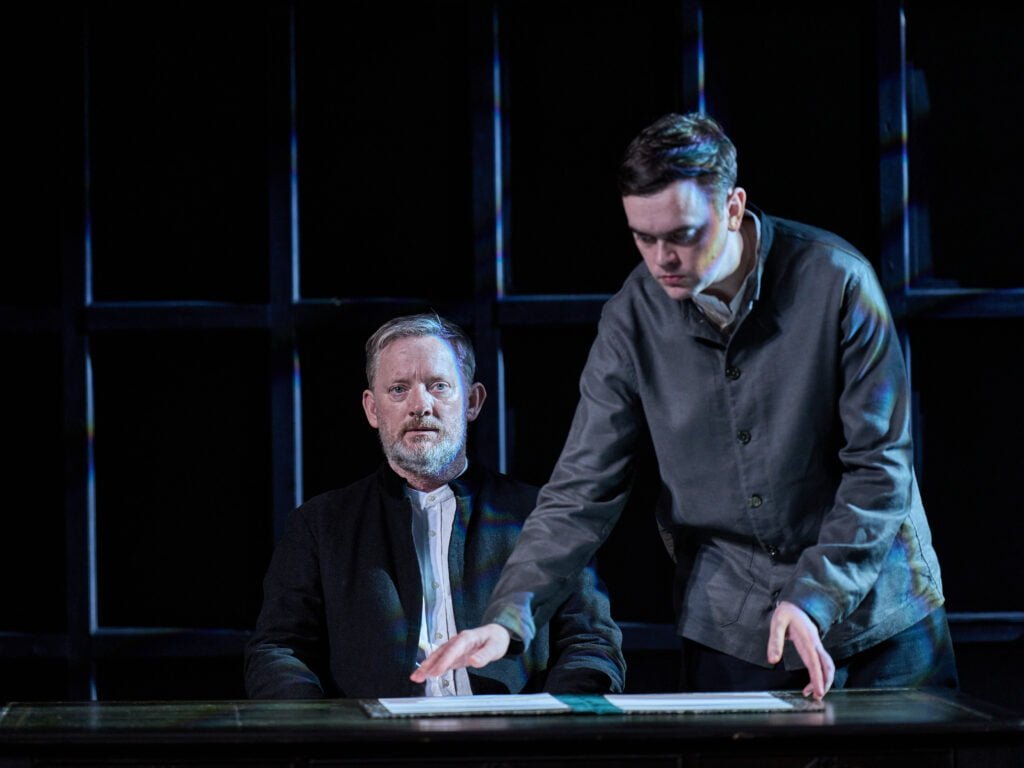 Mary

Written by Rona Munro
Directed by Roxanne Silbert
Cast
Starring:
Brian Vernel
Douglas Henshall
Rona Morison
Meg Watson
Creatives
Director: Roxane Silbert
Designer: Ashley Martin-Davis
Movement: Ayse Tashkiran
Lighting Designer: Matt Haskins
Sound Designer: Nick Powell
Composer: Nick Powell
Information
Running Time: One hour 30 minutes without an interval
Booking to 26th November 2022
Theatre: 
Hampstead Theatre 
Eton Avenue
Swiss Cottage
London NW3 3EU
Phone: 020 7722 9301
Tube: Swiss Cottage
Reviewed 
by Lizzie Loveridge at
Hampstead Theatre 
on 31st October 2022