Dorian Gray a new musical in the making
"I would give anything for that- I would give my soul "
Dorian on his beauty not fading

Dorian is a new musical in development and after a successful two night run in September, the show was invited back for a further week in the Studio space at Paul Taylor-Mills's Other Palace. 
The story is well known from Oscar Wilde's original of the beautiful young man whose life of debauchery and corruption reflects not in his face but in a portrait.  It is a classic story and ripe for a new musical adaptation.
What Linnie Reedman has done is to transpose the story to the 21st century where it works well, looking at nightclub culture and stars of the Rock music circuit.  The show opens with church organ music and an exceptionally beautiful young man, Dorian Gray (Elliot Gooch) is at his aristocratic grandfather's funeral. 
He meets Victoria Wotton (Chanice-Alexander Burnett) wife of Lord Harry Wotton (Harry Burton).  She is a fashion stylist and her husband owns a nightclub and is an entrepreneur, music promoter and rock singer.  The artist and photographer Baz Hallward is commissioned to photograph Dorian – no need for the Beautify button here as Dorian looks like an Adonis.  The fifth member of the cast is Ashley Goh as Sybil Vane, an opera singer at Covent Garden whom Dorian falls for but then lets down with a tragic result.   
It is Joe Evans's music and lyrics which bring the story to life with classic rock numbers and beautiful ballads.  I also especially liked, throughout the show, the percussive introductions written in many different styles, opening moments of real drama or anticipating the songs and very refreshing. 
It is obvious to me the amount of work that has already gone into this show and I feel the first act is very successful and ready for the full musical works.  Linnie Reedman's direction is audience friendly.  The voices of the singers have great depth and you can hear every single word of Joe Evans's lyrics.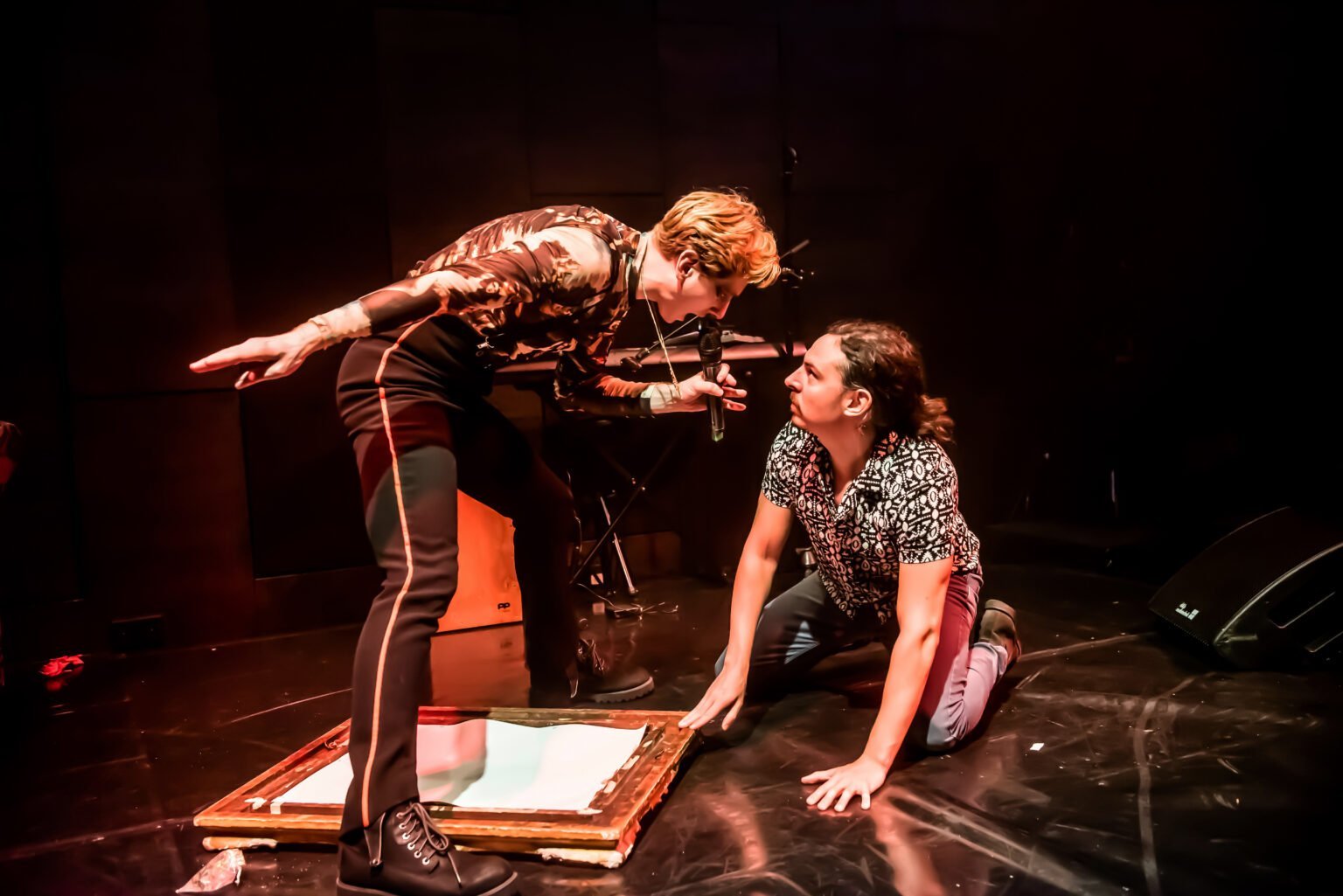 The performers are top notch, indicative of how much talent London can call on. Chanice Alexander-Burnett as Victoria has already played Fantine at the Sondheim Theatre in Les Miserables and James Rockey and Harry Boyd blew me away with the strength of their singing. Victoria Wotton and Baz Hallward show emotion as they both love a piece of Dorian and Harry Wotton is also attracted to Dorian but in control.
Ashley Goh doubles as Sybil, and her avenging sibling Fabian, maybe a transsexual, who meets Dorian long after Sybil's death, suspicious but not understanding Dorian's apparent youth and rumours of his involvement with their sister.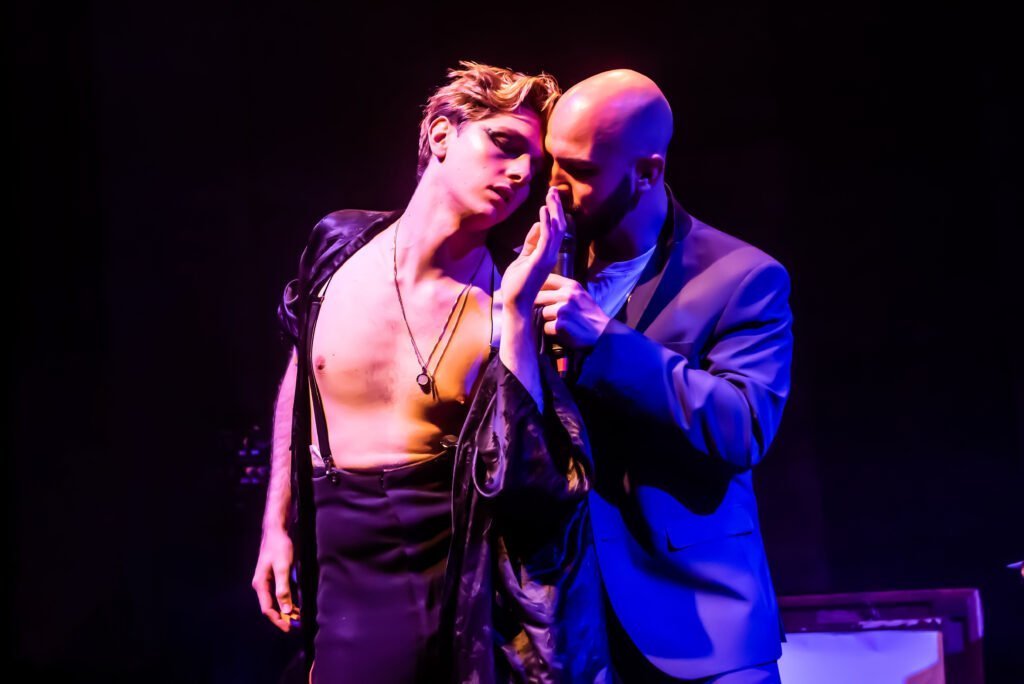 Elliot Gooch is a real find as a beautiful young man with a lovely singing voice. Tall and blonde he could have walked off the pages of Vogue. His dark side too is a revelation as he snarls at his lovers and turns ugly.
Many of the songs are duets, for instance the subtitle song, "The Son of Love and Death" sung by Lord Wooton and Dorian. This tune describes Dorian's conception when his aristocratic mother Margaret Devereux ran away with a dashing soldier and died giving birth to Dorian.
The pacing too means the musical never lags as the original story and its adaptation are brimfull of drama. You can listen to some of the music online which I recommend.
The Second Act features a rock music concert where Dorian's fans "The Black Hearts" are gathered. Portentous percussion and lighting accompanies Dorian's descent into drugs and crime. There is an exciting dance scene from Ashley Goh as Fabian. In a final scene projected onto the nightclub wall are portraits of Rock singers who died too young, Amy Winehouse, Jimi Hendrix, Kurt Cobain, Jim Morrison, Brian Jones and Mamma Cass.
I am really encouraged by seeing this terrific musical in the making and look forward to seeing it again and doing more justice to its individual melodies.
Act One
 I'm Going to Live Forever
 The Ultimate Sensation
Don't Turn Away
Son of Love and Death
The Hardest Flame
Sin is the Only Colour
It's Different This Time
The Fire of Your Desire
Out of the Blue
Cold as the Moon
Song for a Dead Girl
Act Two
Blood and Vice
Devil's Bargain
See Into Your Soul
The Face of Truth
Song for a Dead Girl  (Reprise)
Epilogue
Finale
Dorian – Son of Love and Death
Music and Lyrics by Joe Evans
Book by Linnie Reedman
Directed by Linnie Reedman
Cast
Starring:
Elliot Gooch
Chanice Alexander-Burnett
Ashley Goh
James Rockey
Harry Boyd
Creatives
Director: Linnie Reedman

Musical Director: Aaron Clingham
Movement Director: Anthony Whiteman
Design Consultant: Isabella van Braeckel
Sound : Jack Evans
Information
Running Time:
Two hours 10 minutes with an interval
Booking until 6th November 2022

Theatre:
The Other Palace Studio
The Other Palace
12 Palace Street
London, SW1E 5JA
Box Office: 020 7592 0302
Tube: Victoria
Reviewed by Lizzie Loveridge
at the 8pm performance at
the Other Palace Studio  on 2nd November 2022