The Trials of a Junior Doctor
"I think it's just really hard to advise someone to become a doctor right now."
Anna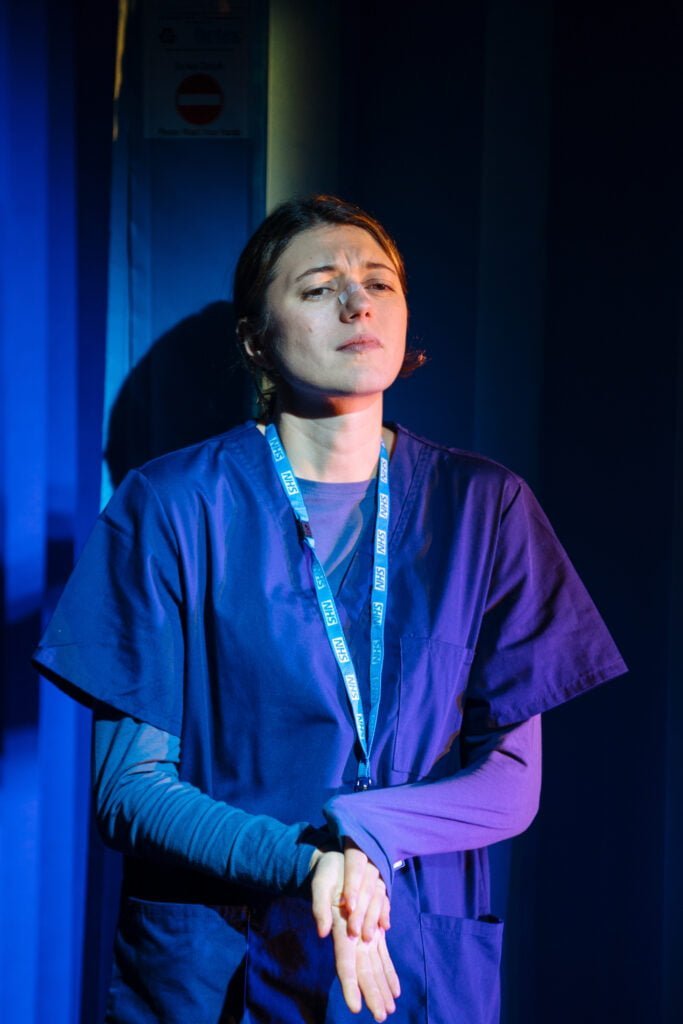 The title Super High Resolution is about the intensity of the life of a junior doctor.  Jasmine Blackborow plays Anna, a 31 year old hospital doctor in Accident and Emergency at a London hospital.  Written by Nathan Ellis and directed by Blanche McIntyre on a stage divided by blue hospital blinds, we see Anna cope with her workload.
She is receiving apologies from David (Lewis Shepherd dressed as a leprechaun) because his brother in law has hit her and made her nose bleed.  She is seeing a nervous patient Janet (Hayley Carmichael) with a bad cut on her arm which needs stitches.  Janet seems withdrawn and frightened of her husband and Anna is trying to get her to open up to her with Meredith interrupting.
Anna's boss the A and E consultant Meredith (Catherine Cusack) organises the rotas and doesn't listen to Anna when Meredith has changed her night off. Meredith seems stressed and unapproachable and refuses to listen when Anna tries to explain why she needs the night off to keep an appointment with a therapist to help her mental health.  We feel the chill of her boss's intransigence.
Nathan Ellis in this fine third play inserts self deprecating wit into Anna's speeches and makes us instantly feel for the strictures of life as a junior doctor.  This is no romantic picture of life on the wards but what happens to you when you try to insert a cannula in a drunken man who has been to a stag do.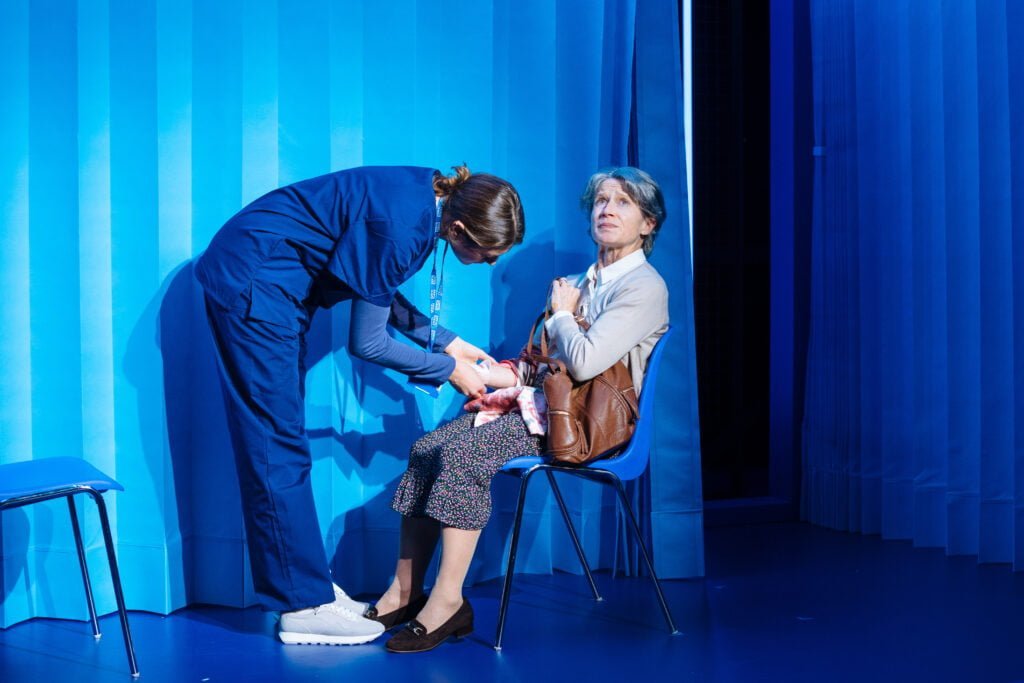 David flirts with Anna and he is very attractive.  She had finished her shift when she meets him outside the hospital and on her way to her sister's house.  Her sister Becca (Leah Whitaker) has her own problems. "we are ovulating" she says as she talks to her sister about getting pregnant.  Anna responds by referring to her geriatric pregnancy, " a medical term".   Anna is told off by Becca for not paying enough attention to their father after their mother has died, maybe by suicide.  Becca seems to sympathise with Anna's ridiculous workload but then blames her for not keeping to family commitments. 
Becca wants Anna to talk to Becca's step daughter Sammy (LJ Johnson) about a career in medicine.  It seems everyone values the status of becoming a doctor but no-one realises the way it will intrude on your life.  There are two powerful monologues from Anna with the responses she uses everyday, some of them to do with sexism, "No I'm not a nurse", "I'm a doctor", "Yes I'll call a man doctor and you'll be waiting another six hours."  Some of it coping with people using the internet as the source of all medical wisdom.  Some of it apologising for the wait. 
I liked the use of hospital blinds by designer Andrew Edwards to show the compartments of Anna's life and the way they can be opened and closed between scenes.  The lighting too from Prema Mehta is excellent.  The performances are all believable and Jasmine Blackborow shines in her portrayal of Anna with the complexity of her work load grinding her down.
What you can be sure of is that Super High Resolution will tell you more about life as a junior NHS doctor that Robert Icke's play The Doctor and introduce you to an exciting new writing talent in Nathan Ellis.
Super High Resolution
Written by Nathan Ellis
Directed by Blanche McIntyre
Cast
Starring:
Catherine Cusack
Hayley Carmichael
Jasmine Blackborow
Leah Whitaker
LJ Johnson
Lewis Shepherd
Creatives
Director: Blanche McIntyre
Designer:  Andrew Edwards
Lighting Designer: Prema Mehta
Sound Designer: Gregory Clarke
Information
Running Time: One hours 50 minutes without an interval
Booking to 3rd December 2022
Theatre: 
The Soho Theatre
21 Dean Street
London W1D 3NE
Phone: 020 7478 0100
Website: Soho Theatre
Tube: Tottenham Court Road
Reviewed by Lizzie Loveridge
at the Soho Theatre 
on 4th November 2022