Riding to the Glorious Heights of Heroism
"Mussolini rides like a bear in a circus act!"
Gino Bartali who was ordered to give Mussolini cycling lessons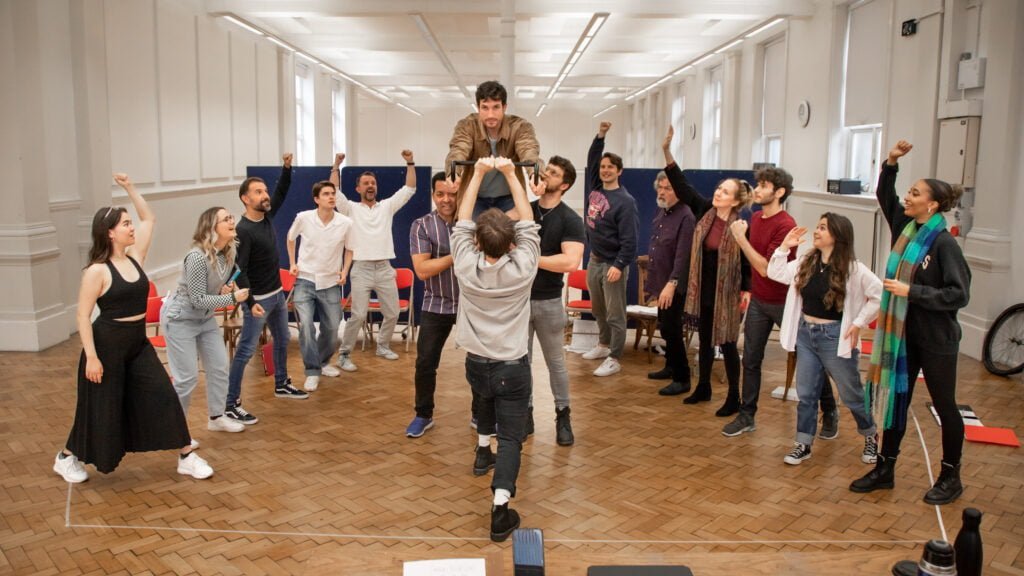 I am looking for a musical which will fill the emotional hole created by Come From Away closing in London in January and I think I may have found it.  In development and in concert, is a new musical based on a true story of heroism, courage and compassion for others. 
Set in Tuscany starting in the 1930s we are with Gino Bartali (James Darch) born into a poor family earning a living as carters.  He hears about a bicycling race but doesn't have a bicycle and it would take several years for him to earn enough money to afford one.  He approached a shy man Giorgio Nico (Mark Blaker) who is the local bookkeeper and accountant who agrees to help him.  Nico secures Gino a child's bike in pink but Gino makes the most of this opportunity and wins the mountain race.
As a result he is invited to work for the Italian national team not as a rider but as a helper.  His cycling prowess is recognised and he is found a place on the Italian team and wins the prestigious Giro d'Italia twice in 1937 and 1938 with its amazing mountain climbs. 
The 1930s coincides with the rise of Mussolini and his Fascisti in Italy and dividing people between supporting the Socialists or the Fascists in German occupied Italy.  With the Cardinal of Florence, Cardinal Della Costa (Ricardo Alonso) Gino Bartali as a cycling hero is allowed to travel to practise.   Gino and the Cardinal devise a plan to get forged passports to Jewish children left in Italy after their parents are sent to concentration camps.  Later he uses a training trailer on his bicycle to smuggle out five children by riding over the Alps to Switzerland.  It is estimated that he saved 800 lives.  Imagine riding a bicycle uphill with all that extra weight.  He made 53 Alpine trips.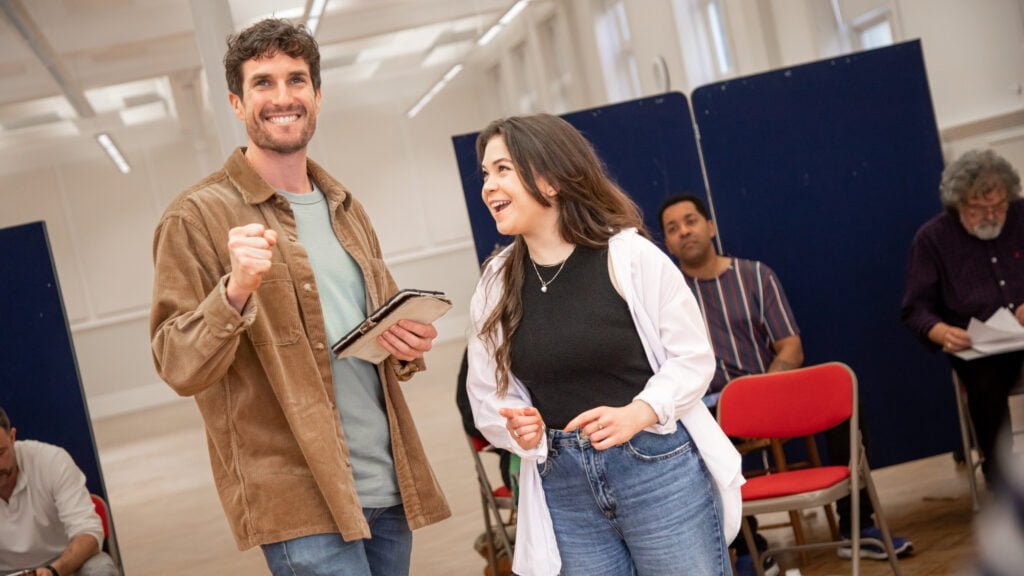 There is Gino's love interest Adriana Bani (Daisy Wood-Davis) and a fierce rivalry with a Blackshirt man, Gino's Nemesis, Major Mario Carita (Neil McDermott) who also loves Adriana. The second act is more developed and in it Nico pleads with the Milanese clergy accountants for funding for bribes to secure the required Nazi stamp on the children's passports. The comedy scene has the clergy accountants wearing green eyeshades as well as clerical fringed sashes. A tender blackshirt, a violinist Felix (Marcus Harman) is persuaded to help the children in a heart warming moment with terrible personal consequences for him.
The book, music and lyrics are by Victoria and Todd Buchholz (Todd was actually an economic advisor at the White House) are full of rousing anthems and songs about heroism in the style of Les Misérables with lyrics like "I will push and I will peddle" and like most musicals will grow on second and third hearings. The singing is superb with James Darch, Ricardo Afonso and Matt Blaker stand outs for me.
There are moments of real emotion: when Gino's father Torello (Mark Turnbull) sees his son wearing a blackshirt, the uniform of Mussolini's henchmen and feels a terrible betrayal to his socialist upbringing. Gino Bratali was so modest he never told anyone of his rescues, dying with his secret in 2000.
I consider Glory Ride to have musical legs or should that be wheels?
Glory Ride – A New Musical 

Book, Music and Lyrics by Victoria Buchholz and Todd Buchholz
Directed by Shaun Kerrison
Cast
Starring:
James Darch 

Daisy Wood-Davis 

Ricardo Afonso 

Neil McDermott 

Matt Blaker 

Adrianna Bertola 

Mark Turnbull 

Marcus Harman 
Creatives
Director: Shaun Kerrison
Costume and Video Designer: PJ McEvoy
Lighting Designer: Dickson Cosser
Sound Designer: Keegan Curran
Musical Direction:  Greg Jarrett
Information
Running Time: Two hours with an interval
14th to 16th November 2022 as a Staged Concert
Website: https://theotherpalace.co.uk/glory-ride-a-new-musical/
Theatre:  
The Other Palace 
Palace Street
Victoria
London SW1E 5JA 
Rail/Tube: Victoria
Reviewed by Lizzie Loveridge
at the Other Palace
on 14th November 2022