"Do you think Jesus was a mushroom?"
Matt
I came to see Here  because of the reputation of the Papatango prize for new writing but instead of fascinating me with tales embedded in the walls of a small house, it came up as a bit of a blur.  The problem was the thick gauze between the audience and the actors, meant to make the staging more ethereal, but instead it was just like looking through misted over spectacles and muffling the sound.  The result is that I only think I have seen and heard a fraction of the performances I was meant to see from Clive Judd's script.  I thought about getting a pair of scissors to cut away the blind.
A young man in his mid 20s, Matt (Sam Baker-Jones) arrives at his aunt's house in the Midlands which was his grandparents' house.  There he meets his cousin Jess (Hannah Millward) who seems disaffected. Matt has an itinerant lifestyle, he's a drifter but he has found something to do in making recordings of background noises, bird song, street hums, traffic, like his grandfather did, fiddling with radios.  Matt's mother Mary has little or no contact with her family, even her son. 
Matt's aunt Monica (Lucy Benjamin) and her husband Jeff (Mark Frost) have problems: Monica's drinking and Jeff's gambling addiction.  The history of this family repeats itself as if their blueprint is embedded in the walls of this house.  There are parallels between Matt's mother Mary and her niece Jess.  Neither Jess nor Matt have any links with their biological father but given the future a DNA test may answer that issue!
I don't think I have ever seen a text with as many stage directions in it.  Maybe the author is recalling his experience in directing plays? Reading it is more like reading a novel as we see who the characters are meant to be but strong as it is in characterisation, Here has difficulty in arriving anywhere.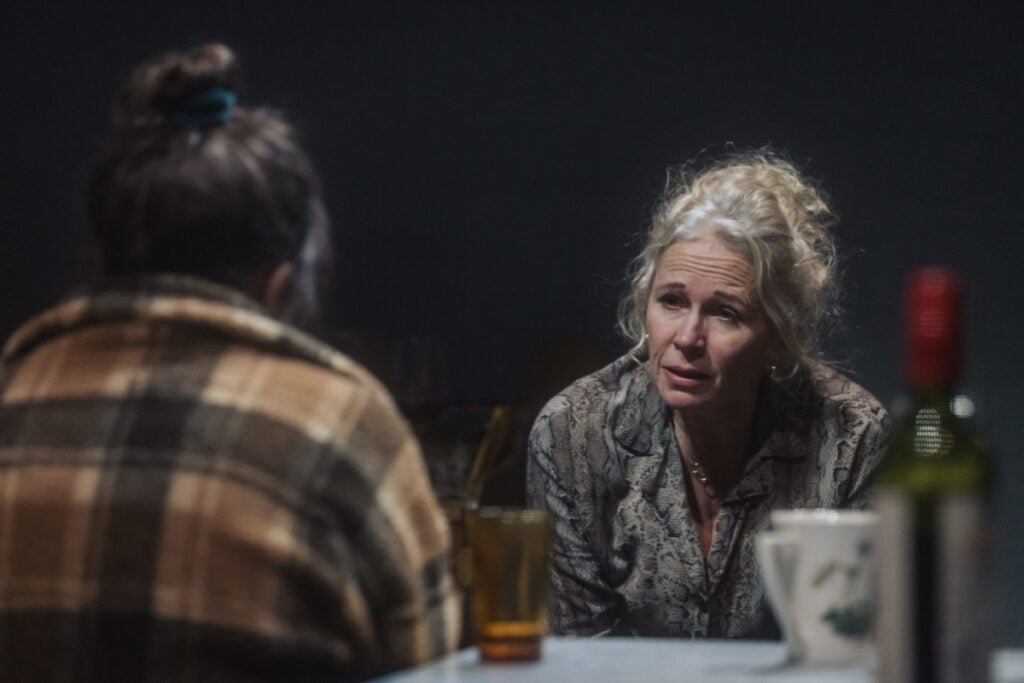 Here
Written by Clive Judd
Directed by George Turvey
Cast
Starring:
Hannah Millward
Lucy Benjamin
Mark Frost
Sam Baker-Jones
Creatives
Director: George Turvey
Designer: Jasmine Swan
Lighting Designer: Bethany Gupwell
Composer and Sound Designer: Asaf Zohar
Information
Running Time: Two hours 25 minutes with an interval
Booking to 3rd December 2022
Address: 
Southwark Playhouse
Newington Causeway
London SE1 6BD
Rail/Tube: Elephant and Castle
Reviewed by Lizzie Loveridge
at the Southwark Playhouse
on 17th November 2022