Tip Top Tap Dancing and Tunes by Irving Berlin
"I went to a funeral and caught the bouquet!"
Horace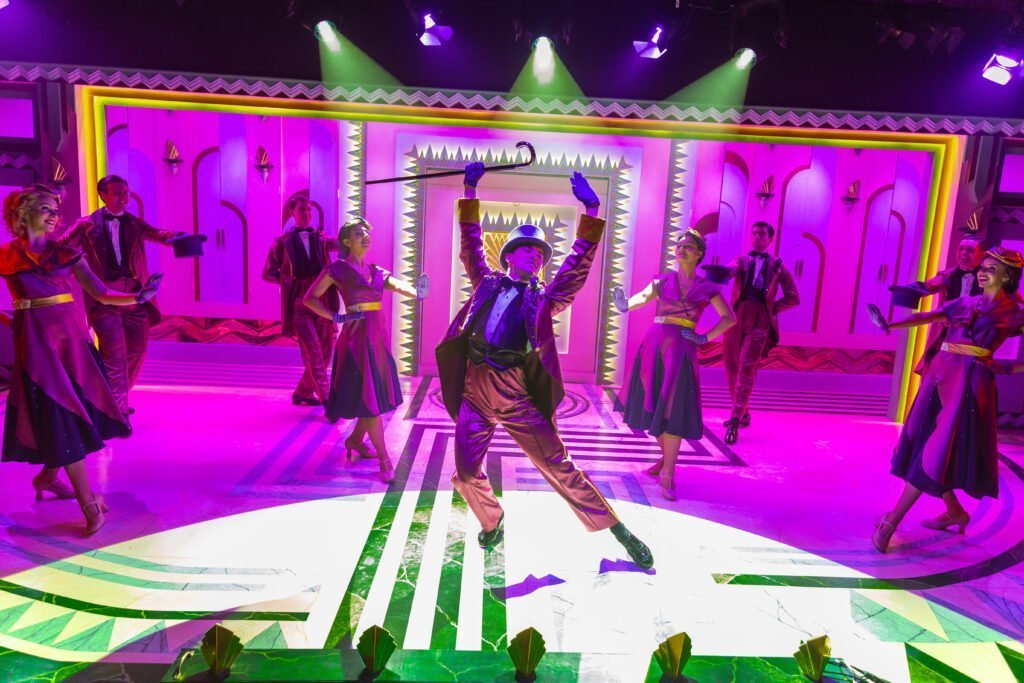 Top Hat s
tarted life as a 1935 movie with the dancing talents of Fred Astaire and Ginger Rogers.  It is only in recent years (2011) that the staged musical which had some of Irving Berlin's famous tunes added to it, was conceived.  
It is a very ambitious undertaking for a small dinner theatre like The Mill at Sonning to put it on, but with song and dance professionals Jonny Labey as Jerry Travers, and Billie-Kay as Dale Tremont, it is a breeze!  
The wonderful Art Deco set was made especially for the theatre and the colours change for each of the three locations, Paris, London and the Venetian Lido.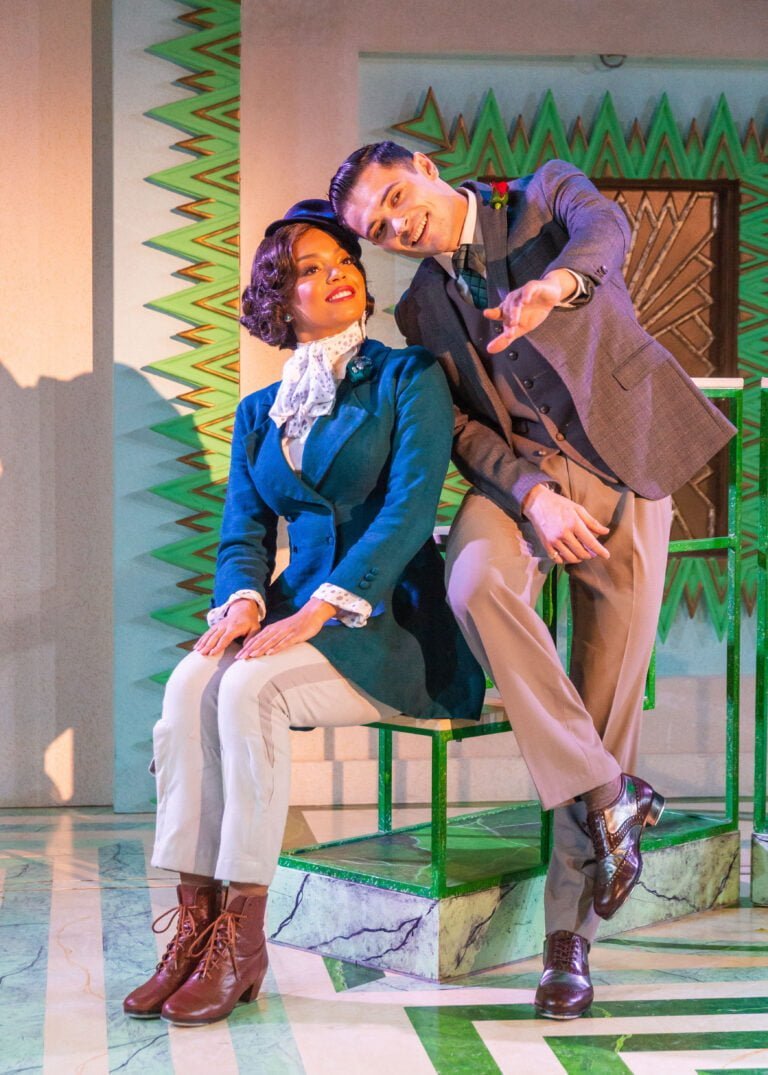 The story is pretty easy to follow:  Broadway star dancer Jerry Travers meets model Dale Tremont when she complains about him tap dancing, in her hotel on the floor above her room. Through a misunderstanding about some flowers sent to her, she thinks he is being unfaithful to her friend Madge (Julie J Nagle), and is a married man.   Madge's husband Horace Hardwick (Paul Kemble) is Travers's manager.  Dale agrees to fly to Italy with her Italian fashion designer and suitor Alberto Beddini (Andy Rees) and accepts his proposal of marriage.  Thank goodness Hardwick's enterprising butler Bates (Brendan Cull) is there to save the day. 
The Irving Berlin tunes are to die for.  From the Overture introduction we know we are in for a musical treat, the first delight being "Puttin' on the Ritz".  The penultimate song is the wildly romantic, "Let's Face the Music and Dance"  but in between we have "Top Hat, White Tie and Tails",  "Wild About You" and  "Cheek to Cheek".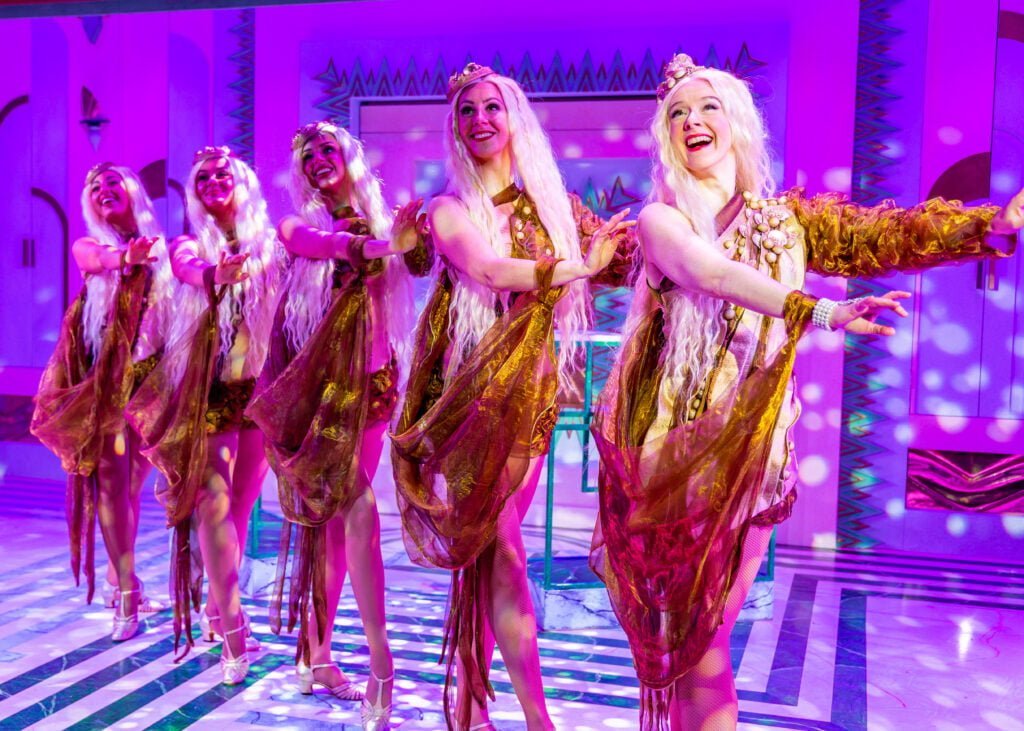 Jonny Labey is a tap dancer par excellence;  Billie-Kay is his match.  No seat in the Mill is more than six rows from the stage and all seats have great sightlines.  He is also a fine actor with a gift for comedy.   
You will love the period set detailing and the glorious costumes. You'll thirst for the onstage cocktails cleverly made not to spill when danced with! Of course there is an army of maids and hotel porters in perfect uniforms who quick change to double as hotel guests and rich Venetians.  
In "Cheek to Cheek" Billie-Kay as Dale Tremont wears a frock, the skirt covered in ostrich feathers similar to the one Ginger Rogers wore which got up Fred Astaire's nose!   The original had $1000 of ostrich feathers, some of which flew off as Astaire threw Rogers about.  In his autobiography Astaire described the incident as looking like "a chicken had been attacked by a coyote".   
Well the Mill's wardrobe have ensured their feathers stay on!  You may have heard the jokes before but they still make you smile.  Enjoy this spectacular seasonal treat in Sonning as everyone did the day we saw it.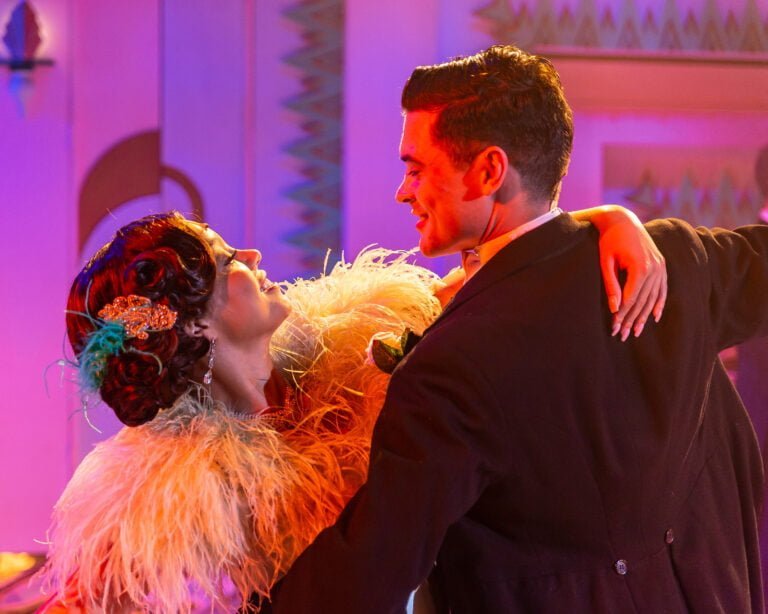 Act One
Overture
Puttin' On The Ritz 
No Strings 
Hotel Sequence 
I'm Putting All My Eggs in One
Basket
Isn't This A Lovely Day
(To Be Caught In The Rain) 
You're Easy To Dance  With 
What Is Love? 
Top Hat, White Tie And Tails 
Act Two
Entr'acte
The Piccolino 
Non Scacciarmi Mai (Part 1)
Non Scacciarmi Mai (Part 2)
Piccolino Waiter's Reprise
Wild About You 
Cheek To Cheek 
Better Luck Next Time
Latins Know How 
Let's Face The Music And Dance
Outside Of That I Love You
Finale 
Top Hat
Music and Lyrics by Irving Berlin
Based on the RKO Motion Picture
Book by Matthew White and Howard Jacques
Directed  by Jonathan O'Boyle
Cast
Starring:
Andy Rees
Billie-Kay
Brendan Cull
Jonny Labey
Julia J Nagle
Paul Kemble
With:
Hannah Amin
Joe Boyle
George Deller
Nathan Elwick
Gabriela Gregorian
Leah Harris
Reece Kerridge
Greta McKinnon
Creatives
Director:  Jonathan O'Boyle
Choreographer: Ashley Nottingham
Set Designer: Jason Denvir
Costume Designer:  Natalie Titchener
Musical Arranger and Director: Francis Goodhand
Lighting Designer:  Nic Farman
Sound Designer: Chris Whybrow
Information
Running Time:
Two hours 35 minutes with an interval
Booking until 30th December 2021 
Theatre:
The Mill at Sonning Theatre 
Sonning Eye
Reading
RG4 6TY 
Website: millatsonning.com
Box Office: (0118) 969 8000
Reviewed by Lizzie Loveridge
at the Mill at Sonning
on 26th November 2022