"Witness who we really are.. "
James Baldwin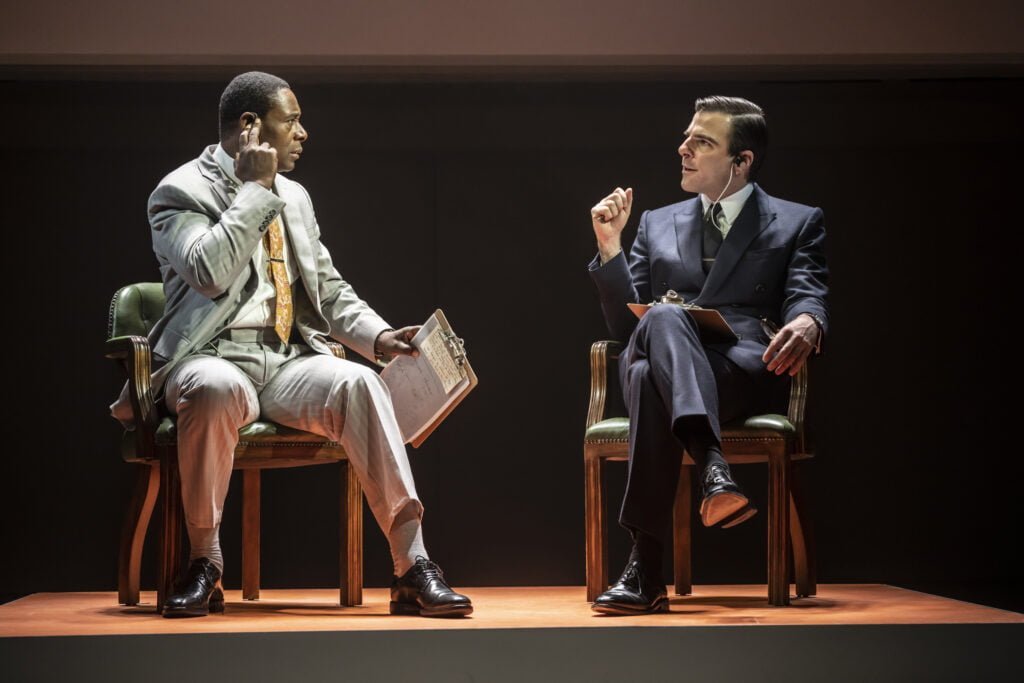 I was fortunate enough to see James Graham's Best of Enemies in preview last year at the Young Vic.  It blew me away as it analysed how political debate has changed since 1968.  The other factor which I found to be a masterstroke was the casting of David Harewood, a black actor as the right wing Republican, William F Buckley.  Being played by a popular black actor, completely changed the dynamic around the debates between Buckley and Gore Vidal (Zachary Quinto) allowing us to look beyond the politics and concentrate on the arguments.  
It opens with a heated remark by Buckley which he wished hadn't been broadcast, personally offensive to Vidal and assuredly abusive.  We have to wait until the end of the play to discover what he said.  Instead we flash back to look at the three main news networks in the US, CBC, NBC and the poor third placed ABC.  Concerned at their ratings, Elmer Lower (Kevin McMonagle) President of News at ABC invites William F Buckley and Gore Vidal to discuss the political issues of the day alongside coverage of the 1968 primaries in Florida and Chicago. 
The result is incendiary but first James Graham's play takes us back on video to the assassination of JF Kennedy in 1963 with input from Aretha Franklin (Deborah Alli) and James Baldwin (Syrus Lowe).  Paris in 1968 is the student demonstrations. In the UK we see the Grosvenor Square demonstration against the Vietnam War and meet Tariq Ali (Sam Otto).  Even Enoch Powell (Tom Goodwin) makes an appearance, played by a white actor in case you ask. 1968 is a momentous year with the assassination of both Martin Luther King (Syrus Lowe) and Bobby Kennedy (Tom Goodwin). 
Bunny Christie's design has the studio action on stage with three square television screens filling the width of the stage, showing live footage as well as archive film. It draws you in and is smooth flowing. This is a play with great visuals making the time speed by and increasing excitement for the wedges of debate between the two protagonists where we see close ups of them. There is classical music giving it a stately feel.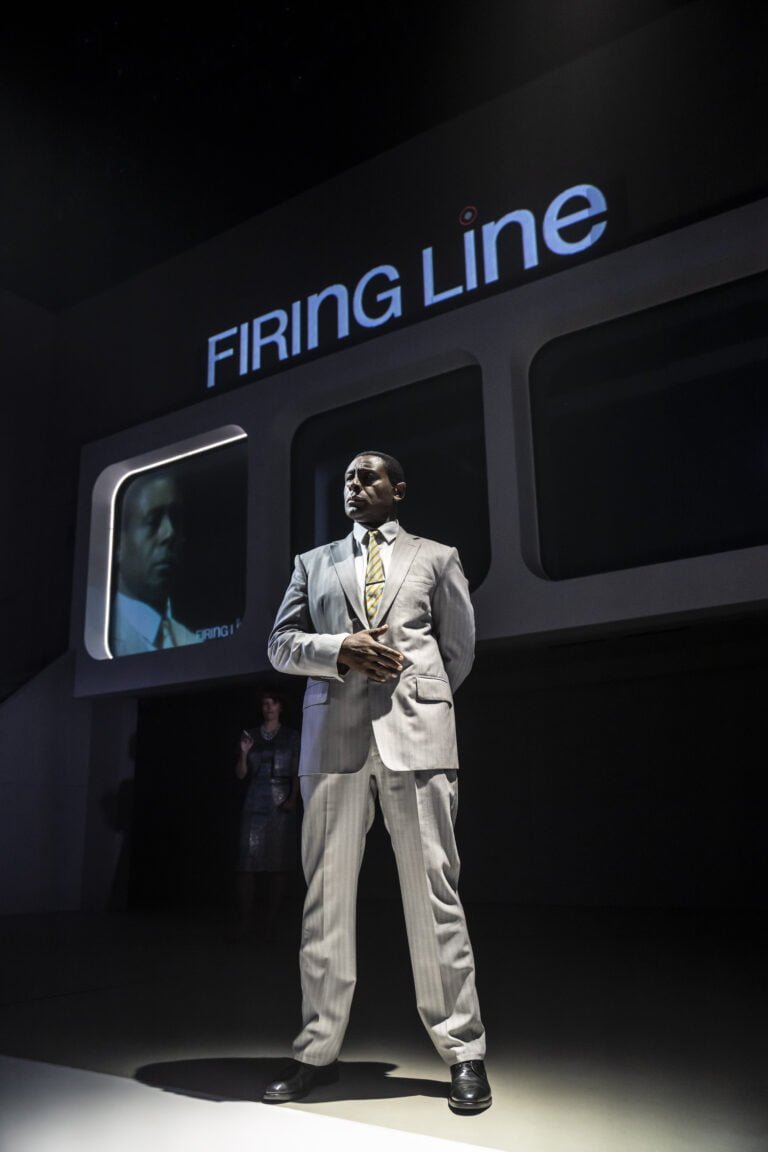 I saw Charles Edwards in the Gore Vidal part and always wondered if he had been intended to play Buckley because of his physical resemblance.  Edwards was very good but Zachary Quinto is so much better as Vidal, bitchy and catty, his words sting and the resulting play seems to me to be better balanced.  We see Vidal in his social milieu; the Democrat set are filmed by Andy Warhol (Tom Goodwin) and they mention the absence of supporters Tennessee Williams and Truman Capote. 
The debates between the two men see their fortunes rise and fall.  Vidal is supported by his manfriends and Buckley by his wife Patricia (Clare Foster).
They discuss the usual issues, Vietnam and taxes. In a few months they switch from Florida to Chicago where the colorful Mayor Daley (John Hodgkinson) is in charge.  "You say protestors, I say rioters!"  he says.  
It is interesting to reflect how successful this was in terms of ABC winning the channel ratings and to see how it led to the actual candidates debating on television and today the election of people who are telegenic. You can almost touch the tension. between Gore Vidal and William F Buckley as their debating skill zings across the stage.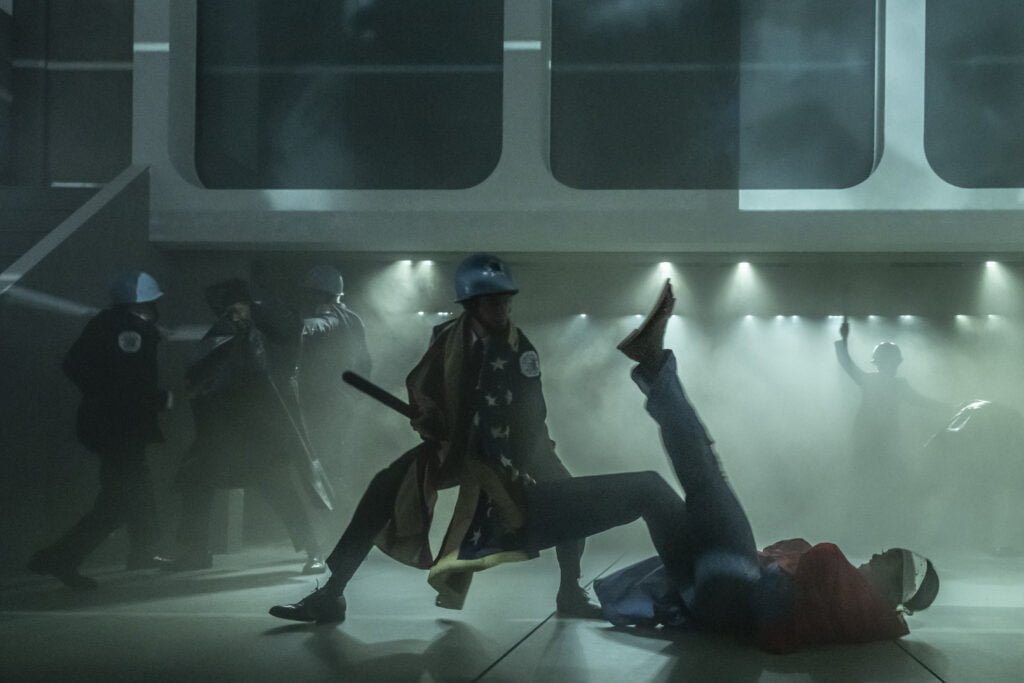 This is the best play on in London with its state of the art production values and terrific performances.  It is based on a documentary of 2015 by Morgan Neville and Robert Gordon. I was surprised how much slicker it had become since the important outing at the Young Vic which made it winner of the Critics Circle Best New Play 2021.  James Graham is skilled at writing plays that document the history of our times.  
Best of Enemies is only booking to 18th February 2023 so plan to see it now or you may miss this five star experience from the theatre site that doesn't do stars.
Best of Enemies
Written  by James Graham
Directed by James Herrin
Inspired by the 2015 documentary by Morgan Neville and Robert Gordon
Cast
Starring:
David Harewood
Zachary Quinton
John Hodgkinson
Clare Foster
David Boyle
Emilio Doorgasingh
Jamie Hogarth
Kevin McMonagle
Sam Otto
Tom Godwin
Syrus Lowe
Lincoln Conway
Deborah Alli
Vivienne Ekwulugo
Saaj Raja
Creatives
Director: James Herrin
Designer: Bunny Christie
Lighting Designer: Jack Knowles
Sound Designer: Tom Gibbons
Video Designer: Max Spiuelbichler
Composer: Benjamin Kwasi Burrell
Movement: Shelley Maxwell
Information
Running Time: Two hours 20 minutes with an interval
Booking to 18th February 2023
Theatre: 
The Noel Coward Theatre
85-88 St Martin's Lane 
London WC2N 4AP
Telephone: 0844 482 5151
Website: noelcowardtheatre.co.uk
Tube: Leicester Square
Reviewed by Lizzie Loveridge at the
Noël Coward Theatre  on 2nd December  2022