". . . as the lady novelist said to the incidental working class character "
Mrs Grimsdike
I had almost forgotten what a marvellous director Michael Grandage is, but I'll never forget Neil Bartlett's adaptations.  I have never before found Virginia Woolf's novel of Orlando accessible until now.  Her 1928 novel opens with Orlando (Emma Corrin) aged 15 in 1593 where as a young man she encounters Queen Elizabeth I (Lucy Briers).  We're told that Orlando lives in a 365 roomed mansion, presumably a room for every day of the year. 
There is a large chorus of middle aged Virginia Woolfs dressed in brown cardigans, brown tweed skirts and sensible brown lace up shoes.  Their hair is centre parted and pulled back into a bun and their black rimmed glasses are worn half way down their noses on a spectacle chain.  They will narrate Orlando's story.  Interjecting fun and practicality is the figure of Deborah Findlay as Mrs Grimsditch, a sardonic commentator and dresser for Orlando who needs a costume change with each era.  She will bring us up to date with a topical quip like, "Ladies and Gentlemen . . . oops sorry, Everyone!"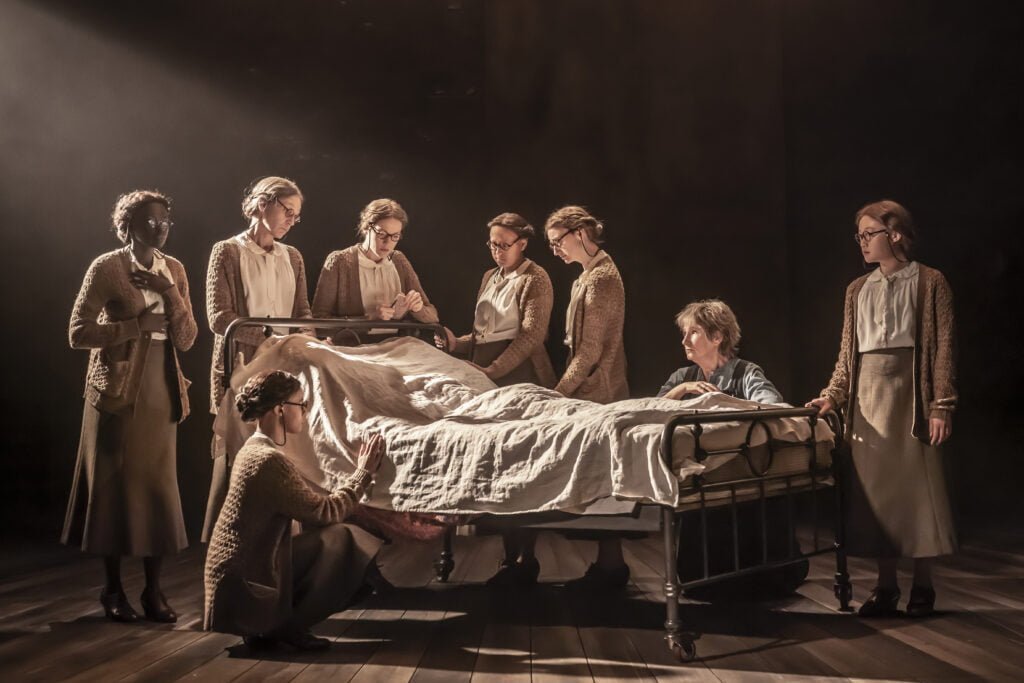 In the first scene we get a glimpse of Orlando's male part under his nightshirt.    Three women suitors present themselves before the Big Freeze each with a verse not unlike Portia's three caskets in The Merchant of Venice but Orlando manages to escape marriage.  In the Great Freeze of the Thames in 1607 Orlando meets the love of his life Sasha (Millicent Wong) skating on the ice. 
Neil Bartlett has kept the descriptions of frozen London and all their poetry
"Birds froze in mid air and fell like stones to the ground" and "Frozen roses fell in showers when the Queen and her ladies walked abroad."
After being courted by the sinister but comic Archduke Harry presenting himself as the Archduchess Harriet (Richard Cant) in the 1600s, to escape, Orlando is sent to Constantinople as British Ambassador.  Mrs Grimsdike helpfully explains that Constantinople is now Istanbul!  During riots in Turkey, Orlando falls asleep and they cannot wake him.  He awakes with the body of a woman and now is Lady Orlando who will become a novelist.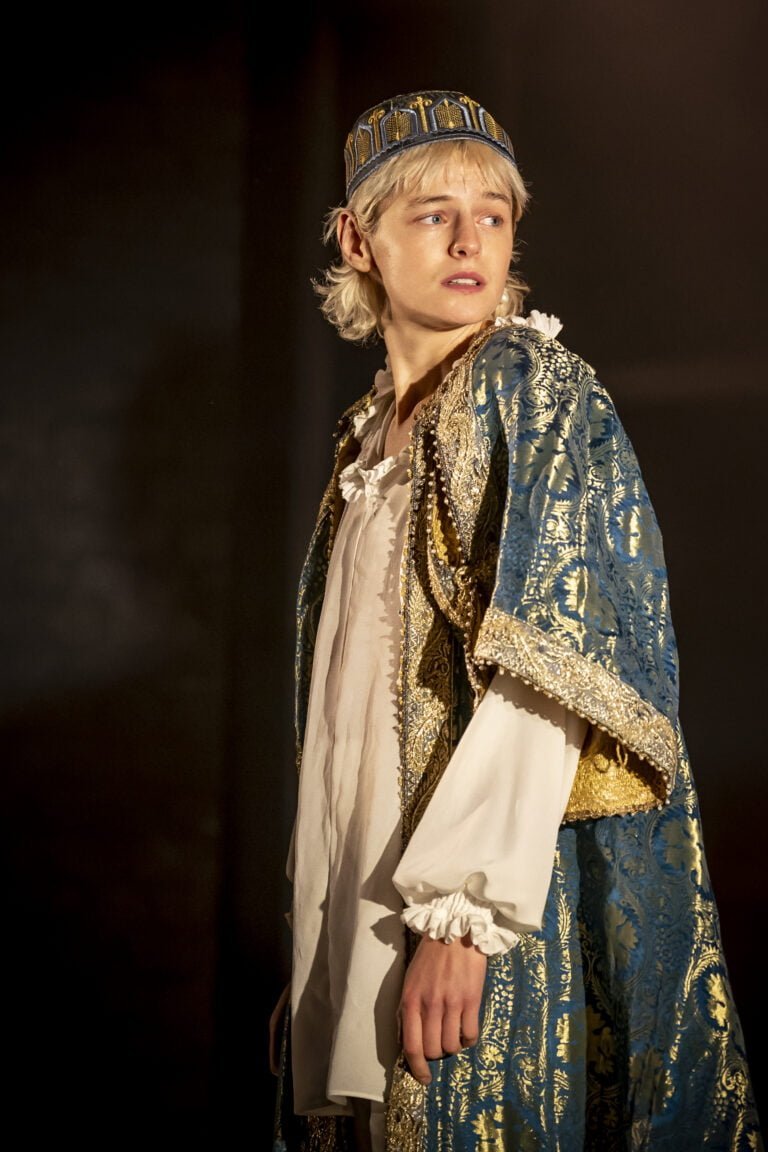 Emma Corrin is completely captivating in this transgender role with a wide eyed innocence that convinces Orlando's lack of aging and magnetic charm over the centuries.  Mrs Grimsdike good naturedly helps her with the petticoats.  Orlando comments on the success of the orange seller as mistress to the king. The Virginia narrators in Constantinople wear long fringed scarves.  Back in London there is glorious Regency architecture.  
The switch to Victorian times is glossed over as we can conclude this is not a fruitful period for women of a feminist persuasion but the chorus, wearing white bonnets, will sip from synchronized fine china teacups.  
This production with its up to date transgender theme is a real pleasure with glorious changes of scene.  Men play women, women play Nelson's naval officers, in this gender melting pot.  Credit should also go to the dressers who work very hard to ensure everyone is in the right costume at the right time.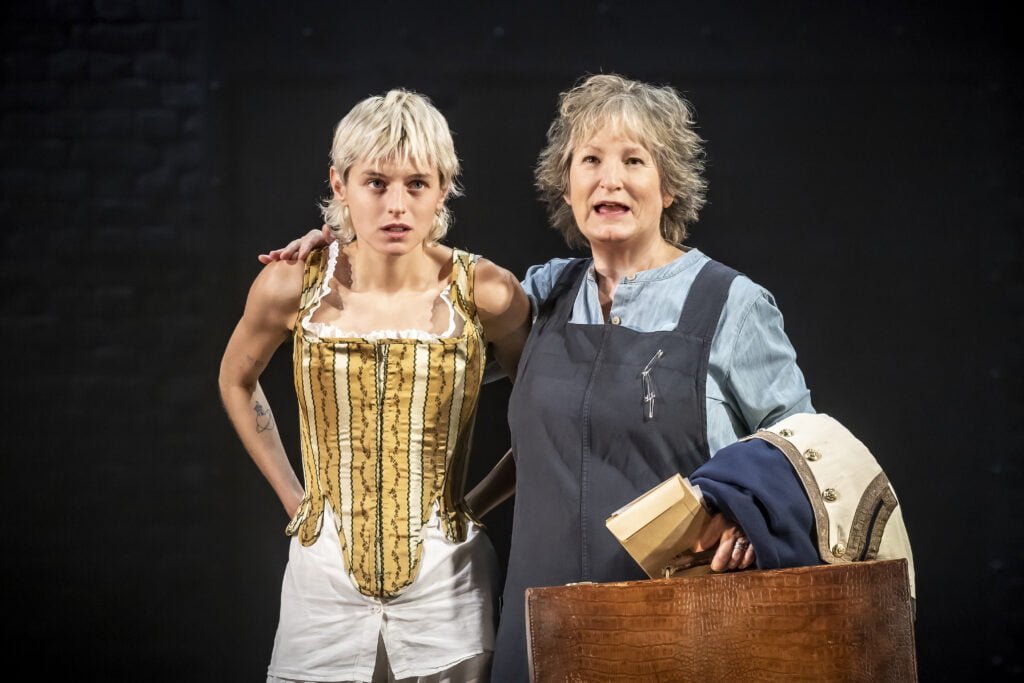 Would Virginia Woolf have found it any easier in the 21st century than when she took her own life by walking into the River Ouse, the pockets of her overcoat filled with stones?
We can be sure she would have loved the creative talents of Bartlett and Grandage and the ensemble cast in this five star production from the theatre site that doesn't do stars.   
Don't miss the life changing performance of Emma Corrin and Deborah Findlay's satirical comedy. 
Orlando
Written by Neil Bartlett after Virginia Woolf's novel
Directed by Michael Grandage
Cast
Starring:
Jodie McNee
Akuc Bol
Deborah Findlay
Debra Baker
Lucy Briers
Melissa Lowe
Millicent Wong
Richard Cant
Emma Corrin
Jessica Alade
Oliver Wickham
Creatives
Director: Michael Grandage
Designer: Peter McKintosh
Lighting Designer: Howard Hudson
Composer and Sound Designer: Alex Baranowski
Movement Director: Ben Wright
Information
85 minutes without  an interval
Booking to 25th February 2023
Theatre: 
Garrick Theatre
2 Charing Cross Road
London  WC2H 0HH
Phone: 0330 333 4811
Rail/Tube: Charing Cross
Reviewed by Lizzie Loveridge
at the Garrick Theatre, on 6th December 2022