"Farewell the tranquil mind. "
Othello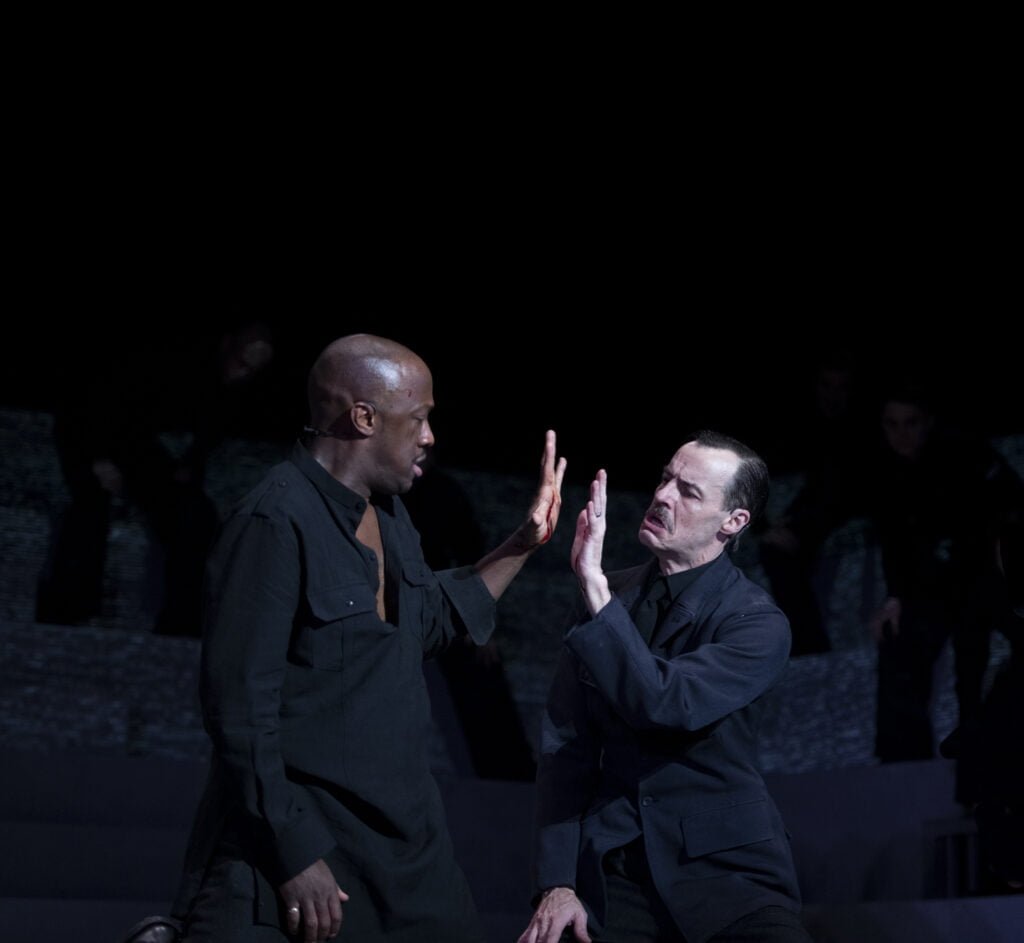 Clint Dyer may have been thinking a classical stage when setting his Othello, shamefully the first of Shakespeare's play about The Moor of Venice to have been professionally directed in London by a black director.  What I thought of instead was of the Brutalist architecture of Sir Denys Lasdun, the architect responsible for the National Theatre building on the South Bank.  
There are other reasons why Othello does not fit with the classical tradition, in so far as the rights and wrongs are not finely balanced.  There is no doubt as to Iago's evil intention and his reasons, one real, the promotion of Cassio instead of himself, and the other debatable, the suspicion that his wife Emilia has slept with Othello.  
What is clear is the brutality of this play.  Emilia (Tanya Franks) has a bruise on her face and is wearing an arm brace as if her right arm has been broken.  This is a different interpretation of Emilia but goes some way to explaining why the woman who speaks up for the rights of women also willingly gives her husband the incriminating handkerchief. 
I must admit that the play photos look better with the dramatic lighting that it did in the flesh as it is very dark tonally and flaming torches are often used to light the scene but there is little impression that we are in Cyprus's warm climate.
What is a classical reference is the use of a large chorus aligned behind the main action.  In the first scene when Roderigo (Jack Bardoe) and Iago (Paul Hilton)  go to tell Brabantio (Jay Simpson) the bad news about his daughter Desdemona (Rosy McEwen), Iago wears a hat and uses a Cockney accent to effect a disguise. The chorus becomes a white mob ready to go with Brabantio to deal with Othello.  On other occasions the chorus will mime what is being said, at one point I saw them simultaneously vomit.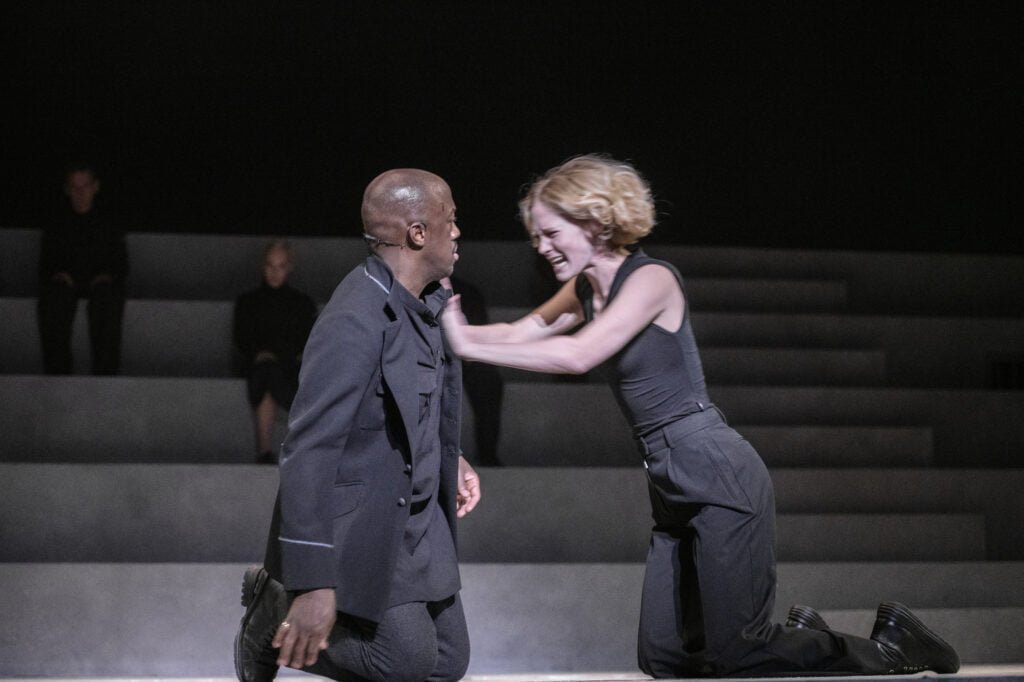 The first act is all about Iago and his bitter hatred of Othello.  Paul Hilton is poisonous as he plots against Cassio and Othello, manipulative and experienced in putting forward his distorted view to persuade others.  
The act after the interval is about Othello's mind unravelling as jealousy takes hold.  This act opens with a large Christian funeral of Brabantio who had died after Desdemona and Othello have left for Cyprus.  When Othello has an epileptic fit, Giles Teresa's acting is convincing and he is especially powerful at conveying the disintegration of Othello's mental health.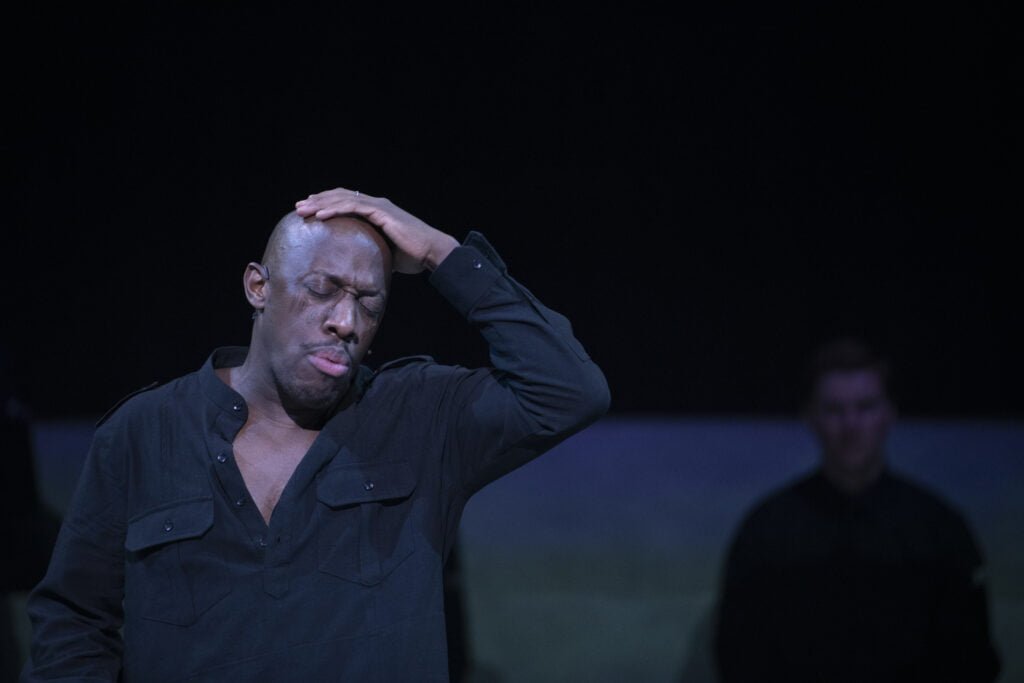 I didn't like the use of top half costumes in this production, authentic jackets with modern black trousers and black shoes.  This started as an economy at Shakespeare's Globe where the period costume were Jacobean jackets only.  I think what worked least well here were the army uniforms where the visual continuity was spoilt by mismatching trousers and shoes which felt wrong.  On the other hand Othello's royal blue kaftan is beautiful and a colour highlight of the play, emphasizing his difference.  Desdemona is only allowed black costume in keeping with the darkness of the production even though the words are "as pale as thy smock."
In the opening scenes we see Othello pose with a spear in an exciting and athletic war dance more relating to Africa than Venice, maybe illustrating those stories that so enthralled Desdemona.  
I did wonder why the cast were miked up for this production in the Lyttelton?  
The conclusion from Othello, "I am one who loved not wisely but too well," has always rung hollow for me but Iago, unlike most of Shakespeare's villains,  never repents.  This Othello is full of darkness, racism and brutality.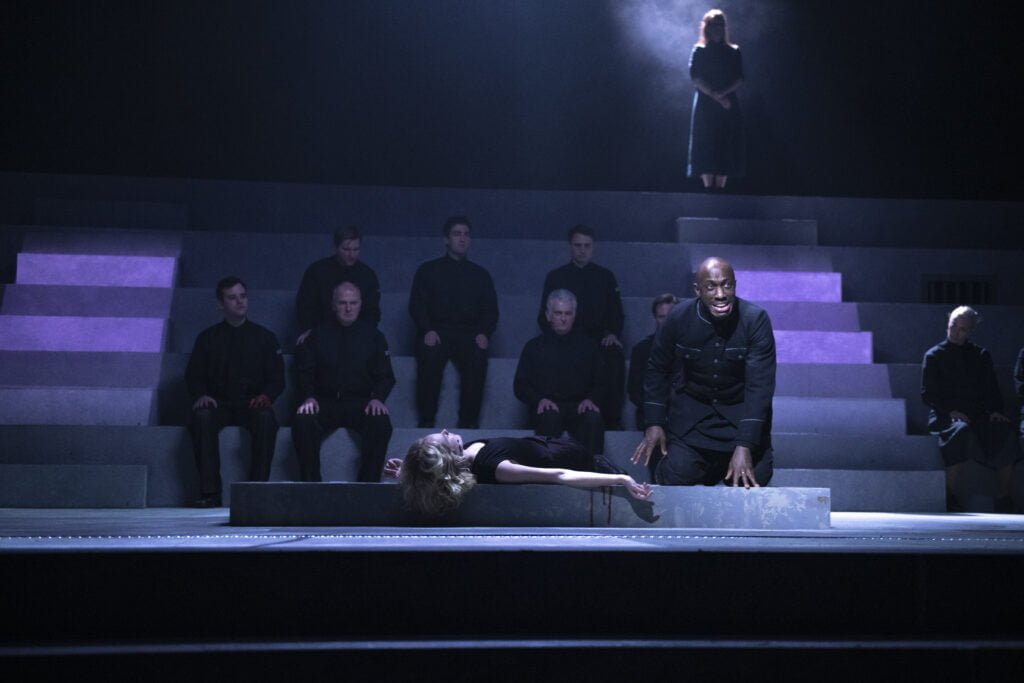 Othello

Written by William Shakespeare
Directed by Clint Dyer
Cast
Starring:
Amy Newton
Colm Gormley
Gareth Kennerley
Giles Terera
Jack Bardoe
Jay Simpson
Joshua Lacey
Katie Matsel
Kirsty J Curtis
Martin Marquez
Patrick Elue
Paul Hilton
Rory Fleck Byrne
Rosy McEwen
Steffan Rizzi
Tanya Franks
Ryan Whittle
Joe Bolland
Peter Eastland
Sabi Perez
Creatives
Director: Clint Dyer
Set Designer: Chloe Lamford
Costume Designer: Michael Vale
Lighting Designer: Jai Morjaria
Sound Designer and Composition: Pete Malkin
and  Benjamin Grant
Co-Composer: Sola Akingbola
Movement Director: Lucie Pankhurst
Fight director: Kevin McCurdy
Information
Running Time: Three hours with an interval
Booking to  21st January 2023
Theatre: 
Lyttelton Theatre
National Theatre
South Bank
London SE1 9PX
Tube/Rail : Waterloo
Website: nationaltheatre.org.uk
Reviewed by Lizzie Loveridge at the
Lyttelton Theatre  on  3rd December 2022