"He looks like Jeremy Corbyn without the sex appeal!"
Kerry 
"Let's not culture-shame. " 
Stephen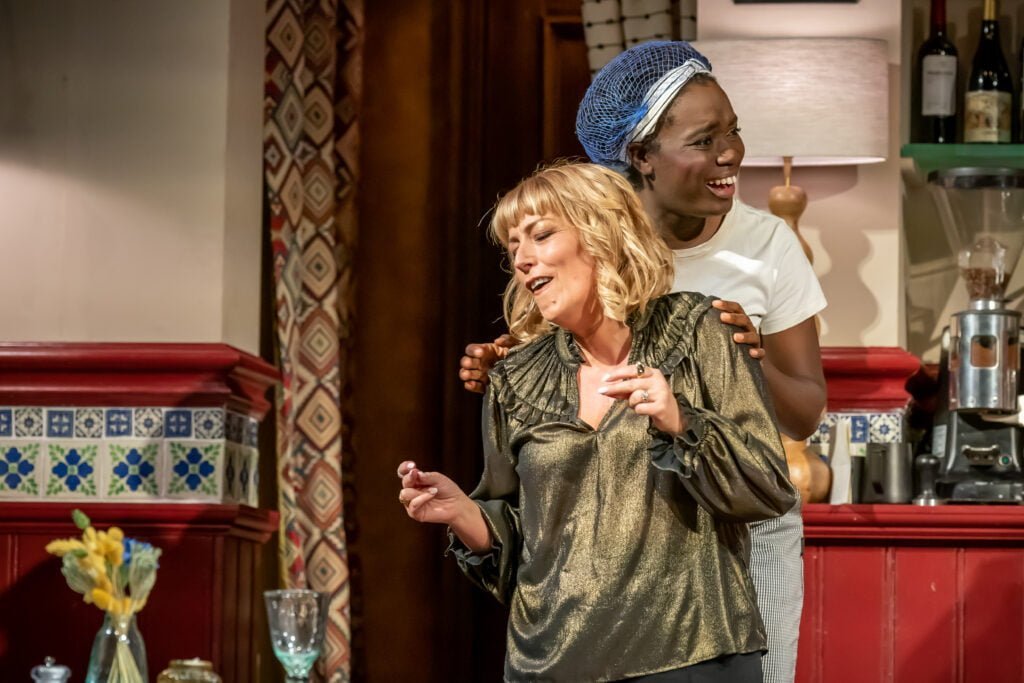 Set in the rapidly gentrifying London village of Walthamstow is April De Angelis's new play about class.  Our heroine Kerry Jackson is a hardworking woman from an ill educated background.  She voted Leave at the referendum but is opening up a new Spanish restaurant in E17 called El Barco.   She is brash and loud and wears shirts to match her personality.  She doesn't sound like someone we can warm to, does she?  But give her to Fay Ripley and all that is turned on its head with the Cold Feet actress's natural warmth and popularity. 
Living next door is Stephen (Michael Gould) recently widowed and a lecturer in Philosophy.  Stephen politically is in complete contrast to Kerry.  He is left wing, liberal and tolerant, understanding and compassionate and full of wokery pontification.   He is also a tad mealy mouthed and predictable in his ability to see the view of others.  Stephen has at home his daughter Alice (Kitty Hawthorne) who feels lost after her mother's death and is stalling going to university.  
Stephen is distributing a community newsletter to Kerry's restaurant and she tries to persuade him to try out the restaurant.    Kerry wants to attract the middle classes adopting Walthamstow as their home to her restaurant.  We see Kerry pushing and Stephen shrinking away but she follows up his visit by going to his flat with a wine for him to taste which she proposes making the house Red. 
Kerry's cook is Athena (Madeline Appiah) a young black woman who is working illegally after not filling out the correct paperwork.   There is a problem with the restaurant with a homeless man Will (Michael Fox) asking Kerry for food but defecating behind her bins.  Kerry asks Stephen to help with the Will issue.  "Homelessness should make us angry," he says missing the point that it is the human turds which are angering Kerry.  
There is some good characterization with Stephen's daughter Alice  who gets a job in El Barco as a waitress.  She has some very funny ideas about customer service.  At the same time Kerry persuades Stephen to dance in her restaurant and we see him falling for her, full of wide eyed gazing, infatuation.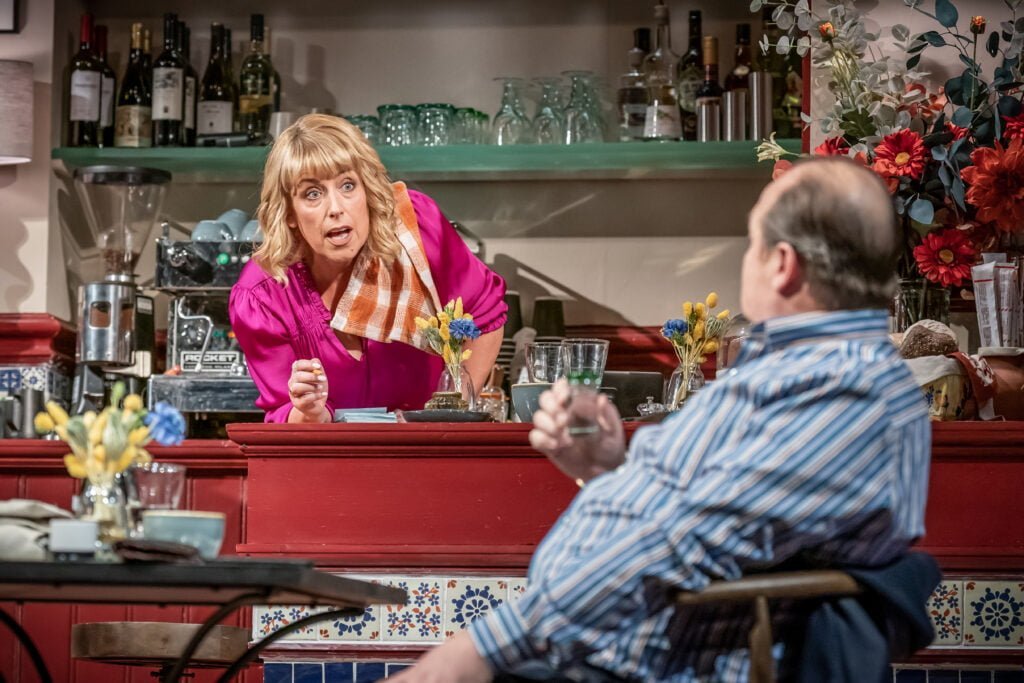 An ex-policeman Warren (Gavin Spokes who was so memorable as Nicely, Nicely in Guys and Dolls in "Sit Down You're Rocking the Boat" or should that be El Barca?) makes a play for Kerry.   There are some unexpected political opinions from one member of the cast which makes for excellent satire.
Richard Kent's dual revolving set of Kerry's restaurant and Stephen's kitchen works well and smoothly and he must have had a lot of fun choosing blingy shirts for Kerry.  Stephen's outfit for the Spanish costume evening is a shirt with multiple frills on the sleeves and pretty incongruous.  
As ever Indhu Rubasingham's direction is faultless and she gets fluid performances. 
April De Angelis sharply observes the difference between the old families in the area and the incomers. This is not a heavyweight play but one full of the ironies of human behaviour and it is the perfect vehicle for Fay Ripley to make us laugh.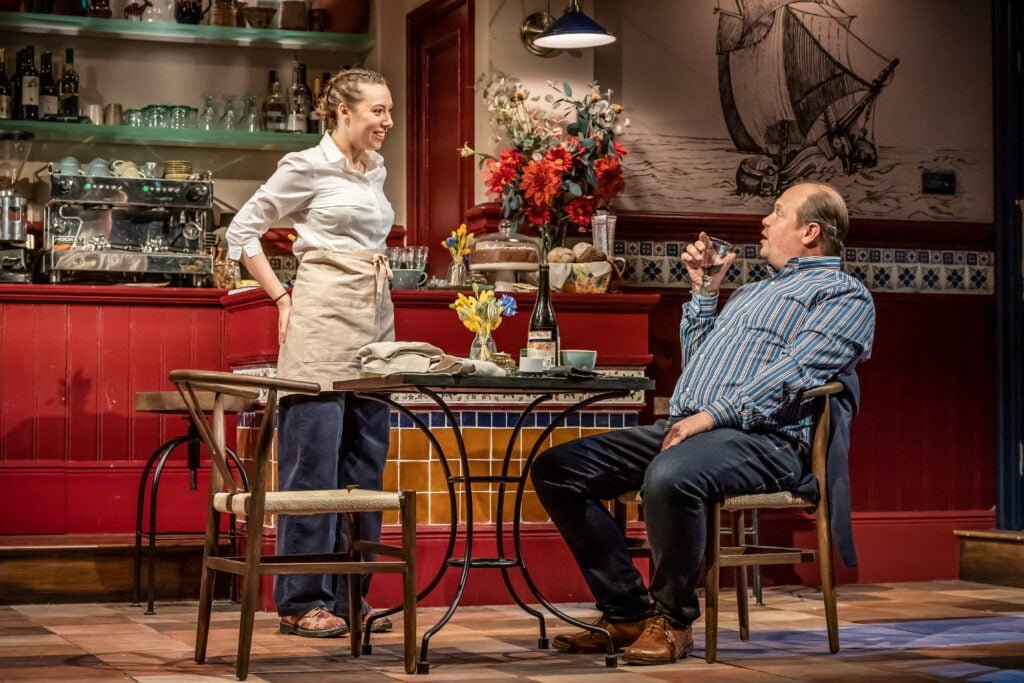 Kerry Jackson

Written by April De Angelis
Directed by Indhu Rubasingham
Cast
Starring:
Gavin Spokes
Madeline Appiah
Michael Fox
Michael Gould
Kitty Hawthorne
Fay Ripley
Creatives
Director: Indhu Rubasingham
Designer: Richard Kent
Lighting Designer: Oliver Fenwick
Composer and Sound Designer: Nicola T Chang
Movement and Intimacy: Lucy Hind
Information
Running Time: Two hours 30 minutes with an interval
Booking to 28th January 2023
Theatre: 
Dorfman Theatre
National Theatre
Upper Ground
South Bank
London SE1 9PX
Rail/Tube : Waterloo
Telephone: 020 7452 3000
Website: nationaltheatre.org.uk
Reviewed by Lizzie Loveridge  at the Dorfman Theatre 
on 10th December  2022