Scrooge Moves to Tennessee
"Children raised in poverty and ignorance are shame on all of us."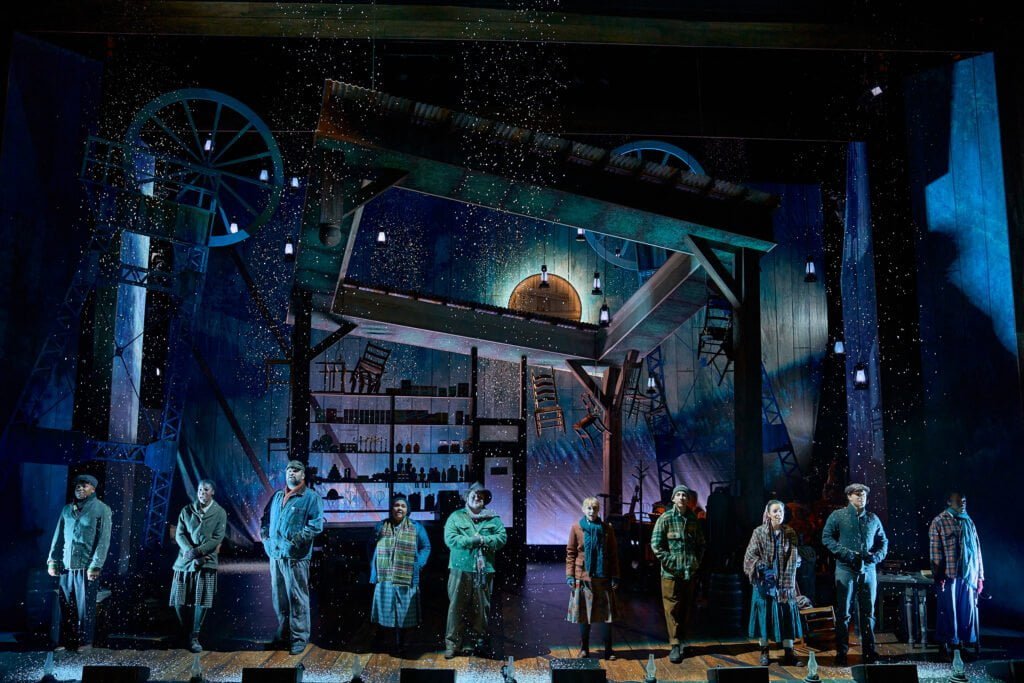 Charles Dickens and Dolly Parton have a lot in common. Both have heart, humour, and a gift for words. They can tell a story to pluck the heart strings. They knew poverty and campaigned against it. They are much-loved. And now they come together at the QEH in Dolly Parton's Smoky Mountain Christmas Carol. So how do they get on when Dickens' tale is translated to Tennessee?
Well enough to make for a fun evening but not so well as to make a this show a classic, despite the hard work of the versatile cast and their super-sharp backing band. The problem is getting the story right.

Dickens cleverly cloaks moral concern in Gothic fantasy. Over the years that message has been sanitised and sentimentalised in some adaptations. (I'm not pointing the figure at you here, Muppets.) Dickens' Scrooge is an emotionally repressed miser who turned his back on society because it failed him. But his conscience finally gets the better of him and he races against time to make amends to those he has hurt. It is still a powerful message of the possibility of personal change and redemption.
It is harder to believe that anything can redeem the far nastier Scrooge of the Smoky Mountains of East Tennessee in 1937. His wealth comes from betraying friends both good and bad, and this wealth buys him people. They live in his properties, work in his mine, and shop in his company store – when they can afford to. They are commodities because, "There's profit in family." He may be an emotionally stunted miser but he is also a tyrant who has enslaved a whole community. The British Scrooge is a small fry villain compared to his American counterpart who can order the eviction of a family on a freezing Christmas Eve. The night and weather are beautifully depicted in the song, "Appalachian Snow."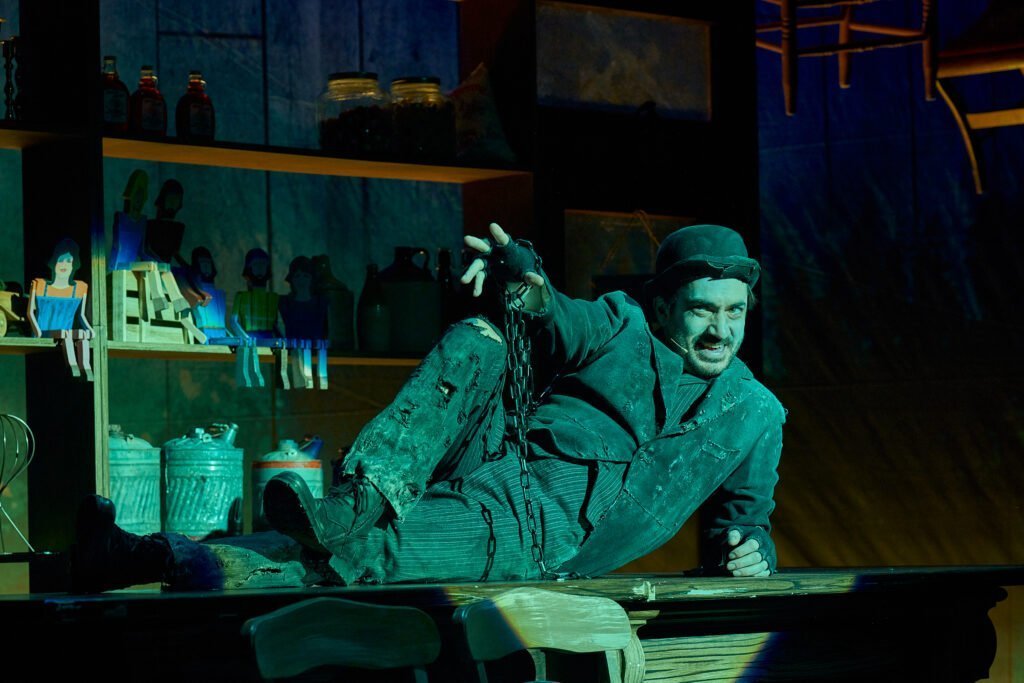 When Scrooge is told, "But they will die," he coolly replies: "Then let them." And takes his rest only to be roused by Marley's ghost from his opium-induced sleep with the promise of the three Christmas Ghosts to appear at intervals through the night. "Can't I have them all at once and get it done with?" asks Scrooge. 
This wisecrack is knowing and witty, but does it sit right coming from a man who has just sentenced a family to death? The Ghost of Christmas Past shows how Scrooge first turned to the dark side when rejected by a young woman. She has seen exactly what Smoky Mountain poverty does to wives and will have none of it. She leaves. Scrooge stays, but only to make things worse for other people. This level of realism is rammed home when three striking miners are shot dead on stage. Something I have never seen in a Christmas show before.
But then we shift into a more amiable Panto-land where the Cratchits cheer themselves up with Christmas Presents. Not real ones, but the images in a mail order catalogue. Nephew Fred and Amy Sue prepare to chop up their furniture to feed a fire to help their neighbours celebrate the Nativity. Both scenes have a ring of truth but are presented in a layer of cosiness.
Scrooge is theatrically tormented by the ghosts but is unmoved until he meets Christmas Future whose lines are played with eloquence beyond words by the violin of Corey Wickens. Cue Scrooge's conversion. But can this hardened misanthrope really be so shocked to see his victims dance around his coffin? Or is it their communal spirit in singing "Circle of Love" that breaks and rebuilds him? Or a sudden grandfatherly interest in the health of Tiny Tim? Whatever the reason, his transformation fails to convince. It's unfortunate that and Scrooge's "I've changed" is one of the less convincing numbers of the evening. Dickens was more successful in combining fantasy with reality.
I also have a reservation about missing some dialogue in the more busy scenes. This may just be my ignorance of the genuine sound of Tennessee voices rather than the sound balance. My companion did a quick survey of the younger folk in the row in front who had the same difficulty. 
But there is still much to enjoy by way of music, song and dance in this 'spirited' production and there is a well deserved standing ovation for the cast.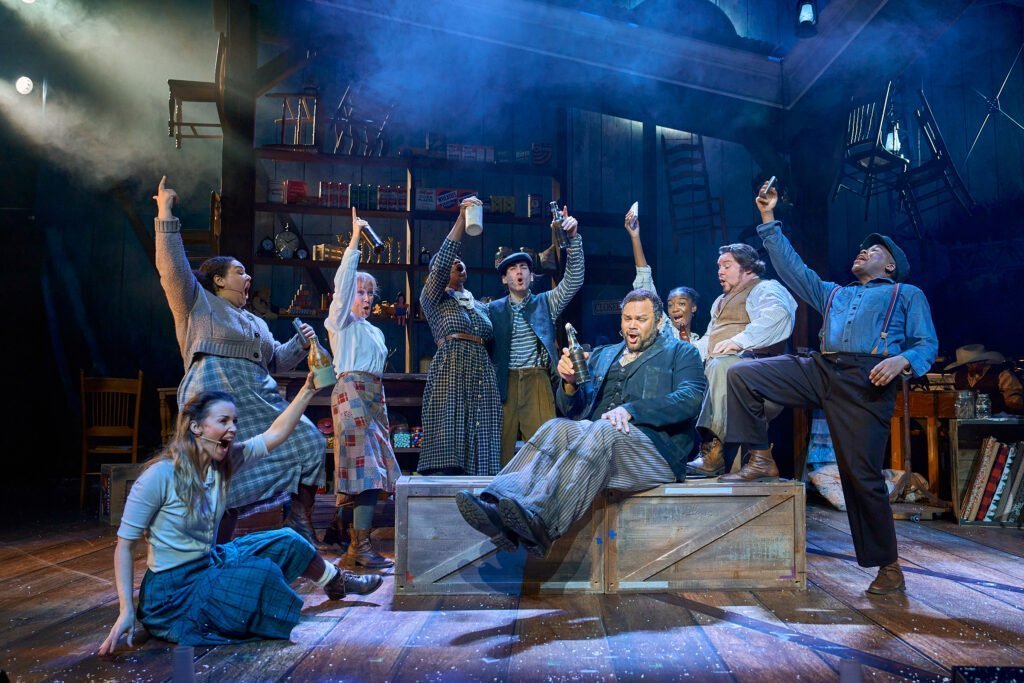 Dolly Parton's Smoky Mountain Christmas Carol
Written by Charles Dickens
Adapted by 
David H Bell, Paul T Couch, Curt Wollan
Book written by 
David H Bell
Cast
Starring:
Carole Stennett
Danny Whitehead
George Maguire
Minal Patel
Mitchell Zhangazha
Richard J Hunt
Robert Bathurst
Sarah O'Connor
Vicki Lee Taylor
Fiona Fraser
Annie Southall
Christopher Parkinson
Ediz Mahmut
Dereke Oladele
Halle Brown
Daniel Lee
Alexander Quinlan
Samuel Sturge
Elliot Marsden
George Menezes Cutts
Creatives
Director and Choreographer : Alison Pollard
Set Designer: Scott Davis
Costume Designer: Linda Roethke
Lighting Designer: David Howe
Sound Designer: Richard Brooker
Musical director: 
Andrew Hilton
Information
Running Time: Two hours 20 minutes with an interval
Booking to 8th January 2023
Theatre: 
Queen Elizabeth Hall
Southbank Centre
Belvedere Road
London, SE1 8XX
Website: southbankcentre.co.uk
Tube/Rail : Waterloo
Reviewed by Brian Clover 
at the Queen Elizabeth Hall  
on 13th December 2022