"I finally felt what a fish must feel with my foot on his head and his guts ripped out."
Jacob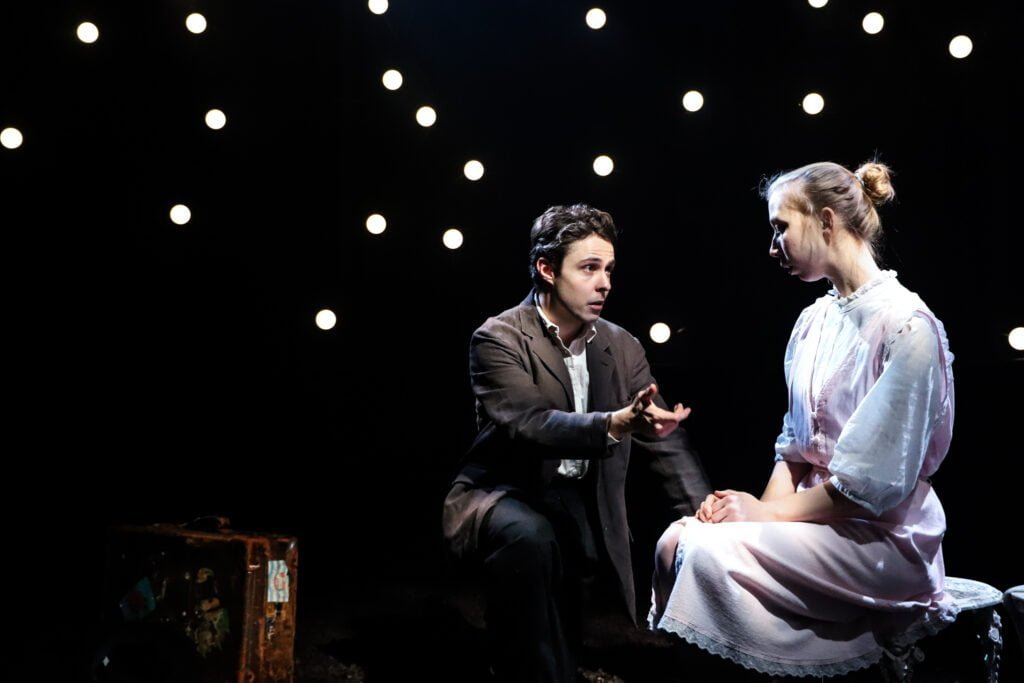 How does the Finborough do it?  In this tiny theatre space in Earls Court stories are staged which stay with you as they work their engaging, theatrical magic.  David French's play Salt-Water Moon is set in Newfoundland in Canada between the wars in 1926.  
We hear about the impact of the First World War on three of the protagonists' fathers' generation.  Mary Snow (Bryony Miller) has lost her father, killed in the war and her family has completely split up.  As their mother couldn't cope, Mary's younger sister Dot was put into an orphanage and Mary went into service aged 9.  The man 19 year old Mary is now due to marry is Jerome, whose father claimed protected occupational status as a fisherman, didn't take part in the war and has prospered.  Mary's old sweetheart Jacob (Joseph Potter)'s father was in the Battle of the Somme, injured and left with devastating psychological wounds.  
As Jacob returns having left without saying good bye to Mary or contacting her in a year, all her feelings of betrayal and desertion come tumbling out.  He in turn, is deeply upset by her engagement to Jerome, whose father has treated Jacob's father cruelly, employing and humiliating him to rock a baby's cradle.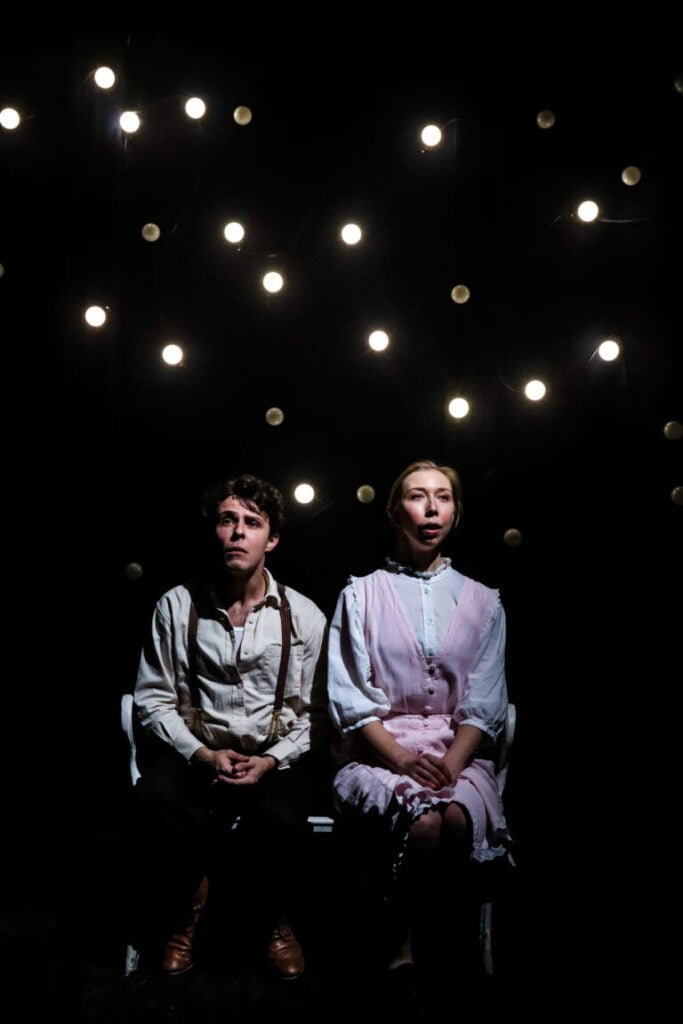 The history is told to us entirely in the natural conversation between the two actors.  The description of the Battle of the Somme on 1st July 1916 is a fine piece of writing, poetic and sad, from Jacob as he describes his father's bad dreams after being abandoned in No Man's Land.  However, Jacob despite his empathy for his father refuses to take responsibility for the way in which he left Mary a year before and made no contact since. 
Mary star gazes with her employer's telescope and tells us the names of the features on the Moon and describes St Elmo's fire.  Jacob relates a film he's seen in Toronto while they both sit face on, as if in the cinema, about a man called Tom who rescues the woman he loves just as she is to be married to someone else.  
Mary has a terrible story about the cruelty doled out to her younger sister Dot in the institution and we understand her decision to marry a man she doesn't love who is wealthy and who will provide a home for Dot.
The performances are outstanding: Bryony Miller as Mary prim and hurt, now protecting herself from further emotional damage and as closed as a clam; and Joseph Potter as Jacob, swaggering and arrogant at times but always interesting to watch.   
The simple but effective set has multiple stars some shining blue as they look out at the clear night time sky.  The accents may waver for a native Canadian but I didn't notice because the words involved me throughout.  Fine writing, fine acting and fine directing!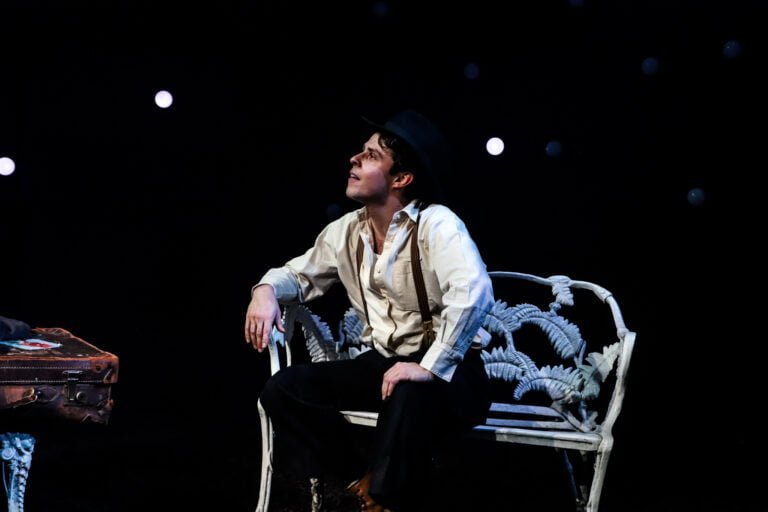 Salt-Water Moon

Written by David French
Directed by Peter Kavanagh
Cast
Starring:
Joseph Potter
Bryony Miller
Creatives
Director: Peter Kavanagh
Designer:  Mim Houghton
Lighting Designer: Neill Brinkworth
Information
Running Time: One hour 15 minutes without an interval
Booking to 28th January 2023
Theatre:  
Finborough Theatre
118 Finborough Road
Earls Court
London
SW10 9ED
Box Office: www.finboroughtheatre.co.uk
Reviewed by Lizzie Loveridge
at the Finborough
on 5th January 2023