Rare Lillian Hellman play at the Donmar
"…To hurt innocent people whom I knew many years ago in order to save myself is, to me, inhuman and indecent and dishonorable. I cannot and will not cut my conscience to fit this year's fashions…"
Lillian Hellman
It is 1941 and America has not yet joined the Second World War.  We are in an affluent house outside Washington DC where a widow Fanny Farrelly (a well cast Patricia Hodge) awaits the return of her daughter Sara (Caitlin FitzGerald) who has been living in Europe for over a decade.  There is excitement, anticipation and nervousness as Fanny prepares to meet her grandchildren for the first time. 
Also living in Fanny's house is her son David (Geoffrey Streatfeild) and two refugees, Teck de Brancovis (John Light) and his American wife Marthe (Carlyss Peer).  Teck is from Romania, out of funds and has Nazi sympathies.  The Brancovis marriage is not a happy one, Marthe being persuaded at 17 to marry for the title.  David has fallen for Marthe.  There is Joseph (David Webber) the butler and Anise (Kate Duchêne) maybe companion to Fanny and who helped raise her children.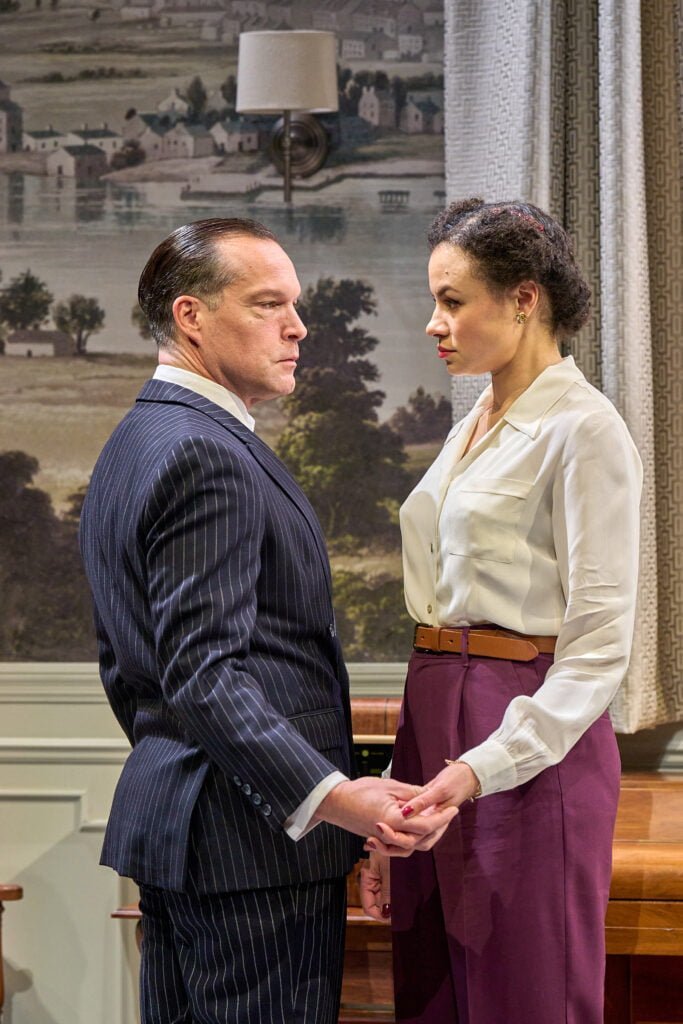 Into this large household, arriving curiously via Mexico comes Sara, her husband Kurt Muller (Mark Waschke) and their three children Joshua (Billy Byers/Finley Glasgow), Babette (Chloe Raphael/Tamar Laniado) and the youngest Bodo (Bertie Caplan/Henry Hunt).  We learn that Kurt is an anti-Nazi sympathiser and activist who has also fought in the Spanish Civil War.  Kurt is carrying a locked briefcase with funds for his political colleagues which Teck has noticed.  
Watch on the Rhine is a political thriller which was written in 1941 by Lillian Hellman who had communist leanings and she was called to testify during the McCarthyite hearings.  Although she was not imprisoned, she was blacklisted from 1947 to 1952 and her income fell as a consequence.  She famously wrote to the court, "I do not like subversion or disloyalty in any form and if I had ever seen any I would have considered it my duty to have reported it to the proper authorities. But to hurt innocent people whom I knew many years ago in order to save myself is, to me, inhuman and indecent and dishonorable. I cannot and will not cut my conscience to fit this year's fashions."  Both Lillian Hellman and her lover author Dashiell Hammett were Jewish.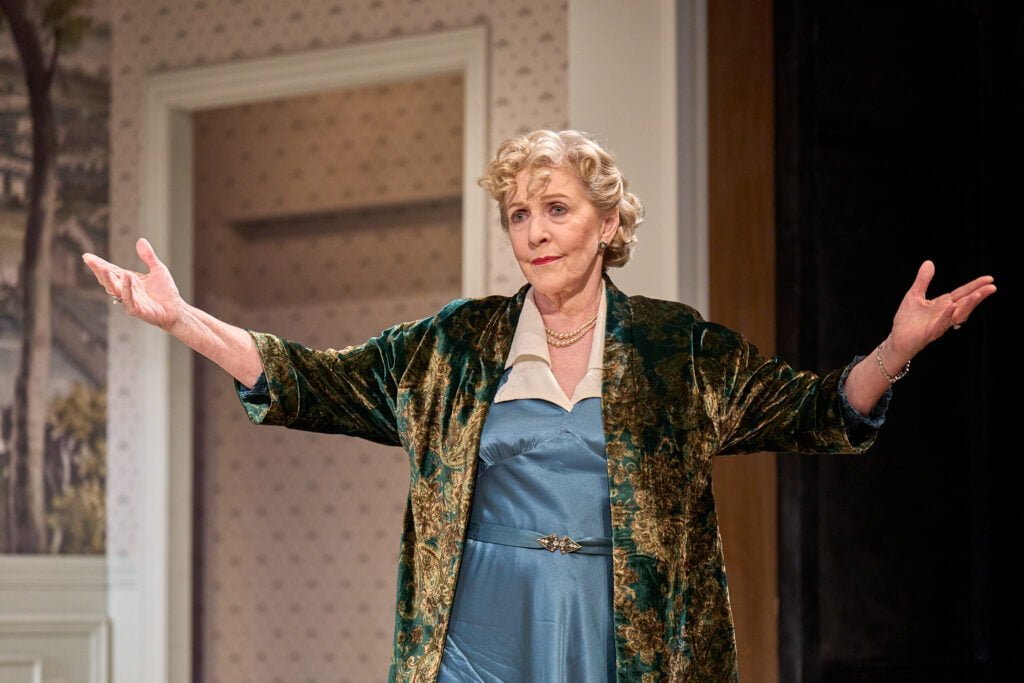 Hellman's writing is full of witticisms and quips.  The children's rather quaint English appeals.  Bertie Caplan as Bodo on the night I saw, was fascinating to watch. Fanny asks when she first sees them, "Are these your children or dressed up adults?"  The journey of the play is made by Fanny in terms of her support for her family as she changes from someone who is very self centred to a caring individual.  
John Light is in his element as the manipulative and chilling de Brancovis, a gambler, a Nazi collaborator  and someone who would prefer to settle arguments with a duel.  By contrast Mark Waschke as Kurt Muller is entirely reasonable but the outcome of the play did not please the original American audience.  Caitlin FitzGerald is charming as Sara, understanding her husband's commitment to the anti-Nazi cause although this has led to them having such a disruptive life, escaping from many different countries.  
Basia Bińkowska's lovely set has etched views over the Potomac river and is framed by the same detailing as the radio, in an ante room leading to the dining room.  There is period music in the production.  Director Ellen McDougall gets superb performances from her cast and although the plot could be accused of veering towards melodrama, I was gripped by the play.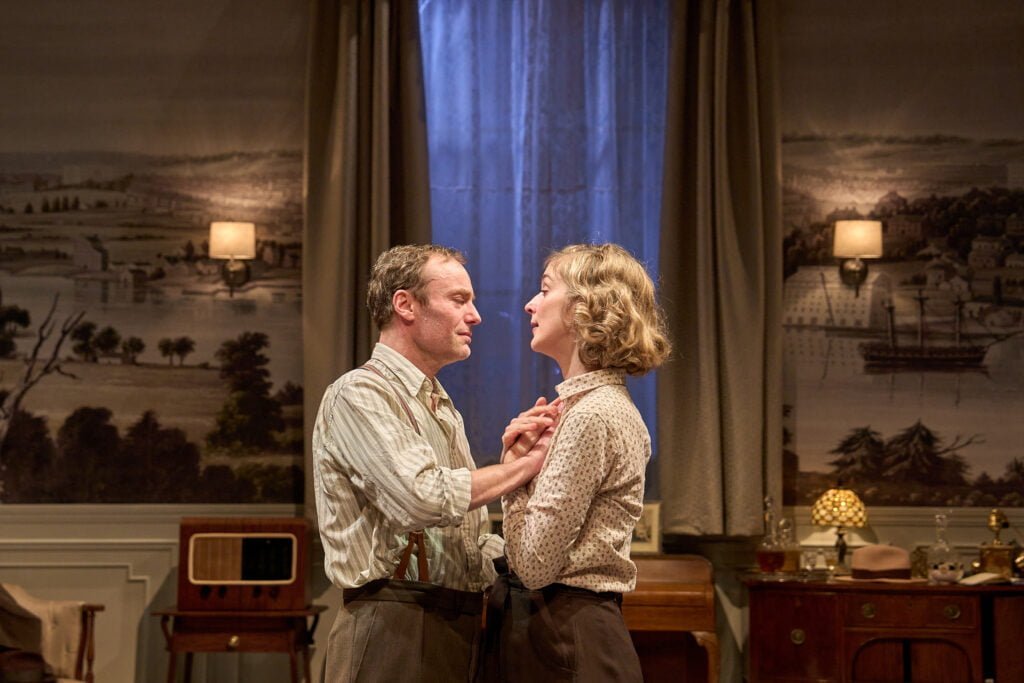 Watch on the Rhine
by Lillian Hellman
Directed by Ellen McDougall
Cast
Starring:
Patricia Hodge
Carlyss Peer
David Webber
Geoffrey Streatfeild
John Light
Mark Waschkle
Kate Duchêne
Caitlin FitzGerald,
Chloe Raphael/Tamar Laniado,  
Bertie Caplan/Henry Hunt, 
Billy Byers/Finley Glasgow
Creatives
Director: Ellen McDougall
Designer: Basia Bińkowska
Lighting Designer: Azusa Ono
Sound Designer: Tingying Dong
Video Designer:  Sarah Readman
Musical Director: Josh Middleton
Information
Running Time: Two hours 15 minutes with an interval
Booking to 4th February 2023
Theatre: 
Donmar Warehouse
Earlham Street
Covent Garden
London WC2H 9LX
Tube : Covent Garden
Website: donmarwarehouse.com
Reviewed by Lizzie Loveridge
at the Donmar Warehouse
on 10th January 2023