Musical shines light on neglected history
"Let our families go home, and we will be ready to serve. "
Lyric from "Resist"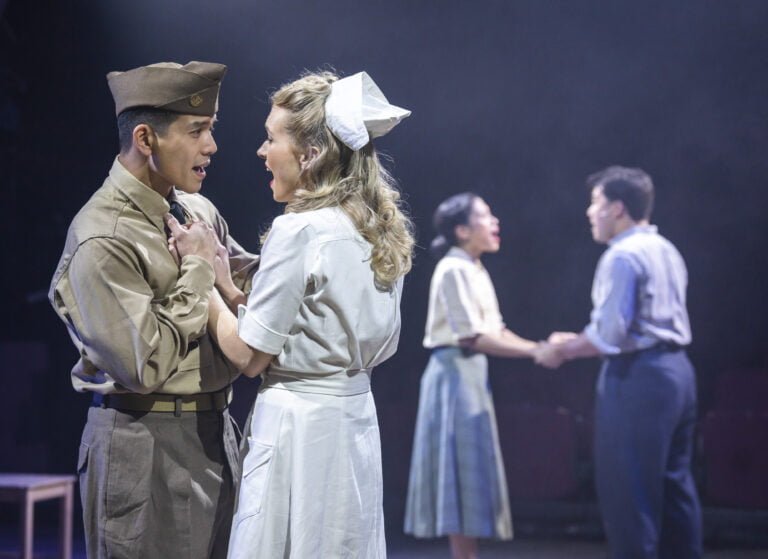 This is George Takei's show.  Best known as the enigmatic Mr Sulu from television's Star Trek,  this is his story when, as a child aged 5, he was uprooted from his home and interned in a camp for Japanese-Americans.  We often hear about the bombing of Pearl Harbor in 1941 but this is the first time I was aware of what happened as a consequence to those Americans of Japanese origin.  
George Takei frames the show.  As an old man wearing his American army uniform, Sam Kimura has come to his estranged sister Kei (Aynrand Ferrer)'s funeral.  Allegiance is about how the Kimura family was split by internment for 50 years.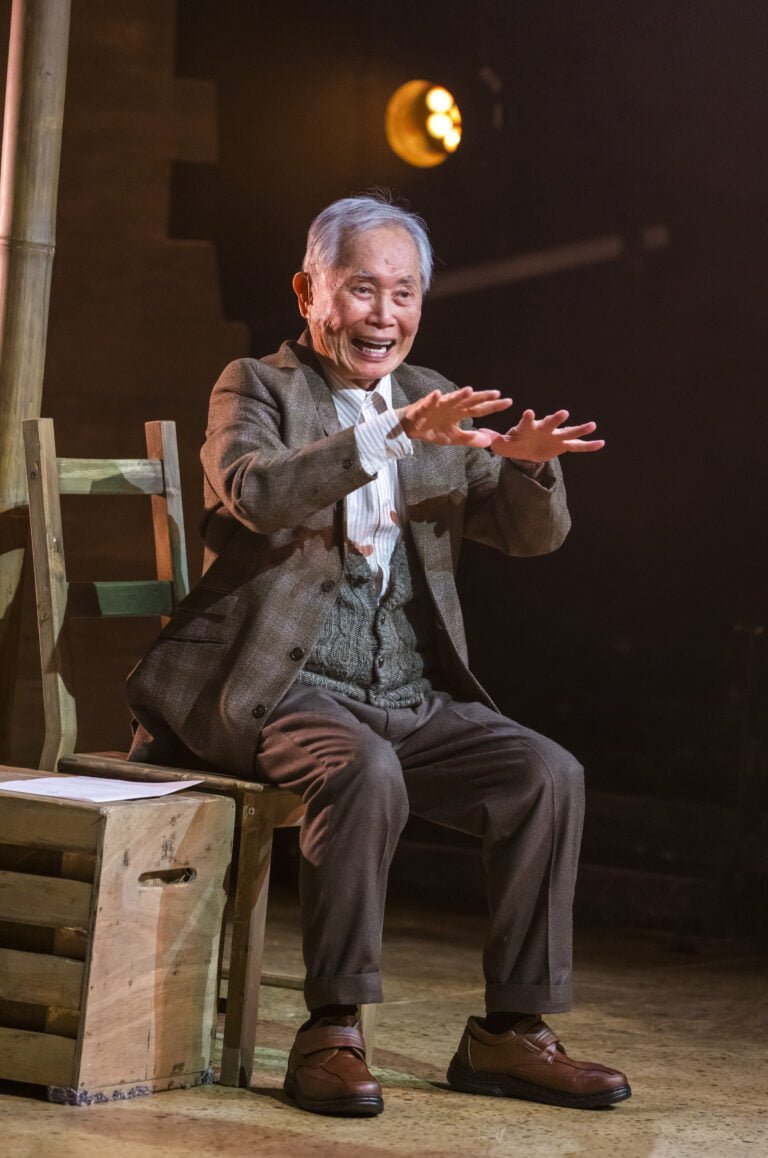 We start with the Kimura family living in California.  George Takei plays Ojii Chan the grandfather, his son Tatsuo. (Masashi Fujimoto) is the father of Kei (Aynrand Ferrer) and Young Sammy (Telly Leung).  Kei and Sammy's mother died giving birth to Sammy and he has largely been brought up by his sister Kei.  
Sammy wants to join the American army as he feels more American than Japanese but the Japanese applicants are turned down.  The whole family lose their home, their jobs and are interned at Santa Anita Race course, where they sleep in stables on flea ridden mattresses.  The lack of privacy is a problem for these fastidious and private people. Later they are moved to Heart Mountain in Wyoming, again an inhospitable place.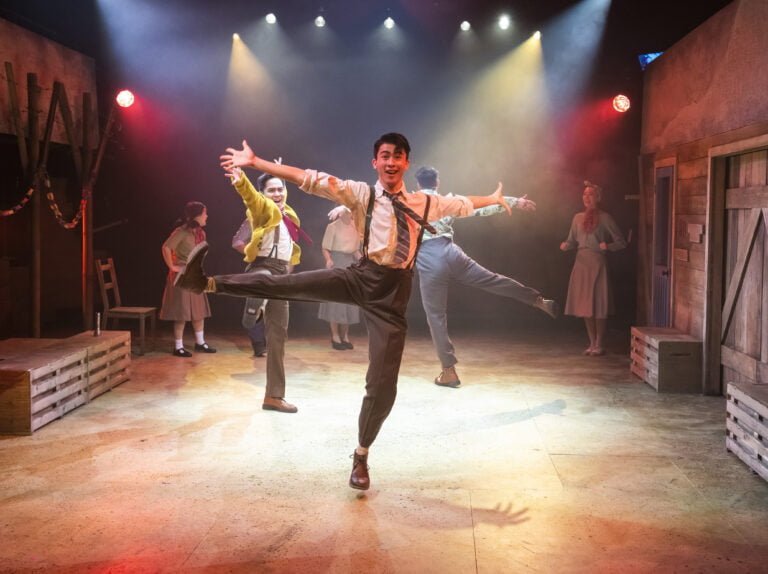 In 1943 they are asked to sign a declaration by the American government aimed at identifying those loyal to America and those who might be a security risk. Young Sammy is accepted into the US Army joining a group of American Japanese soldiers who are given very dangerous missions in the war in Europe.  Sammy is decorated with a Purple Heart, the highest gallantry medal.  
Others in the camp including Tatsuo answer No and No on the declaration and are moved to prisons.  Kei falls for Frankie Suzuki (Patrick Munday) and together they work against the American oppression.  There is an exciting scene when Kei and Frankie meet with searchlights scanning the camp to find those outside the huts.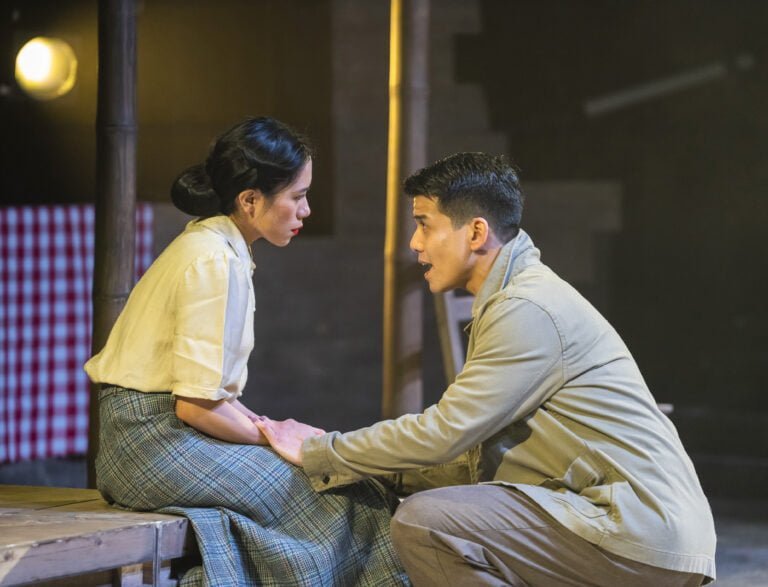 The music and lyrics are by Jay Kuo and the book by Mark Acito, Jay Kuo and Lorenzo Thiene although the driving force for Allegiance is George Takei. There are pretty love songs and power anthems and a song in Japanese, "Ishi Kara Ishi" from Ojii Chan as tries to teach his granddaughter his patience moving a mountain "stone by stone".  Sammy falls for the American nurse Hannah Campbell (Megan Gardiner).  Telly Leung and Aynrand Ferrer are the star singers of Allegiance.  There are some dance numbers based on 1940s swing which give the company the chance to show their exciting dance skills.  
Like many musicals the historical accuracy details may not be exact but Allegiance serves to illustrate this neglected and shameful piece of history and, as an opportunity to affectionately see 85 year old George Takei on stage, it is without parallel. 
Act One
 Prologue  
Wishes on the Wind
Do Not Fight the Storm
Gaman
What Makes a Man
I Oughta Go
Get in the Game
Should I
Allegiance
Ishi Kara Ishi
With You
Paradise
Higher
Our Time Now
Act Two
Resist
This Is Not Over
Higher/Resist (Reprise)
Stranger Than Before
With You (Reprise)
Nothing in our Way
Itetsuita
442 Victory Swing
Higher/Ishi Kara Ishi (Reprise)
How Can You Go?
Still a Chance
Allegiance
Music and Lyrics by Jay KuoBook by Marc Acito, Jay Kuo and Lorenzo Thione
Directed and Choreographed by Tara Overfield Wilkinson
Cast
Starring:
George Takei
Mark Anderson
Masashi Fujimoto
Sario Solomon
Rachel Jayne Picar
Hana Ichijo
Joy Tan
Telly Leung
Aynrand Ferrer
Iroy Abesamis
Megan Gardiner
Raiko Gohara
Eu Jin Hwang
Misa Koide
Patrick Munday
Iverson Yabut
Creatives
Director and Choreographer: Tara Overfield Wilkinson
Designer: Mayou Trikeerioti
Musical Supervisor and Orchestrations:
Andrew Hilton, Charlie Ingles
Lighting Designer:  Nic Farman
Sound Designer: Chris Whybrow
Musical Director: Beth Jerem
Information
Running Time:
Two hours 20 minutes with an interval
Booking until 8th April 2023 

Theatre:
Charing Cross Theatre
The Arches
Villiers Street
London WC2N 6NL
Box Office: 08444 930 650
Tube: Embankment
Reviewed by Lizzie Loveridge
at the Charing Cross Theatre
on 17th January 2023