"You could snap a proctologist off at the knuckle! "
Elsa
It is why I never want to go on a cruise holiday – the idea of being trapped with people you can't get away from.  This is what happens to Peter (Reece Shearsmith) and Debbie (Amanda Abbington) on the last few days of their cruising break.  Frances Barber is magnificent as Elsa Jean Kragowski the holidaymaker who sticks to them with those positive American sayings like cloying glue. But worse they give her their contact details and the end of the holiday is not the end of Mrs Kragowski.  
The basic premise for Stephen Moffat's comedy The Unfriend is that the English couple are too polite to tell Elsa that she is not wanted.  Back at their home in London, Elsa has been emailing them non-stop and has invited herself to stay.  Debbie and Peter have two teenage children, Alex (Gabriel Howell)) who stays in his room playing computer games and only comes downstairs to fart, and Rosie (Maddie Holliday) his stroppy elder sister.  
Debbie tried to get in touch with Peter to say that she has googled Elsa and found out that she has been dubbed a serial killer after several of her relatives died of suspected food poisoning but that she was cleared at trial.  And worse, Elsa has arrived early and is on their doorstep along with three tons of Louis Vuitton luggage.
The play is stuffed full of one liners, many of them rather predictable and several in the worst possible taste and lavatory humour.  The irony is that Elsa completely wins over the anti-social teenagers Alex and Rosie, plays computer games with Alex and has him going out for a run with her.  It is remarkable how uncomplainingly they lug her enormous luggage upstairs.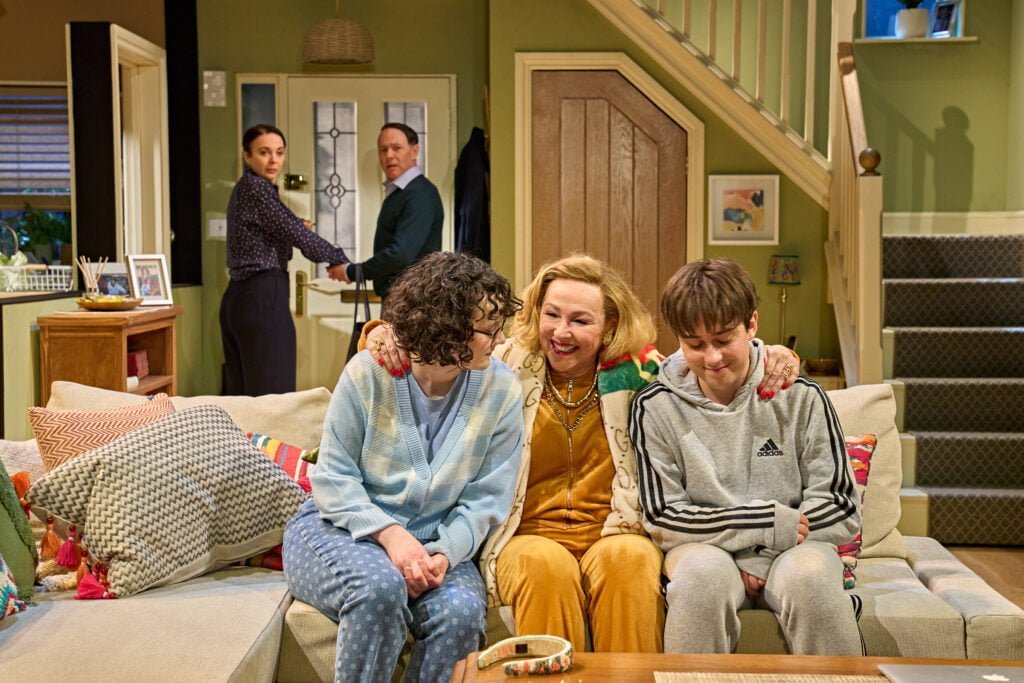 Michael Simkins is the Neighbour of whom nobody can remember his name.  He is trying to share the cost of repairing the adjoining wall and I laughed out loud when Elsa called him "a tiny bit passive aggressive".  Her role is to very much say what we would never dream of saying.  
Robert Jones's sets are a treat – the deck of the yacht with the Mediterranean Sea beyond and back home, in London suburbia, the open plan living room. 
The performances are outstanding under Mark Gatiss's direction.  Reece Shearsmith in trying to identify whether a visiting policeman PC Junkin (Marcus Onilude) has blood in his faeces after eating Elsa's sandwiches, and keeping a straight face.  Amanda Abbington who keeps telling Peter to do something about Elsa and ducking out of it herself.  Above all Frances Barber is so thoroughly obnoxious as  Elsa but we are kept guessing as to whether she is a serial murderer.  
The result is a middle of the road comedy the writing of which I find lacking in anything but superficial humour, she says passive aggressively!  
The Unfriend
by Stephen Moffat
Directed by Mark Gatiss
Cast
Starring:
Amanda Abbington
Frances Barber
Marcus Onilude
Michael Simkins
Reece Shearsmith
Maddie Holliday
Gabriel Howell
Creatives
Director: Mark Gatiss
Designer: Robert Jones
Lighting Designer: Mark Henderson
Sound Designer: Ella Wahlström
Video Designer: Andrzej Goulding
Information
Running Time: One hour 55 minutes with an interval
Booking to 16th April 2023
Theatre:
Criterion Theatre
218-223 Piccadilly
Piccadilly Circus
London W1V 9LB
Box Office: 033 33 202 895
Website: criterion-theatre.co.uk
Tube: Piccadilly Circus
Reviewed by Lizzie Loveridge at the Criterion
on 19th January 2023