"There is nothing better than close friends' "
Nancy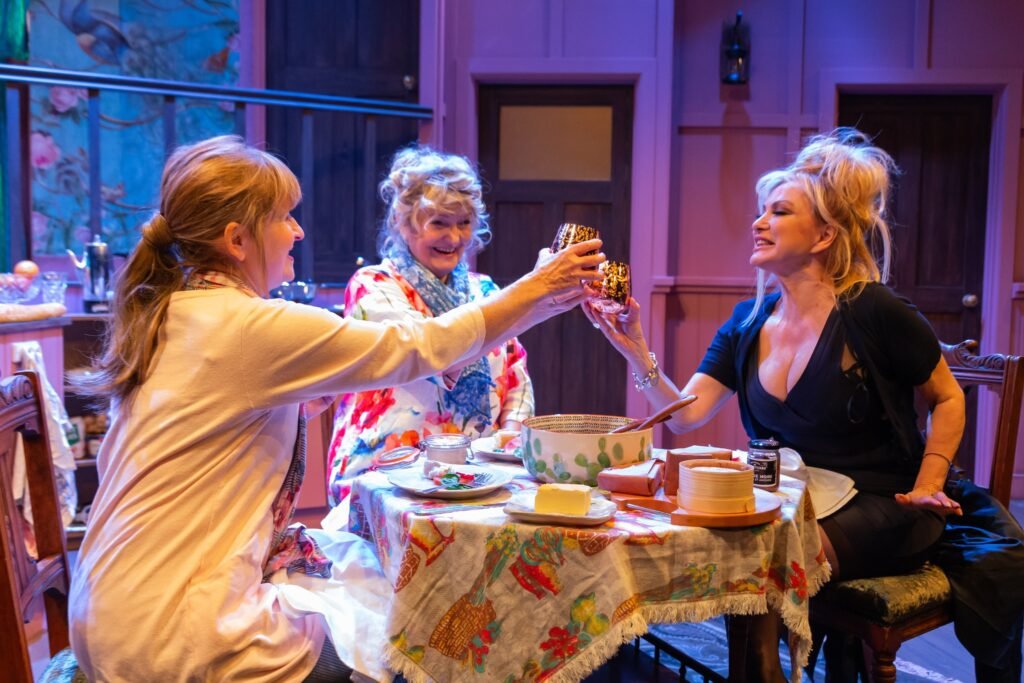 We'll Always Have Paris is set in Paris among three women two of whom live there and one of whom comes to stay.  Nancy (Elizabeth Elvin) has rented out her house in Haslemere for life in the St Germain quarter in Paris and is seen with handyman Charlot (Richard Keep) who is amusingly practising his English idioms.   
I still have my English French dictionary published by Harraps which comes in two volumes.  The English French volume is much fatter than the French English because we have so many more words in English.  For instance ironically the French have no word for shallow, they can only say "peu profond" or less deep.  
Charlot is listing off the English terms for dying, from kicking the bucket to shuffling off this mortal coil. He practises on one of the three woman his flirtation learnt on a visit to England but tells us that it was better received when he stayed in Eastbourne!   Nancy is trying to find the French word for stopcock so Charlot can mend the plumbing and after some fun with the literal translations they arrive at "robinet d'arret".  
Nancy is a retired teacher from a Boarding school who is enjoying life in Paris especially French food and wines.  She is in love with France.  Her friend (Debbie Arnold) used to be called Rachael at school and now also lives in Paris.  Rachael has changed her name to Raquel and is attempting to make the biological clock stand still with frequent visits to Turkey for beautification surgery.  Raquel is very successful at finding younger boyfriends.  So Nancy is at ease with her post menopausal life but the vampish Raquel isn't.  When Raquel turns up at Nancy's apartment she is alone but Nancy greets her saying, "I thought you might have picked one up on the way over!"   
Arriving in Paris is another friend from school, Anna (Natalie Ogle) who has recently been widowed after a rather repressed life caring for her invalid husband who was dying for years and years.  She is ready to throw off the years of service and will get a Parisian fashion frock and a new haircut.  Each of these women is looking at the future and looking back on their working life.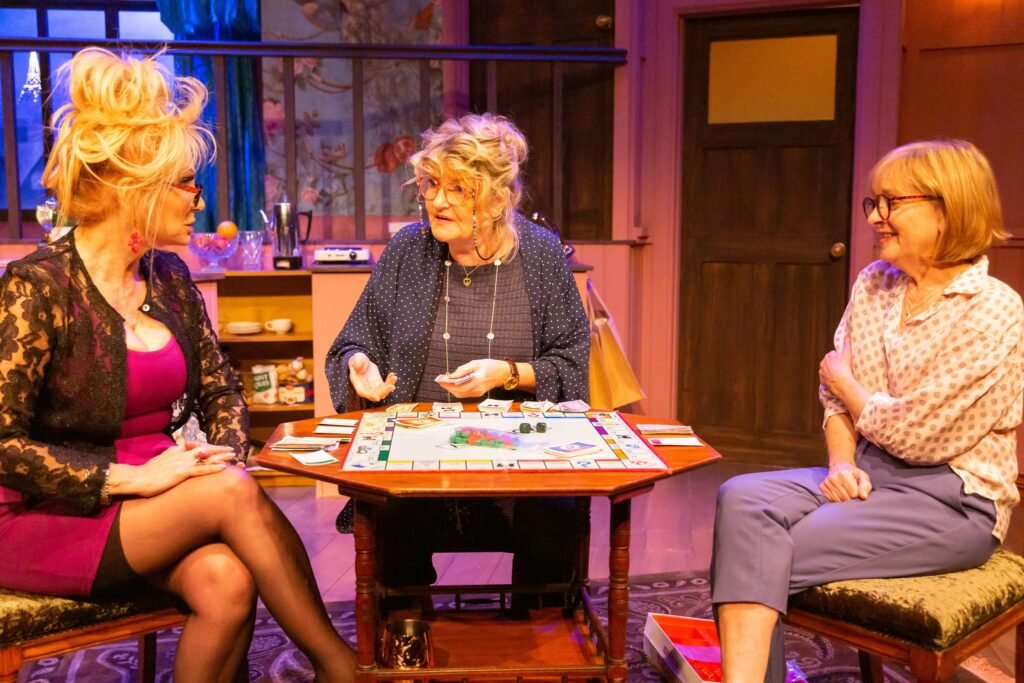 Michael Holt's set is a perfect atelier apartment where the hospitable Nancy welcomes everyone with food and a glass of wine or a game of Monopoly, the version set in Paris.
Jill Hyem's humour is plentiful and gentle and I can say that I really enjoyed this romantic comedy with its credible performances and astute direction from Sally Hughes.  Of course there is a downside to living in Paris often attributed to the Parisians themselves and in this play, the malicious landlady Madame Bouissiron (Basienka Blake) rains on everyone's parade.  
This play is a good choice for The Mill at Sonning audience who appreciate this beautiful dining theatre in the historic mill that was mentioned in the Doomsday Book. 
We'll Always Have Paris

Written by Jill Hyem
Directed by Sally Hughes
Cast
Starring:
Basienka Blake
Debbie Arnold
Elizabeth Elvin
Natalie Ogle
Richard Keep
Creatives
Director: Sally Hughes
Set Designer: Michael Holt
Costume Designer: Natalie Titchener
Lighting Designer: Graham Weymouth
Information
Running Time: One hour 55 minutes with an interval
Booking to 11th March 2023
Theatre: 
The Mill at Sonning Theatre 
Sonning Eye
Reading
RG4 6TY 
Website: millatsonning.com
Box Office: (0118) 969 8000
Reviewed by Lizzie Loveridge
at the Mill at Sonning
on 27th February 2023